With more than 100 years of experience, serving millions of customers across 18 Asia–Pacific markets, it's safe to say the AIA Group, which is currently the largest independently publicly listed pan-Asian life insurance group and the largest life insurance company in the world by market capitalisation, has an impact.
As part of the AIA Group, AIA Cambodia leverages the Group's power to provide custom market-leading life insurance solutions in a simple, straightforward and transparent way to support and protect its customers along each and every step of their life journeys.
"What sets AIA apart is our purpose," CEO Andrew Loh tells The CEO Magazine. "We are a purpose-driven organisation. And our purpose is to help people live healthier, longer and better lives. This means that our values and our customers' values are very aligned – it's a win–win for everyone."
This purpose is exactly what attracted Andrew to the company in the first place. He joined the AIA Group in 2017 with AIA Malaysia as Chief Actuary, before later taking on the CFO role. It wasn't until last May that he got the appointment of CEO at AIA Cambodia. While it meant uprooting his family and moving to Phnom Penh, Andrew knew he couldn't pass up the opportunity. So with his family's full support, they made the move.
"It was a great opportunity and privilege to be able to lead an organisation, and I also felt that there was a lot we can contribute to the country as a whole via a great organisation like AIA," he says.
In Cambodia, the penetration is very low for life insurance. In fact, insurance only entered the market in 2012, and AIA has been there since 2017. So, between the area being a well of opportunity and AIA Cambodia feeling like a startup, Andrew was excited to be at the helm.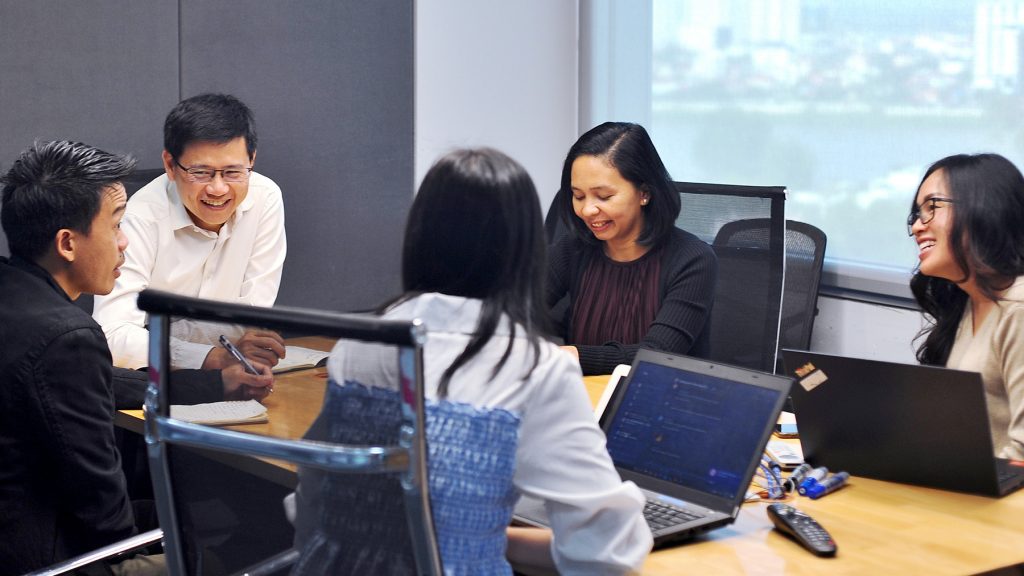 "We are not in the business of doing it all alone; we're in the business of helping people."
"As it was a young company, I saw that I'd be able to come in and try new things, do things differently in the way we reach out to Cambodians, who had very little knowledge about insurance, and provide them with protection," he says. "To come here and make a difference through AIA in the lives of Cambodians was, for me, the greatest opportunity."
The timing to make a difference couldn't have been better, for when Andrew arrived, the country was in its first lockdown, trying to abate the shattering consequences of the COVID-19 pandemic. "Cambodia was battling against the impact of COVID-19 quite strongly; not just the lockdown or the virus itself, but as a country that relies heavily on tourism. Because when tourism doesn't happen, the impact to the economy is significant."
Seeing this firsthand, Andrew knew the best action to take was the one that put humanity at the forefront of the equation. "We had to make quick changes to deal with the situations, but the most important thing was putting the customer at the centre of everything we do, especially at a time like this," he shares.
That saw the insurance provider offer free COVID-19 coverage along with side-effect coverage that encouraged customers to get the vaccine. The company also extended the grace period of its policies, making it more difficult for them to lapse and easier to reinstate. And since people were more reluctant to meet face-to-face, AIA Cambodia transitioned to virtual sessions, giving its customers a greater peace of mind.
"Digitalisation is very important to our success," Andrew says. "We believe that leveraging technology as a key enabler to supplement our in-person component is essential for the future growth of the organisation."
Even more, leveraging partnerships is vital to its mission. Strategic relationships with other businesses and organisations expand its reach and help even more people than it could alone. Among its bank partners are Campu, Amret and Prince Bank, while its corporate social responsibility partners include HOPE Hospital, which caters to provide free breast cancer screening, other diagnoses and treatment procedures to women unable to pay, and ISF Cambodia, which aims to increase access to education, health care and sport for underprivileged children.
"We are not in the business of doing it all alone; we're in the business of helping people," Andrew says. "That means we have to work hand-in-hand with our various partners to give our customers an excellent experience. At the end of the day, it's all about providing the right product propositions to meet their diverse needs, and this is something we are able to do with the right partnerships."
It's also imperative, Andrew says, to have the right people in the organisation. "If you have the right people with the right mindset, then you'll be able to achieve," he explains. "While our purpose drives everything we do, it's our people that really bring our purpose to life."