Adelina Badea has just celebrated 18 years at Mobexpert, the leading family-owned furniture and interior decor brand in Romania that got its start in 1993. Now as CEO, she's proud of her roots, having worked her way up the corporate ladder at the company.
"It was my second job after college. I started as a sales consultant in the biggest store in Romania at that time, in an entry level position, much like everyone in our company. I remember now how lucky I felt to be accepted because I did not have any previous retail experience," Adelina reminisces. 
As a customer-centric organisation, we really believe that they deserve the best, in terms of both products and services.
Founded in 1993, Mobexpert is now the leading furniture and interior decor retailer in the country and a much-loved brand. Over 100,000 customers visit its stores each month, which are part of a group that combines creativity, Romanian furniture production, retail and a global network of 400 suppliers.
Adelina's rise to CEO came after years of hard work and hard-won results. From sales consultant, she became the coordinator of a store in Iasi City in the north-east of Romania. She opened the store there in 2009 before becoming the General Manager of not just one, but two shops. She was also in charge of coordinating the activity of a small store in Suceava, a town close to Iasi City.
"This is the biggest position that anyone can achieve in sales besides the CEO. It was also the first time in Mobexpert history when a general manager had two stores at the same time. A big store for us means more than 5,000 square metres. The store I managed in Iasi was 7,000 square metres with 100 employees. So, yes, it was a big responsibility," Adelina laughs.
Her results have been nothing less than impressive, so much so that Mobexpert rewarded her with an executive MBA program. And it was perhaps of no surprise that in 2020, she was called to run Mobexpert as its CEO. "Mobexpert and I have grown together," she shares.
"When they hired me in 2003, the company had just opened its second store in Bucharest, Mobexpert Militari. Now, we have 13 big stores in the largest cities in Romania, including four stores in Bucharest. Today, Mobexpert is the biggest player in furniture retail in Romania, and it's also the most loved brand for furniture and home decor. We are recognised by the quality of our products and services. The engraved 'Mobexpert' name on a product indicates a guarantee of quality."
Business as usual
Shortly after becoming CEO, Adelina was faced with a crisis that no-one saw coming – COVID-19. "There was a lot of uncertainty," she recalls. But there were also a lot of opportunities. With people forced into lockdown, demand for home furnishings and interior decor soared. People spent more time at home and found it was an opportunity to rearrange or change things, or to reshape their spaces for working from home or home schooling.
Mobexpert by numbers
100,000-plus customers visit Mobexpert stores per month
400 global suppliers
1 online store with 1 million monthly website visitors to www.mobexpert.ro
€220 million total turnover in 2020
2,200 employees in 2020
26 stores all over Romania
8 factories
"We were busier than ever," Adelina says. "Many people changed their furniture or just adapted their space for homeschooling or working from home because that's where they were spending all of their time. We are guided by a series of principles, which are part of our mission to make life better for our customers, so while it was a great opportunity for us, we still tried to create better experiences for them and to deliver as fast as we could."
When our customers think of Mobexpert, the first word that comes to mind is quality. That's really important to us.
To seize these opportunities, Adelina drove Mobexpert's rapid digitisation and implemented faster delivery times despite supply chain disruptions. "I started new projects that involved a lot of development, digitalisation and technology," she shares. 
"Now, we have the ability to deliver and assemble our products very quickly, all over the country. We intend to bring the online and offline customer experience together by creating a loyalty program – we want to reinvent something here and we hope to do it as quickly as possible."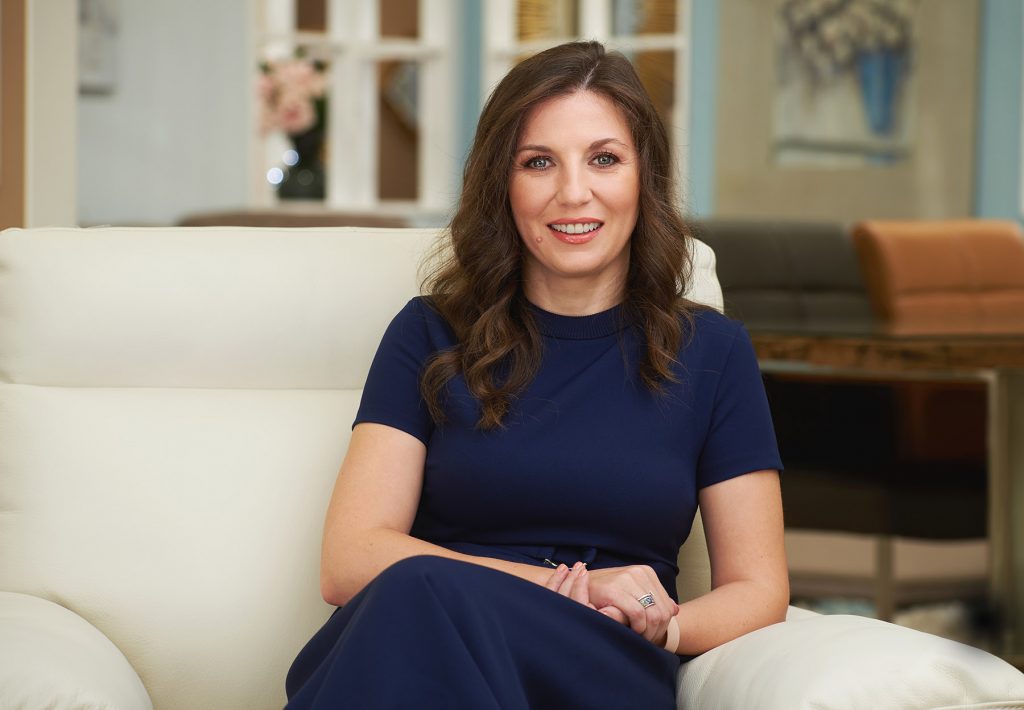 Closer to the customer
As Mobexpert looks to the future, it's all about expansion and a continued pursuit of excellence; all with its customers at the forefront. "Mobexpert is one of the biggest organisations in Romania with around 2,200 employees in eight factories and 26 stores," Adelina says. "Our focus is on staying close to the customer by developing a strong online presence and a modern collection of products with our mission to bring value remaining a constant."

To date, Mobexpert has already opened its first concept store in Craiova, something that it wants to replicate in small cities throughout Romania. These concept stores are also pickup centres devised to help Mobexpert get even closer to its customers while also supporting its online shop, which has grown significantly in recent years.
Another innovation the company recently launched is its Design Centre, a service to inspire customers and help them decide on furniture and decor for their homes. This new department includes architects and interior designers who offer 3D plans and photorealistic renderings so customers can easily visualise their new surroundings.
"This new Design Centre helps our customers make better decisions when it comes to choosing their furniture and home decor," Adelina explains. "It was important to us to make this service available to all of our customers because, as a customer-centric organisation, we really believe that they deserve the best, in terms of both products and services. When our customers think of Mobexpert, the first word that comes to mind is quality. That's really important to us. And that's what drives us to keep improving."