As a predominantly rural nation, India can hope to achieve a position among the world superpowers only by effective management of its rural resources. The Institute of Rural Management Anand (IRMA) was created with the vision of uplifting the rural sector and empowering the rural masses to be on a par with their urban counterparts.
Director Umakant Dash recognises the significance of his role in this venture; his goal for IRMA in his own words is "how to contribute to the development and the growth of the economy, or how we are going to bring smiles to the faces of the households".
He has worked in several of India's leading educational institutions, such as the Indian Institute of Technology (IIT) Madras, BITS Pilani and IIT Kanpur. How does this experience help him in his current role? "The multidisciplinary culture I experienced in all those institutes helped me to grow not only my understanding of the way I see things or unpack a particular problem, but also in leading the organisation with a 360-degree view," he shares.
Inside IRMA
Umakant says that the students at IRMA are called participants. "That's the difference between IRMA and any other institute. From day one, they become stakeholders. They are participants, " he explains.
While the emphasis is on rural upliftment, participants of IRMA are also exposed to top-grade management studies. "I would say the USP of our program is the way we blend development studies with that of management practices," he reveals. "That's why you'll see our courses are loaded with more social science components, as well as all the professional or the functional areas of management.
"So you can not only contribute to organisations when you work in rural areas, but graduates will also be equally competent and comfortable in corporate jobs as well as other sectors in the economy."
One compulsory component of our curriculum is that at the end of the first term, the participants go and stay in a village for seven weeks to understand the dynamics of a rural economy.
One important aspect that distinguishes IRMA is that the participants are taught to be not to just be sympathetic but also empathetic towards the people who are living in this underserved segment of society.
"One compulsory component of our curriculum is that at the end of the first term, the participants go and stay in a village for seven weeks to understand the dynamics of a rural economy," Umakant explains. "They stay in a household so that they can understand not only the value system but also how decisions are being made in a village household. This appreciation is very important in shaping their careers and how they view society."
Using Technology
The COVID-19 pandemic led to an abrupt halt to routine activities at IRMA in 2020. However, it also led to an increased use of technology that would help the institution in more areas than just pedagogy. "Whether it's the rural economy or urban economy you serve, irrespective of the location or the kind of organisation, technology is going to play a major role," Umakant insists.
"For example, if you take financing inclusiveness, almost all banking sectors are using artificial intelligence technology to identify and assess beneficiaries. By using this modern technology, we are able to reach out to the rural areas easily.
"IRMA has the potential to support Prime Minister Narendra Modi's dream of India being a self-reliant economy. We have the gear to make this happen through our curriculum, our research and our management development programs."
According to Umakant, there are several parameters to measure IRMA's success, such as rankings by regulatory or rating agencies, the feedback obtained from students and faculty, and the placement record each year. But as he points out, its real success lies in its genius idea of including empathy as part of its curriculum.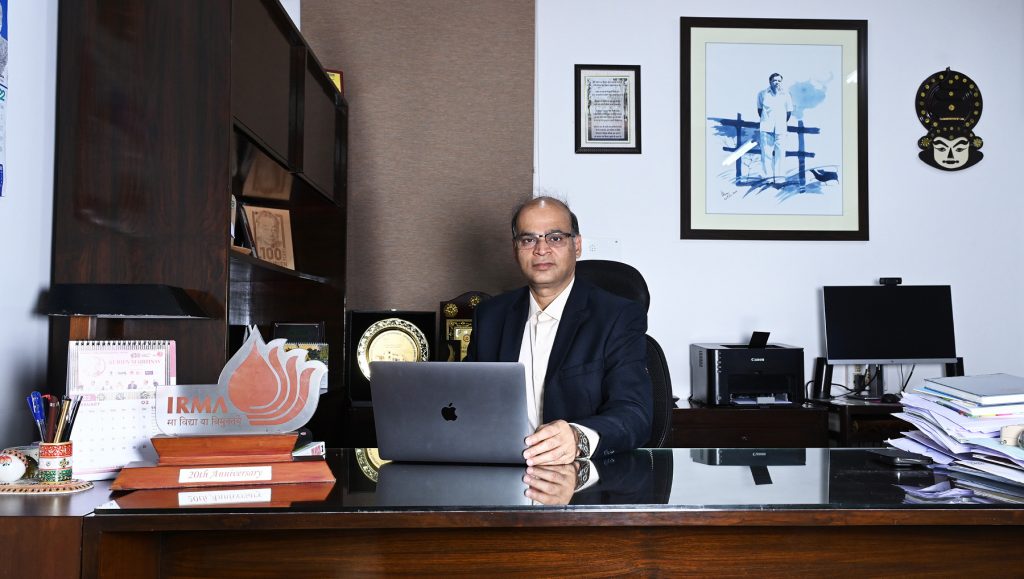 The Importance of Cooperatives
Umakant believes IRMA has to communicate the importance of cooperatives because they help to build the rural areas. "We have to collect good practices and do more research on this, how cooperatives work and how to make them competitive with other corporates. We are working extensively on this through our research, through our training programs and through our interactions with the government," he says.
"If we want to solve the real problem, be it unemployment or poverty, the cooperative is going to be one instrument of addressing the root cause of the problems that the rural areas face."
"Institute of Rural Management Anand is more than a place for gaining an education; it is also a foundation for building a future. As its Director, I couldn't be prouder of the Institute's future-ready unparalleled vision." – Umakant Dash, Director, IRMA