Tarsi Luo likes to believe that her stellar rise from sales representative to CEO in less than five years is proof that "anything is possible". Although she had held top roles at a number of companies in China, when she took the decision to relocate to Australia for family reasons in 2017, she had to start from scratch and work her way up the ladder all over again.
Undaunted by the task at hand, Tarsi swiftly made an impression. So when Bellamy's Organic was acquired by the China Mengniu Dairy Company in 2019 and needed a leader with a deep understanding of both Australian and Asian cultures and markets, she shone out as the perfect candidate.
"The recruitment team proactively reached out to me about the opportunity," she tells The CEO Magazine. "The idea of being a CEO certainly pushed me out of my comfort zone, but it was an opportunity that I could not miss. The challenge is what I love most about the role. I'm incredibly grateful to be in this position, and it just proves that anything is possible if you adopt the right mindset and focus."
It was indeed a big undertaking and one that Tarsi admits she couldn't do without the help of her team. "Transparency and trust are very important for a team to function well. You need a team that believes in you and your strategy," she points out.
When Tarsi came on board as CEO in May 2021, she was determined to get things right. "Before I made any changes, I conducted a series of surveys and one-on-one discussions with all of our employees. I spent that first month trying to understand each person's role, their thoughts on how the business was running and the challenges faced," she explains.
"From there, I identified two key opportunities for the business: first, tackling supply chain issues during a pandemic, and second, identifying and responding to the changing needs of the customer."
As part of this rejig, Bellamy's has moved away from country-led strategies and teams to being function-led. "We now have a very advanced global 'one' team, and we are providing our staff with the opportunity to not only learn about other cultures, but also to contribute to the business more efficiently," she says. "This is a significant adjustment in our structure and is an important step to support our growth plans and our vision to be a global brand."
Part of creating this global entity is acknowledging the cultural differences within the company and its target markets, and adapting to them as and when necessary, with Tarsi likening it to "balancing the tightrope between Eastern and Western cultures and expectations". She reveals that pausing and switching between mindsets before she engages with her team allows them to collectively take the "right direction".
For now, that means pursuing a five-year strategy, which encompasses expanding platforms, engaging with retailers and transforming into a true fast-moving consumer goods (FMCG) brand. "We are shifting from supplier to category leader," Tarsi shares.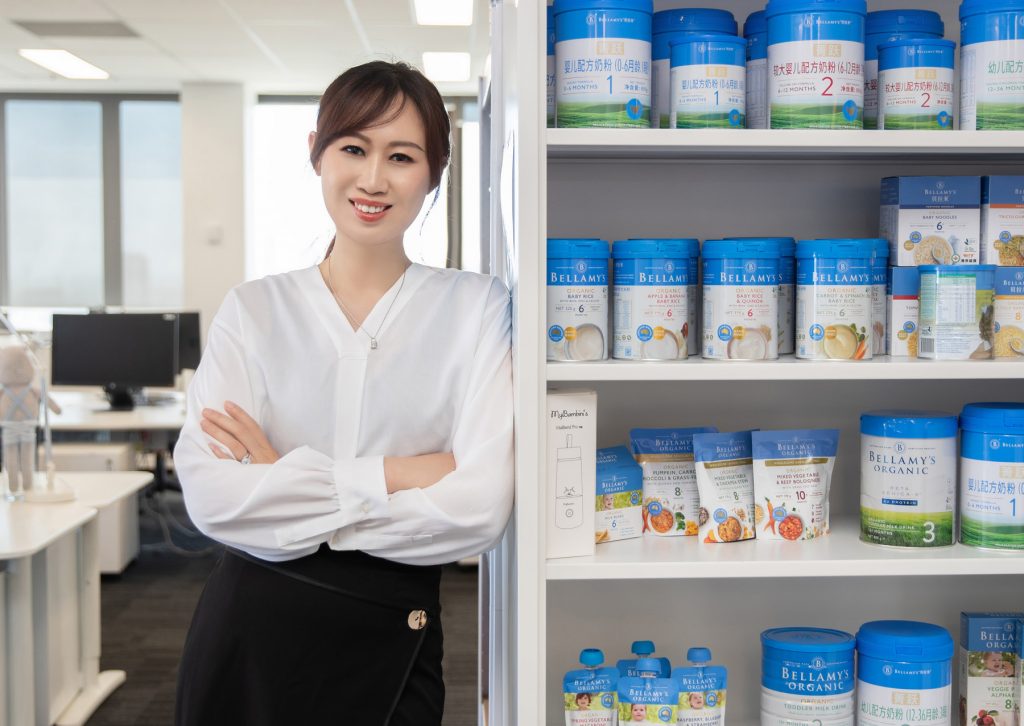 "Anything is possible if you adopt the right mindset and focus."
No longer simply offering infant formula, Bellamy's is now moving into what Tarsi describes as the "snack zone" – a shift which will extend the life cycle of its customers by catering to families with children as old as six. Ecommerce will also be a key focus, as will the company's growth in the region.
Bellamy's currently trades in four countries in South-East Asia: Singapore, Malaysia, Vietnam and Indonesia. However, despite this expansion and change in ownership, its heritage and its organic ethos remain at the core of everything it does. "Our Tasmanian roots and humble beginnings are important to our story, both here and in international markets," Tarsi says.
"We are not changing our fundamentals, and our formula will never change. Rather, we are fortunate to be bringing our premium and affordable product to global audiences through a global sourcing model, where we will continue to provide the best possible organic ingredients."
With the infant formula market predicted to see massive growth over the next five years, Tarsi expects this approach will give Bellamy's that all-important edge. It's a future she is excited about, even as she reflects on the past.
"When I was seven years old, it was 5.30am and I was standing outside freezing cold in winter as I had to check on our chickens. All I wanted at that time was a big woolly jacket so I could be warm," she recalls. "I never would have thought I would go from a small kid surrounded by chickens to becoming a CEO of a beloved Australian FMCG company on the other side of the world."