Stewart Schaefer is a self-confessed "sleep geek", a man so passionate about the power of quality slumber, that he has made it into a career. For him, it forms one of three key pillars of wellness, alongside diet and exercise, that help to keep people both healthy and happy. It's a belief backed by extensive research, and one that is becoming increasingly popular all around the world.
"If you have a great night's sleep, you're on top of the world," he tells The CEO Magazine. "But if you have a bad night's sleep, it has a huge impact on everything you do and the person you are."
As CEO and President of Sleep Country Canada, Stewart is sharing his love of a good night's sleep with his customers, an ever-expanding base it serves not only through its 250-plus stores, but increasingly via its online platform thanks to the company's ongoing digital transformation. "We really believe we have a responsibility," he insists. "We care about making people feel comfortable in that space and doing a good job of that. This is not a commodity that we sell – it really has an impact on people's lives."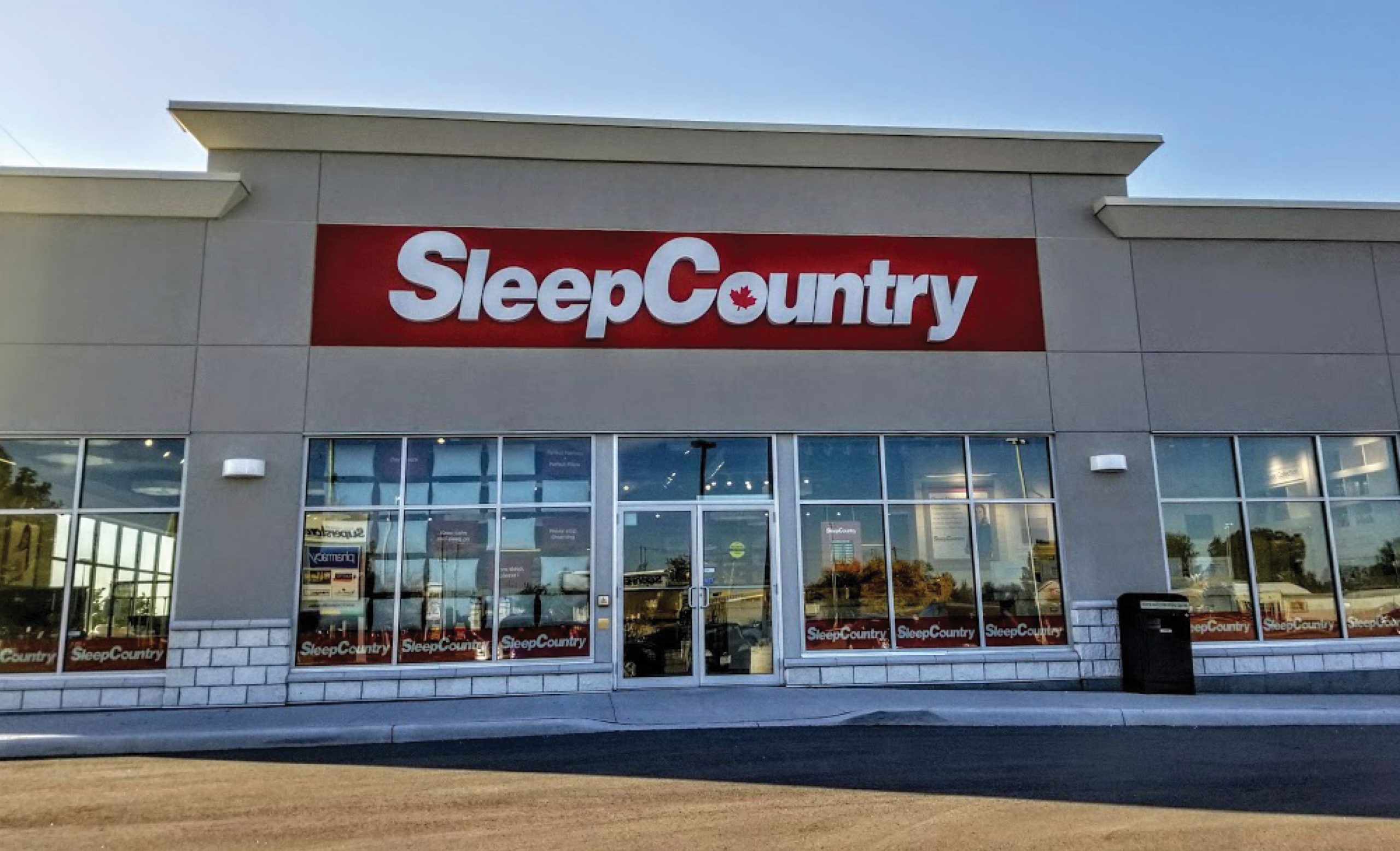 "We have transformed ourselves from the largest brick-and-mortar retailer in the space that had a core focus strictly around mattresses into a broader sleep ecosystem."
Having worked in sleep retail for the best part of three decades, Stewart has some impressive credentials. He founded sleep retailer Dormez-vous in 1994, growing the business to a household name in Quebec before joining forces with Sleep Country in 2006. Prior to that, he co-founded Heritage Classic Beds.
He was working as Chief Business Development Officer at Sleep Country Canada when he was named Company President in April 2021, officially adding CEO to his remit on January 1 this year. He takes the reins from Dave Friesema, who left the business after seven years in the top role in order to retire as announced back in July last year. The length of the handover and the pair's extended history of working together has made the transition "very easy", Stewart explains.
GOING DIGITAL
In a world where retail has been increasingly moving online, Sleep Country has evolved "dramatically" over the last five-to-six years, according to Stewart. "The digital transformation has shifted a lot of thinking around retail," he says. "It was a point at which people thought that the brick-and-mortar retailer was probably dead as ecommerce started to emerge."
As a result of that shift, Sleep Country transformed its business model. "Over the past five years, we have transformed ourselves from the largest brick-and-mortar retailer in the space that had a core focus strictly around mattresses into a broader sleep ecosystem," Stewart explains. "It's about providing the full offering of sleep for Canadians with an elevated message encompassing sleep, health and wellness," he expands.
Back in 2017, the company did not even have a single digital transaction, he shares. "So over the years, we've shifted from a brick-and-mortar business and expanded on our own digital platforms," he says.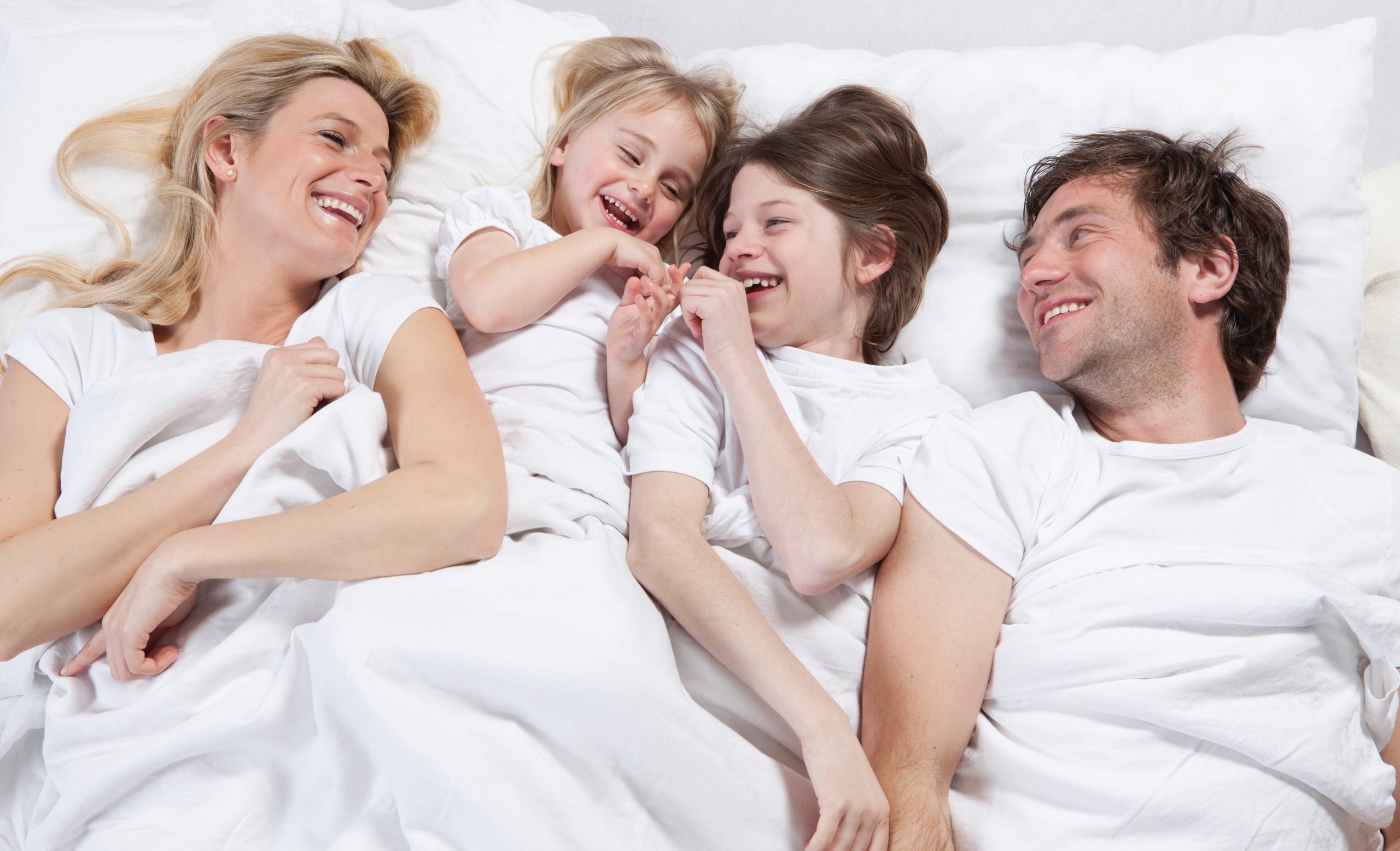 "If you have a great night's sleep, you're on top of the world. But if you have a bad night's sleep, it has a huge impact on everything you do and on the person you are."
In order to do this, in 2018 it acquired Canadian bed-in-a-box company Endy, a deal which he drove, and launched its own fully transactional ecommerce website, which went live in November 2019. "In a very short period of time, we had transformed ourselves from the largest brick-and-mortar retailer in the space in Canada into an organization that sold not only mattresses, but also all the sleep accessories with a channel agnostic approach in terms of being brick-and-mortar and digital."
The timing of the launch was impeccable. Just six months later, the COVID-19 pandemic tore across the world, drastically accelerating retail's digital transformation. "It was perfect timing for that ecommerce website launch because it became explosive for us when COVID-19 hit," he recalls. "But nobody has a crystal ball in front of them and there were years of planning before we actually flicked that switch – so it was down to a little luck and a little timing."
---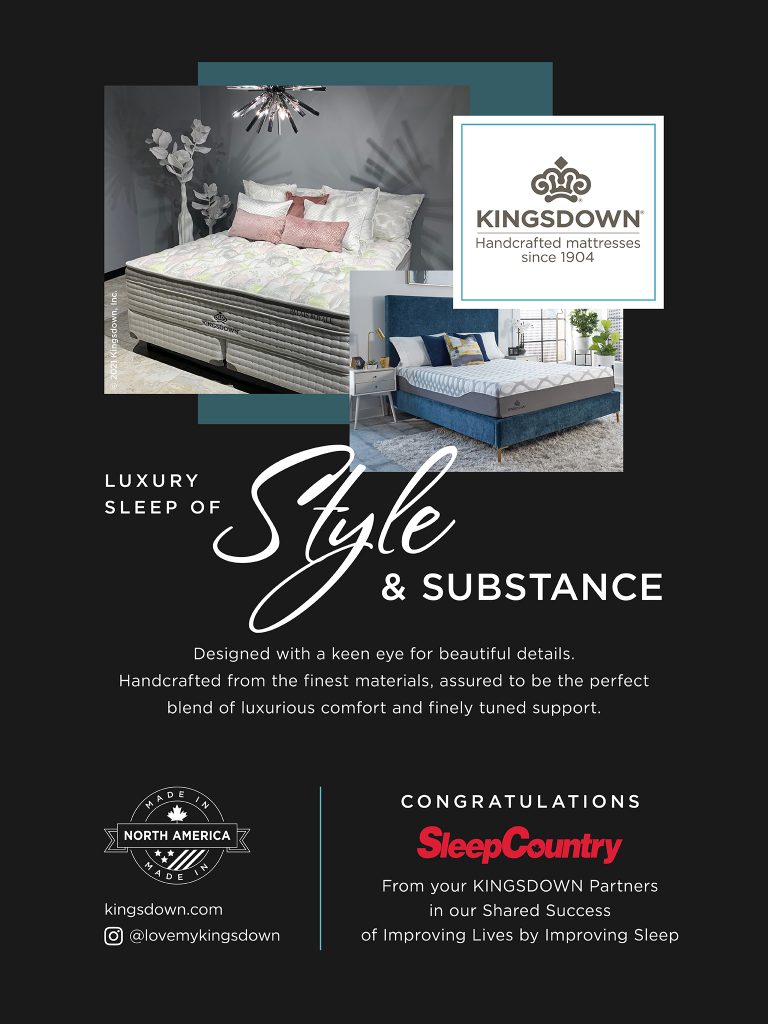 ---
Advertisement
But those are not the only ingredients in Sleep Country's bag of tricks. Culture and people, which Stewart describes as the "warm and fuzzy" sides of the business, also play significant roles. "Our culture centers around our desire to win and our desire to win over the hearts and minds of Canadians – a sense of family and belonging," he says. "We've been around for 27 years, but the resilience of my team and their flawless focus around execution have proved to be unbelievable assets throughout the pandemic."
Flexibility also forms a cornerstone of Sleep Country's business. "If you want to be a retailer in this world, you need to make sure that you're flexible and focusing on what the customer needs, not what you think they need," Stewart stresses.
Even though many legacy businesses "get too comfortable" in the way that they have operated over the years as a result of their size, Stewart is determined never to fall into the same trap. "I never underestimate the resilience of the human spirit and how quickly people are willing to change and shift," he says. "We are a culture that embraces what we don't know, and usually what you don't know can become your greatest asset. I think a lot of people forget that and get a little bit complacent. We are never too comfortable in our own skin; it keeps us strong and makes us special."
THE ART OF LISTENING
Listening to your customers is also more important than ever, he insists, particularly with the rise of social media. While businesses used to talk at their customers in a one-way conversation, new technologies are giving consumers a voice. "Now, as you build communities, own your loyal base and try to expand your customer segmentations, it is much more of a two-way conversation," Stewart says.
"Once, we talked about the industrial revolution. This is the entrepreneurial revolution, the digital revolution, the communication revolution," he says. "At a time when your customers have access to you more than ever, you better be listening. And I think we do that – we listen a lot."
This is just one of the many lessons that he has learned over the years. "One of the biggest lessons I've learned and am still learning is to push myself out of my comfort zone. It's about embracing uncomfortable situations and finding the courage to take a leap of faith and keep going," he shares. "That's usually when the greatest transformative breakthroughs happen."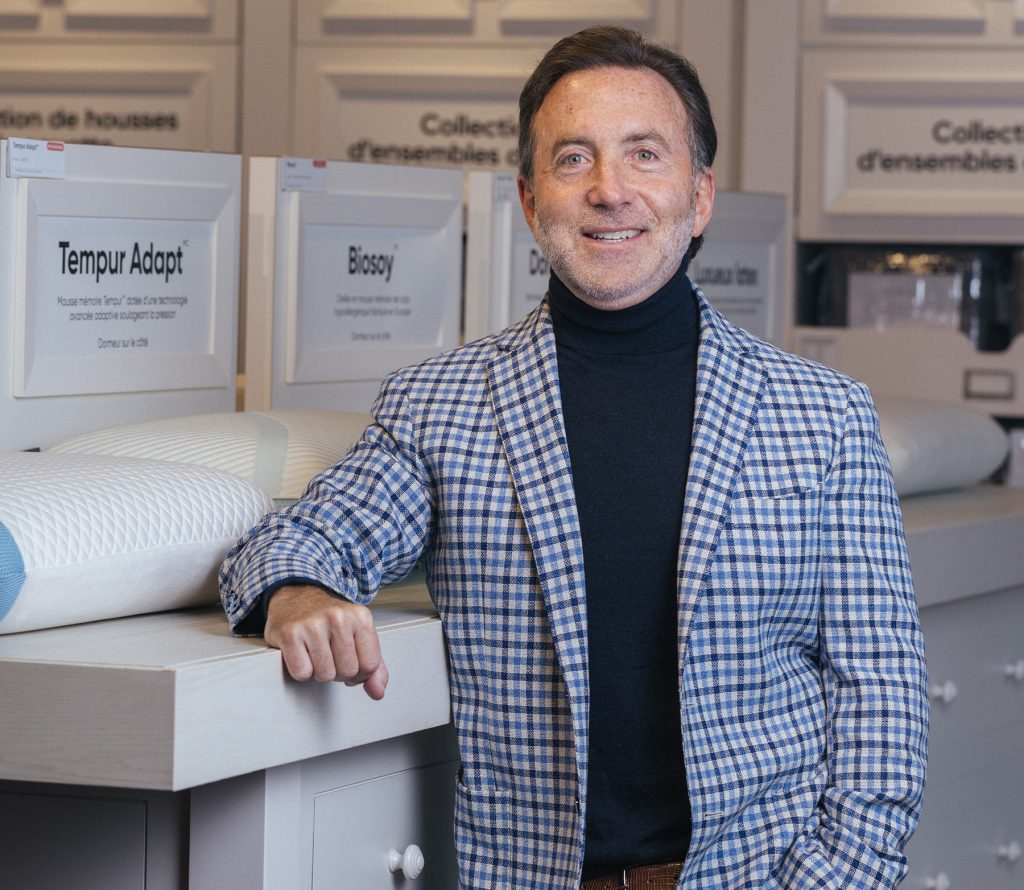 "I think the world has gotten smaller because of COVID-19 and the new Zoom world that we live in."
PARTNER LOVE
There's an expression among those who work at Sleep Country: "Once you're in, you can't get out". It may sound like a line from The Godfather, but it's actually a positive thing, according to Stewart. "We're very, very selective about who our partners are. We have certain expectations around service levels and the quality of products because we are the custodians of our customers; everything has to be right for them," he says. Ensuring its partners are also "doing the right thing" from a corporate perspective is also a high priority.
When it comes to the "huge" role Sleep Country's partnerships play in the company's success, Stewart is quick to point out that the word partner has many different meanings. But, whether you are talking about a life partner, a social partner or a business partner, it all boils down to one key thing, he insists. "For me, it's all about compromise and flexibility – the situation has to be good for both sides," he says. "The beauty of our growth over the last 27 years and the success that we've had is that our partners have actually grown with us along the way."
PANDEMIC POWER
The importance of its supplier relations became even more apparent during the mayhem of the pandemic when uncertainty reigned supreme and the retail landscape's transformation suddenly gathered pace. But despite the unknowns, Stewart was struck by a silver lining.
"It's funny how the world comes together in times of tragedy or adversity," he comments. "This was a time when you could see who your true partners are and they see who you are, too."
According to Stewart, the pandemic's effect will roll well into the future. "I think the world has gotten smaller because of COVID-19 and the new Zoom world that we live in," he reflects. "When it comes to the conventional way of doing business, that genie's never going back into the bottle. So your partners around the world are becoming that much more accessible and important."
---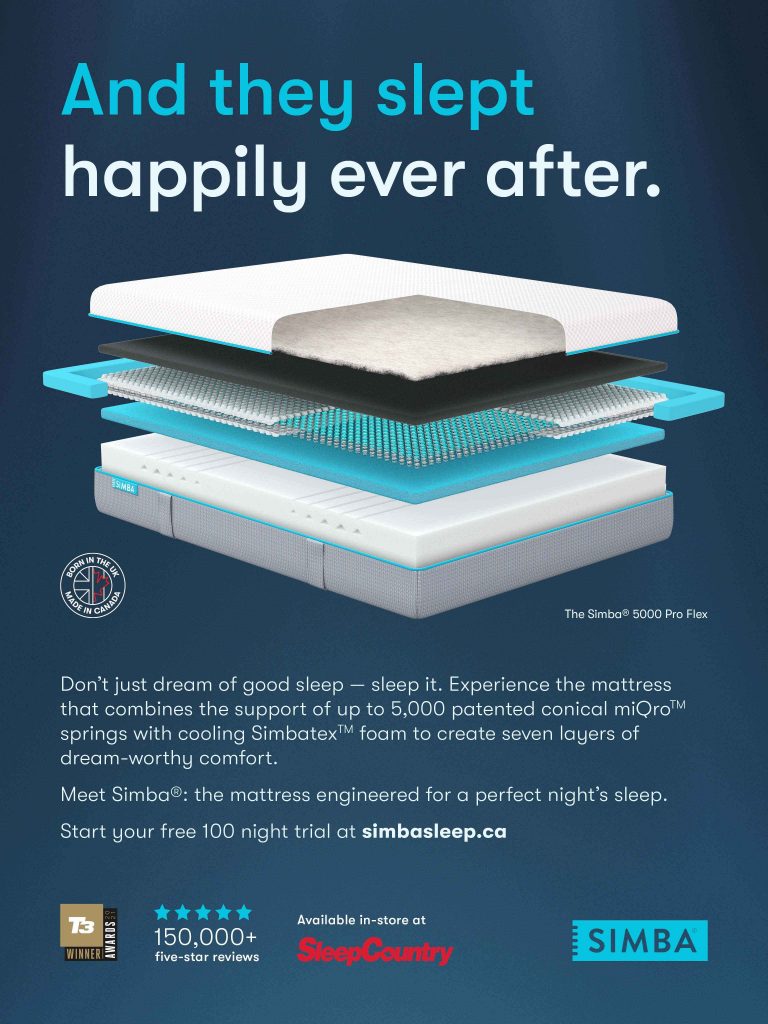 ---
Advertisement
NEW WORLD ORDER
Fortunately, with 18 "strategically located" distribution centers across Canada, the company is well-placed to benefit from the new status quo. "That last mile has become more important than ever before in terms of serving the customer with speed and efficiency," Stewart says. "It has to be a seamless experience for the customer in order for anyone to succeed."
Teaming up with what would once have been considered competitors is another way the landscape has altered, with Sleep Country partnering with other retailers such as Walmart and Best Buy. "Initially, they were competing against us. Then we saw the benefit of becoming partners, deciding we could handle the last mile beautifully together. There's no denying that they are marketing machines, making incredible products.
"The lines have become increasingly gray over time, so the evolving retailer that can embrace its competitors and find ways to embrace its suppliers in different ways than ever before is going to transform the landscape of retail. And I think we are going to be a big part of that."