Before joining Hager Group, a family-owned manufacturer of electrical installations for buildings, Sophie Breton spent 22 years working for General Electric. The shift from a giant, publicly listed conglomerate to a privately owned multinational brought with it an equally significant shift in her personal leadership style.
"I was coming to a point where I'd been somewhat trained in GE, which is a quoted company, so each quarter is the start and the end of your life, somewhat," she recalls. 
"When you experience that for many years, you start to think, 'Okay, it's good to achieve results, but maybe I'm also interested in having a more mid-term view of the business.' I'm not saying it was never the case in GE, but it's a question of proportion and balance." 
Hager was founded by brothers Oswald and Hermann Hager, together with their father Peter, in Germany in 1955. Here, Sophie was able to tackle challenges within a new time frame, while still operating in a similar business culture to the one she was used to, in an industry where her training as an engineer continued to inform her leadership style. 
The change also meant Sophie was now in an environment where the overall company strategy was more present and immediate in everyday life, and where leadership felt more approachable because of the organisation's smaller size, even if Hager is a US$3 billion company with some 11,500 employees. 
Listening mechanism 
Hager designs, patents and installs a huge range of systems that are used in commercial, industrial and residential buildings across the globe. These include systems that centrally control lighting in office blocks, for example, or that automate things like air conditioning and access to buildings. Its core business is protecting people through the installation of electrical and short circuits.
Sophie has now been with the company for nine years, and for the past three, she has been Senior Vice President for the Asia–Pacific region – another shift that encouraged a change in her approach to leadership. Being responsible for such a large diversity of cultures from Australia to Singapore, India and China, forced her to find fundamental commonalities to help her communicate effectively with whoever she needs to deal with. 
No matter where you come from, a leader's job is to understand the mechanism needed to encourage people to speak up as well as listen.
"You can see the diversity, but at the end of the day, it's all about people," she says. "There are, of course, differences in culture, but the most important thing is that no matter where you come from, a leader's job is to understand the mechanism needed to encourage people to speak up as well as listen. The way to do that depends on the culture, but the need is the same."
Leading such a diverse team doesn't only demand strong leadership skills – it has also been a way for Sophie to develop those skills. "In the course of your career, you learn a lot from your hierarchy at the beginning," she reveals. "But you learn much more when you are face-to-face with your team, and the more diverse the better.
"If you have a very good team that's very efficient but made up of people with a similar profile, they will always come back to you with the same thing. If you have a team that is diverse, they will look at your leadership from different angles."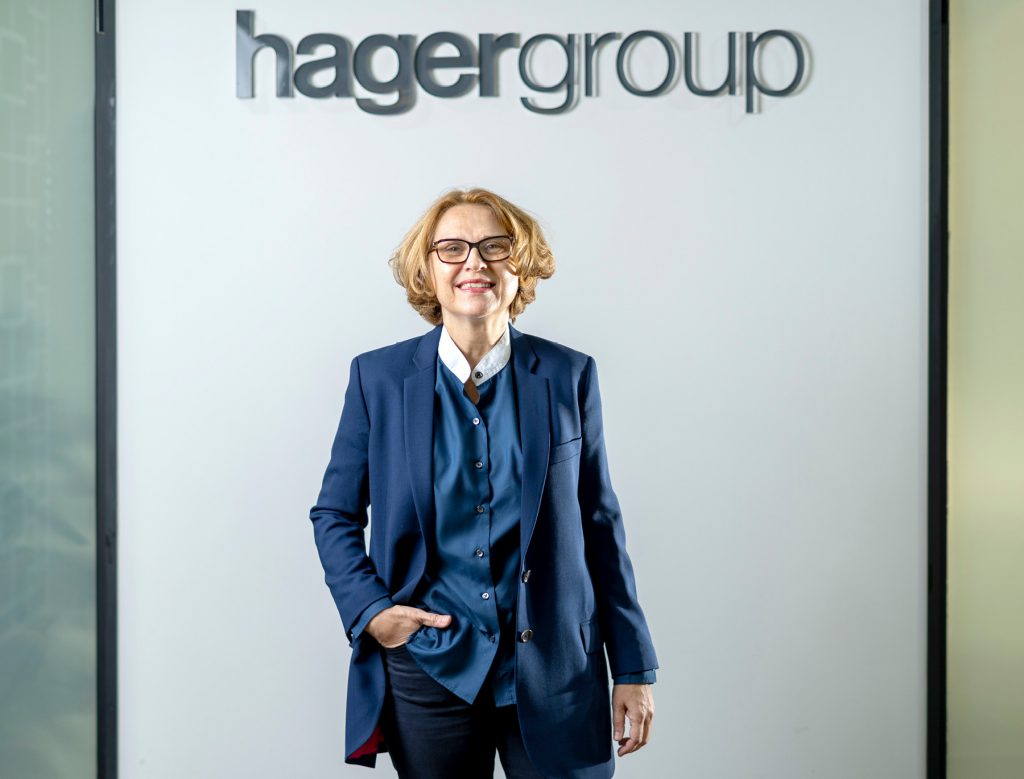 Tangible targets 
Receiving diverse feedback is much more challenging than leading a more homogenous team, Sophie notes, just as it is more challenging to serve a wide range of different customers than it is to always do the same thing for the same type of customer.
When the COVID-19 pandemic began, Sophie noticed that the crisis exposed a problem with Hager – the company did not have a diverse enough range of customers and suppliers in some areas. "To me, COVID-19 has amplified two key weaknesses: having a single-source supplier or single-source customer for a solution, and dependency on travel," she reflects.
These are both things that Hager will be working to resolve as it embarks on a 10-year plan that was formulated in 2020. Another key focus will be on reducing the company's carbon footprint.
"More than 10 years ago, Daniel Hager initiated what we call E3 – energy, environment and ethics – and now we have more tangible targets around that," Sophie says, referring to Hager's Group CEO. "We are not starting from scratch."