After 27 years at Auchan Portugal, there's still one thing about the retailer that fascinates CEO Pedro Cid. "The most interesting thing is the relationship between the manager, the team and the clients," he tells The CEO Magazine.
"As a company, Auchan is all over the world; we're in France, Russia, Taiwan, a lot of countries. But we adapt to each market, so we don't have the same stores in Portugal as in Spain. How do we adapt? Our teams talk to clients, then they pass on the feedback to our managers. We adapt and improve."
One of the world's largest retail chains, Auchan's point of difference is the steady line of feedback from its customers that helps shape its offerings. Founded in France in 1961, the everything-under-one-roof retailer has stayed at the top of the industry by successfully bridging the gap between digital and bricks-and-mortar retail. Nevertheless, recent events have left it at a crossroads.
"What's happening in this sector is very difficult, not only for us in Portugal, but for the whole team," Pedro admits. "This is a company that did the same thing for a long time, and then all of a sudden things had to be done a different way. We thought a lot about it and how we could transform the company."
As is so often the case, the key was determined to be the right people. "You not only need the right people, you also need to make sure they have the right capabilities and expertise," he explains. "To work here a decade ago, you had to know about the product and only the product. Now, you need to know about data and ecommerce."
Today's methods are much more streamlined than when Pedro started with Auchan Portugal in 1995, as a section manager at the Jumbo Castelo Branco shopping mall. He's come a long way since then, first as Store Director in 2002, Regional Director in 2016 and, for the past five years, CEO. Throughout that journey, Pedro says he's learned that customers need two things.
"The first one is trust," he stresses. "They need to trust our brand, they need to trust our products and they need to trust us as a team. That's the most important thing."
The second is convenience. "That's the transformation we're working on now, starting with ecommerce. We've also reduced our organisation to clear away the clutter of hierarchy and make it easier for employees to speak with the CEO. Now, we have three levels."
For a company with almost €8 billion in equity, that's very lean. It also imbues the company's direction with the voices of the people that make it tick. "I ask everybody for their opinion," Pedro shares. "It makes things much more interesting."
It also makes the company more nimble when it comes to decision-making. "We're able to make a lot of changes in two or three days," he reveals. "In the past, it wasn't possible, but now it's very easy to change. So when COVID-19 happened, we were able to change immediately."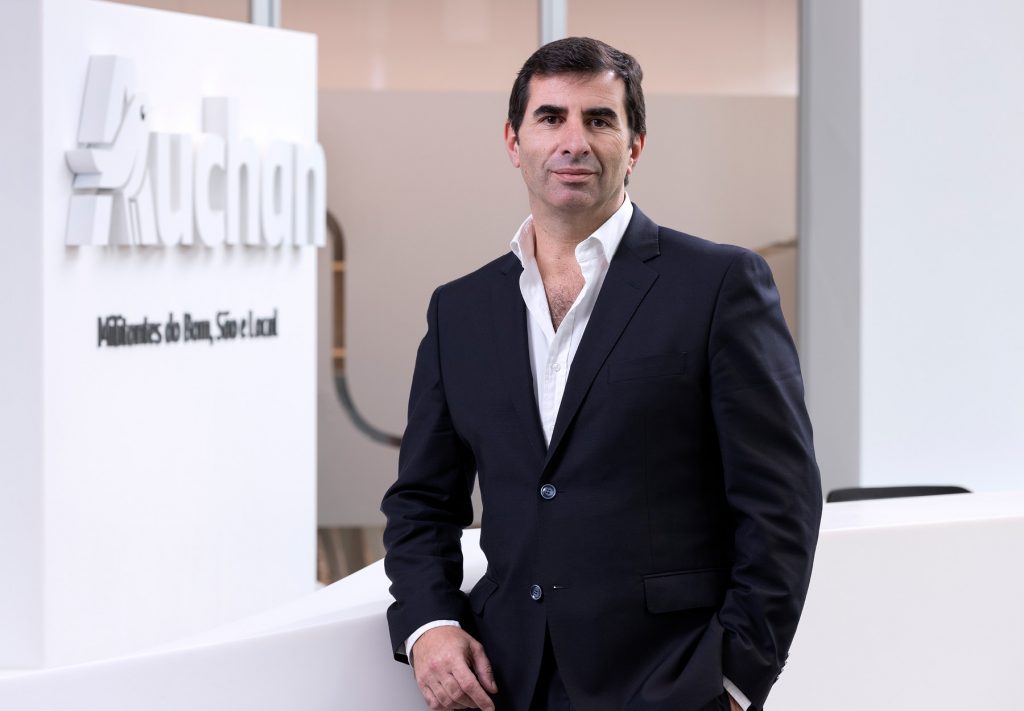 "Customers need to trust our brand, our products and us as a team. That's the most important thing."
In the early days of the pandemic, Auchan Portugal's headquarters – with a team of 500 people – was, along with much of the world, faced with the prospect of working from home. "The CFO told me we didn't have the capacity to do that for so many people," Pedro says. "Four days later, we did it. We had 500 people working from home. So if we want to do something, it's possible."
But this agility and ability to listen comes from Pedro's firm belief in teamwork, something that developed during his years on shop floors. "I started in a small village, in a little supermarket, in a team of four. Everything I was able to do, I did with their help. Throughout my career I've worked in teams, I don't work alone. I don't make decisions alone. It's always a team effort."
That's why when he became CEO, he made a very important point to the board. "Companies typically treat the position of CEO very differently," he points out. "In the past, when people looked at Auchan Portugal they saw the CEO. Now, when they see Auchan, they see the team. There's no Jeff Bezos, there's no Elon Musk. There's the team."