If you're looking for a dreamy place to have a date night in New York City, there are hundreds of restaurants that qualify as romantic. Take it a step further and go beyond the restaurant to the seating itself – who doesn't enjoy sitting in a cozy, sexy booth where you can cuddle with your companion while enjoying a delicious meal?
Discover our choice booths in the city at a selection of restaurants already celebrated for their tasty food and soon to be loved for their snug decor.
---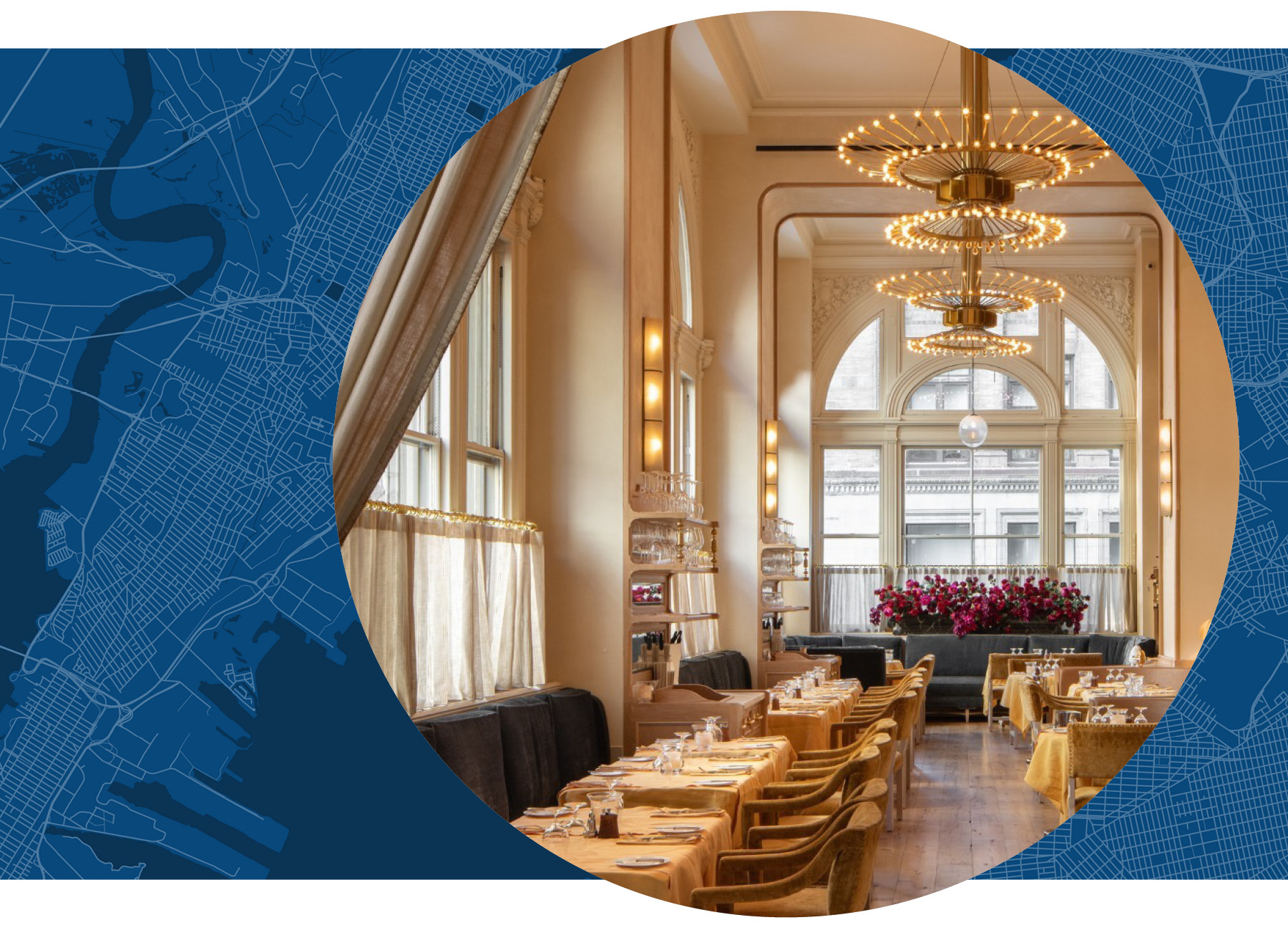 Verōnika, Gramercy Park
Designed by Roman and Williams, this stunning restaurant inside the Fotografiska Museum features plush velvet furniture and ornate chandeliers hanging from the soaring ceilings. Its luxurious booths offer an intimate and laid-back experience, each with a great vantage point to view photographs from Elizaveta Porodina along the walls.
The menu offers an innovative approach to classic Eastern European dishes – there is an entire schnitzel menu – while emphasizing in-season produce, sustainable seafood, humanely raised meats and traditional desserts such as peach melba.
---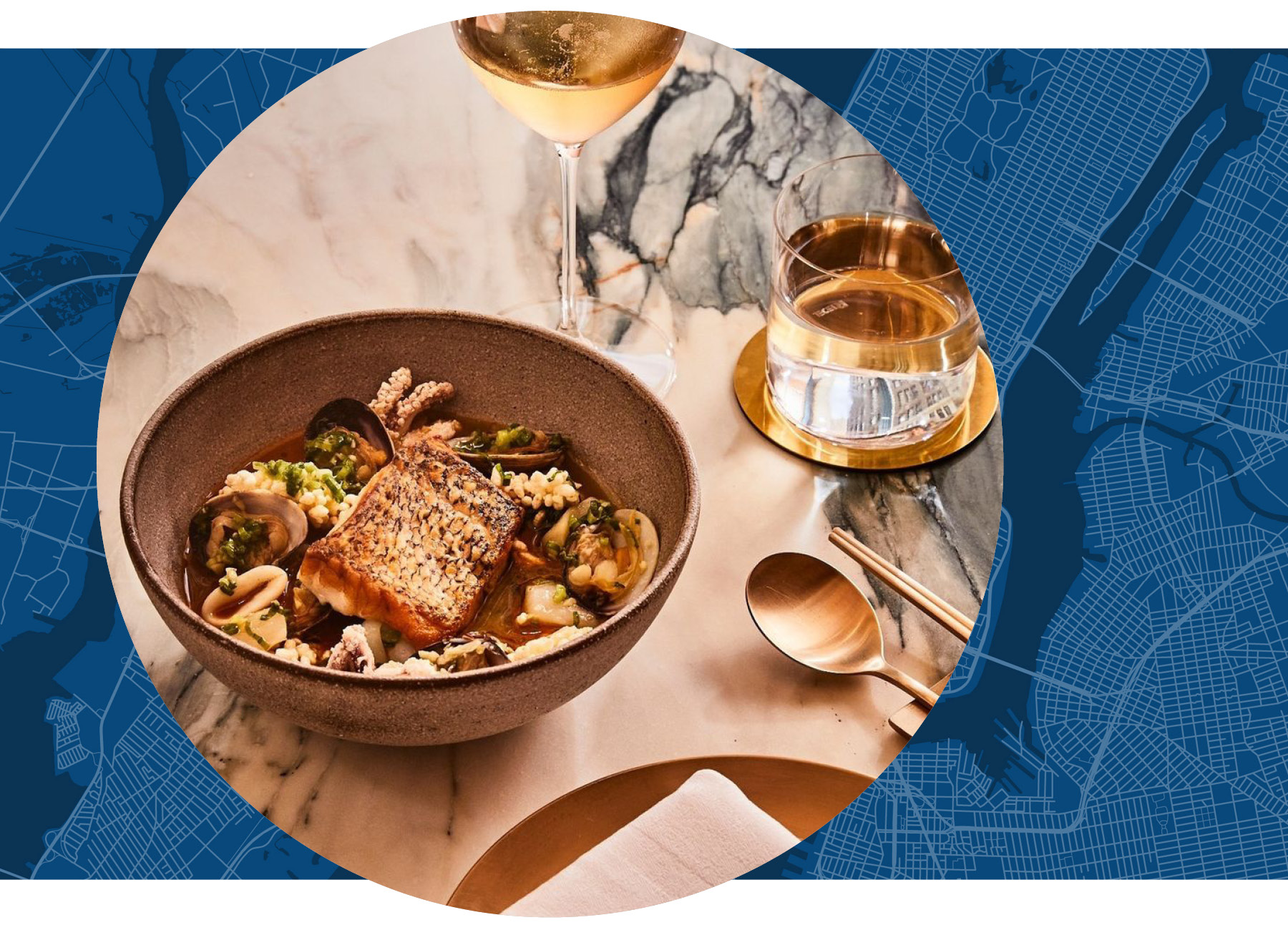 Oiji Mi, Flatiron
Diners at Oiji Mi indulge in an elaborate, five-course prix fixe that showcases creative takes on classic Korean food. Recalling the design of Manhattan social clubs of ages past, the Flatiron restaurant's design features rich textures including marble, velvet and dark walnut.
The six leather booths at the center of the room exude sensuality; request the booth directly across from the open kitchen for a voyeur-like experience as chefs prepare dishes, including bo ssam with heritage pork belly, oysters on the half-shell with spicy mustard mignonette and chili lobster ramyun.
---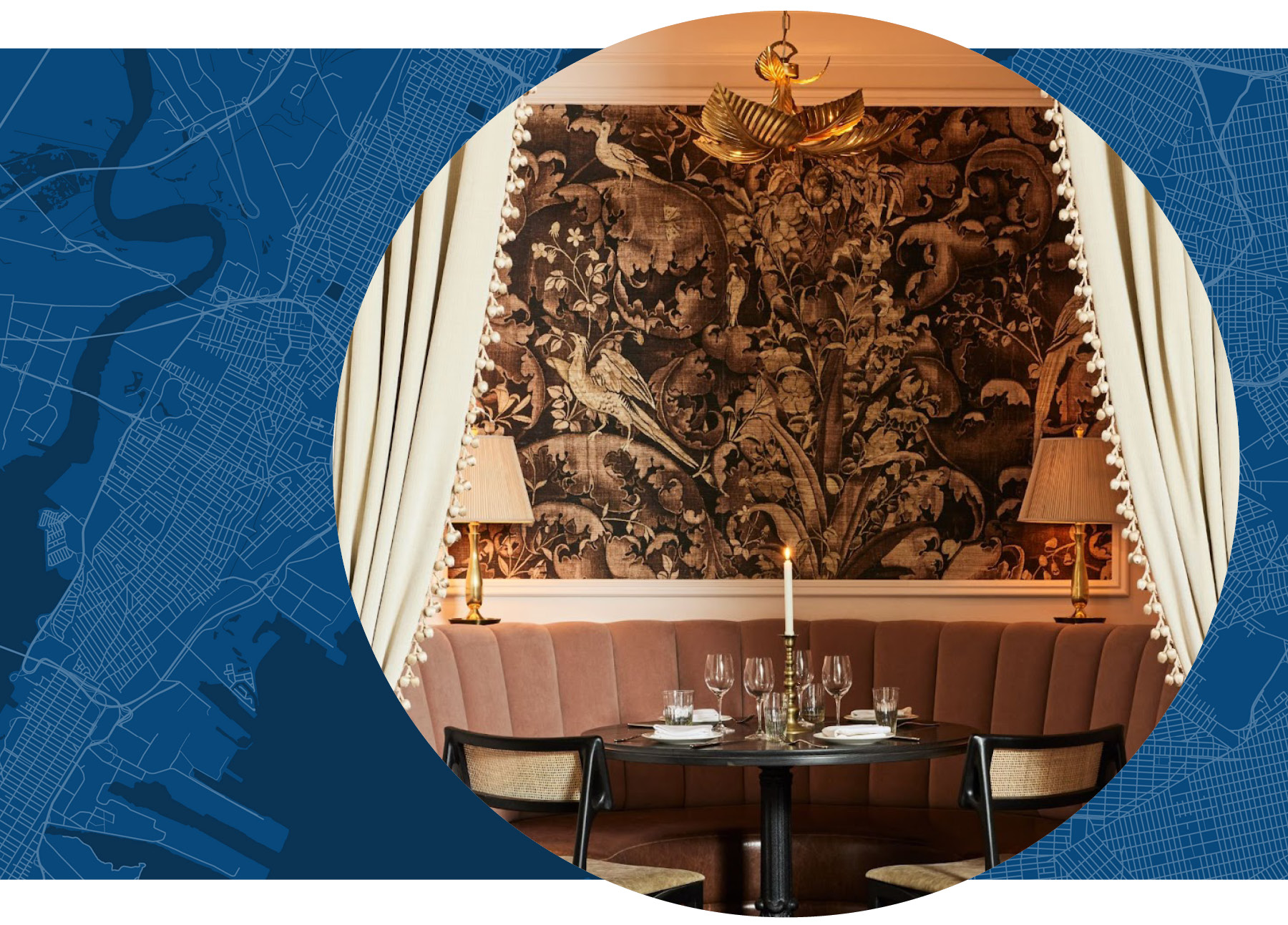 La Marchande, The Wall Street Hotel
Designed by Soho House vet Vicky Charles, La Marchande spotlights glamorous interiors with intimate dining nooks, ornate wall coverings and a swanky bar accented with green marble, brass and antique mirrors.
Obscured by curtains, six lush booths make for a sultry and stunning setting. The kitchen is led by Michelin-starred chef John Fraser, with a locally sourced, ingredient-driven menu featuring Asian-inspired brasserie food that complements Amy Racine's predominantly French wine list and vermouth-powered cocktails.
---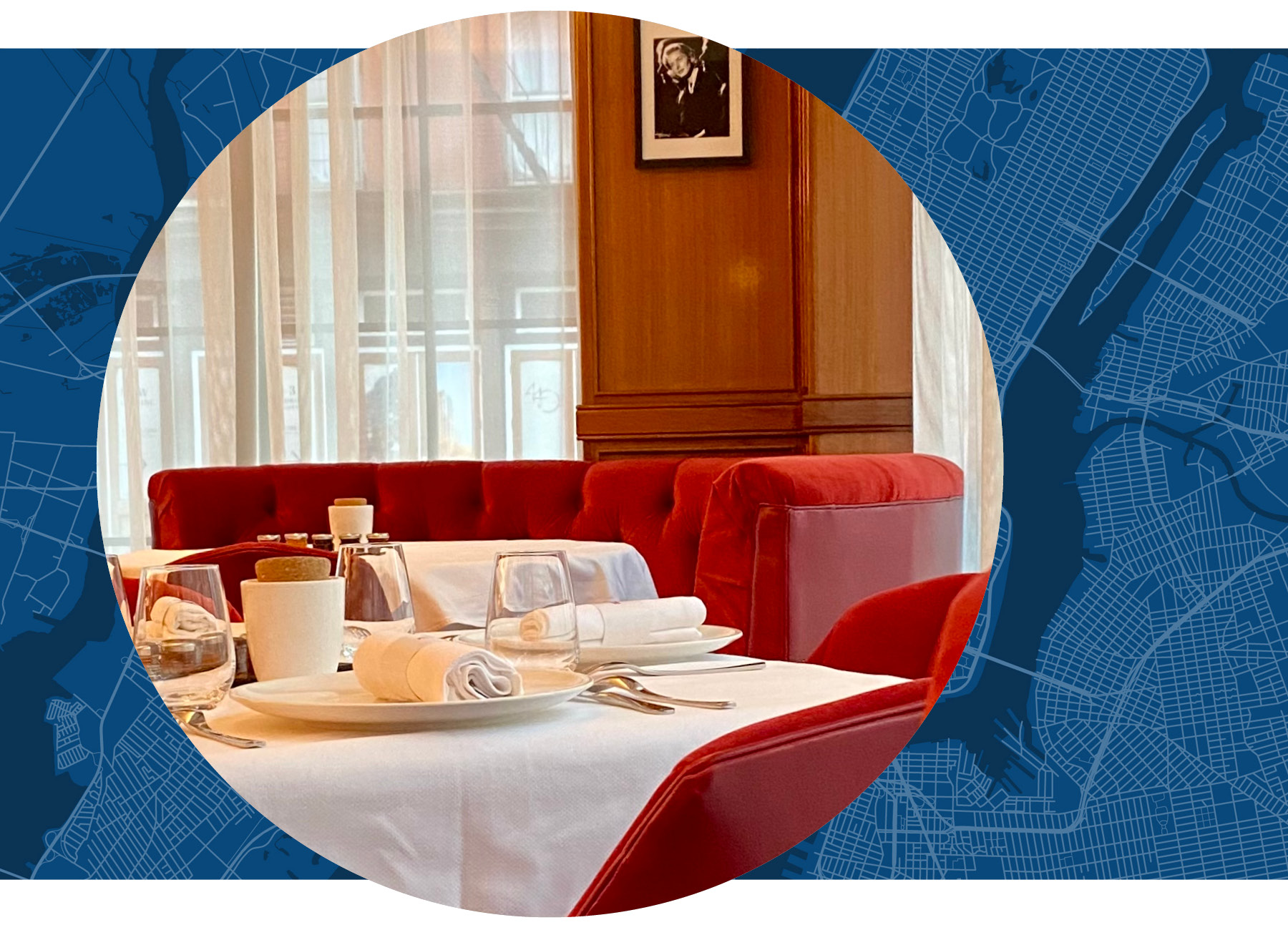 Brasserie Fouquet's, Tribeca
For a bit of Paris in New York City, this chic brasserie inside the hotel of the same name (whose original location is on the Champs-Élysées) is ideal. The Tribeca dining room is formal – with glittering chandeliers, white tablecloths, and black suit-clad servers – but approachable enough to lounge comfortably on its plush red velvet banquettes.
The room features just a handful of coveted round booths, so if you can't snag a dinner reservation, try booking in for breakfast or brunch to start the day on the right foot.
---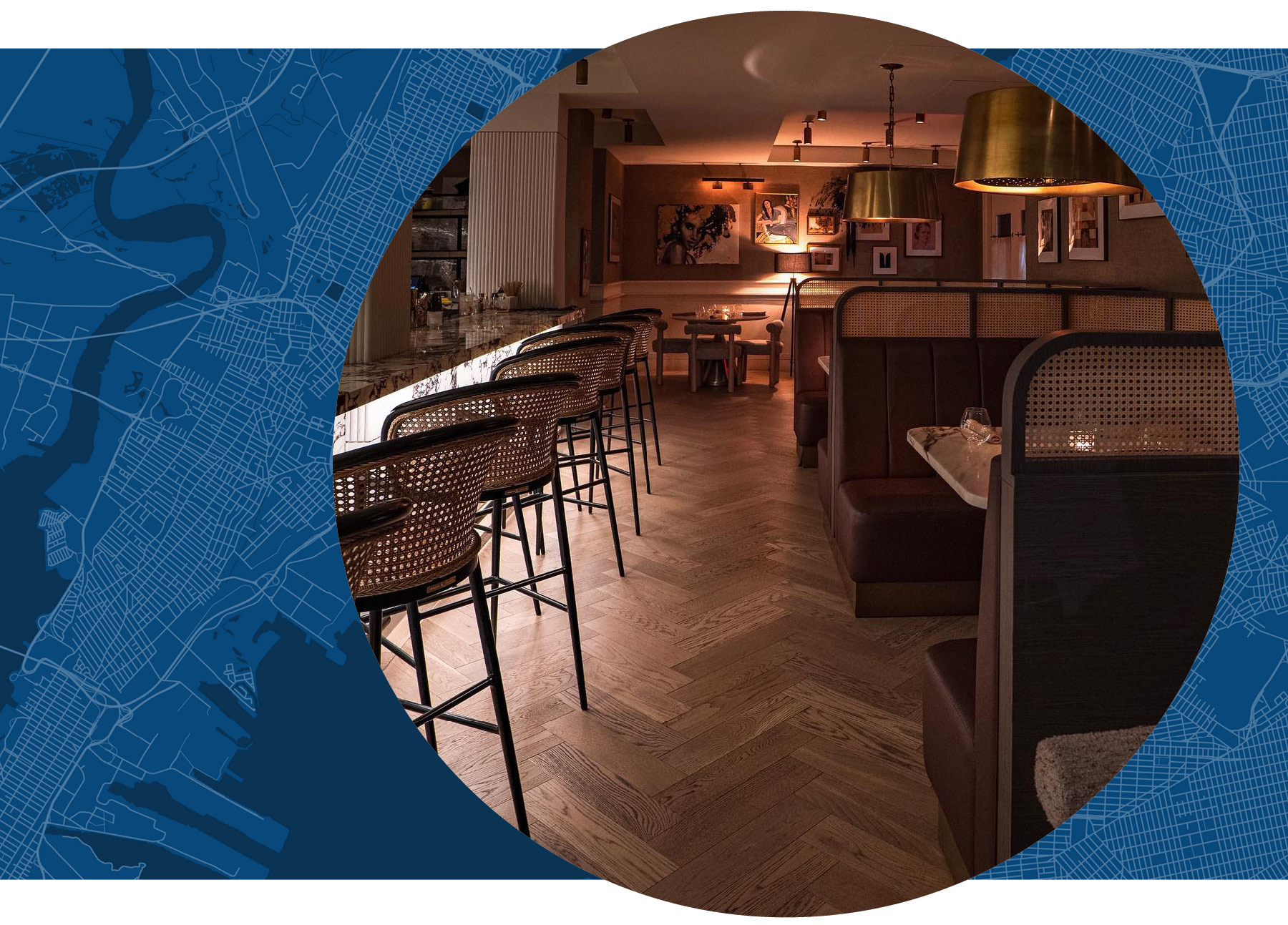 Le Salon Cocktail Bar & Lounge,

Tribeca
As you enter through Le Salon's elaborate flower-covered doors, you'll feel enveloped in romance immediately. This modern European cocktail bar feels like a stylish living room with elegantly framed paintings, marble tables and dim lighting.
Request one of two spacious C-shaped booths that face the bar and watch mixologist Erin Gabriella at work while you snuggle. Complement your drinks by ordering decadent dishes to share, such as truffle steak tartare, grilled branzino and lobster paella.
---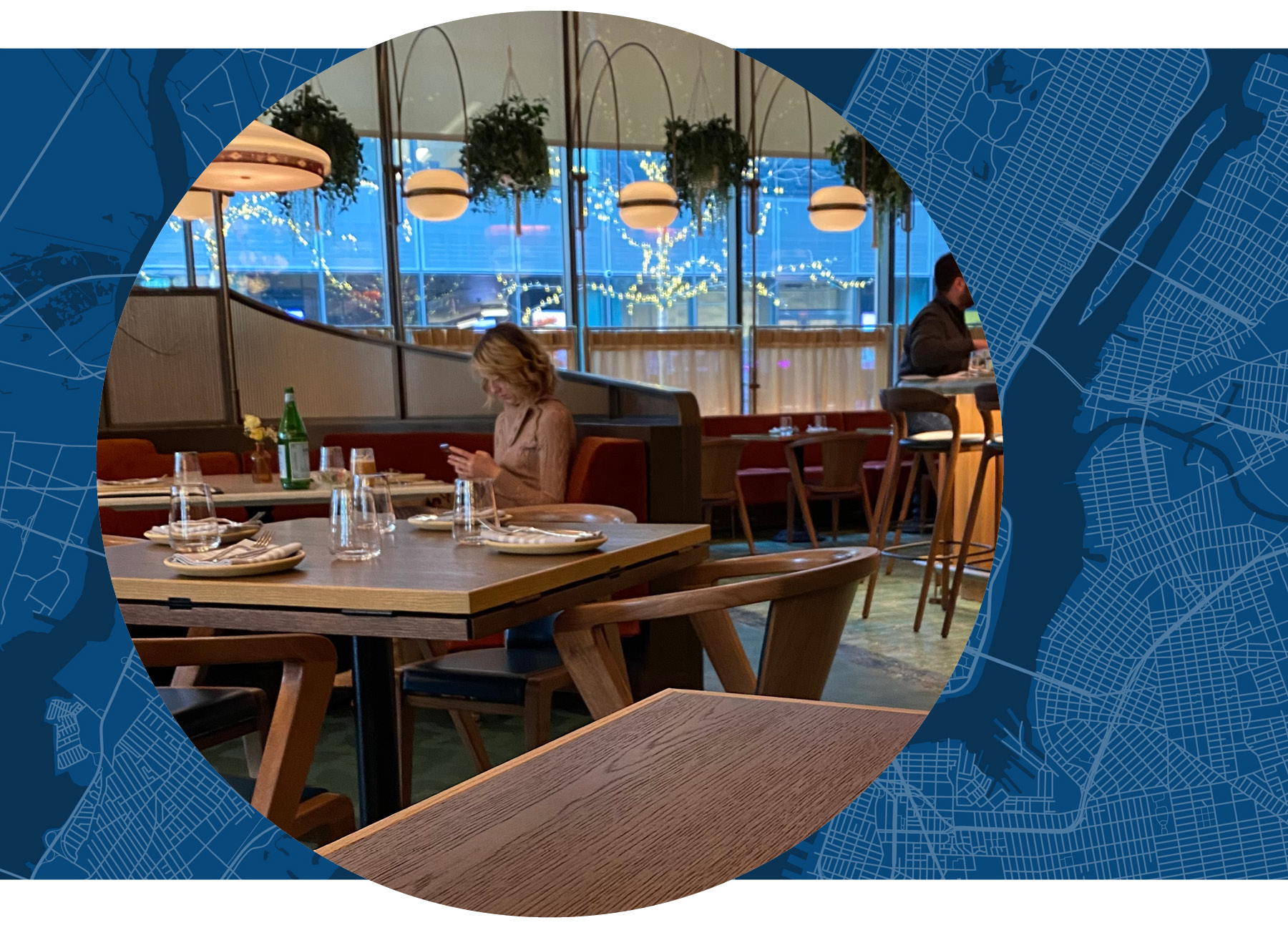 Zou Zou's, Hudson Yards
Travel to midtown to visit this lively Eastern Mediterranean restaurant courtesy of Executive Chef Juliana Latif, previously of The NoMad. Featuring influences from across the Middle East and North Africa, Zou Zou's has two bright orange U-shaped banquettes that sit opposite each other in the center of the room – intimate yet in the middle of the action; this is where you want to be.
Soaring arched ceilings and bold design with bright patterns and tile work create a transportive effect; visit Chez Zou, the private upstairs cocktail bar, after dinner to keep the night going.
---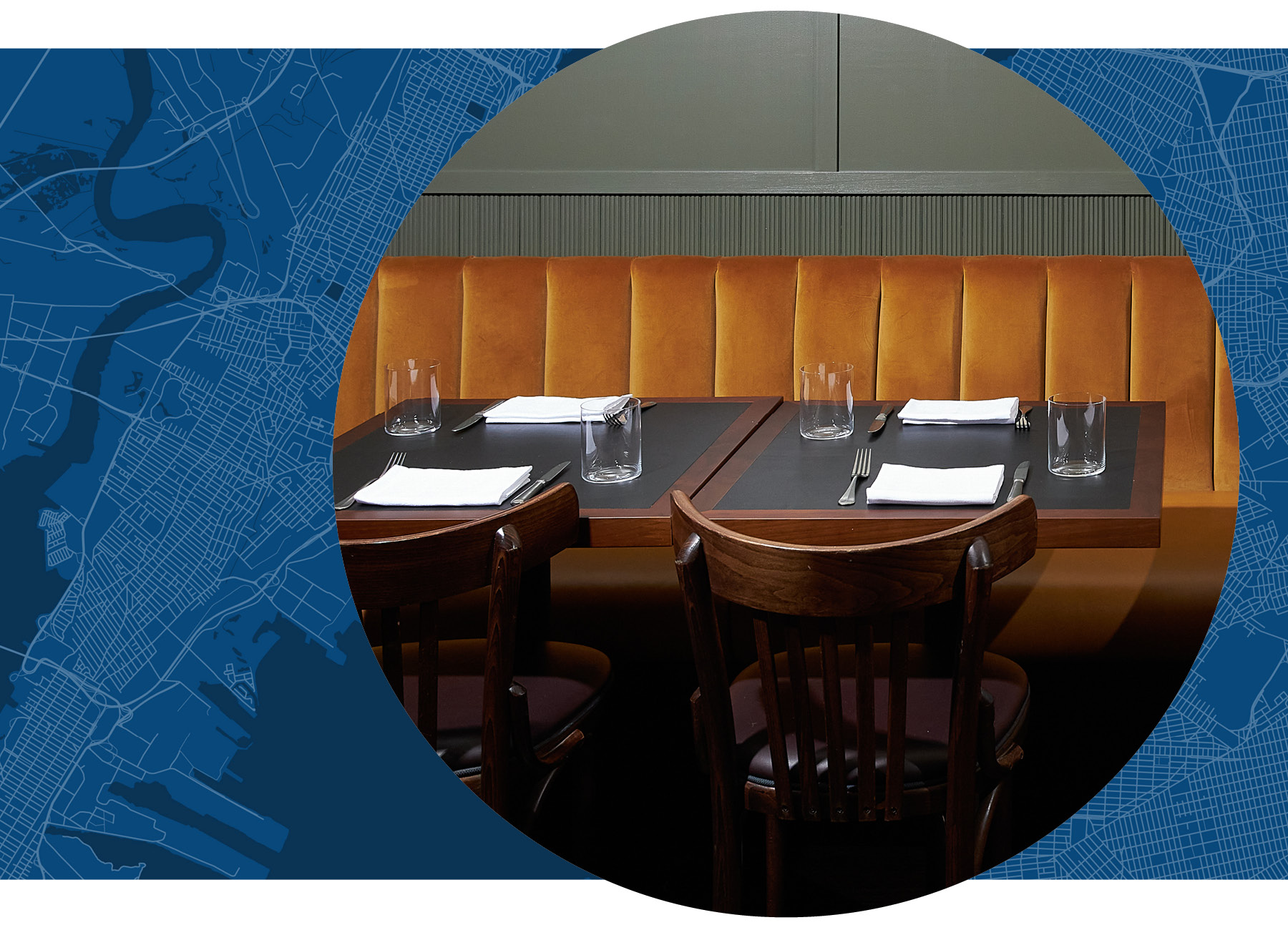 The Noortwyck, West Village
A West Village newcomer from a chef-sommelier duo of Eleven Madison Park fame, the Noortwyck has become an instant New York classic. The seasonal menu is timeless and approachable; thankfully, however, the freshly made parker house roll with cultured butter is an excellent constant, as is the roast chicken for two.
Two spacious booths feature custom Italian leather banquettes in shades of cognac and golden ocher velvet, evoking traditional supper clubs, and are ideal for canoodling.
---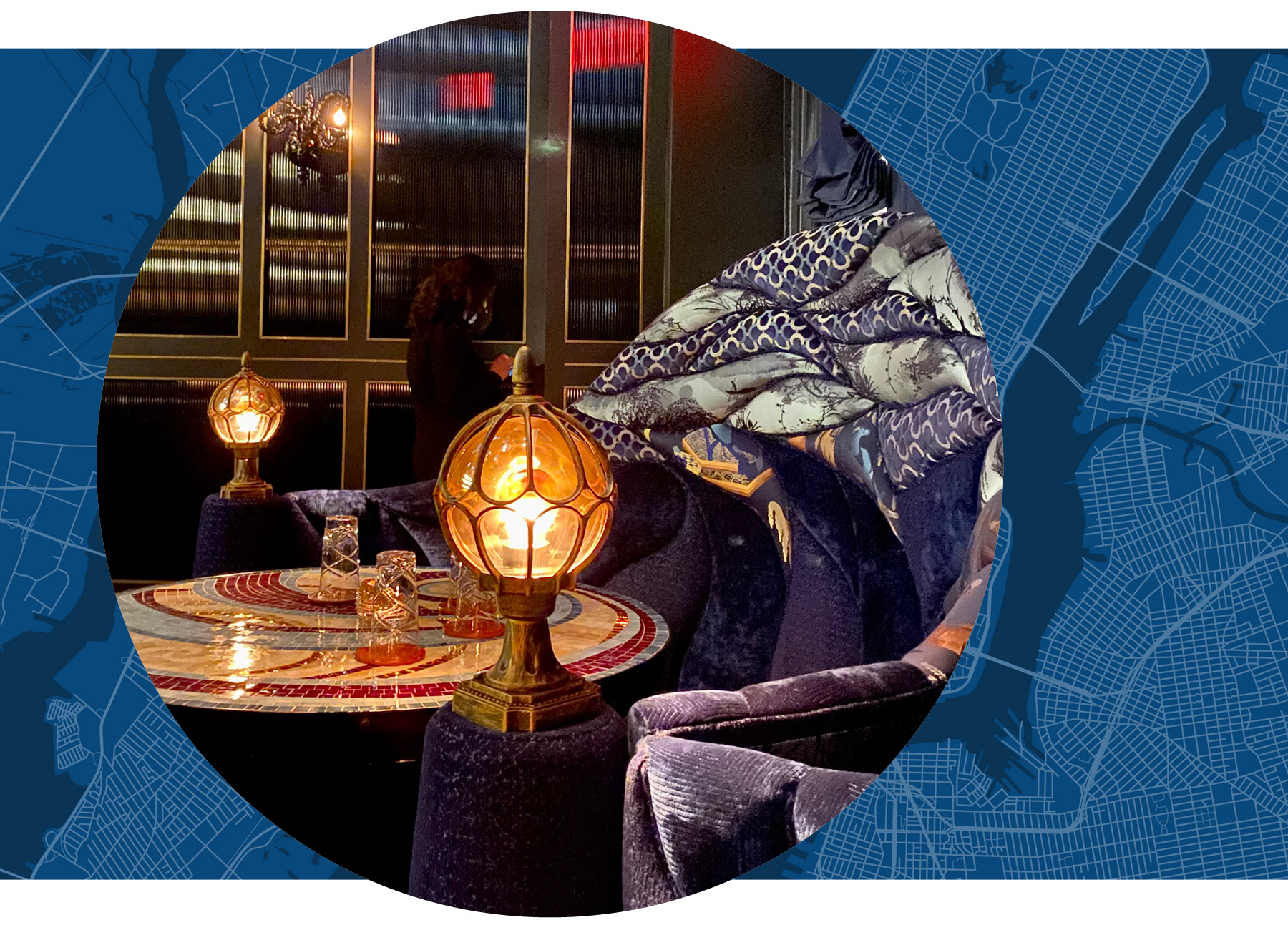 Shinji's,

Flatiron
A dark cocktail bar in Flatiron, Shinji's is attached to Michelin-starred Noda. Offering several indulgent small plates like uni chawanmushi with caviar and a petite Wagyu sandwich, the drinks remain top. We love the Tropicana – served inside a frozen orange – and enjoying it from one of the two booths makes for a perfect evening.
Meant to mimic a wave, the booths feature swooping, fluid seat backs in various patterned textiles that might make you feel like you're underwater as you gaze at the blue-lit bar and gigantic octopus overhead.
---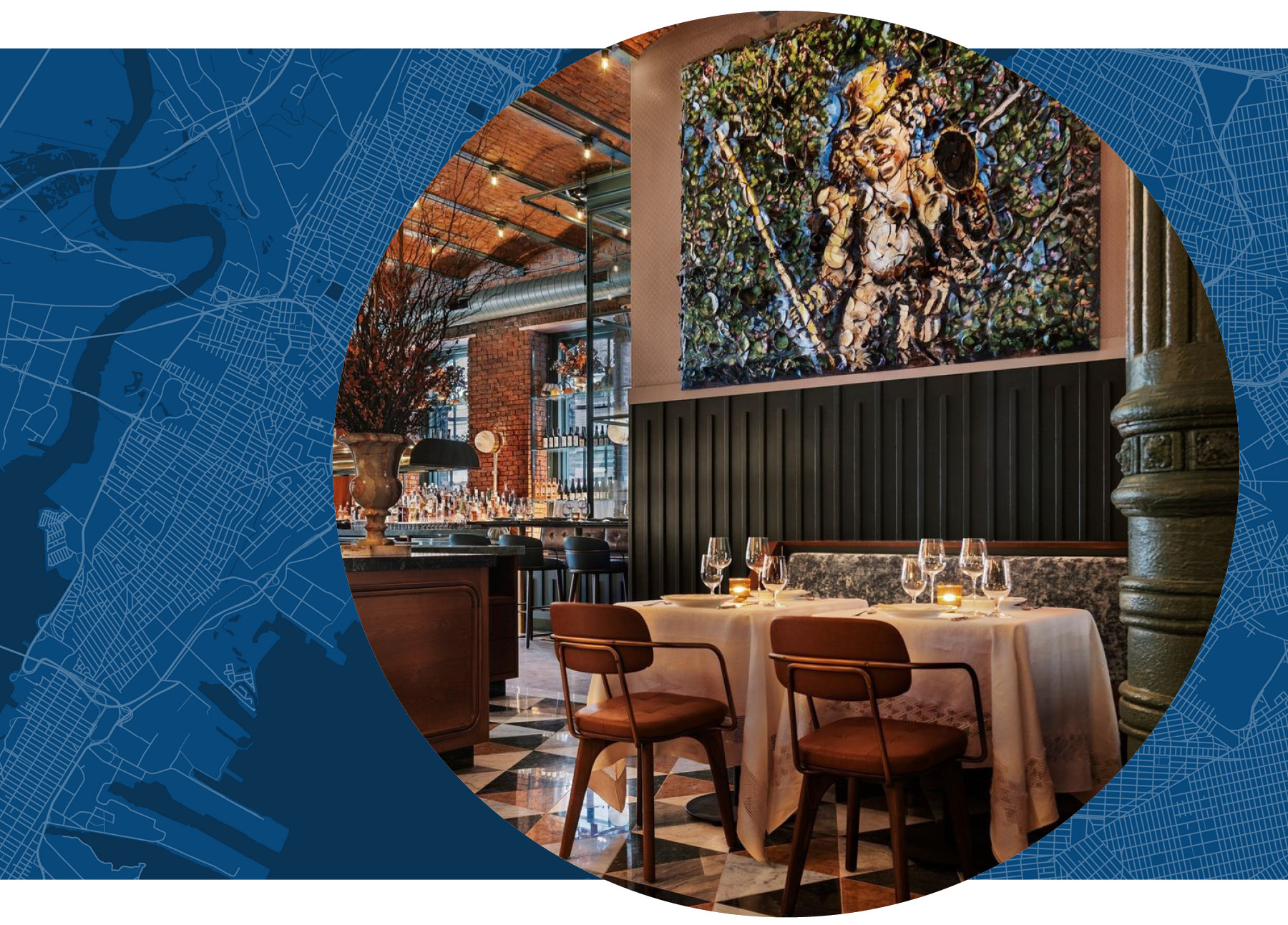 Torrisi Bar & Restaurant,

Little Italy
The latest opening from Major Food Group, Torrisi, features a menu inspired by its Little Italy neighborhood and the city's classic culinary traditions. Designed by Garrett Singer Architecture to honor the industrial features of the landmark Puck Building the restaurant inhabits, the original vaulted ceilings, red-brick walls, cast-iron columns and round-arched windows remain.
Seated along the perimeter of the dining room, seven seafoam crushed velvet booths provide a bit of privacy among the buzz while offering a premier view of the open kitchen.
This story was first published by Quintessentially and is republished with kind permission. Please go to Quintessentially.com for more information.