Innovation has always been the name of the game at Sampath Bank, ever since it was first founded in 1987. It was the first bank to introduce debit cards in South Asia in 1997 and the first in Sri Lanka to instantly issue a debit card at the time of opening an account.
More recently, it has notched up a number of accolades including the award for Sri Lanka's Most Innovative Bank at LankaPay Technnovation Awards 2022 based on how quickly its own customers embraced its new transactional technology.
It's been an impressive journey, and one that Nanda Fernando has been a part of since the very beginning. He joined the bank in its first year of operations after hearing of its plans to open a fully computerised bank while working at a leading private bank, having long held an ambition to take on a leadership role in banking services.
"I was quick to bridge the knowledge gaps that had to be covered through the completion of my banking exams and, thereafter, got early opportunities to prove my capabilities," he tells The CEO Magazine.
"From my early days, when a responsibility was vested on me, I really put all my effort into it and performed above expectation with commitment. As a result, I got opportunities to be promoted and during all such tenures, I performed exceeding expectations, with consistency. This helped me to gain the confidence of my superiors."

In his current position as Managing Director of Sampath Bank, Nanda serves several types of stakeholders, but a large part of his mission is to serve society at large by enhancing people's lives. "When I started as Managing Director, I saw there were many areas that could be changed and developed," he recalls.
"As such, my first task was to upgrade the leadership skills of my senior team. Thereafter, I set up a visionary plan styled as the 'Paradigm Shift' and worked on a major transformational plan. Together with my team, I wanted to execute our plans with a differentiation and that gave instant results towards success."
The arrival of the pandemic in 2020 affected the bank in "every imaginable way possible," Nanda admits. Indeed, the shocks have rippled both locally and globally with "no respite" over the past two years. He describes it as a VUCA environment of volatility, uncertainty, complexity and ambiguity – a term increasingly used in modern management and leadership to describe a situation of constant and unpredictable change.
The key, according to Nanda, is to seek ways to thrive – a challenge that he embraces. "For brief moments, I love the exhilaration I feel after overcoming or thriving under challenging circumstances. Demand shock, supply shock, health shock, risk shock, you name it, we had it," he says. "But we adapted by working as a team, constantly observing and anticipating the changes that can happen and are happening in the environment, and we put in place very agile structures that can quickly change and keep running."
The Sampath team are indeed a critical part of the company's overall success. "No single person would have the whole repertoire of skills and knowledge to face such rapid and diverse changes," Nanda says. Helping members of the team enhance their skills and achieve their full potential is therefore a big part of his job.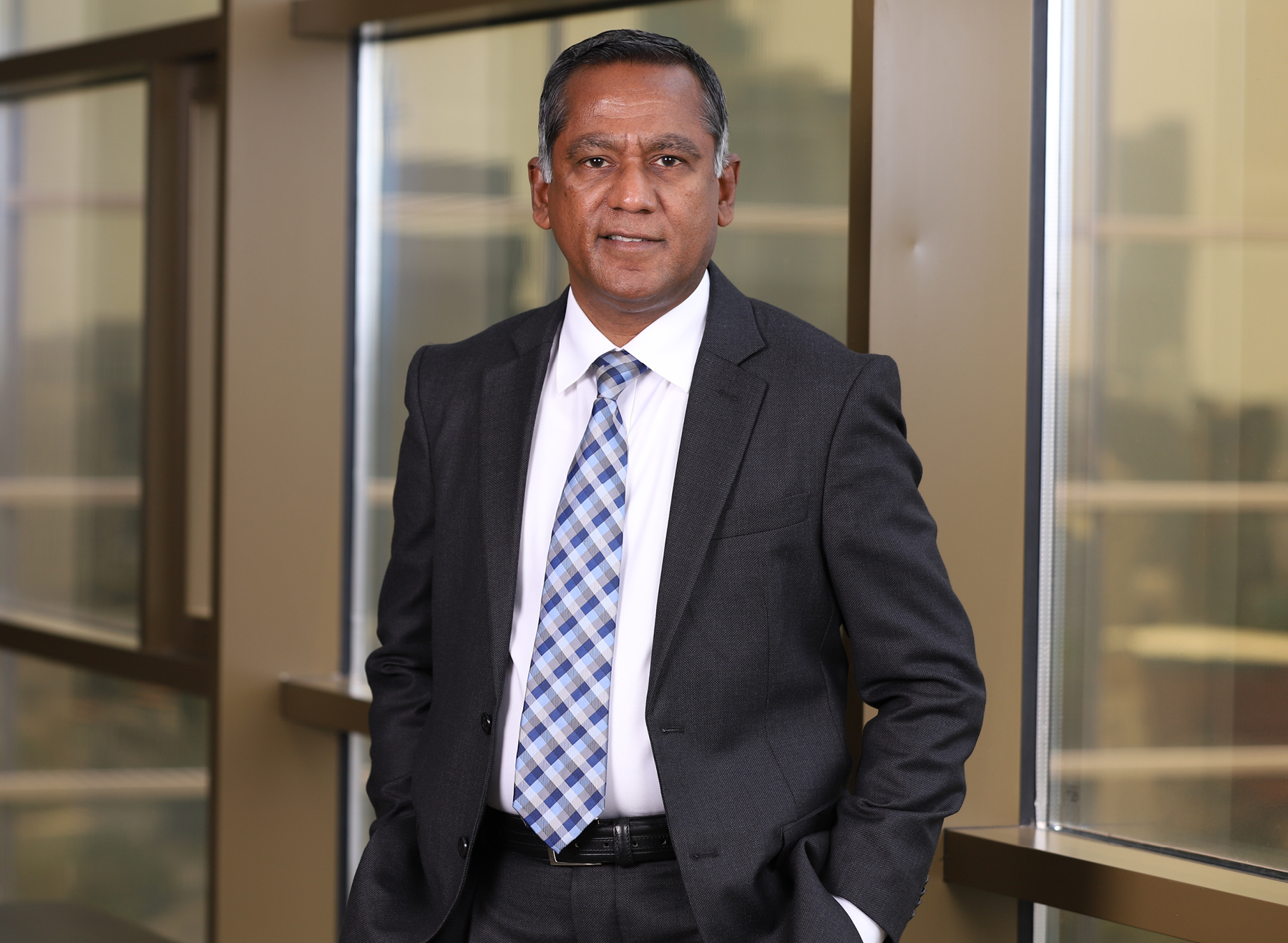 On Leadership
"I would say I am an executionist. I believe in taking some decisions with whatever available information there is rather than taking no decision while waiting for full information," Nanda says.
"In the current volatile, uncertain, complex and ambiguous (VUCA) world, delaying things is not an option. However, this does not mean being foolhardy. You must listen to your team well and peruse all available information.
"Listening to different perspectives is critical as it can prepare you better to face changing circumstances. But once you are satisfied, you must act decisively and quickly. And if you feel you are wrong, you must do course corrections double quickly. Decisions can be right or wrong, but indecision is always wrong. And not changing when you feel it's wrong is worse."
"Sampath Bank delivered excellent results in 2021, and I love those moments. But what I love more deeply about this job is on moulding and watching new leaders come up," Nanda continues. "To guide them and watch them learn and develop is probably the most satisfying thing for any leader.
Nanda refers to them affectionately as the "Team Sampath". "The Team Sampath has been very unique right from the inception and that is what has resulted in what Sampath Bank is today,' he says. "Sampath Bank has been blessed with a very talented, intelligent and committed workforce that I consider a privilege to lead, not only for me but for any leader.
"Such a team makes the job so much easier for the top and this is what sets Sampath Bank apart from our competitors. Competitors can copy our products, services and technology, but not this team."
This focus on culture is not Sampath Bank's only differentiator, however. There is its commitment to innovation as demonstrated by its 2021 introduction of Touchless Cash Withdrawals at Automated Teller Machines for the first time in Sri Lanka, and possibly the first time in the region.
Its recent partnership with Paycorp International, which saw it become the first local bank to enable businesses to automatically generate dynamic merchant LankaQR codes through the Sampath Bank Payment Gateway without any technical integration required by the merchant.
This innovation allows businesses to accept payments from all LankaQR enabled apps and digital wallets at much lower transaction costs than traditional credit card payment methods. Sampath Bank customers at present can accept payments with Visa, Mastercard and UnionPay International cards through the Sampath Payment Gateway and in partnership with Paycorp International, businesses can also accept American Express, Diners Club and Discover Network.
Then there are also its impressive efforts in terms of corporate responsibility. In March, it launched the first phase of the coral replanting program for the protection of marine resources in the waters off Sri Lanka's Mirissa coast. An additional land-based component of this corporate responsibility program is a campaign to replant and replenish the mangrove wetlands in the area.
"Being a responsible enterprise that takes pride in its Sri Lankan roots, Sampath Bank is committed to championing environmental sustainability," Nanda stresses. "Sri Lankans have a tradition of living in harmony with nature. The desire to conserve natural resources is ingrained in our culture, and these days there's a heightened awareness of a crisis in the natural world.
"Our coral reefs and mangrove wetlands are powerful tourist magnets. They are environmental assets under threat from global warming. As an island nation that depends on tourism, we cannot afford to let this happen. To put it bluntly, livelihoods are at stake. More Sri Lankans are starting to grasp this and that's a net positive."
Exciting initiatives are certainly underway, driving Sampath forwards at a dynamic pace. But for Nanda,  all comes back to people and the potential they offer the bank going forward. "When I leave this position as the Managing Director one day, if I can see a very capable leadership team taking this bank forward, I would say that is my greatest achievement," he reflects. "So, in a sense, you can say I still haven't achieved my greatest achievement."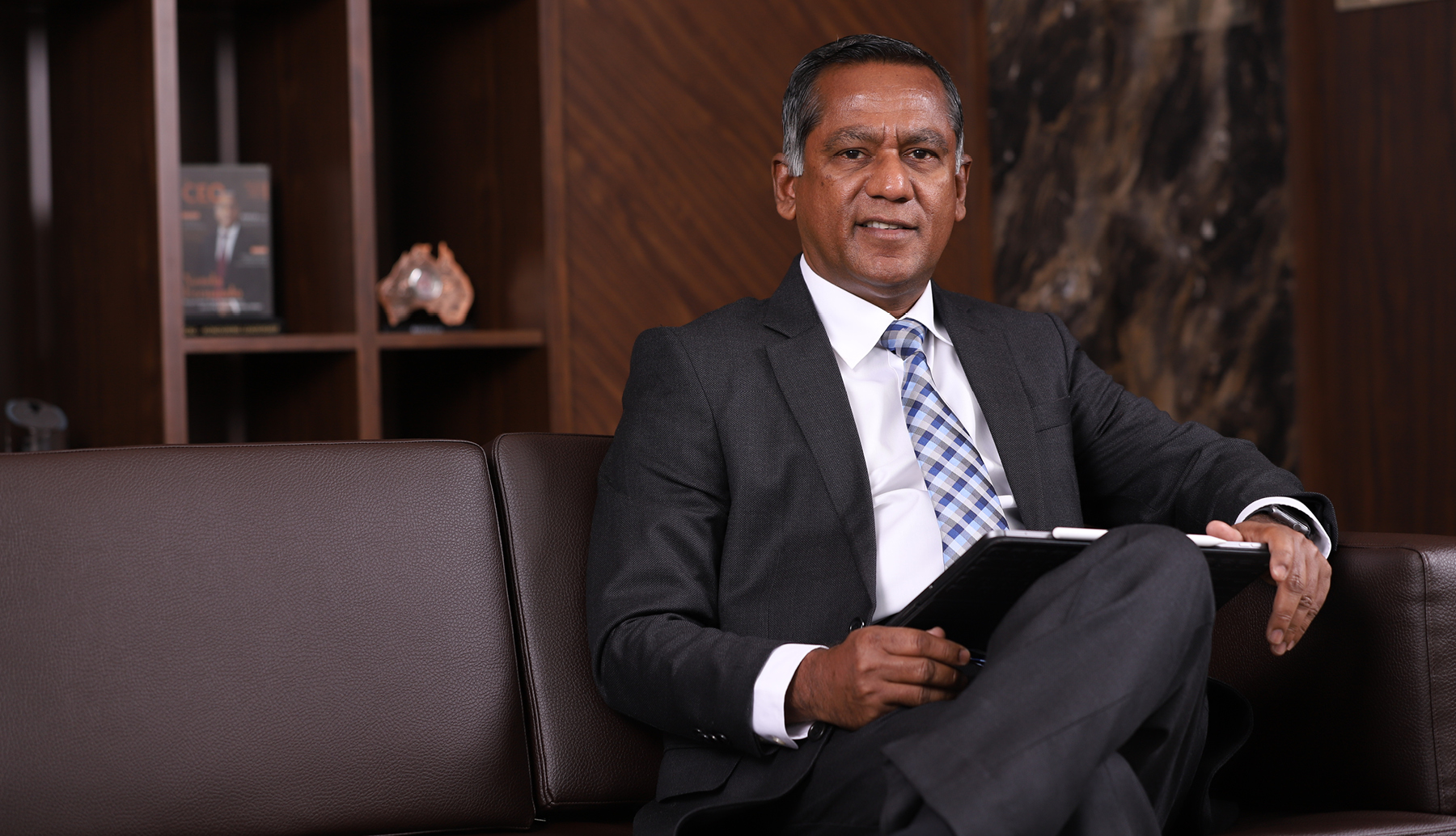 Words of Wisdom
Nanda strongly believes that the "man who wins, is the man who thinks he can".
"Therefore if one dreams big, focuses well on their dreams and does that consistently, day by day, then nothing could stop such a person being successful," he says.