Mark Gale has a simple travel solution for anyone traveling into South Florida and it goes by the name of Fort Lauderdale-Hollywood International Airport.
"We've always been considered this great secret, especially for folks who want to avoid the other airport to our south that's bigger, busier and often congested," Mark, the airport's CEO, tells The CEO Magazine.
Just streets from the Atlantic Ocean and with Fort Lauderdale's famous canals skirting around it, FLL, as it is more commonly known, has long been the smart choice for cruise ship passengers embarking on vessels in Port Everglades, just two miles away.
Yet the numbers suggest that the secret may well be out as the airport makes one of the fastest recoveries from the COVID-19 pandemic of any in the US. "We served over 28 million passengers last year," he says. It's a figure he expects to be even larger this year. "I think we'll end up around the 31 million mark," he projects.
It's still a way off the pre-pandemic record set in 2019 of 36.7 million passengers. But Mark is realistic and knows the industry needs time to regain its footing, especially in light of the current context of flying.
"I know it's been felt in many places, but certainly in the US, airlines are plagued by a number of different issues," he explains. "There are staffing shortages, particularly on the pilot side, and soaring fuel prices."
A Master Plan
"There were some big decisions made by the leaders of this county and airport in the early 2000s time frame that essentially unlocked the potential for this facility," Mark explains.
What had been, until that point, one main commercial service runway and two smaller runways became two large, parallel commercial service runways. "They did away with the two smaller ones and built a second commercial runway," he says.
At the same time, the airport embarked on a major terminal modernization and expansion program "in the billions of dollars", he says. "It required virtually every terminal facility in this airport to be touched in some form or fashion."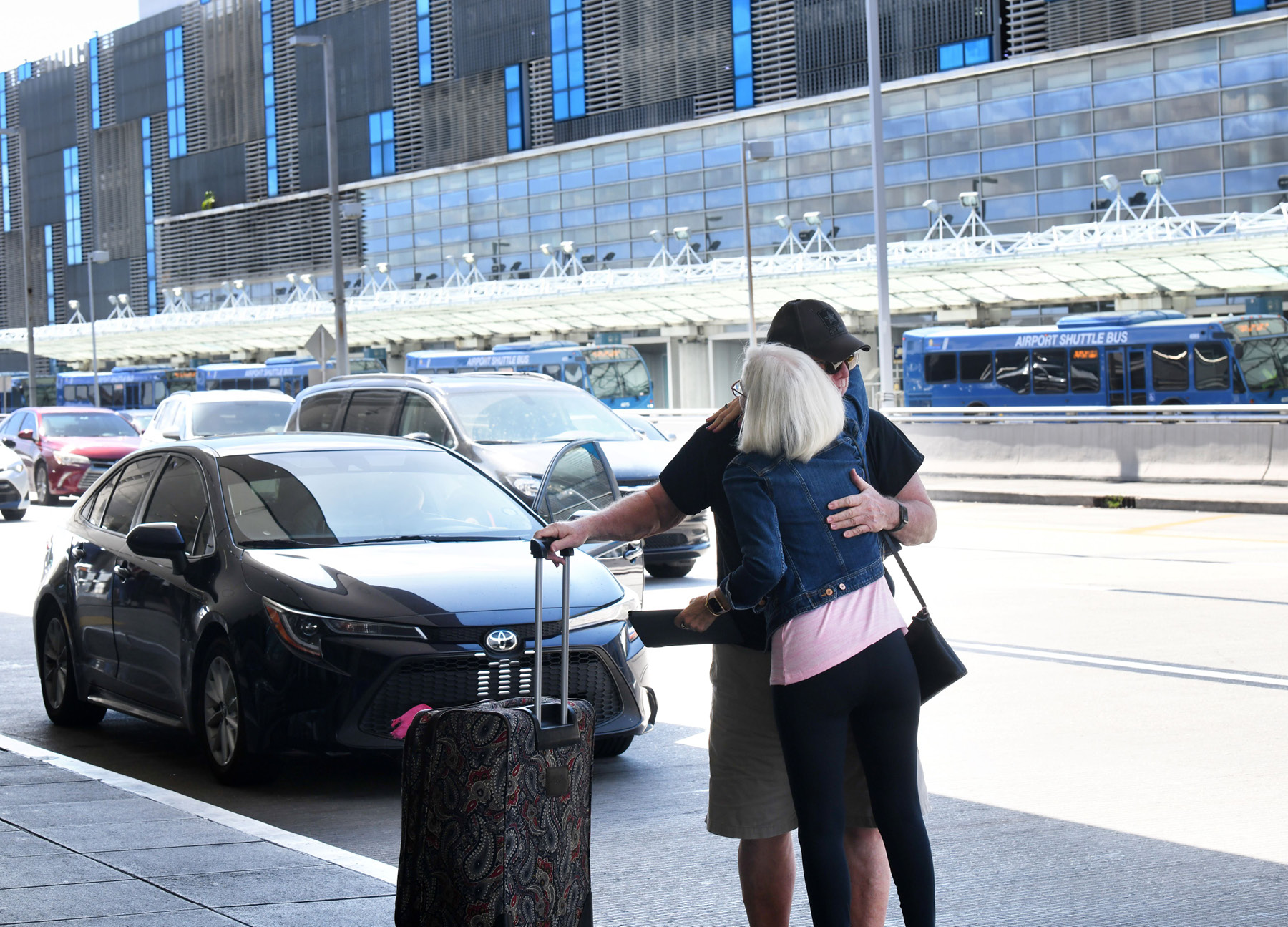 "There were some big decisions made by the leaders of this County and airport in the early 2000s time frame that essentially unlocked the potential for this facility."
Some facilities were deemed too old and antiquated and were razed to the ground. "Others were modified, renovated, modernized, extended and expanded to create essentially what we have in place today," he continues.
In 2014, the first airplanes came to land on the new second runway. "From that time, this airport really started to take off – no pun intended – with respect to traffic," he explains.
And it was at this juncture that Mark arrived in Florida, after nearly 30 years at Philadelphia International Airport, including the last seven as CEO. The new runway was operational, but much of the nearly US$1.5 billion in terminal improvements was just getting started. Under Mark's tenure, construction activity moved into high gear, with all four FLL terminals under construction, expansion or refurbishment at the same time.
---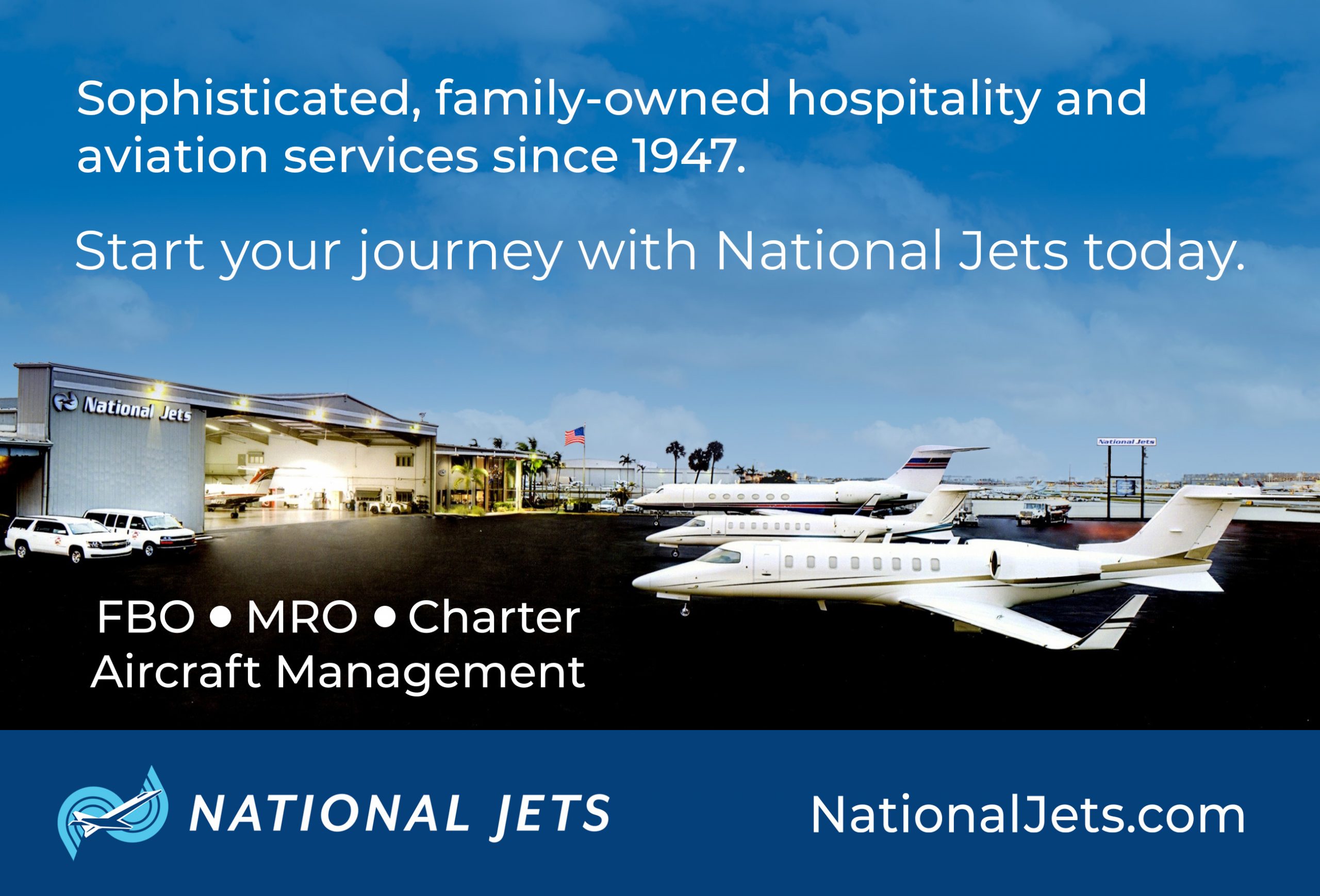 "Director Gale and his team at FLL operate with the mindset of getting things done. It has been an eye-opening experience going through our lease renewal and seeing exactly what the airport administration deals with." – Mark Binko, President & CEO, National Jets
---
Advertisement
But the investments have delivered a significant return. "If I turn back the hands of time to 2013, we handled about 23.5 million passengers," he says. By 2019, as noted above, that figure was 36.7 million.
"And significant growth, even higher than double-digit, started to occur on overall traffic on the international front with JetBlue Airways and Spirit Airlines, in particular, starting to use our facilities more and more as an international connecting point," he says.
Just prior to the pandemic, growth had slowed. "Instead of double-digit growth, we went down to about 2.5 per cent growth," he explains. But rather than a lack of demand or desire to continue to expand, the issue lay in size. "We were approaching full terminal capacity and we couldn't continue to squeeze airlines in here or there to keep on that growth trajectory," he continues.
Growth Spurt
When Mark started in 2016, airport management embarked on a new master planning effort for FLL. "We looked at not only the airfield structure and the airspace, but we also zoomed in on the terminal facilities and the land-side portion of the airport: the ingress and egress, so how people are actually moving around the facility," he explains.
"As we were working our way through that and coming to the culmination of a really wonderful set of plans that we wish to enact here at the airport, the pandemic came upon us," he says. "So we put everything on hold, but we didn't say we were going to terminate any projects or plans. We just wanted to see how and when we would make our way through the pandemic."
Now in a position to reflect on the turbulence of the last few years, he knows the state of Florida was fortunate to have fared better than most. "People weren't leaving the country for vacations or business. They wanted to get someplace where they can enjoy the outdoors," he says.
The qualities of the state hardly need any introduction. "We have good weather, sun, sand and beaches. So airports like Fort Lauderdale became quite attractive to a lot of folks during the pandemic."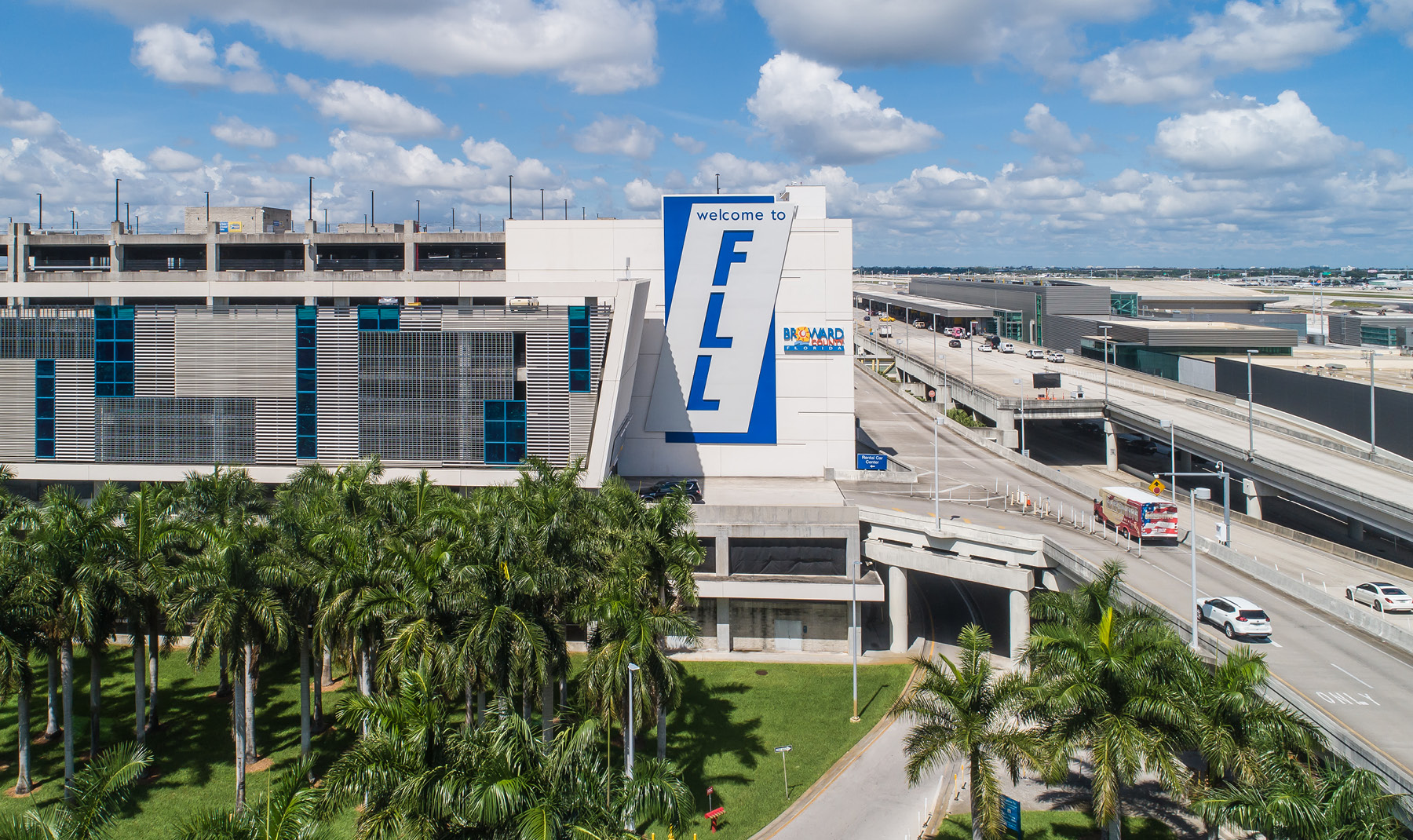 "We have good weather, sun, sand and beaches. So airports like Fort Lauderdale became quite attractive to a lot of folks during the pandemic."
Even as the country opened up, that popularity was largely maintained. "We were prepared to see a drop of that traffic but it never actualized," he says. And it shows no sign of slowing down again.
"Both in our master plan forecast, as well as in the Federal Aviation Administration, our airport has been identified as either the fastest-growing airport or one of the fastest-growing airports, depending on how you look at it, up to the year 2035, as long as the infrastructure is put in place to support that growth."
Unconstrained forecast models put FLL "somewhere in the neighborhood" of approximately 52–53 million passengers by that time. "That's significant growth over where we are today," he continues. "But only if we execute the infrastructure as laid out in our master plan."
Along with new aircraft gates, phase 1 of the airport's US$4 billion expansion program will deliver new roadways, parking garages, an intermodal connection center and a new automated people mover system. The first step in the expansion strategy is a new five-gate terminal, Terminal 5 – a US$400 million construction that is being overseen by JetBlue on behalf of the airport's owner, Broward County.
Passengers First
As he and his team strive to build the infrastructure to meet the demands of its community, Mark has a firm eye on the technology in place to improve the passenger experience. "The passenger journey often begins way before they even get to the airport, when we communicate with them and give them the tools to be able to navigate what can arguably be a very complex facility," he says.
Questions like what's open and closed at the airport, where to park, how much parking will cost and how to pay for it are some of the most natural information passengers will require. "At our airport, we've addressed some of that through the use of technology," he continues.
In the parking garages, that means automated pay systems and pay-on-foot systems, as well as red and green lighting above each stall, which indicates whether or not a space is available in an aisle.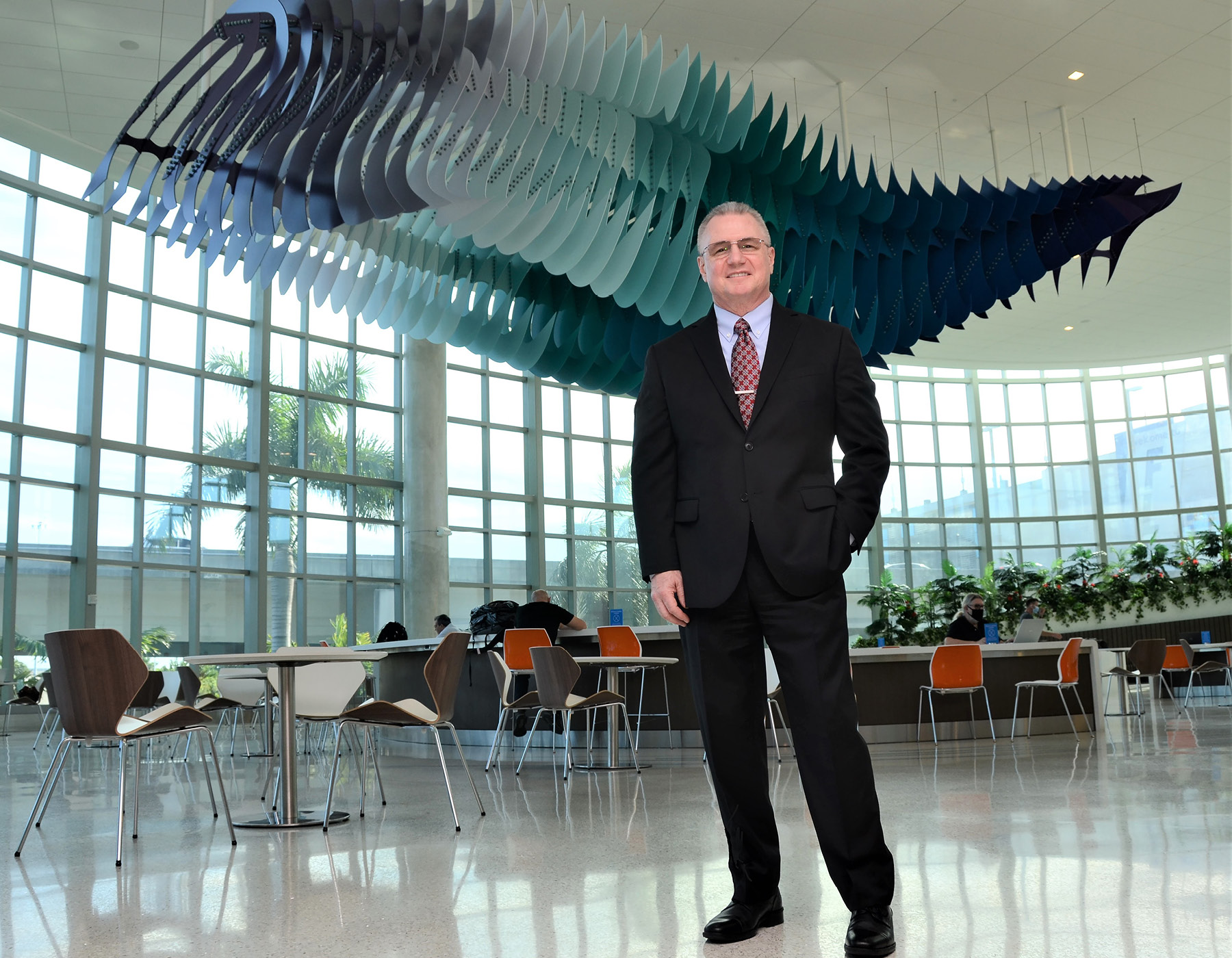 "We've just completed a multimillion-dollar project on wayfinding signage, both on our roadways and getting into our terminals to help people better navigate our facility to get to the counters."
"Inside the airport environment, we've just completed a multimillion-dollar project on wayfinding signage, both on our roadways and getting into our terminals to help people better navigate our facility to get to the counters," he says.
Of course, many innovations inside the terminal aren't driven by the airport itself. "More and more of our concessionaires have opted to go into directions where a contactless society is a mainstay of their business, and they all have different platforms." And airlines are increasingly automated with apps that allow you to rebook cancelled flights.
---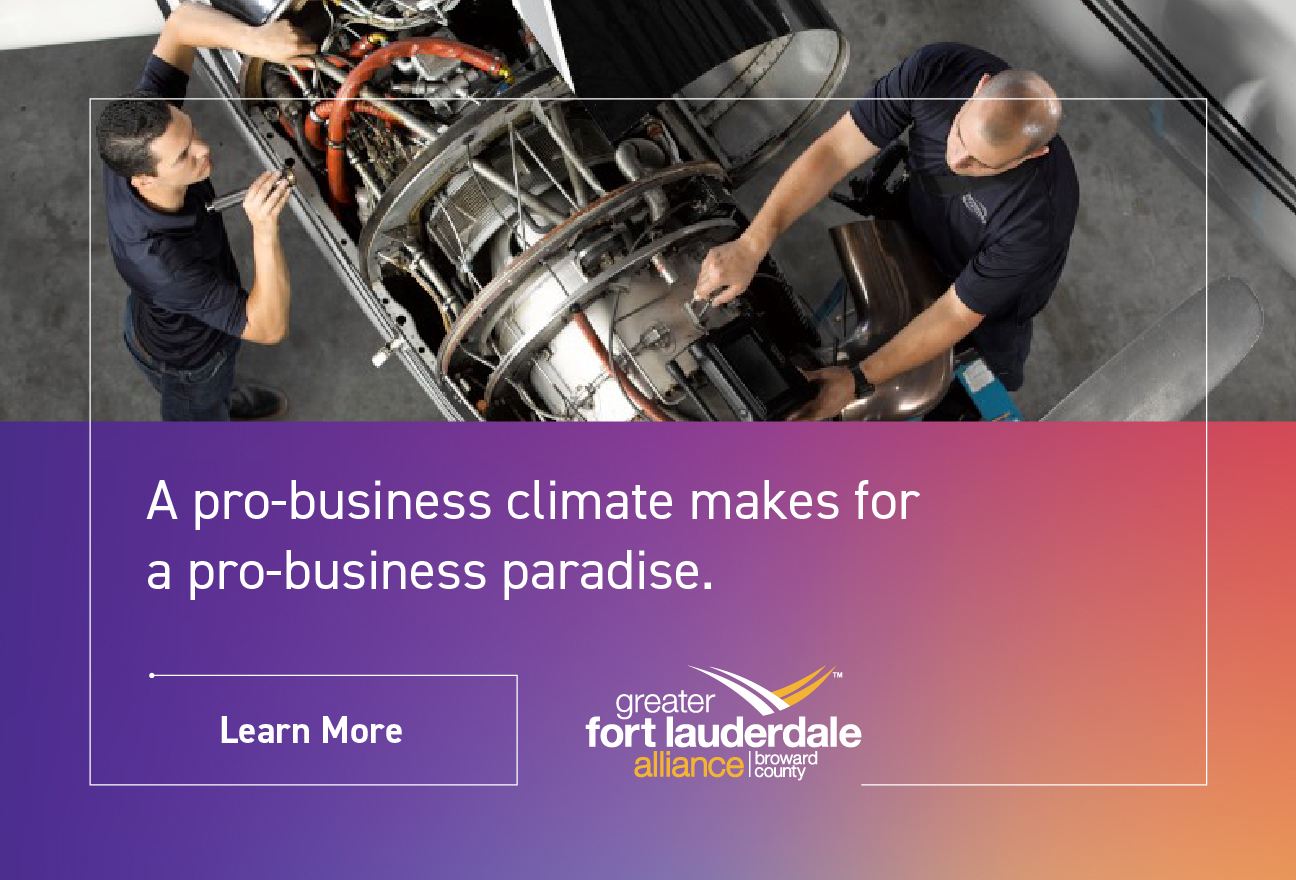 "Aviation is a key targeted industry. The collaborative relationship between the Greater Fort Lauderdale Alliance and FLL, led by Mark Gale and team, has helped strengthen and diversify our economy as we work together to attract high-value jobs in the sector." – Bob Swindell, President & CEO, Greater Fort Lauderdale Alliance
---
Advertisement
Without a crystal ball to predict exactly where technology will be when the new terminal opens, and to save it from being outdated before it even welcomes a passenger through it, Mark says the challenge as an airport operator is to find a way to anticipate and incorporate new technology into the facility to avoid having "to rip everything out and put new stuff in" when the doors open.
But thanks to a collaborative approach at FLL, where all parties including airlines, parking operators, government organizations, law enforcement and concessionaires work together, Mark is sure that as a family of stakeholders, they will be able to deliver improved facilities that are a benefit for the consumer.
Sustainable Framework
As Mark and his partners map out what the FLL of tomorrow will look like, sustainability is at the forefront of their minds, particularly in regard to a subject that is very topical in the region: water.
When it rains hard, as it sometimes does, flooding occurs. "We're an airport that wants to build. So, we know that for every piece of concrete that we put in, we need to be mindful that it's going to create a sheet of water that will need to go somewhere," he says.
A system is already in place to collect stormwater at the northern end of the runway and pipe it to the other side of the airport where it is used to water a large, attractive, green area with a trail used by local residents.
There's also the issue of rising sea levels. "We are working on initiatives to be able to deal with sea level rise," he says. "Internally, it may mean that we have to take a look at the building codes to see whether or not finished floor elevations are required to be significantly higher tomorrow than they were yesterday."
The airport has embarked on the creation of an environmental sustainability and management framework to address these concerns and others. "We've started shifting some of our fleet to electric vehicles and we're investing in recycling programs," he explains.
Back in the Game
Airlines such as Air Canada, Azul and Spirit have kept FLL connected to international destinations in Canada, South and Central America and the Caribbean, however as a result of the pandemic, carriers such as Emirates and Norwegian stopped flying into the airport.
"That connection to Europe and Scandinavia was something we sorely missed," Mark explains. Fortunately, the link has been reset thanks to a new player in the transatlantic market, Norse Atlantic Airways, which has made FLL a key American base for flights from Oslo.
"Norse is launching us back into transatlantic operations and we feel like we are getting back into the game," he says. "We had a fantastic launch with them and Founder and CEO Bjørn-Tore Larsen and his team have been absolutely fantastic to work with. Reports from them are that bookings are healthy and I'm really excited about where this leads us in the future."
Along with Oslo, Mark says he's hoping to add a FLL-to-London route "in the not-too-distant future". "We've also talked about Paris and I know they are also looking at Berlin," he adds.
In the face of mounting HR challenges being felt across numerous industries, not just aviation, Mark also talks of "organizational sustainability". To keep his team happy and fulfilled, to present opportunities for growth and development, and to promote staff retention, FLL has a dedicated talent development coach.
"They sit a few feet from me and work with our workforce and leaders across all divisions on a daily basis about different types of training programs we can do to provide opportunities to our workforce going forward," he says.
After all, his is a public-facing operation. "Notwithstanding technology, we still need people who can go out and inspect the runway, who can still perform security inspections around the fence of the airport, along with fixing electrical, plumbing and mechanical issues," he says.
And while the facilities remain constant, he is aware that the big question is how to potentially manage them with the same or fewer people going forward.
"As we've learned during the pandemic, the workforce that you had yesterday isn't what you have today and is probably not what you're going to have tomorrow," he reflects. "We all have to be mindful of this in order to be a stable and sustainable organization going forward."
Passion for Aviation
A love for aviation – "and what it does for us as human beings: connecting us with family, friends, businesses and being able to travel the world" – has been the driver for Mark throughout his career. "Passion is what has engaged me now for the past 40 years," he reveals.
Fresh out of high school, he took his first steps in the industry with Philadelphia-based Altair Airlines. Yet just weeks into his training, the airline filed for bankruptcy and Mark found himself unemployed.
Chin up, he enrolled in a bachelor's degree in Aeronautical Studies at Embry-Riddle Aeronautical University and soon his path in aviation was set; even more so when he landed an internship at Philadelphia's airport during his studies.
After a very rewarding career spanning nearly 30 years at Philadelphia International Airport, including seven years as the CEO, Mark retired but didn't stay out of the game long.
The potential for growth at FLL lured the Philadelphia boy south to Florida and, as CEO/Director of Aviation at Broward County Aviation Department, he oversees the executive management of not only FLL but also North Perry Airport, a general aviation reliever airfield in Pembroke Pines.
For Mark, another driver in his role is "that sense of doing a great public service". "Most people don't realize that there's such a thing as a city or a county or a government structure that runs the airport," he says. "And if they do, then the question is, 'what do they actually do to manage these huge infrastructure assets?'"
To some passengers, they believe airport management is in charge of the airlines, or is to blame when baggage doesn't reach its destination. So he sees a large part of his job as "helping people understand what the role of an airport is to its community as an employment center, as an economic engine and as a connector of businesses, family and friends".
"Any thriving local economy really does need to have a well-run airport facility to stay connected to the world these days."
"Any thriving local economy really does need to have a well-run airport facility to stay connected to the world these days," he continues. "And the service we provide as a team is critical and sometimes understated."
Aware that "to accomplish the mission of running a world-class transportation facility, no single individual can do the job alone", he says his team inspires him every morning when he turns up to the office. "I love the folks that I work with and work for," he enthuses.
And it's the fact that every day is different that sends him home satisfied by a job well done every evening. "I never know what I'm going to face on any given day," he says. "My calendar will be full of different business meetings and other issues that need to be taken care of, whether financial or security or operations or real estate related. And we have crisis du jour issues where we have to deal with whatever happens at the moment, sometimes more often than we like. And that's all part of the attraction for me."
---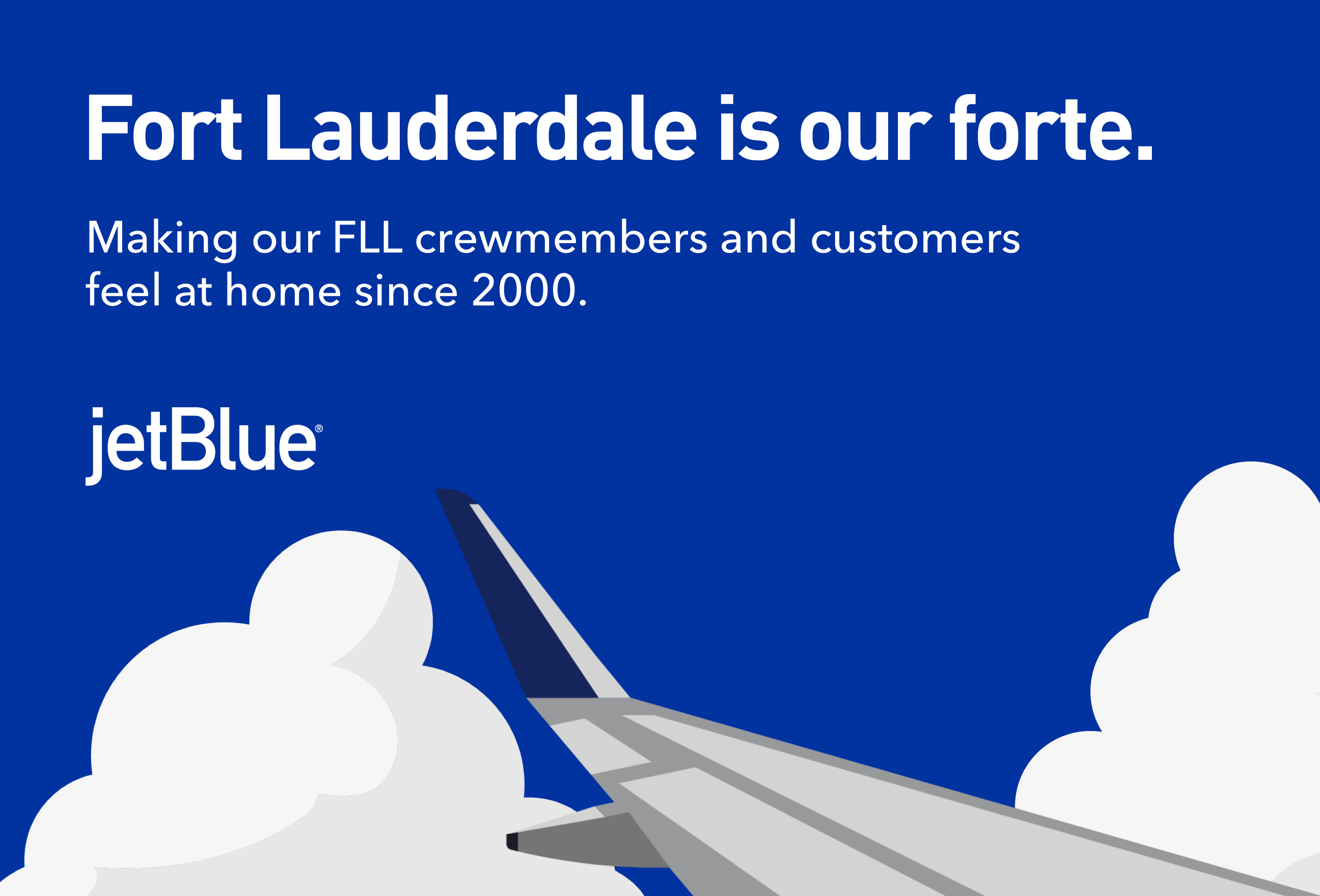 "Since JetBlue's first flight in 2000, FLL has been integral to the JetBlue story. Under Mark Gale's leadership, FLL has partnered with JetBlue to provide a great travel experience as we grow and improve the airport in a customer-centric and sustainable way." – Joanna Geraghty, President & COO, JetBlue
---
Advertisement
Industry recognition has followed Mark. Last year, he was named Director of the Year, Large Airports Division, by Airport Experience News. In June this year, he became Chair of the American Association of Airport Executives, an achievement he describes as the culmination of a lifelong ambition.
"We have 9,000 members and represent about 875 airports, both in the US and internationally. It's a great honor to work in service to my colleagues and an opportunity to give back to the community I live and work in," he says.
He also serves on other industry and regional bodies: the US Policy Council in the Airports Council International-North America, and on the Board of Directors for the Greater Fort Lauderdale Alliance and the Greater Fort Lauderdale Chamber of Commerce.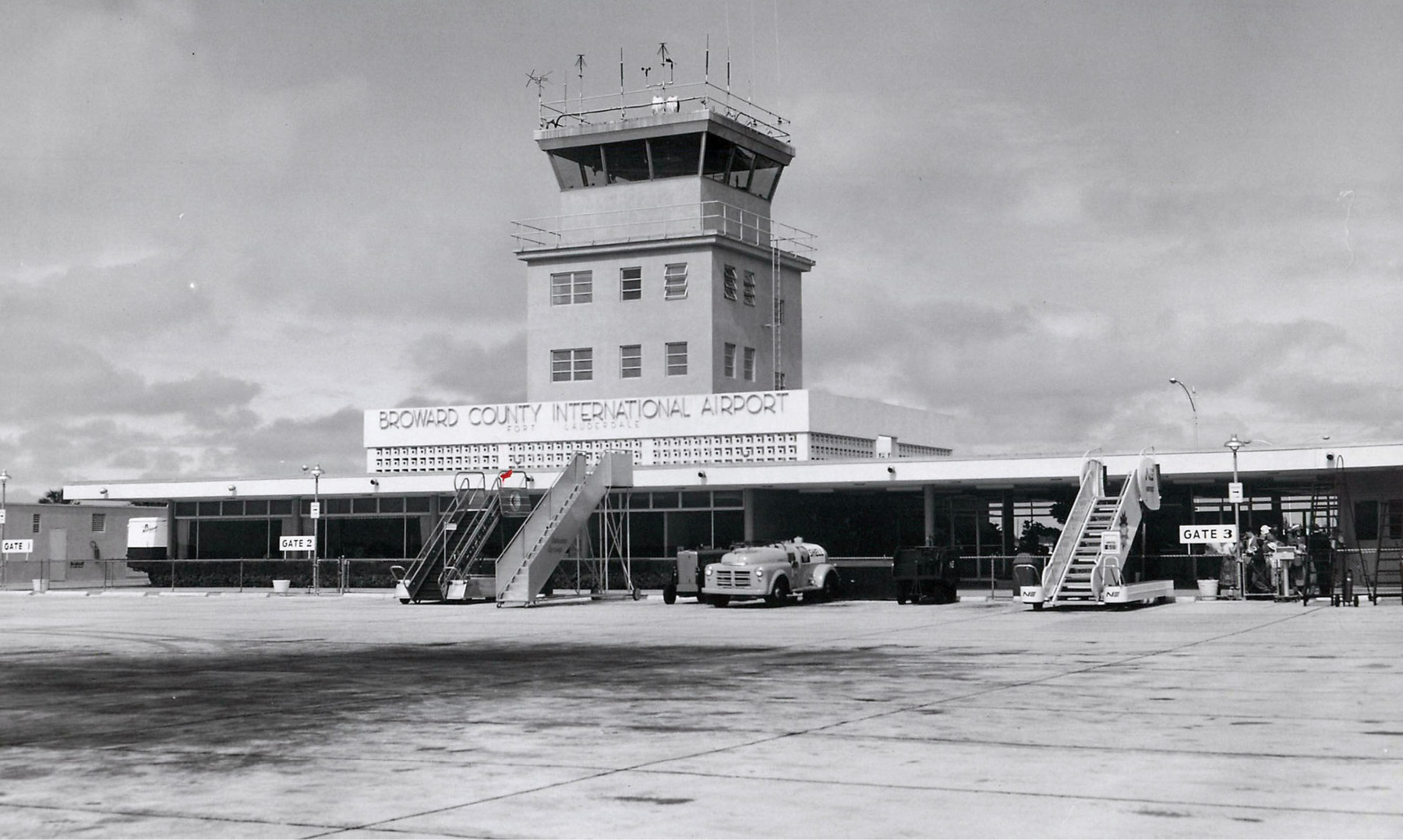 FLL History
The Fort Lauderdale-Hollywood International Airport was originally established in 1929 as Merle Fogg Field. The field was named for a World War I pilot who made Fort Lauderdale the base for his own flying service in the postwar years.
The airfield was requisitioned by the US Navy during World War II and renamed Fort Lauderdale Naval Air Station in 1942. A year later, the airfield would welcome navy officer George HW Bush for pilot training – he'd go on to become the Navy's youngest pilot and the 41st President of the US.
In 1948, after the end of the war, Broward County became the airfield's operator and would give it the current name 15 years later, in 1963.
"I typically have one foot inside the airport's day-to-day operations and one foot outside, working with key stakeholders, economic development agencies and chambers of commerce, whether they be life science, health care, technology, or aviation and aerospace – something which is huge in the state of Florida," he says.
It's a position that allows him to be the nexus between an airport structure that forms part of the county government and what is happening on the ground in the world of business. "It allows me to understand what they need in their airport, where they need to go and who they need to connect with in order to be successful," he explains.
"We work hard not only to make that happen, but to also make sure that the facilities our patrons are using when they come through our airport are safe, clean, efficient and hopefully providing them with the greatest guest experience of anywhere in the world."
"We value our partnership with FLL and our shared mission to welcome tourists into Greater Fort Lauderdale. Promoting special events, pre- and post-cruise stays, and accessibility for disabled travelers are initiatives we've collaborated on with Mark Gale and his team." – Stacy Ritter, President & CEO, Visit Lauderdale
"Our strong relationship with FLL is based on our common goal of creating better travel experiences. We collaborate and interact regularly, and are both working towards delivering a lounge with exceptional customer service and a truly unique customer experience." – Kevin Shrier, President (Americas), CAVU