With a crackle and a whoosh, the grill leaped to life. Tongues of flame swallowed a slab of sirloin, hissing as the fat erupted onto exposed coals, and infusing the dining room with a steak-scented haze.
We're in Caia, a neighborhood restaurant in Notting Hill that, like many others, is channelling the capital-wide vogue for open-fire cooking.
As trends go, it's nothing new. After all, humans have been cooking with fire since we were communicating in grunts.
However, as Quintessentially's Head of Restaurants, Keith Doyle, explains, there is joy in returning to the ancient.
"We're investigating old, old, old styles of cooking," he says. "It's almost like we're going back to the Neanderthal ways of doing things, but better."
"Cooking with fire adds an element of enhanced smoke-kissed and charring flavors from the woods and coal." – Tim Lang
Genuine open-fire cooking plunges food into flames with a spit, grill or pan, imparting smoky flavors and intense textures that are otherwise hard to achieve. However, a simple barbecue this is not.
For example, at HUMO, a new wood-fired restaurant in Mayfair, the chefs treat fire cooking as a delicate art, with each dish flamed over a different type of wood to achieve subtly different smoky flavors.
It's a technique you'll also find at Tomos Parry's BRAT in Shoreditch. "Cooking with fire adds an element of enhanced smoke-kissed and charring flavors from the woods and coal, allowing for searing and caramelization,' says Tim Lang, Caia's Co-Founder and Head of Music.
"It's also a healthier way of cooking. The food cooks faster, allowing certain nutrients and antioxidants to remain."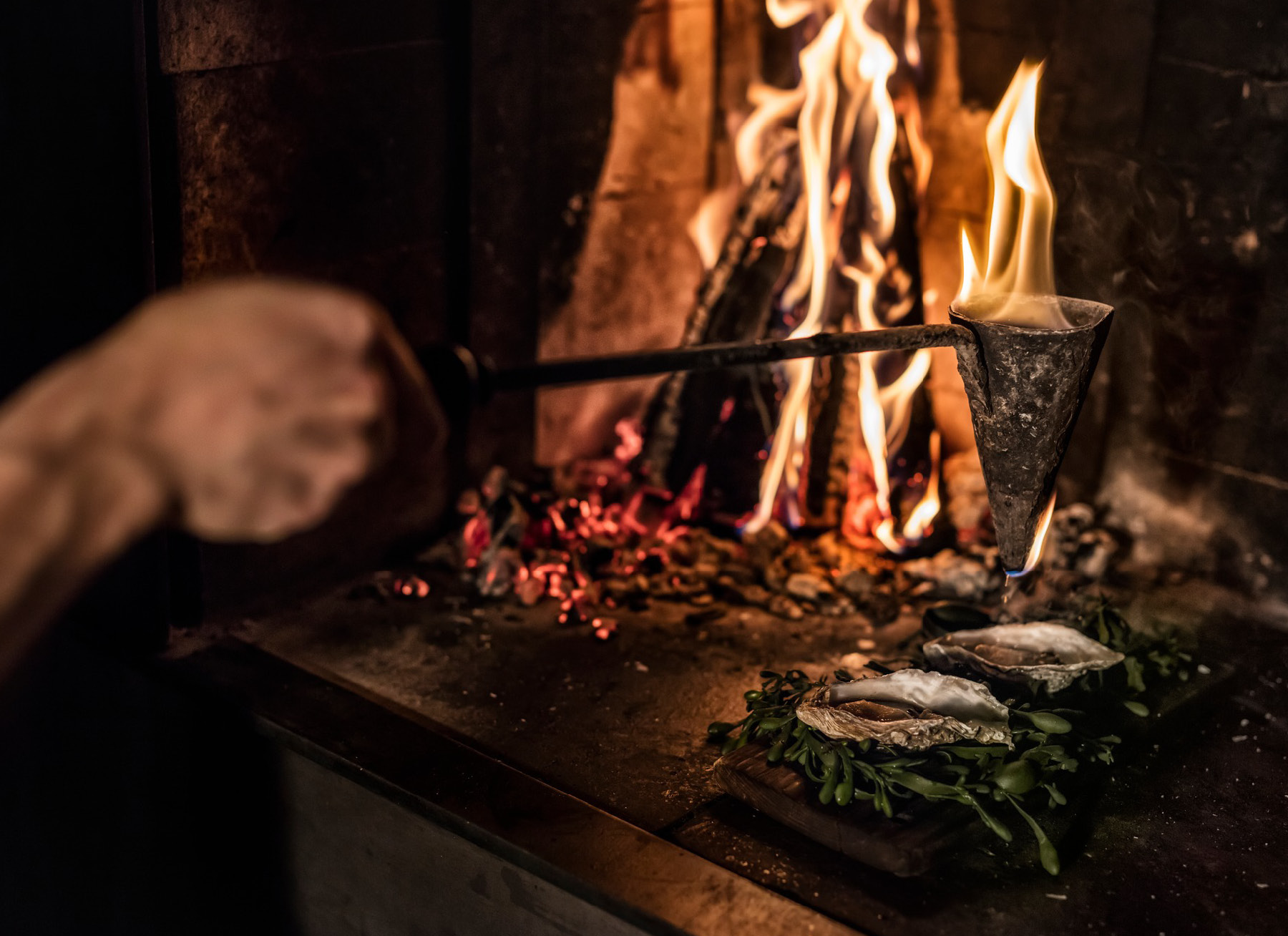 At Caia, smoke-kissed is an apt adjective for everything we eat. Plump pork belly is rolled in char siu and then plunged into the fire, resulting in sticky, tender wedges that come to crisp, gnarly points.
Pumpkin crescents are lashed by the flames until blistered, before being soothed by a silky cheese foam and a scattering of artichokes. Even the negroni has a slight smokiness, thanks to a touch of mezcal.
Although meat is the most common choice for this style of cooking, many restaurants are also choosing to spotlight vegetables – such as the wonderfully named Acme Fire Cult in Dalston.
More than 50 percent of the restaurant's fire-cooked menu is plant-based, a decision that was made, as chef Andrew Clarke explains, because he felt vegetables were under-represented in typical barbecue restaurants.
"We strongly believe there is a magic that comes from cooking with flame." – Madina Kazhimova
"Vegetables have vastly more flavor profiles and wider textural range than proteins," he says. "They need a little more consideration when cooking over fire."
At Acme Fire Cult, the outdoor kitchen fires leeks until sweet and soft, smokes new potatoes then piles them with tahini, and roasts tomatoes before drenching them in salsa verde.
In Soho, the team behind aptly named Firebird sees cooking with fire as an almost spiritual practice, resulting in dishes like fired scallops on a bed of truffled mash and crispy hunks of honey-bathed halloumi.
"Cooking with fire for a chef is more about working with feelings rather than following a recipe," says Firebird co-founder Madina Kazhimova.
"We strongly believe there is a magic that comes from cooking with flame."
---
Seven Live-Fire Restaurants to Try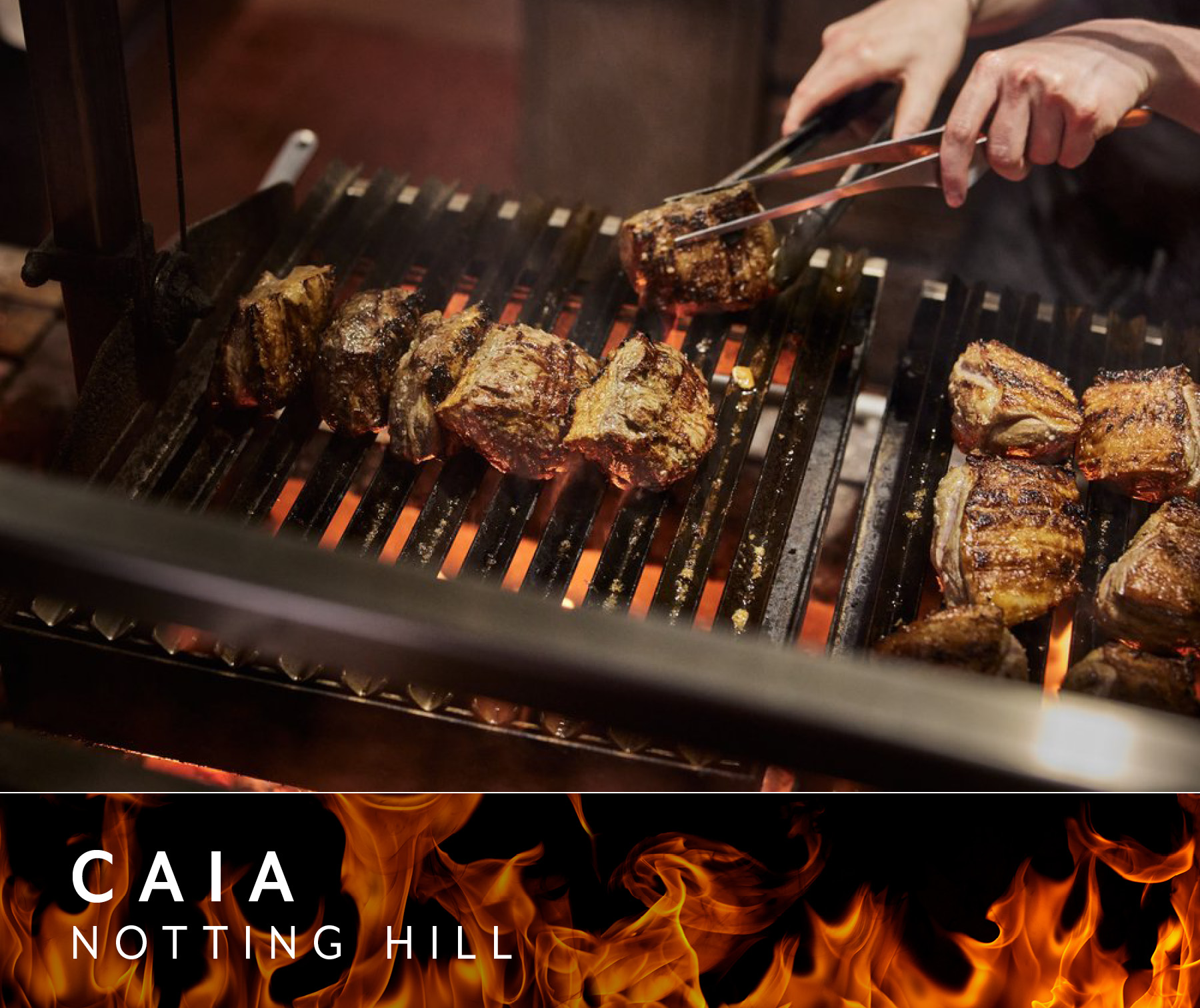 Named after the Roman goddess of fire, this neighborhood wine bar, restaurant and music venue is owned and run by Notting Hill locals Rishabh Vir and Tim Lang. Everything is smoke-kissed and flame-licked, beginning with wafer-thin chicken skin dotted with lemon emulsion and ending with an elevated version of a classic s'more.
---

There's no gas or electricity at HUMO: everything is cooked over fire. Different types of wood have been harvested from protected farms to impart multifaceted flavors to each of the menu's four sections (ignite, smoke, flame and embers). As Executive Chef Miller Prada was the protégée of sushi master Endo Kazutoshi, the slightly smoked sashimi is great, as is the coal-sizzled scallop.
---

Inspired by a Mediterranean terrace, this plant-filled restaurant has terracotta walls and a faint smell of burning charcoal. Its menu is a fire-led tour of Europe. You'll head to France via a pâté-stuffed choux, to Greece via honey and halloumi, and to Italy via peaches, ricotta and prosciutto.
---

An instant classic when it opened in 2018, Tomos Parry's BRAT channels what he calls an "instinctual and primal" style of cooking. The menu is inspired by both his Welsh heritage and his travels through the Basque region, with everything cooked over a wood-fired grill. Also keep an eye out for his newest sister restaurant, Mountain, another wood-fired spot.
---

Puns aside, it's not an exaggeration to say that this restaurant has a cult-like following. It began as a car park pop-up but has expanded to a no-frills restaurant near another East London favorite, Dusty Knuckle. The best dishes are vegetable-based, but there are good meat options, too. Plus, all the beers are brewed in-house by 40FT Brewery.
---

It's not just the extensive wood-fired grill that will grab your attention at this 10th-floor restaurant; the view over Kings Cross is also one of London's finest. The food, though, deserves laser focus. It's a mix of live-fire Spanish and Mexican cooking designed to share. Order the Iberico pork and artichoke-topped lentils with a side of crispy roast potatoes.
---

An oldie but goodie, this restaurant by Swedish chef Niklas Ekstedt is built upon the principle of wood-fired Old Nordic cooking. As such, there's fire aplenty. Try the oysters flambadou (cooked with flaming hot beef fat) and the baked Alaska, which is finished in a wood oven.
This story was first published by Quintessentially and is republished with kind permission. For more information, please go to Quintessentially.com