There is no doubt that fossil fuel-based industries will experience a challenging few decades ahead with the goal of reducing global energy-related carbon dioxide emissions down to net zero by 2050. The pressure to move to renewable forms of energy means businesses based on fuel extraction and sales must be innovative and move fast to ensure ongoing income and financial security.
As Vice President of Exploration, Upstream for global energy group PETRONAS, Emeliana Rice-Oxley is more aware than most of these pressures. But rather than perceive these future challenges negatively, she recognises them as exciting opportunities to develop and use innovative technologies. By viewing at the market in this way and investing in people, she believes a bright future is possible.
"Decarbonisation of our core oil and gas operations while remaining financially resilient is key in moving towards a low-carbon future," Emeliana tells The CEO Magazine. "This is because we recognise that oil and gas will continue to play a dominant role in the future energy mix so, more than ever, we must be able to deliver sharper performance." 
Oil and gas will still play a dominant role in the future energy mix so, more than ever, we must be able to deliver sharper performance.
Emeliana says PETRONAS is making a phased shift to a portfolio that's both robust and sustainable, with renewables integrated into the roster. "We've been expanding our renewable energy portfolio in recent years, especially in solar energy," she says.
While oil and gas are currently required to drive innovation to develop the renewable technologies of the future, Emeliana insists new technologies will also help the oil and gas industry. "Innovation is at the heart of everything we do," she says. "It's about looking at problems differently and solving them in new ways to progress at pace towards our decarbonisation agenda while also enhancing our profitability and the capabilities of our people. This is what excites me and drives my passion. 
"On the surface it seems what we do is merely a study of the rocks but the substance of it has such sophistication; combining science, data stringing and the ability to see potential in the otherwise unseen. I'm always looking at ways to do this differently than in the past and to leverage the latest enhancements in technology and digital advancement."
This desire is realised and aided by NexTGEN, part of PETRONAS Exploration Technology, which is an integrated geology and geophysics initiative designed to provide data-driven solutions. "With the steps that we've already taken to meet energy transition, including the continued focus on exploration, I see us seamlessly shifting into a global energy player at the forefront of providing cleaner energy solutions for a sustainable future," Emeliana says. 
"What makes NexTGEN different from what we've done in the past is the high-end computer processing and storage capacity on the cloud; a collaborative platform across multiple disciplines."
Mentoring Others
The company also invests in people, with a financing program established in May 2018 that had already approved US$289.6 million in finance for more than 232 PETRONAS vendors by August 2021 – the majority of those being small and medium-size enterprises. And while technology is leading the way in many aspects of the business, Emeliana believes it's human interpretation and implementation of data that's most crucial – and where solid investment needs to be focused right now. 
Mentoring others is a fundamental part of Emeliana's working life; she says giving back is part of her ethos. "I'm passionate about mentoring and developing the next generation of PETRONAS leaders," she says. "I am an active mentor, a member of the board of the PETRONAS management training subsidiary, on an advisory board at Heriot-Watt University Malaysia and an advocate and champion of the PETRONAS Leading Women's Network." 
As a woman who has truly smashed the glass ceiling, making sure other females in the industry reach their potential is something Emeliana always makes time for. "I drive gender equality and raise awareness of unconscious bias in the workplace," she says. "I'm also a frequent speaker at international conferences on leadership and gender equality, and an advisory board member for the Women's Global Leadership Conference in Energy." 
So it's little wonder she was recognised as the 2019 Female Executive of the Year by the Asia Pacific Energy Assembly, and was included on the Women's Energy Council's 2020 Global Influencers 275 List.
Emeliana knows the power of investing in people from their teenage years – she's living proof of how it can change lives. "It's not common knowledge but PETRONAS sponsored my high school and tertiary education," she reveals. Because of this sponsorship, she dropped medicine as a possible career choice and focused instead on geology and completing a Bachelor of Science degree in Geology from the University of South Carolina in the US. 
The PETRONAS Education Sponsorship Programme has been running since 1975 and has awarded more than 36,000 educational sponsorships with an estimated investment value of US$707.1 million. It assists talented students majoring in chemical engineering, petroleum engineering, mechanical engineering, geophysics, finance, law and other industry-related courses at Universiti Teknologi PETRONAS, as well as universities in the US, UK, Australia, New Zealand and Canada. Students are supported from foundation studies to their first bachelor's degree.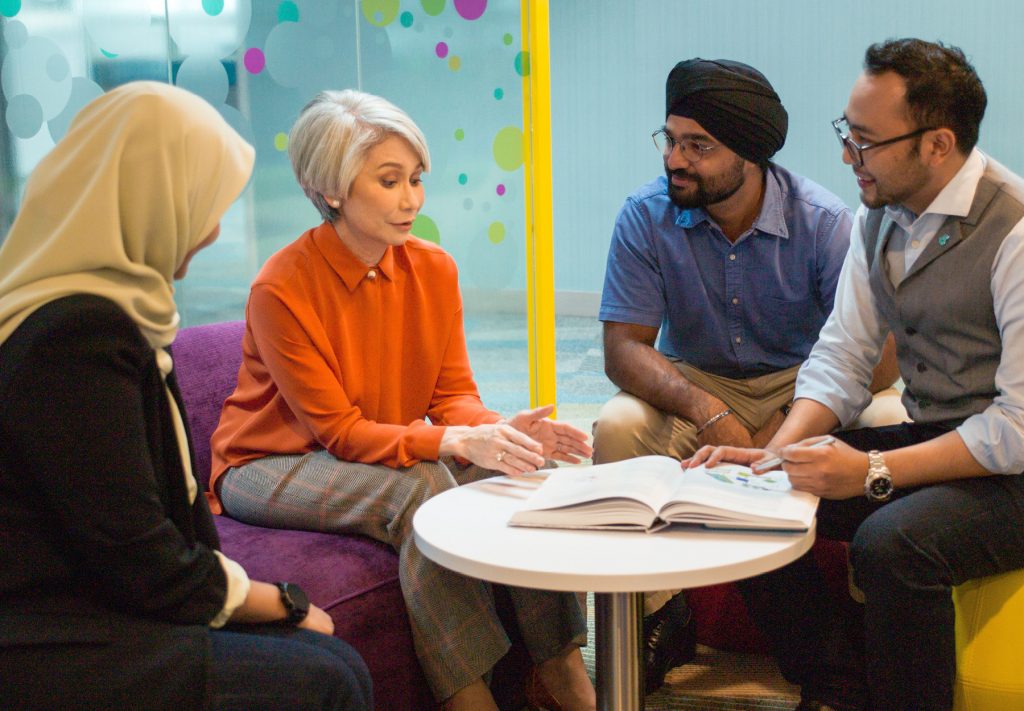 Emeliana says it has never been more important to support talented young people. "At universities, the number of students taking up geoscience continues to drop," she explains. "Exploration stands to lose good explorers or future geoscientists because who in their early 20s wants to commit to exploration; a career whose end is seemingly in sight? However, the fact is that oil and gas companies and exploration aren't merely the problem, they're also central to the solution for the world in transitioning into cleaner energy in the future. 
I realise the importance of ensuring people feel valuable and that they can contribute to make a difference from the beginning. This belief helps me stay true to myself and resilient, especially when things are challenging.
"We are part of the solution. We need to retain those who are currently in the industry and show young people they can still enjoy a highly satisfying career delivering low-cost, low-carbon barrels the world will need in our transitioning society." 
She says highlighting how there's still a need for the talents of explorers is important to developing sustainable energy options in the future. "There are other opportunities even within the scope of traditional oil and gas companies and we see this in PETRONAS; carbon capture and storage is currently the biggest opportunity for oil and gas geoscientists," Emeliana says. "Then there are the emerging low-carbon technologies in which geoscientists will play a key role, namely geothermal and underground hydrogen storage."
After completing her studies, Emeliana worked for Shell for 25 years, moving through various departments and travelling the world. In 2012 she says she was drawn to PETRONAS and its statement of purpose: 'A progressive energy and solutions partner enriching lives for a sustainable future'. Initially recruited at PETRONAS as the Senior General Manager for the Malaysia Venture, she later became the Vice President for Malaysia Exploration and then, in 2016, was announced as the Vice President for Global Exploration, Upstream. 
Making a difference or creating lasting change, whether to the organisation or individuals in the organisation, is very much in line with my purpose.
"I was told that my experience and track record would be of significant help in the transformation PETRONAS was experiencing," she says. "I was confident I could contribute and was fully empowered to make an impactful difference on a meaningful scale, given PETRONAS' portfolio and growth appetite. That belief, which I still carry today, sealed the deal for me. Years later, when I reflect on that experience, I realise the importance of ensuring people feel valuable and that they can contribute to make a difference from the beginning. 
"This belief helps me stay true to myself and resilient, especially when things are challenging because it is not uncommon to meet resistance when making change. I truly believe I was hired to transform PETRONAS' exploration and I'm encouraged by the positive feedback I've received." 
Positive Relationships
While PETRONAS now operates in 50 countries, Emeliana says remaining loyal to its roots and fostering positive relationships with entrepreneurs in Malaysia is an important investment for the company going forward – not just to continue to build a robust oil and gas industry but to also adapt to the future – and this has been helped by the investment in outside people and companies. 
PETRONAS established a vendor development program in 1993 to build an ecosystem of support for the sector by nurturing local entrepreneurs and strengthening the capabilities and capacity of local vendors to grow. "Since its inception, 110 local vendors have been selected to undergo the program and 75 have successfully graduated with approximately MYR9 billion  (US$2.1 billion) worth of contracts awarded to date."
Emeliana is currently on course to beat her 2025 growth targets, owing in part to her success at transforming a legacy business and building a richer and more geographically focused portfolio across hydrocarbon basins in Brazil, Mexico and West Africa. However, she says it's her impact on the people around her that she is most proud of. 
"I'm happiest when someone tells me that they've achieved something or changed for the better in their personal lives and career because of something I did or said to inspire them. When the people around me feel inspired to be greater, empowered to speak up and take on new challenges and be more successful for themselves and the organisation, that's when I feel the greatest achievement," she shares. 
"Making a difference or creating lasting change, whether to the organisation or individuals in the organisation, is very much in line with my purpose. These changes touch not only their heads but also their hearts, and I believe these are the things or moments I will remember years from now."
And as well as investing in others, Emeliana understands she also needs to invest in herself. "For me, work–life balance is about wellbeing," she says. "It includes so many positive things that are applicable at home and work – feeling happy, healthy mentally and physically, socially connected and purposeful.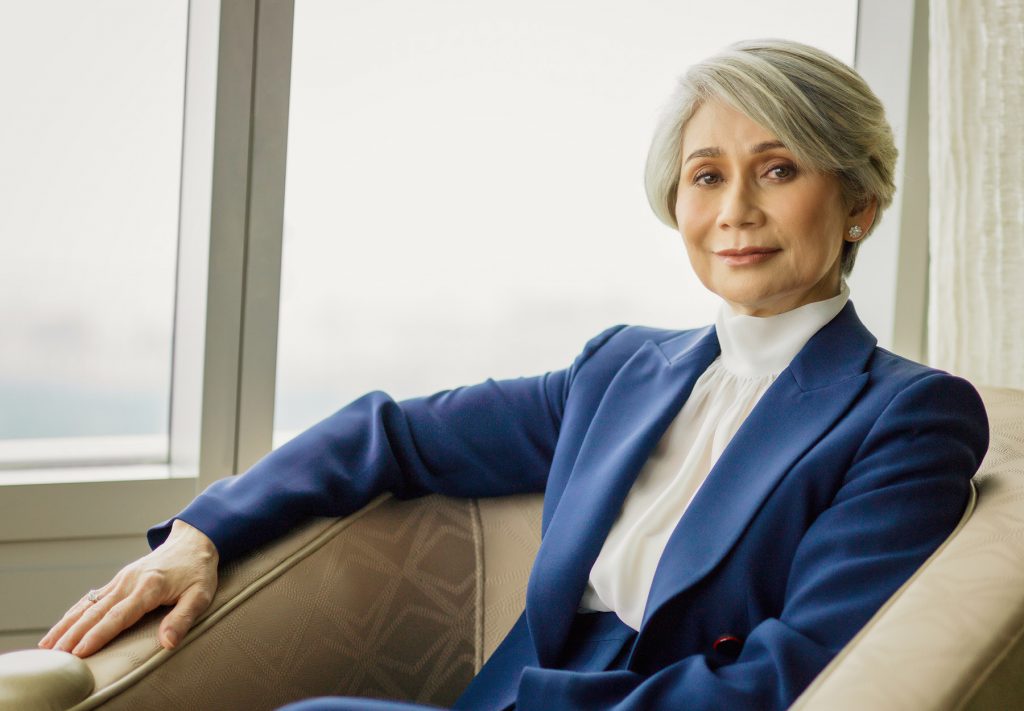 "I believe life will deliver the value and balance we desire when we are achieving and enjoying something every single day. So, if I can achieve and enjoy something every day, for the rest of my life, then that's good enough for me." 
Emeliana is quick to point out that our individual work–life balance will vary over time, sometimes daily, and we need to be fluid with our needs and expectations. It's also important to realise that different stages of a person's career and family life will mean we'll each need to prioritise our time and attention accordingly to feel a sense of wellbeing.
"There is no one-size-fits-all balance you should be striving for," she points out. "The best work–life balance is different for each of us because we all have different lives and priorities."
A mix of retail therapy, a trip to a spa, quality time with family and friends, and travel, when possible, make Emeliana feel relaxed. "My winding down routine is equally simple – during the working week it's reading, listening to music and watching my favourite anime or TV shows to take my mind off work," she says. 
Sometimes a little light relief is required when you spend your working day transforming the future…
Pandemic Response
"The pandemic drove pace and determination. What was typically months of technology deployment time was reduced to weeks, with minimal glitches, fast iteration and turnaround times. This is where human determination met technology adaptability and scalability," Emeliana says. "I think PETRONAS managed the shift to work from home very well. The pandemic amplified the importance of mental health and the company rose to the challenge by providing multiple avenues of support.
"The past two years have been challenging and full of uncertainty, and I am sure the next 12–18 months will not be much different. We will focus on keeping our staff and operations safe, and this includes the safety of our service providers in all of our global activities."
"Beyond technology lies a key ingredient for innovation called collaboration. With a common purpose and collective action, Schlumberger and PETRONAS have collaborated at all levels to deliver innovative digital solutions that facilitate bottom line and efficiency growth." – Meng Keong Lee, Managing Director, EAG, Schlumberger
"The digital solutions developed for enterprise deployment at PETRONAS results from an approach of deep co-innovation and digital scaling to accelerate value realisation between Halliburton and PETRONAS. Our work supports PETRONAS' goal to build a sustainable energy future, while increasing efficiency and maximising asset value." – Nagaraj Srinivasan, Senior Vice President, Landmark, Halliburton Digital Solutions and Consulting