Dynamic change embodies David Long's career. A serial entrepreneur, he spearheaded the boom of therapeutic massage and skincare chain Massage Envy from 25 locations to 800, and beauty franchise European Wax Center from four outlets to more than 550.
However, both endeavors served as a mere starter to the exponential success that he and Co-Founders Ellen Latham and Jerome Kern would enjoy upon launching Orangetheory Fitness in 2010. In the years since, the brand has opened some 1,400-plus studios throughout 27 countries, attracted one million-plus members, developed two apps and signature wearable tech, and accrued more than US$1.4 billion in annual revenue.
The inspiration at the time, David says, was identifying a growing disenchantment with the wellness industry's litany of buzzwords, conflicting messaging, fad diets and newfangled exercise regimens. "As a lifelong fitness advocate, I saw a need that a lot of gyms and fitness programs weren't filling," he recalls. "People wanted a workout that was not only proven scientifically, but also worked personally for them. When I met Ellen, everything just clicked. She had built this full-body workout that integrated individual heart-rate monitoring and metabolic science into a holistic experience."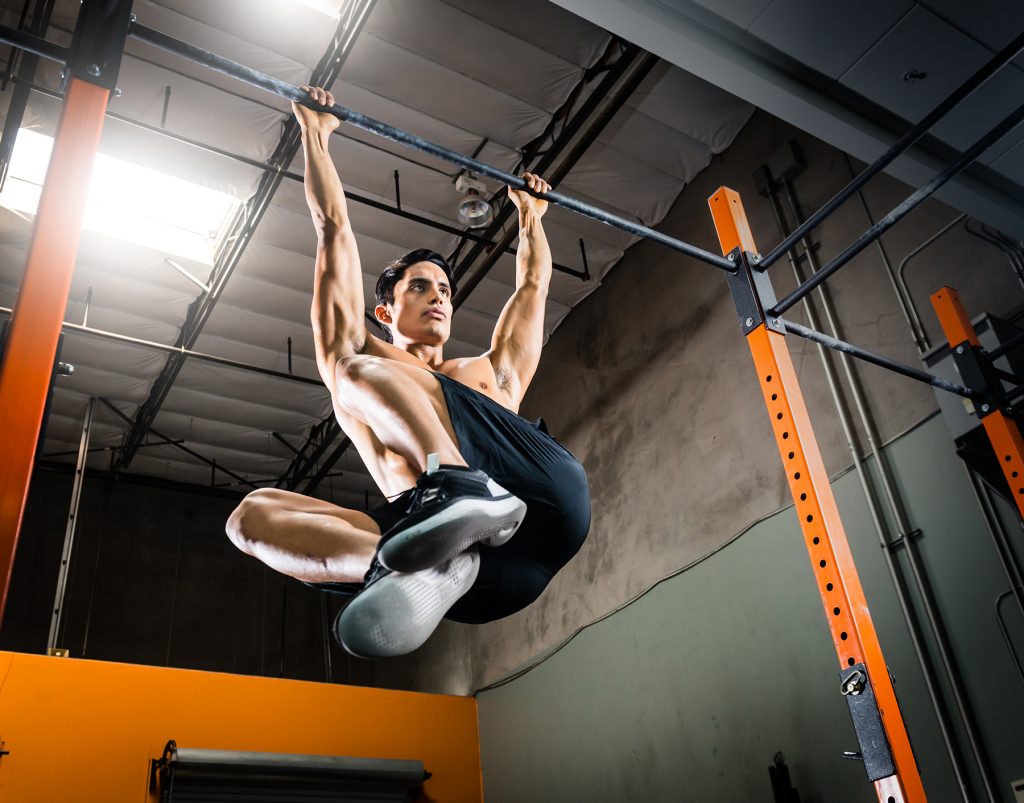 IN THE ZONE
David describes how Latham's former career as a physiologist led her to devise the revolutionary workout that ultimately became the brand's trademark offering. A unique combination of high-intensity interval training and traditional cardio, Orangetheory's main point of difference is that it is founded upon the science of 'excess post-exercise oxygen consumption'.
Individual heart-rate data is captured with strap-on sensors called OTbeats, enabling workout participants to clock their performance level on-screen in real time, thereby adjusting to the coach's interval training cues – pushing harder when possible and recovering between vigorous work bouts. The brand uses a five-zone heart-rate training approach, gamifying vigorous intensity work with the Orange Zone and Splat Points.
This hallowed zone represents the very vigorous intensity work: 84–91 per cent of one's predicted maximum heart rate. Maintain it for 12–20 minutes within an hour-long interval training workout and your body may increase its metabolic rate for up to 24 hours post-exercise during recovery. Converts dub it the 'afterburn', noting it may help members maximize energy expenditure from exercise.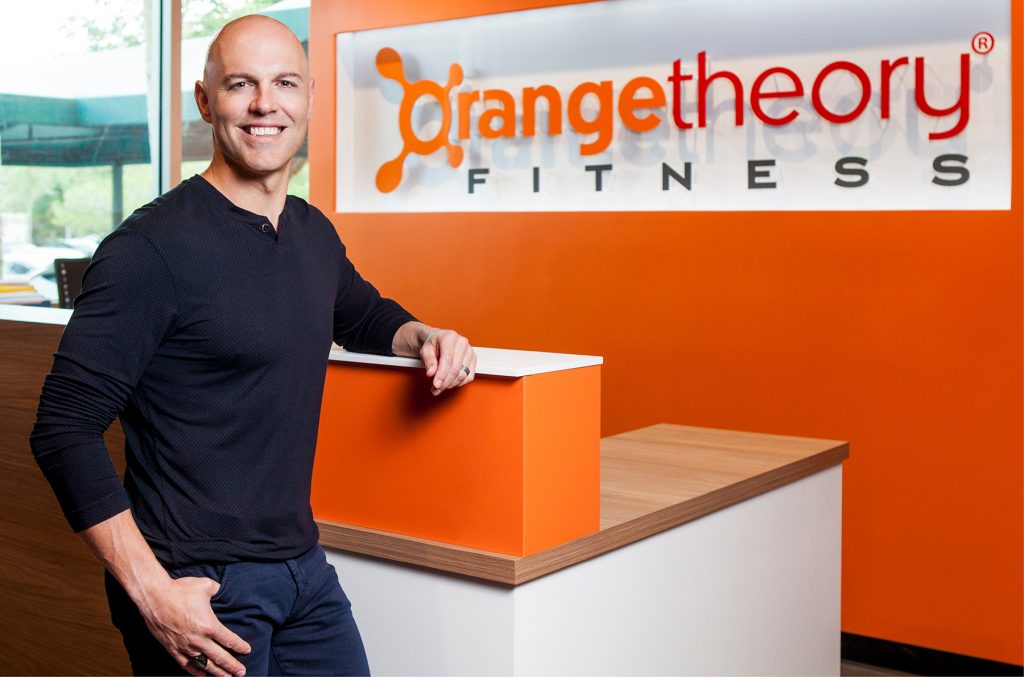 "Helping people get healthier, feel better about themselves and live longer, more vibrant lives is literally what we do."
"Unlike other workouts or gyms, where the competitive aspect can put people off, you're competing against yourself. It enables people to immediately see whether they're pushing themselves enough to get real results," David enthuses. Integral to the model is how Orangetheory's culture encourages people to stick with it. "Our studios become very much a community. That fosters real behavioral change and gives people a reason to keep their fitness routine going."
PIVOTING THROUGH THE PANDEMIC
While many fitness centers suffered during COVID-19, the pandemic prompted David to adapt. "My first strategy was to listen," he says. "We surveyed members every six weeks. What we learned was some people weren't comfortable returning until they were fully vaccinated. For others, it was about case counts, while others were ready to go.
"Regardless, by sharing that data, we kept our franchisees and their teams informed, and that helped keep confidence and morale up about the future. From a leadership perspective, it was a conscious pivot away from thinking solely about the business, and instead thinking about people and helping them remain positive and focused, so they're ready for when the dust settles."
David believes that with every crisis comes opportunity. "When the pandemic shut everything down, we launched our daily digital workout. At first, it was only for members. But then we thought, 'Why not open up that channel to anybody, anywhere, for free, and give millions of people who might otherwise never have attended an Orangetheory workout the chance to experience what we do? With luck, some of them might walk in and sign up for a proper class a year later.' And plenty did."
"Unlike other workouts or gyms, where the competitive aspect can put people off, you're competing against yourself."
David sees reliability and quality control as paramount. "If a normal gym has a couple of treadmills break down, they put up a sign and that's it," he points out. "But an Orangetheory studio is full most times, so we can't have equipment go down because that would be unacceptable for our members."
Happily, the company is blessed with an exceptional supplier that provides rapid installation of equipment when and where needed. "JB Hunt is an essential partner to Orangetheory Fitness," David says. "Not only do they move, install and ship all of our fitness equipment for new studio openings, they also assist with studio refreshes to help ensure that our members have everything needed to get the most out of their workouts and ultimately live healthier, more vibrant lives."
THE ORANGE PEOPLE
Building a strong, positive culture at Orangetheory has become self-perpetuating, according to David. "It feels very purpose-driven. Helping people get healthier, feel better about themselves and live longer, more vibrant lives is literally what we do," he asserts.
"When I talk to our coaches and trainers on the front line, members are giving them 99 per cent positive feedback. People want to be there; they're excited, they're building relationships. It's why our staff retention is the highest in the industry. If you have the right personality and skill set, you'll thrive because you're making a hugely positive impact on people's lives. We walk the walk."
With that in mind, fall is ending. All the leaves on the trees have shifted hue with the turning seasons, falling in ankle-deep drifts of burnished orange. An auspicious time to stage a personal transformation, perhaps? "It's always time to make a positive change," David fires back with a grin. "Shall I sign you up for a free class?"
Lessons Learned
When asked to impart advice for aspiring entrepreneurs, what David offers might surprise some. "Take a step back if things aren't going to plan. Be honest. Ask yourself, 'Are we really executing and delivering on what we set out to do?'
"When Orangetheory first launched, we opened in a handful of markets pretty quickly. And I'll be frank, the initial performance was underwhelming. It wasn't like our franchises were about to go out of business, but it was far from our expectations. So we had to pause and ask whether our focus should be on growth and hope it would straighten itself out, or slow down, fill the gaps, foundationally speaking, and make sure we got it right.
"Fortunately, by taking time to figure out how to deliver a great experience in every location, in a way that was transferrable and scalable, our growth became sustainable. And that's the lesson – sometimes it might seem easier to keep pushing forward, hoping things will fix themselves. But really, you need to take a step back and get your foundations in place. Because it will serve you in the long run."