Companies live or die on the excellence of their service. The larger the company, the thinner its spread – and the harder it can be to maintain excellence across so many silos. In the field of health care, this literally becomes a matter of life and death.
During a global pandemic, healthcare companies of all sizes are spread thinner than ever. That crucial quality of excellence becomes even harder to maintain as staff are pushed to their limits. When COVID-19 hit Argentina in mid-2020, hospitals and medical centers were put under unprecedented pressure. As case numbers continued to rise, the country's second-largest private medical firm Swiss Medical Group found even its considerable fleet under siege.
"The coronavirus pandemic is the biggest challenge to the global healthcare industry in centuries," says Claudio Belocopitt, Owner of Swiss Medical Group. "Our clinics are all at full capacity, there's a distinct lack of resources and, even before the pandemic, we were coping with 'medical inflation'."
For a company comprising eight clinics, 18,300 diagnosis and treatment providers, 12 ambulatory medical centers and 60,000 healthcare professionals, the idea of adhering to social distancing constraints seems like a logistical nightmare. "But thanks to our previous investments in information technology, we were able to adapt very rapidly to virtual operations," Claudio says. "Many of our employees are now working from home without affecting operations or productivity."
Swiss Medical Group's immediate response to the advent of COVID-19 was to construct a virtual rampart by expanding capacity at its clinics, increasing the number of beds and intensive care units at its hospitals and shifting more doctors to its telemedicine platform. So far the wall has held, but Claudio says further challenges lie ahead. "We've recognized a lack of medical materials in Argentina, and worse, a lack of vaccines," he says. "So we're currently conducting a global search for supplies."
Compounding Argentina's healthcare woes is, as Claudio explains, a very complex economic situation. "Economically, Argentina is in bad shape and that's our biggest challenge," he reveals. "The excessive regulation framework that rules our sector makes the management of a healthcare company very difficult. We have to ask permission to raise prices."
The coronavirus pandemic is the biggest challenge to the global healthcare industry in centuries.
The medical inflation affecting the financial situations of healthcare systems around the world is also worse in Argentina. "We have such a high rate of general inflation that it just aggravates the problem," Claudio adds.
However, as is so often the case, these limitations are a double-edged sword. "We've tried to fight this situation by reducing operating costs, improving and digitizing our business processes, working to eliminate waste, fraud and abuse, and negotiating with governmental authorities on tariff increases and tax reductions," Claudio says.
This preparation left Swiss Medical Group in a better position than many of its peers by the time COVID-19 arrived. "We consider ourselves leaders in the incorporation of technology in day-to-day operations. We began the digitalization process in all areas of our organization in 2016, and we keep up to date with the latest medical diagnostic and surgery equipment," he explains. As a result, practically all of the Group's counterparts – clients, vendors and insurance brokers – can operate with the company via web portals or mobile apps. "This is how our doctors can now use Zoom or similar tools to help their patients."
It's also why Swiss Medical Group has partnered with some of the biggest names in IT – the company's online infrastructure is powered by IBM, servers and data centers are maintained by Microsoft and the enterprise resource planning system is provided by SAP – and global medical giants such as GE Healthcare. "These partnerships keep us ahead of the competition when it comes to innovation," Claudio says. "And because we attend to their employees, they're clients as well as partners."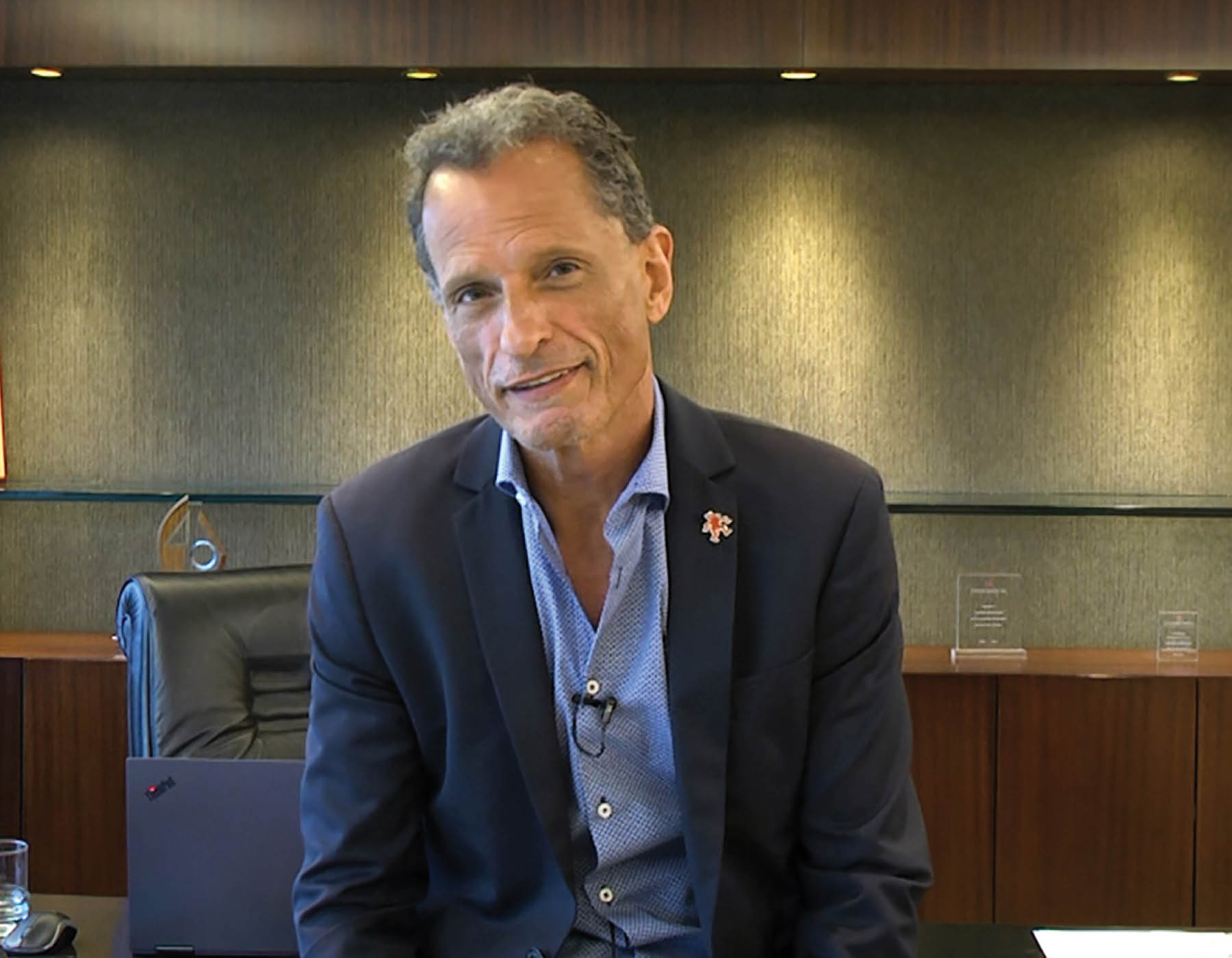 Such forward-thinking groundwork and expansion is in the company's DNA. Born of Claudio's desire to follow his father into health care, Swiss Medical Group began its life as the Argentine Swiss Clinic and Maternity Hospital in 1989. Investments, growth and a series of acquisitions, beginning with Uruguay's BlueCross & BlueShield in 2001, helped fill out its portfolio.
"At the beginning, health maintenance organizations were concentrated in Buenos Aires, but the incorporation of corporate clients with employees working in the interior of the country necessitated the expansion of coverage to a national level," he points out. "We're currently analyzing the possibility of expansion to other places in Latin America, such as Bolivia and Uruguay."
To be in this industry … you need to have passion and care for your fellow human beings.
Not one to rest on his laurels, Claudio's vision has transformed the company into the giant it is today. "I'm passionate about this industry. I like to use all available technology to help people to have a better quality of service and comfort. It was difficult at first, but nowadays we're present all over the country and, in some places, we've developed our own medical centers," he says.
To cement his commitment to the cause, Claudio has imbued Swiss Medical Group with a mission statement that binds the disparate strands of the company together. "All our employees know that the success of our company depends on achieving and maintaining excellence in the quality of service to our clients," he confirms. "New employees are made aware of this principle from their first day with us, and the concept is reinforced in top management speeches and training courses."
Training is a constant for the company's personnel, while regular performance reviews keep quality of service high. "We gather information from our clients through satisfaction surveys," he says. "The results are part of the performance evaluation process for managers and staff."
Whether tested by economic hardships or pushed to extremes by a once-in-a-lifetime pandemic, Swiss Medical Group has endured. Part of that resilience is surely down to Claudio's firm belief in quality service – the kind of leadership that befits such tough times.
"Everyone has their own methods and principles, and I have mine. I believe that to be in this industry that's so complex and has so many variables to consider, you need to have passion and care for your fellow human beings," he insists. "If not, perhaps it's easier and less complicated to choose another industry."