There's no secret that cannabis has gone mainstream, with what was once one of the world's most illicit drugs now the basis of a US$20.5 billion global industry, thanks in large part to growing knowledge worldwide about the substance's potent medicinal qualities.
While in the past, cannabis growers stayed hidden from law enforcement seeking to shut them down, these days the use of marijuana, under certain conditions, is getting the tick of approval from law makers as the plant's health benefits become better understood.
Indeed, it's become widely accepted that cannabis-derived products can help those suffering from serious and even life-threatening conditions and illness, such as multiple sclerosis, cancer and epilepsy, leading to a surge in demand for products made from the once-banned substance.
Now a new segment of the market, cannabis-based skin care, is booming as the plant's cosmetic benefits go mainstream and emerging skincare companies cash in.
Enormous growth
Oliver Horn, CEO of Elixinol Global, an ASX-listed company that manufactures cannabis- and hemp-derived skincare products with a presence in Europe, the US, Japan, Africa and Australia, describes the growth of the cannabis-based skincare market as "really staggering".
These skincare products are based on cannabidiol (CBD), as it is also known, a chemical compound derived from the hemp plant. The products do not, however, contain tetrahydrocannabinol (THC), which is the psychoactive ingredient in hemp that gives a high.
Horn says the size of the global market for CBD-based skincare products is ballooning fast and now represents "one of the highest growth categories" in the beauty market. He tips "enormous growth" in the years ahead. In his view, consumers worldwide are flocking to this type of skin care as awareness grows among mainstream beauty consumers about the health benefits of topically applied CBD.
"People have obviously heard about CBD as an ingestible, as a nutraceutical product that helps with anxiety, sleep and pain, and so forth. But what is really interesting is that although clinical studies are still emerging, and they're limited, there are numerous studies that have shown CBD oil actually has anti-inflammatory and antioxidant benefits when you apply it to the skin," he tells The CEO Magazine.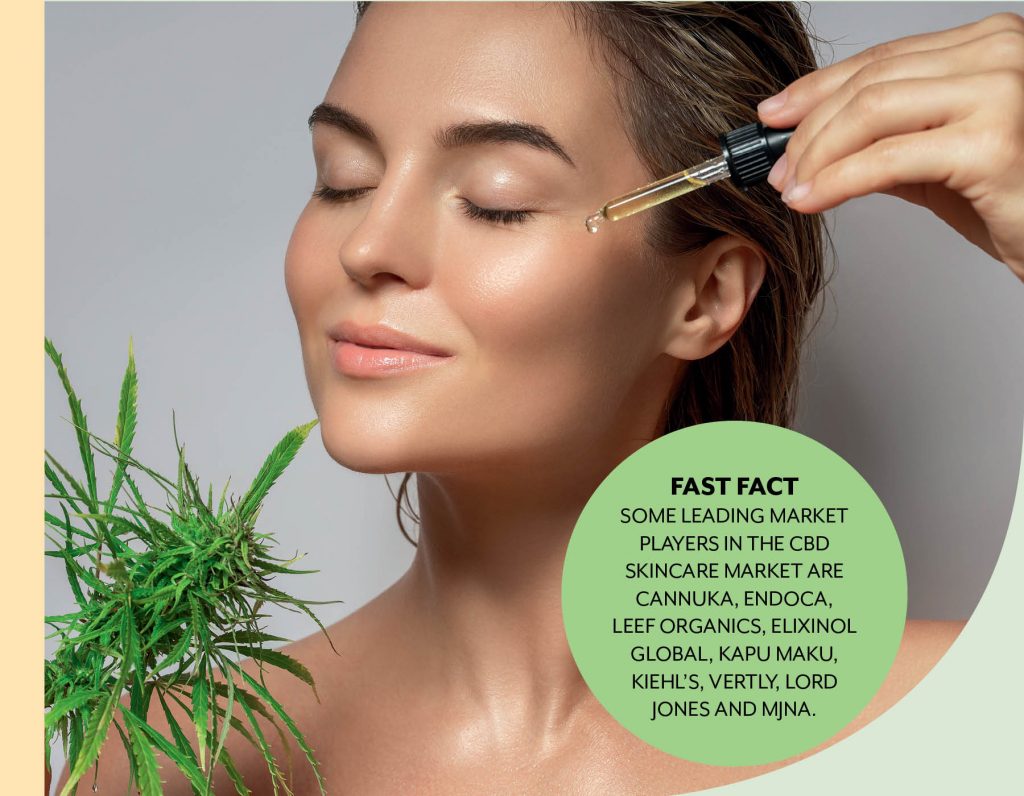 "Why is that important? Because that makes CBD a real
ideal ingredient for treating specific skin concerns like dryness,
inflammation and acne-prone skin, and it is extremely potent when it comes to reducing the appearance of dry skin and psoriasis. CBD is now being discovered as a topical solution for all those health concerns."
Demand drivers
Hey Bud, an Australian-headquartered hemp-based cosmetics company, is a smaller market player that's also witnessing strong growth for its range of beauty and skincare products. Its products are all derived from hemp – a strain of the cannabis sativa plant – and include a hemp clay mask, hemp facial moisturiser and hemp face oil.
Co-Founder Alex Roslaniec says the company, founded in 2019, has seen revenues lift 15 per cent month on month in recent times as demand for its range skyrockets.
He says most of the demand comes from women in the 25–34 age bracket who want to make the most of hemp's health benefits, with the substance present in all the company's products.
"What we've found with hemp is that it doesn't always have to necessarily be the primary ingredient of our products, it can be secondary, but it always plays a role in the benefit that the product plays for the customer," he says.
"For example, some of the benefits that hemp has is that it balances oil production, so it's really good for people with oily skin because it brings them down to a normal level, but it also helps people who have really dry skin."
According to Roslaniec, another driver of growth is less stigma around cannabis generally than in the past. He says with many countries moving to legalize it, especially for medicinal purposes, previous hesitance among consumers about the substance is quickly falling away.
"Globally, the cannabis market is growing increasingly fast due to the legalization of it around the globe, as well as the increased medicinal benefits. As a result, that's flowing into the skincare market as well," he explains.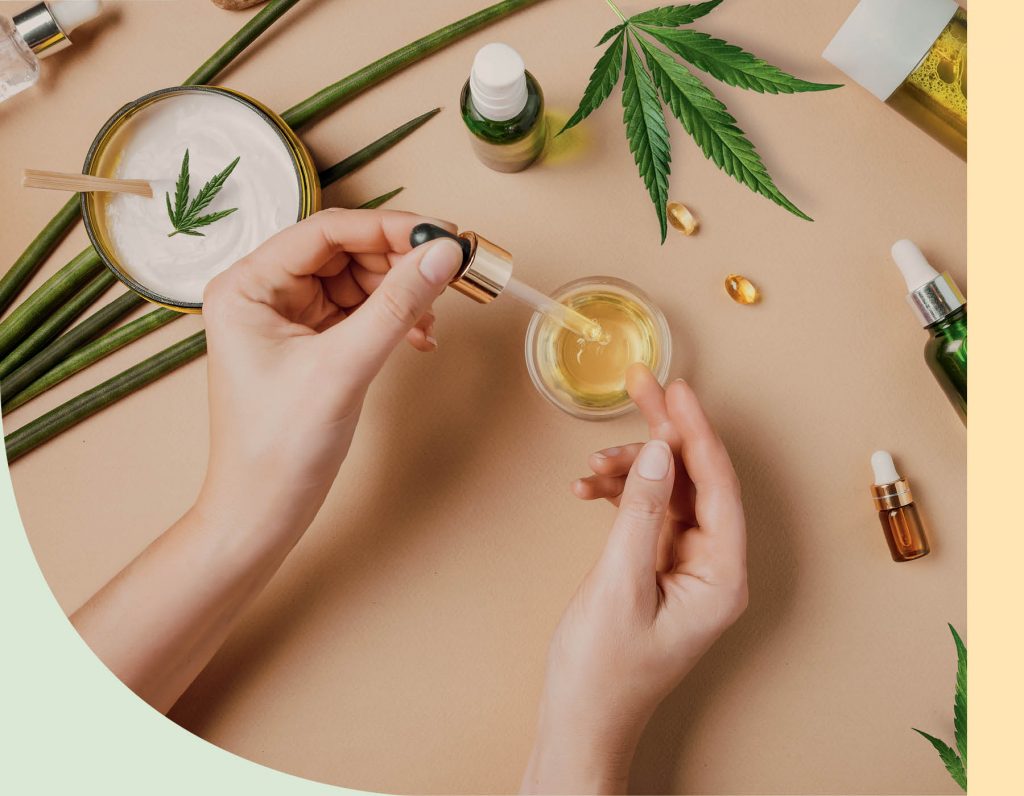 Recent data confirms that. According to US market research firm Million Insights, the global cannabis-derived skincare market is forecast to reach US$1.7 billion by 2025, registering a 32.9 per cent compound annual growth rate from 2019–2025, due in large part to greater awareness about the healing properties of cannabis-infused beauty products.
These healing properties, it says, include assisting skin dryness, inflammation and sensitivity, as well as healing acne and eczema. It also notes antioxidant properties that can reduce the pain of inflamed skin and prevent signs of ageing.
When it comes to global growth distribution, Million Insights points to North America as the largest territory for cannabis-based skincare products, with its research concluding that Canada and the US accounted for more than 40 per cent of the global market in 2018. It expects that trend to continue, forecasting the US and Canadian markets to grow strongest through to 2025 due to rising demand for CBD-infused skincare products against a backdrop of increased marijuana legalisation in North America.
Cannabis education
Despite booming global demand for cannabis products and less stigma around the substance, Anthony Soriano of hemp-based skincare company Alivio admits there's still work to be done. The Australian company uses cold-pressed hemp seed oil sourced from cannabis fields in the southern state of Tasmania to create a skincare range that repairs, protects and nourishes skin.
It's all part of what he says is an effort by the company, headquartered in Melbourne, to demystify cannabis for consumers. "The general consensus a lot of people still have when they hear the word cannabis is they think of getting high, so our challenge has been to educate consumers on the benefits of cannabis for skin care," he says. "It's about creating awareness about the actual healing properties."
To this end, Soriano says Alivio works hard to communicate the upsides of hemp on health to its target market via social media channels like Instagram and Facebook.
"We've been able to see a huge uptake being able to utilize influencers," he says. "We've also got an ingredients page on our website that details a lot of information about hemp and what it actually does. We really want to continue to educate consumers."