Once upon a time, not too far from the shores of the Baltic Sea, there stood a modest little grocery store and delicatessen. Its floor was invariably packed with eager customers, all fond of the smiling young man on the other side of the counter. They came for his preserved fish. No-one knew exactly how he did it, only that his fish tasted delicious.
Poland was undergoing seismic changes, with communism crumbling and capitalism ascending. Consequently, lots of supermarket shelves were bare at the time. So as the store owner gazed down the line of people waiting patiently to buy his products one day, he mused, "If my fish is this popular, what if I could sell it to more people?" 
That entrepreneurial fellow's name was Boguslaw Kowalski, and he went on to found one of Poland's most beloved canned fish brands, Graal. "I saw the chance to create something bigger," he shrugs, modestly. 
Whether it's smoked, canned or marinated, mackerel, herring, tuna, salmon or caviar – and now, sauces and meats – Graal produces it. In fact, one would be hard pressed to wander down the aisles of a grocery store or delicatessen anywhere in Poland without spotting the brand's ubiquitous red fish symbol. And now, with those products exported to more than 35 countries worldwide, the brand is rapidly expanding throughout Europe and poised to make inroads into the US market. 
"Our aim now is to not only be the biggest player in Poland, but also one of the biggest in Europe."
According to Boguslaw, Graal's success can be attributed to a few factors: its reputation for flavour, of course, along with the unique process by which the fish is prepared at its high-tech canning factories. He is also vigilant in ensuring the same love he once poured into his grocery store's fledgling product range three decades ago continues.
That firsthand knowledge of what his customers first loved, he believes, is what has stood his company in good stead. "Unlike other businesses, we created a market first – a demand for fish that tasted a particular way – and we built the company from that," he recalls. "And now, we meet people's expectations and give them something new, better and truly innovative."
Like any CEO, Boguslaw has had cause to pivot in the past. He has overseen acquisitions of other brands, factories and competitors, folding them all under the Graal umbrella, while also deftly shepherding the company through a tricky and potentially perilous transition when Poland entered the European Union. At one point, the company was listed on the stock exchange before he decided instead to buy it back and bring in private equity. 
These bold moves have paid off, as in recent years, Graal's growth has been nothing short of exponential. "Our aim now is to not only be the biggest player in Poland, but also one of the biggest in Europe," he shares. "We're looking to make some large acquisitions in Western Europe and America too, using our knowledge and the profitability of our production processes to make a real dent in these markets."
However, Boguslaw has never forgotten his roots or the values that underpin them. "When you're in the fish business, sustainability and the protection of the marine environment have to be your priority," he insists.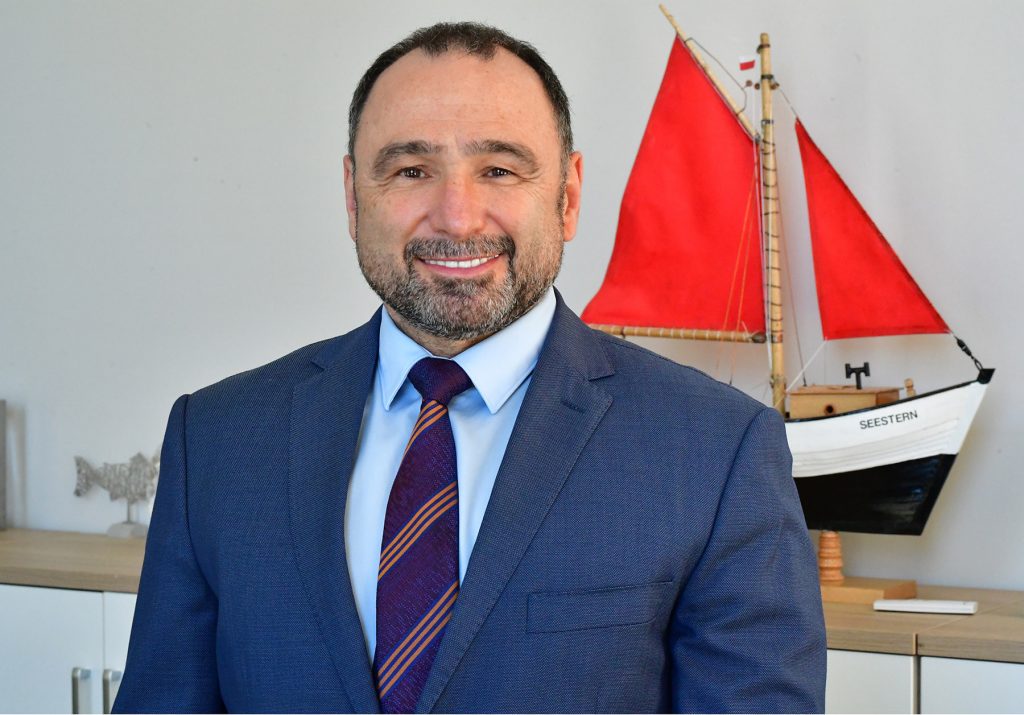 It's why he takes Graal's overriding business philosophy of "global responsibility" so seriously. The mantra extends from working closely with suppliers to ensure sustainable fishing practices, to minimising waste and water use across all four of the company's production sites, to maintaining a clear line of provenance and product traceability, thereby ensuring its products are not just high quality but ethically sourced as well. "For us, it's very important to do everything according to our values," he says.
"Our people not only put in hard work, but they give their hearts too. That makes us strong. I would say our entire team is our competitive advantage."
This unifying ideal makes Graal a great place to work, Boguslaw explains, and gives it an edge over competitors. He prides himself on the company's culture, hiring locally and fostering a rewarding environment for every employee, from the factory floor on upwards. "While we employ more than 2,800 people, it still feels like a family business to me," he reveals. "Our people not only put in hard work, but they give their hearts too. That makes us strong. I would say our entire team is our competitive advantage."
The company has been awarded dozens of industry awards for excellence over the years. Yet what matters most to Boguslaw is not the shiny trophies or plaques on the wall, but rather the brand logo itself – the symbol of the fish – and what it says about the role Graal must play as such a powerful player in the industry. "It's an ever-present reminder to me that we are working in the fish business, and why marine life and the health of our oceans is so important. Fish means everything to us. It's our life."