There has never been a better time for thinking outside of the box. The mayhem of the pandemic has wiped the slate clean, changing the way we work forever. Sure, some companies have swiftly slipped back into the traditional way of doing things, returning to the office nine-to-five routine. But others have decided to seize the moment to re-evaluate, rethink and reset.
It's the perfect opportunity for companies to engage with their people to find out what works best for them. After all, research has shown that by giving employees flexibility and placing trust in them, companies reaped a boost in productivity and loyalty.
Listening to the needs and desires of employees has become crucially important, given that we are in the throes of a skills shortage, touted by experts as the worst in the US in a decade. According to the National Association for Business Economics, nearly half (47 per cent) of respondents to its 'Business Conditions Survey' reported a shortage of skilled workers in the third quarter of 2021.
And what do those workers want? According to McKinsey, three-quarters of around 5,000 employees surveyed would like to work from home for two or more days per week. More than half want at least three days of remote work.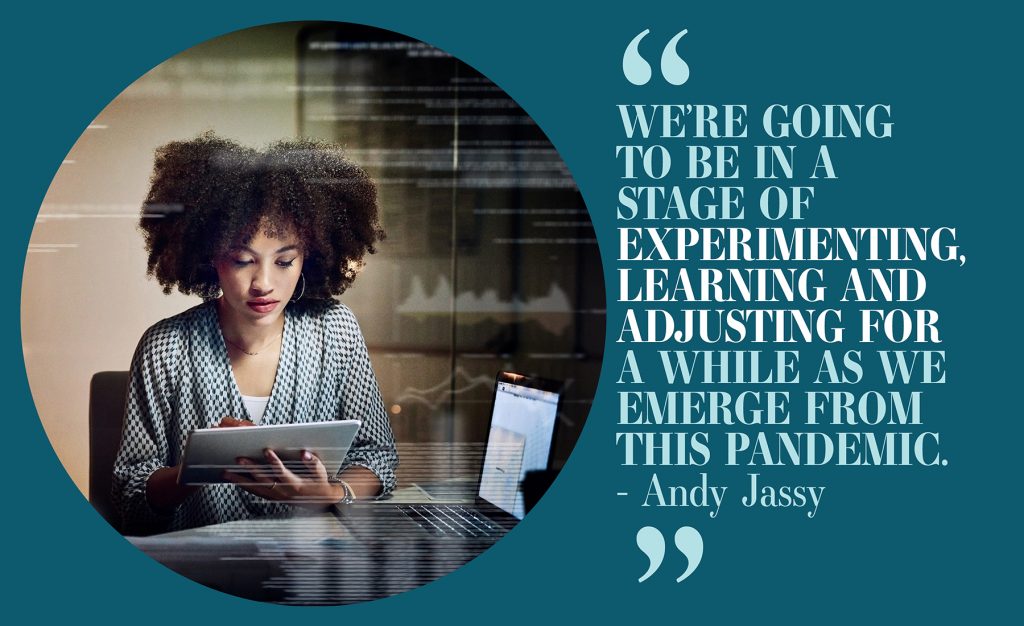 That is why so many companies are seriously contemplating, or have already put in place, a hybrid structure that aims to capture the best of both worlds. It's no easy process, however. Even some of the world's biggest companies have been a little confused.
Facebook, Google and Amazon are among the companies that have flip-flopped between the various styles of working as they attempt to work out the best blend. "We're going to be in a stage of experimenting, learning and adjusting for a while as we emerge from this pandemic," Amazon CEO Andy Jassy told employees.
When pondering a new hybrid set-up, the main concerns for companies are manifold. How can teammates effectively and creatively collaborate when they are scattered all over the place? How can people remain connected? How can everyone equally access career development opportunities and mentoring?
Tech companies have been working long and hard to come up with answers to these very questions and essentially, it all comes down to communication. So, lo and behold, a slew of new cutting-edge ways to enhance interactions between team members are hitting the market, like those of pandemic success story Zoom.
The company has created an ecosystem where users can "seamlessly" shift between phone, video and chat in addition to sending files, sharing content and scheduling meetings. Its conference room solution Zoom Rooms helps organizations create dynamic meeting spaces tailored to their specific needs with innovative features like wireless screen sharing, touch-free controls, real-time annotations with whiteboarding and more.
Slack has also upped its game with the launch of Huddles, which allows users to connect with their co-workers, whether they are in the office or working from home, making it easier to brainstorm. Through the new tool, users can easily have audio conversations across channels and send direct messages on the platform. It also features the ability to create and play back video and audio recordings, provides transcripts and gives access to a new employee directory called Slack Atlas.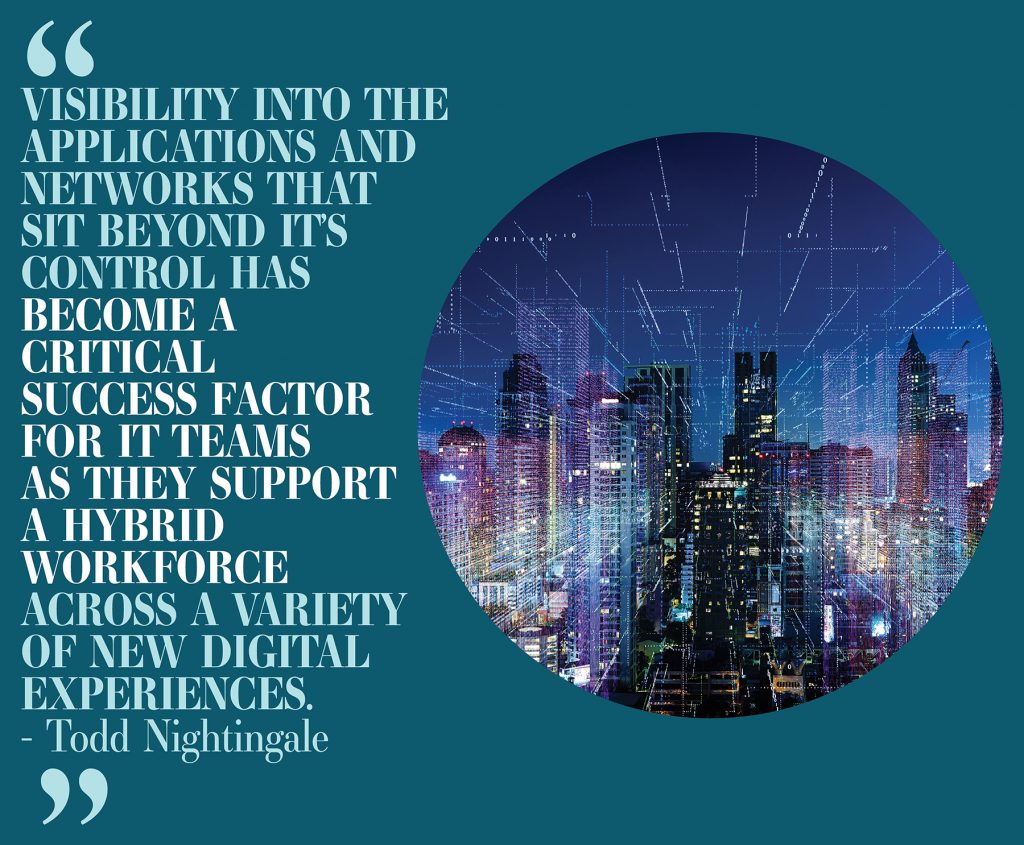 Also busy on the hybrid front is Microsoft, enhancing its videoconferencing tool Teams to help remote participants establish their presence in the room and "maximize inclusion". Teams Rooms uses new video layouts so that remote participants show up larger and truer to life. Live reactions, spotlight, and the ability to pin multiple video streams and chat bubbles are new features designed to bring attention to the remote participants engaging in the meeting.
Meanwhile, Facebook has taken a virtual reality approach to bringing remote and in-office workers together, creating Horizons Workrooms, a fully immersive remote-working experience that places employees as avatars in a virtual office using the Oculus Quest 2 headset.
"It works across both virtual reality and the web and is designed to improve your team's ability to collaborate, communicate and connect remotely, through the power of VR – whether that's getting together to brainstorm or whiteboard an idea, work on a document, hear updates from your team, hang out and socialize, or simply have better conversations that flow more naturally," the company said.
Ensuring all staff have secure access to applications via any networks they may access from a variety of locations is also critical. This is an area where Cisco has concentrated a great deal of effort, trying to understand where user-impacting issues are occurring and providing zero-trust solutions.
"Visibility into the applications and networks that sit beyond IT's control has become a critical success factor for IT teams as they support a hybrid workforce across a variety of new digital experiences," said Todd Nightingale, Executive Vice President and General Manager Enterprise Networking & Cloud at Cisco.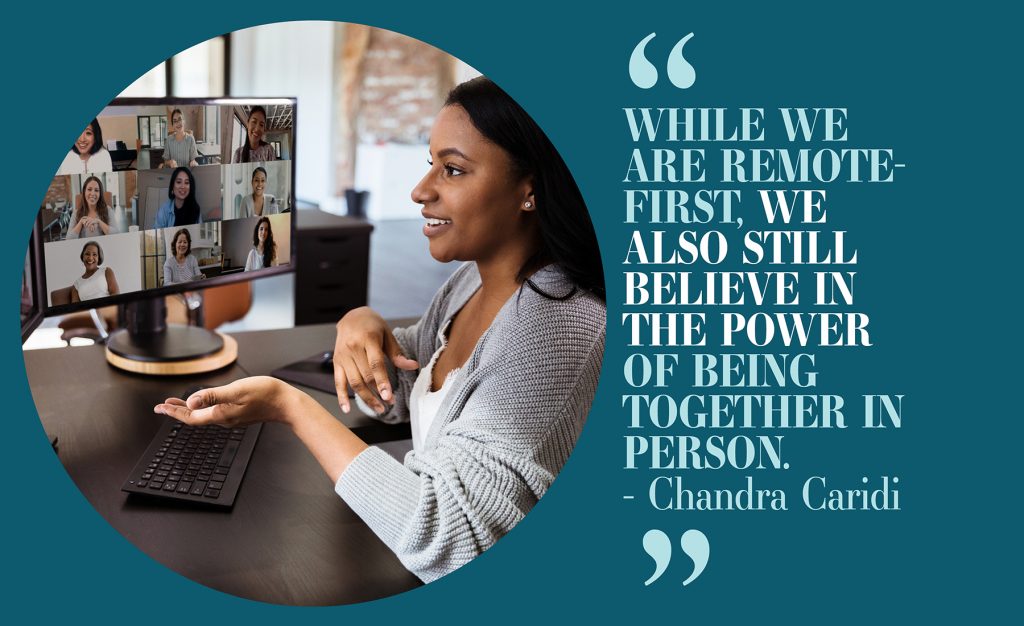 Virtual drinks have become a weekly regular for many companies to help create a sense of belonging, as have virtual team-building events. Particular care has had to be taken to help new starters settle in and feel part of the team from afar, with buddy systems and VR headsets among the strategies.
But as important as it is to offer employees the option to work remotely, it is also important to make it possible for them to gather. Even a company like health-food company Oatly, which has had a remote-first approach since 2017, uses WeWork locations as a "connection point".
"While we are remote-first, we also still believe in the power of being together in person," said Chandra Caridi, Vice President People and Transformation – North America. "We want our employees to do that whenever there is a shared desire to do so."
There is no one answer. Different industries, different cultures, different roles will all require a different approach.
In a recent Deloitte-Zoom webinar on the future of work, Zoom Global CIO Harry Moseley described this pandemic-induced reshuffle as "the largest experiment in the history of work globally" and it's one that he expects to run for at least another year. "Maybe when we get to mid-2022 or perhaps later, we won't be thinking anymore, we'll know."