When Alvaro Cofiño's mother, Yolanda, and father, José, took over running the first and only McDonald's restaurant in Guatemala in 1974, neither realized that they would be responsible for transforming an important aspect of the global hamburger conglomerate in a way that still resonates today.
At the time, the outlet was on the verge of bankruptcy as a bitter civil war played out. The couple wondered if they'd made the right decision, especially after insurgents set fire to the building. It took five years for them to open a second restaurant.
But then, mom-of-five Yolanda had an idea. She'd observed how young kids often had to pick at the fries from their parents' meals because the burgers were a bit too big for them to eat a whole one. Why not, she pondered, offer them some tasty options so they could enjoy their food as much as the adults? She devised what she called Ronald's Menu: a hamburger, small fries and a sundae.
It was an immediate hit with busy moms on the run desperate to fill their children up. Profits rose so much that they drew the attention of the McDonald's senior management in Chicago.
The Happy Meal had been born and, today, more than 3.2 million are sold worldwide every single day. "Nobody had ever thought of a menu just for kids," says a very proud Alvaro, Owner and President of Central America's biggest McDonald's operation across Guatemala, Nicaragua, Honduras and El Salvador. "She also introduced children's parties to McDonald's."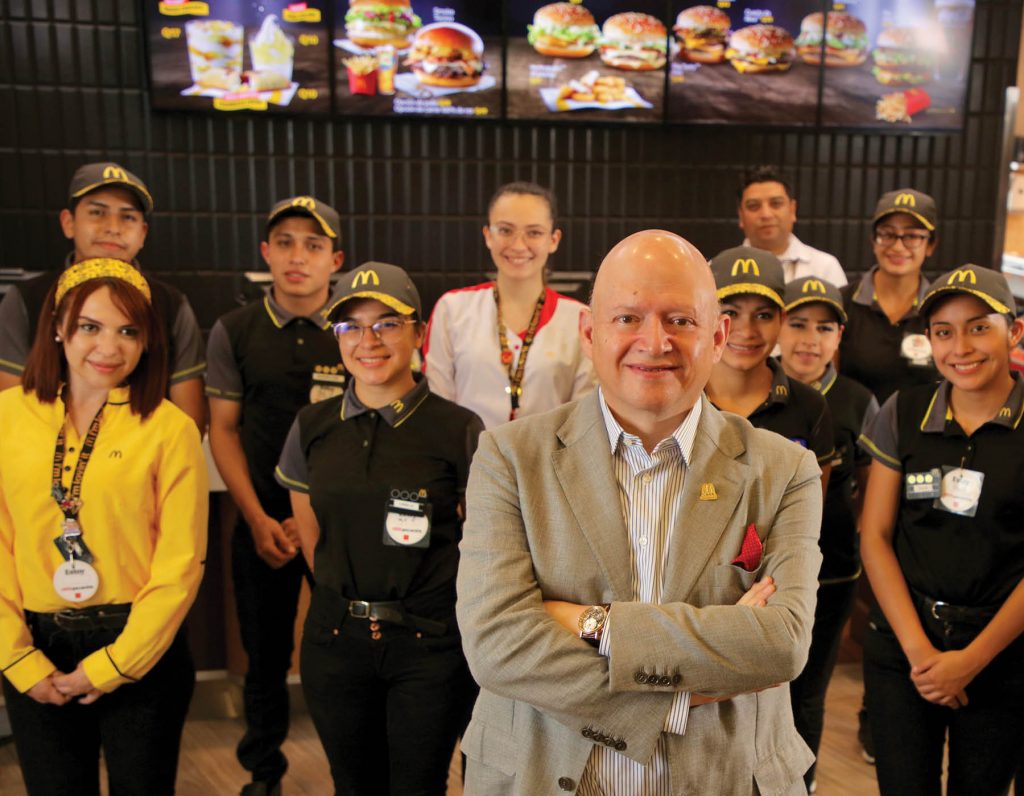 When Alvaro was studying business at university in 1993, he started helping out at one of the eateries and, upon graduation, joined the business. By then, there were 15 restaurants in the country. Yolanda had become head of marketing.
"My father passed away in 1995 and mom said she wanted to stay in her role, and suggested I take leadership of the company," he recalls. "When I took over, I dreamed of opening more sites. I looked at Panama where they had 20 restaurants and wondered if we could ever have even more than that, so I started opening them."
But that's not where the family connections end. "My sisters also work for the company. One is head of the Ronald McDonald Charities here and the other is in human resources. The company may be big these days with thousands of employees and 133 restaurants, but I always tell everyone that, for me, it's still a family company."
If our cashiers are happy, then customers get great service; if the cooks are happy, they make the best Big Macs.
Alvaro expanded operations so successfully, with his excellence in operations and constant innovation, that head office approached him asking if he'd be interested in buying the franchises for Honduras and Nicaragua, a total of 10 restaurants. "That was a very unusual thing to do as normally each individual premises is run by a different franchise owner who lives no more than half an hour's drive away," he says.
However, like his dad before him, he would face a challenge. "The previous owners of both markets had failed to run the business properly, so it wasn't going to be easy," Alvaro explains. "But I wanted to grow the business internationally, so I took them on and McDonald's Mesoamerica was formed."
Then, in 2009, he also took control of El Salvador, though integrating operations from so many different cultures wasn't easy. "There were so many different ways of working, so it took a while to export what we were doing here," Alvaro admits. "They were used to different standards. Here, in Guatemala, our service was consistently fast and effective, and maybe they were a little bit more reluctant."
To succeed, he drew inspiration from his childhood. "My mother invented the Happy Meal and the word 'happy' is still very important to us. If our cashiers are happy, then customers get great service; if the cooks are happy, they make the best Big Macs. That's what differentiates us from the rest – our people are very happy."
Delivery Pioneers
"We started a delivery service before anyone else in 1994," Alvaro reveals. "Even McDonald's told us: 'You can't do delivery!' But it worked. Our market share of delivered fast food is 97 per cent, and the pandemic doubled the number of orders. It also helped with Drive-Thru, which was never big for us, only about a quarter of sales compared to 70 per cent in the US. When restaurants were closed by presidential order, people suddenly had to stay in their cars and they saw how great it was, and now it's a priority for us."