Mark Fairweather has been CEO of Whitworths for almost six years, but the first two years were problematic to say the least. "When I joined, I didn't realize the business was in so much difficulty," he reveals. "The brand was in double-digit decline and my first year was a real roller-coaster – not what I was expecting." 
The private equity owners decided to step away, so he went to the market looking for a buyer with long-term aspirations. It eventually ended with Whitworths' major Turkish supplier becoming the majority shareholder and Mark raising the capital to take a 10 per cent share. Having brought stability to the ownership, he then spent the next two years getting the top team right.
"When you're driving change, specifically cultural change and how the business operates, it takes two years just to get the right top team," he explains. "We now have the right top team, the engagement with people and we all have a good knowledge of our business so can really take our plans forward."
What made Mark hang in there when things were tough (and we haven't even mentioned COVID-19 or Brexit) was the strength of the brand and the company's strong heritage in dried fruits, nuts and seeds. "One of the key reasons for me arriving was the brand – everybody always had a good word for it," he says. "Nobody was negative about the brand, and there was a warm feeling around it."  
FINDING A NEW MARKET
With the company's transformation underway, it gave Mark the confidence to take the brand to a new market. "It gave us license to really look at healthy snacking," he shares. "Everybody wants to be healthier, but they want some flavor and taste, and to enjoy what they eat, so they accept healthier options.
"When I arrived, we were a specialist in baking ingredients, and now we're offering healthy snacks and toppings. We've repositioned the brand completely so that we can address new channels and new markets, be on trend, but also stay with our heritage – what we know and what we're good at. We're literally sticking to our core, but taking that core to new channels and expanding it."
We've repositioned the brand completely so that we can address new channels and new markets, be on trend, but also stay with our heritage.
It's a strategy that's working. When you look at the underlying numbers in the market, it's also a strategy that makes perfect sense. "We've grown 75 per cent since repositioning the brand, and what's really positive is 60 per cent of that growth is coming from outside of the dried fruit, nuts and seeds category," Mark says.
"The dried fruit, nuts and seeds market is valued at £900 million (US$1.2 billion) in the UK, whereas healthy snacking is £6 billion (US$8.3 billion) and general snacking is £13 billion (US$18 billion). Do we want to be 35 per cent of £900 million, or three per cent of a £13 billion market?"
Whitworths has started exporting for the first time in its history, with seven different countries receiving distribution in 2020. It expects to double that this year and reach 20 countries by the end of next year.
THE HEALTHY WAY
However, it is in the UK and, in particular, with regard to obesity that the company sees the real opportunity – partly as a result of the pandemic. "If you look at Prime Minister Boris Johnson, he's been very clear that his own obesity was an issue with COVID-19, and that obesity is an issue that's putting a burden on the National Health Service," Mark points out. "He's wants a healthier UK, and for every adult to lose five pounds in weight. So we're plant-based, we're vegetarian, we're vegan. It's natural and not processed. What we sell is fruit that's just dried, or nuts that may be slightly toasted. So how do we step up to take those opportunities?" 
One of the answers to that is long-term investment, although cash flow is something that always has to be monitored considering the number of suppliers Whitworths has, along with extensive production time lines.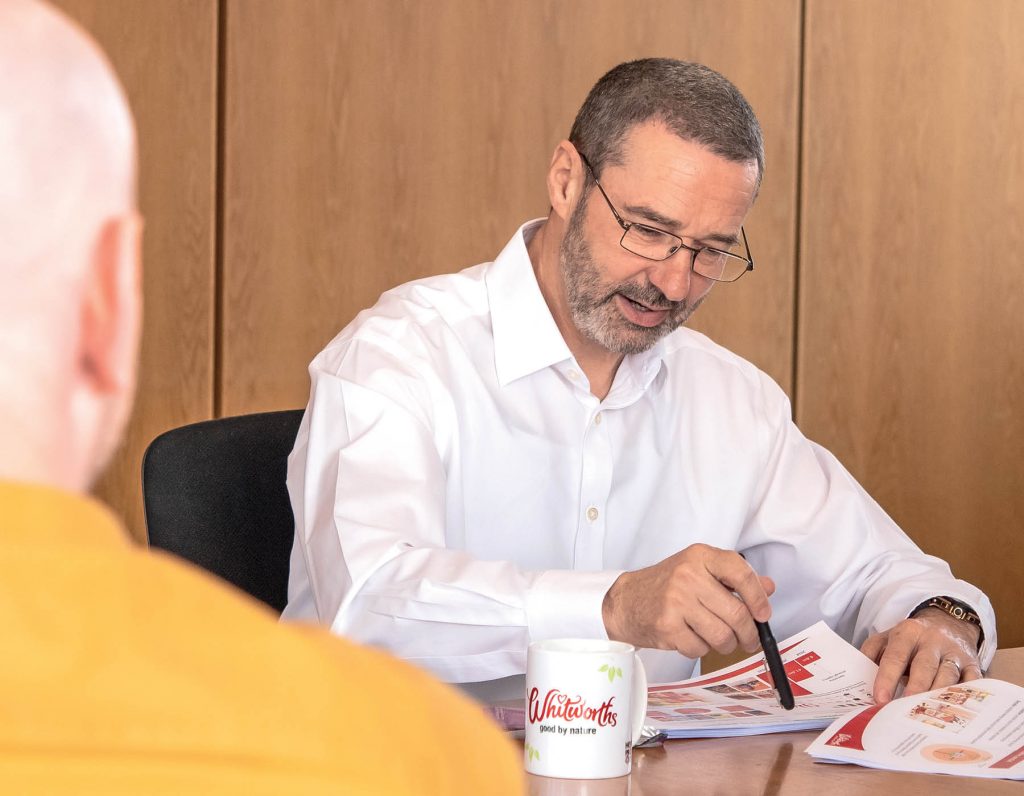 "We take a hundred base commodities from 35 countries around the world – it's around 200 suppliers," Mark notes. "And if you want, say, mango from the Philippines and you're ordering that now for three months out, you're not going to get it. There are long lead times on fruit from around the world and COVID-19 has put even more pressure on freighting."
Managing supply has been a challenge, but Mark explains that communication has helped reassure suppliers while securing the products the company needs. "What we do now is share with our key suppliers a longer-term view of the commodities we need," he says. 
"A good example is with one of our key suppliers in Chile for prunes. We've given them significant volumes that we are committed to buy from them the best part of nine months ago. So they know they can process those volumes and we're going to buy them.
"That type of relationship is key – that we're honest about what we see from them, and they're honest about what they see from us. Don't get me wrong, we negotiate vigorously to get the best prices we can, but it really does set us apart."
EFFICIENCY MATTERS
To keep that cash flow moving, the company works hard at being efficient. "We have strong productivity, but it's taken us three or four years to get there," Mark admits. "But we've got to be more productive, more efficient, and have a relentless focus on it." 
He's very aware that he's working in a competitive environment, though. With the move to snacking, the company is subtly more entrenched in the fast-moving consumer goods market. And it's a challenging place to be.
"I think one of the key things for anyone in FMCG, in today's environment, is that it's a very competitive, challenging environment, but you have to focus on the consumer," he insists. "You have to get the consumer engaged and respond to their needs.
People trust Whitworths because we provide quality with a very clean product.
"There's no point launching products unless you have very strong consumer insight, validation and a number of different trials. You need to know you're launching something that the consumer is looking for."
That has become an even more acute problem to negotiate during the pandemic. "If you look at the past 12 months through COVID-19, nobody's been walking around the supermarket browsing. Everybody's been going in and getting what they want," Mark reflects. "It's really difficult to launch new products, but we're there to solve their problems. We're there to actually provide them with a solution. And it's got to be very competitive in price as well.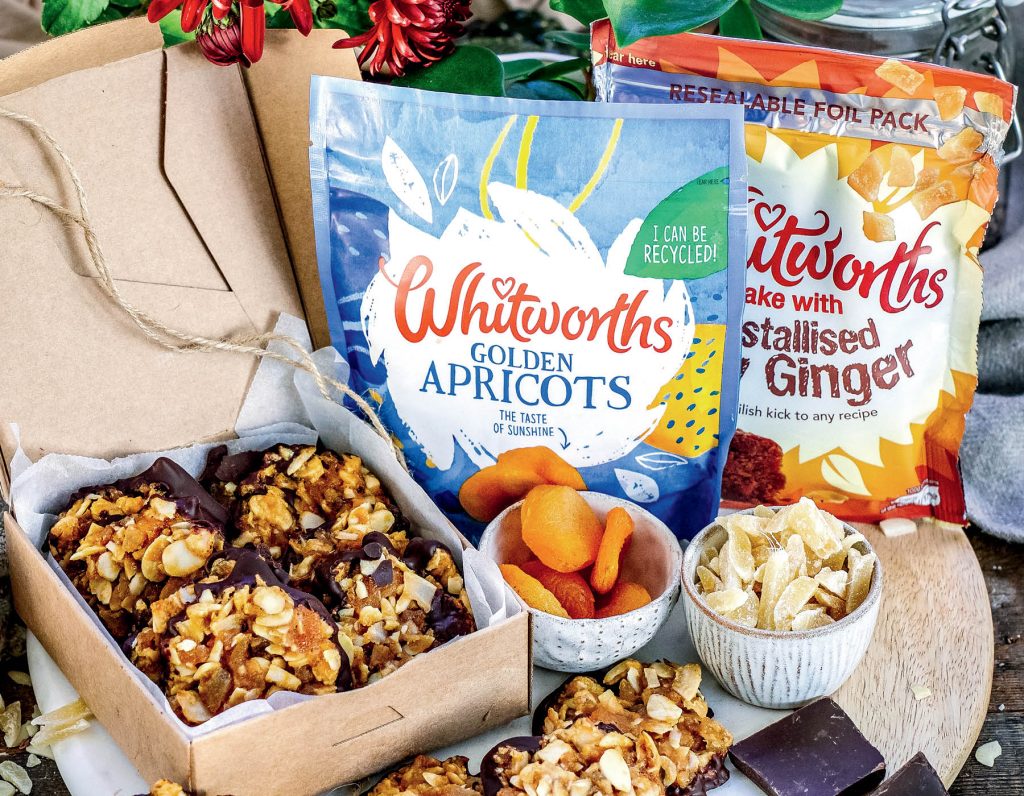 "You have got to be as clear as possible where you are positioning the brand, and once you know where you're positioning it, you can then start asking, 'What makes us distinctive? Why are people going to look at us?' It's got to be compelling to the retailer and it's got to be compelling to the consumer."
At the heart of it all is the product and, ultimately, that's what has kept Mark committed to the business. He knows that the quality of the product is very good. "We have very few issues with product that arrives from overseas. People trust Whitworths because we provide quality with a very clean product," he says. "We want to maintain and build on that trust."