When AK Garg joined Delhi Metro Rail Corporation (DMRC) in 2006 as Chief Electrical Engineer, he knew the journey was going to be interesting. And indeed, it has been. Since then, the 65-kilometre network has grown to cover as much as 394 kilometres today, making the Delhi Metro the largest and second oldest metro network in India, with Garg an integral part of this incredible growth.
When he took on the role of Director of Operations in April 2018 the DMRC had metamorphosed from a construction company to a fully-fledged Metro network. That meant a change of priorities, Garg explains. "Our priorities and our focus had to shift from construction activities to maintenance and operation activities."
His first step was to standardise procedures and establish a maintenance regime that would automatically take care of the ageing assets. Garg noticed that as new stations were established the older ones looked duller. "People started comparing the recently opened stations with the older stations. I realised that I had to focus on improvements to the existing system alongside new developments," he recalls.
Garg simultaneously focused on the trains too, as those purchased in the first phase began to seem outdated compared to the new trains that had better facilities and decor for the new-age customer. "So I decided that I have to do something to improve the look and the facilities in the older trains also," he says.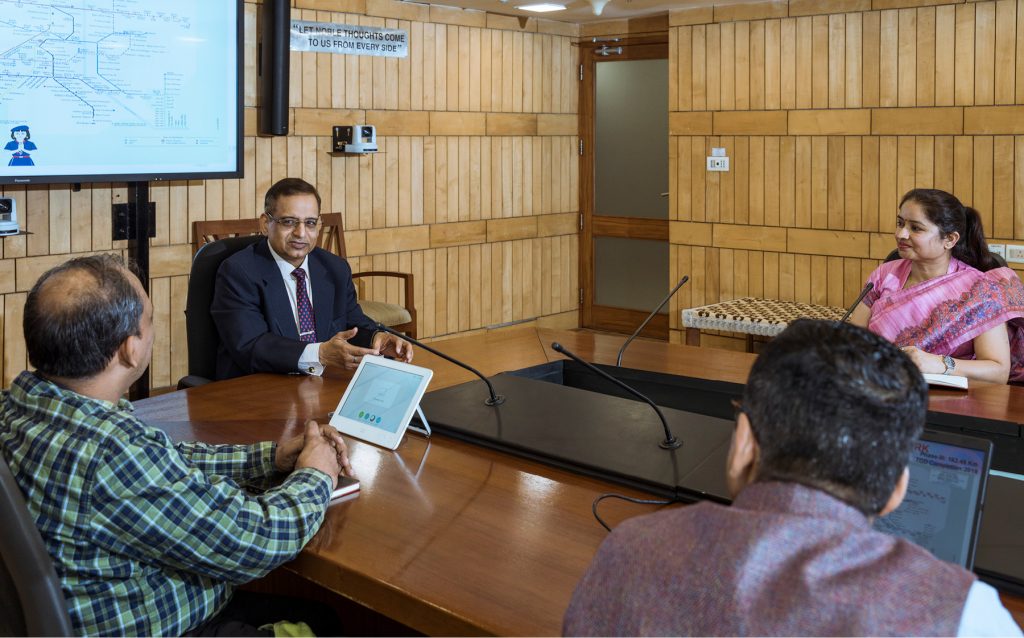 "If you ask me what the single reason for completion of the project on time is, it is that we treat our suppliers or contractors as our partners, not as our competitors."
His ride as the Director of Operations began to pick up speed with the construction of further lines for Delhi Metro's Phase 4. "As far as future growth is concerned right now, DMRC is constructing three lines having 65 kilometres and 45 stations," he says.
During large expansions such as this, several challenges can typically arise, most of them concerned with obtaining permits and collaborating with other departments such as traffic, water supply and electrical supply. In a busy city like Delhi this can be difficult, Garg explains. Getting permission to cut trees is an immense challenge, for example. "The process is so tough and so convoluted that it takes a long time to get the permission, and tree cutting is one subject without which you cannot even start construction," he reveals.
The DMRC has allocated a budget of US$135 million for set replacement. Older trains that do not have CCTV cameras, dynamic route maps and customer-friendly amenities like mobile chargers will now be refurbished with these services. Also part of the plans is the introduction of a feeder bus service that offers modern, electric buses for Metro passengers.
Garg is also excited about the DMRC's initiative to improve the training of its staff. "We originally had a training institute. This has now been upgraded to the level of an academy," he says. The academy takes care of the training needs of beginners as well as of experienced staff.
"We were the principal consultant to most of the metros which have come up now, like Bangalore Metro or Chennai Metro."
The Delhi Metro, with its distinction of being among the oldest and largest Metro networks, has also been sharing its expertise with upcoming metros in other Indian cities. "Initially when the metros started coming into other cities, we acted like an elder brother and provided handholding to almost all upcoming metros. We were the principal consultant to most of the metros which have come up now, like Bangalore Metro or Chennai Metro," Garg explains.
"We were the first company in the country to propagate the idea that your supplier, consultant or contractor is your partner. That concept was floated by our first and founding Managing Director, Mr E Sreedharan, that you cannot succeed without the success of your supplier. That is the hallmark of Delhi Metro. If you ask me what the single reason for completion of the project on time is, it is that we treat our suppliers or contractors as our partners, not as our competitors."
"We are trusted to maintain the communication system for DMRC, the world's fifth-largest metro with 1.79 billion annual ridership across 391 kilometres of network. Indeed a solid testament of our 20 years of excellent partnership and successful technology implementation." – Subodh Vardhan, MSSSI Vice President and Managing Director, South & South-East Asia, Motorola Solutions