About QuadGen Wireless
QuadGen Wireless is a digital transformation company with deep expertise in network engineering services (NES); namely, design, engineering, building, operating and managing high-quality, reliable, next-generation wireless (5G/4G), IP/MPLS, IoT, optical, Wi-fi 6 and smart city networks. QuadGen has a deeply trained and certified technical team of 200+ telecom professionals supported by a partner ecosystem of 1,500+ certified teams.
QuadGen has proven credentials of executing two digital private networks, one smart city and more than 20K wi-fi hotspots. QuadGen grew revenue by three times and EBITDA by seven times in the past three years.
TCIL QuadGen Partnership
TCIL and QuadGen have partnered since 2017 with a business focus on building USOF-funded state fibre grid projects and wi-fi projects. Together, TCIL and QuadGen have won three major state fibre grid projects and are executing two of them. QuadGen, as a true trusted partner to TCIL, has delivered end-to-end solutions for end customers on behalf of TCIL. It has been a very fruitful and professional partnership for TCIL and QuadGen.
Vision
QuadGen aims to be among one of the top 50 digital transformation players globally by 2024, focusing on digital private networks, digital telcos NES and smart cities.
Business Focus
With proven credentials, QuadGen helps digitally transform the following highlighted segments: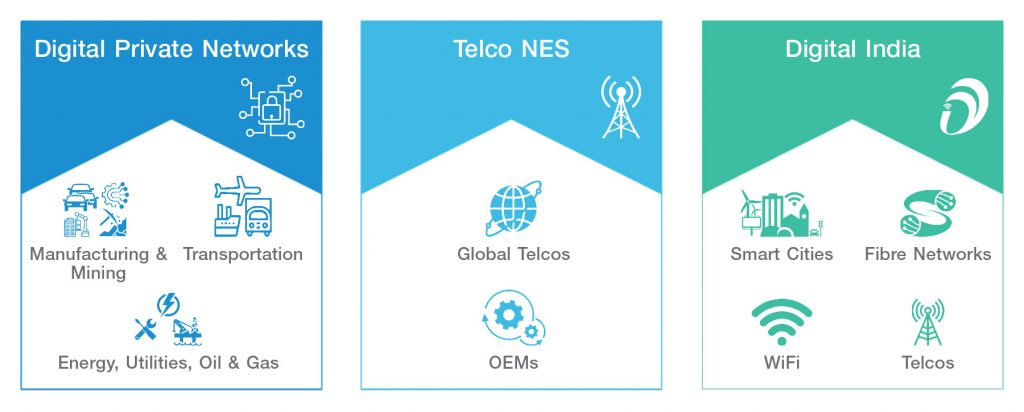 QuadGen Digital Network Services

Our Esteemed Customers

Our Partners

---