De Dietrich, a premium brand of kitchen appliances from France, boasts a rich history spanning over 300 hundred years. It continues to uphold its position as a pioneer luxury appliance brand leader today, widely found in beautiful homes in Europe, America, the Middle East and Asia.
Since its inception in 1684, the brand has released a constant stream of exclusive designs, innovations and technologies, such as the first home cooker, the pyrolytic oven, the superheated steam oven, induction hobs and the first ever zoneless induction hob.
De Dietrich has nurtured its sense of innovation, avant-garde and the 'French Art of Living' at all of its various manufacturing plants around France. Proud of its heritage and expertise developed over hundreds of years, De Dietrich's design is both a promise of aesthetic appeal and a constant search for perfection – to see a De Dietrich product is to want one.

Being awarded the Origine France Garantie label, De Dietrich certifies that its products acquire their essential characteristics in France (Made in France Technology) and that between 50 percent and 100 percent of the unit cost price is all sourced from France.
The objective is simple: to inform the consumers in a clear and precise manner and to promote the know-how of French companies. This label is strongly promoted by the Pro France association, made up of business leaders supporting this approach.
De Dietrich customers can be assured of its fine quality and philosophy.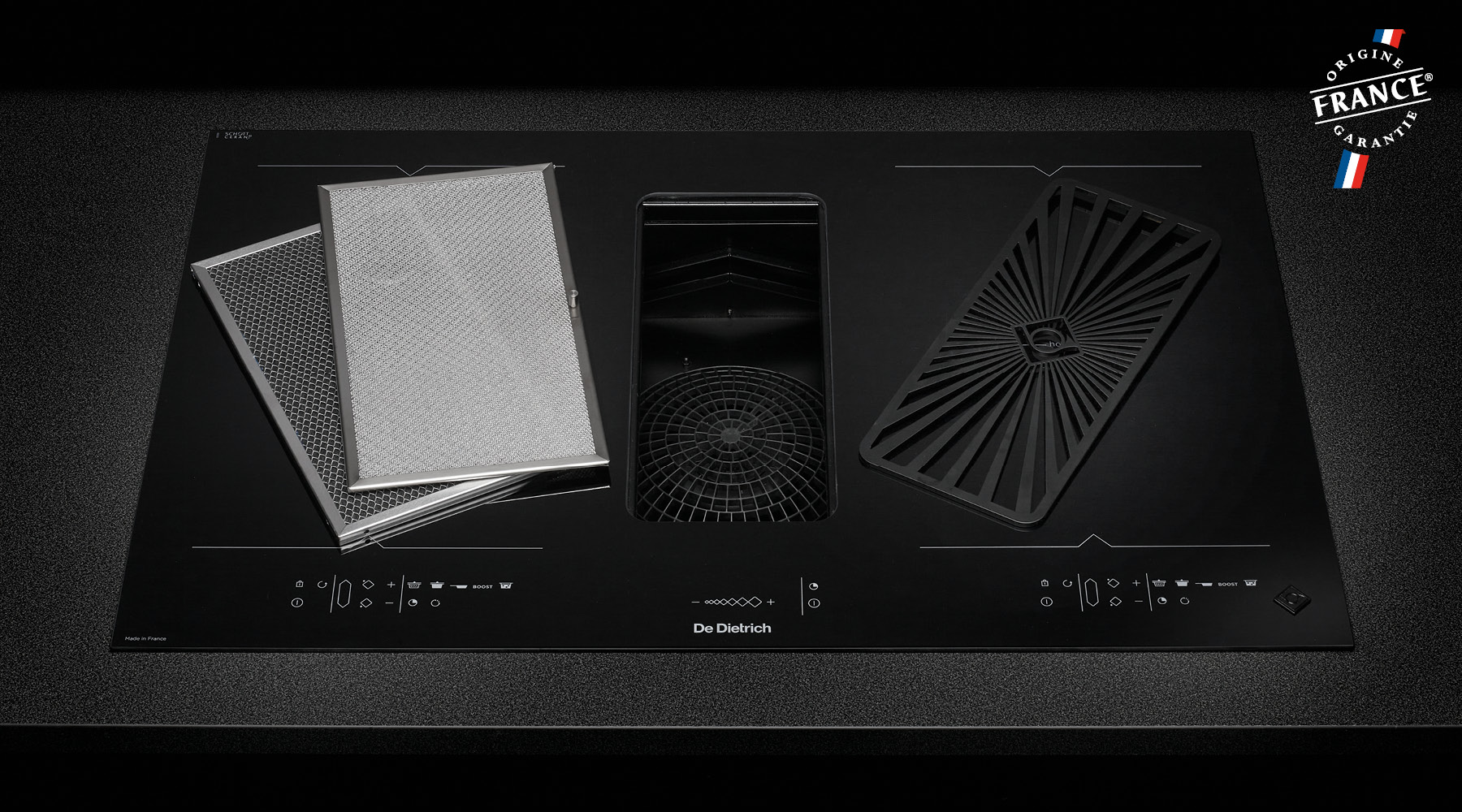 Inspiration meets aspiration in De Dietrich's latest induction hob – Allure. It represents innovation in the way it utilizes the intuitiveness of a high-performance induction hob with an integrated hood for perfect cooking, combining cutting-edge technology with an elegant appearance to give your kitchen a feeling of exclusivity.
As a result, your culinary creations are mastered to perfection, and ready in record time.
Allure utilizes De Dietrich's very own HoriZone technology which allows it to be used as one large zone or halved into two independent ones with different temperature levels. The two modular HoriZone cooking spaces, with a power of 3,800 watts per zone, can accommodate various cookware shapes and types without restrictions on placement.
It boasts a high-performance integrated hood with an A++ energy class for ultimate comfort and culinary performance. This integrated beauty is easy to operate with 20 power levels including Booster, four direct access modes and four independent zone timers. The sleek and high-performing integrated hood is concealed by an aesthetic cast iron grid near your cooking zones to instantly capture odors and fumes.
Noise absorbers have been installed next to the engine and, as a result, the hood remains silent for unrivaled suction performance and comfortable cooking regardless of the selected speed.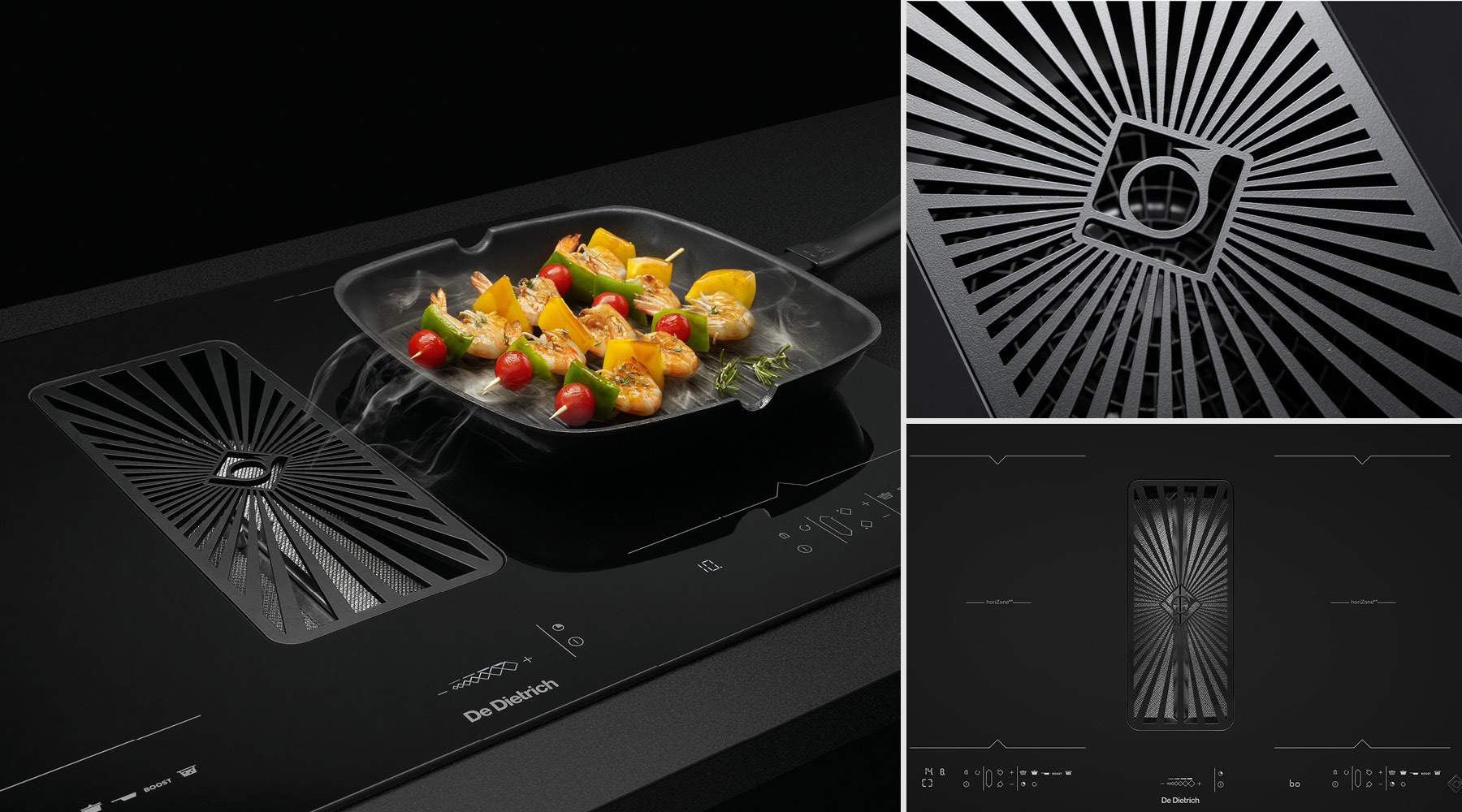 Packed with 10 Safety features, De Dietrich induction hobs promise to deliver a high safety standard to provide the best cooking experience for you and your household.
These patented safety features include Anti Overflow, Auto Saucepan Detection, Small Objects Detection, Key lock Control, Connection Error Detection, Over Tension Detector, Temperature Limiter, Auto Stop System, Residual Heat Indicator and Low Voltage Detection. De Dietrich induction hobs promise to deliver a high safety standard to provide the best cooking experience for you and your household.

De Dietrich fosters its love of excellence across all its manufacturers in France, creating the most beautiful harmonies in its creations.
Driven by a never-ending quest for perfection and creativity, the brand has never ceased to develop its approach towards innovation, ground-breaking ideas and the French art of living for many generations to come.