Lockdowns, social distancing and self-isolation became the norm for many countries around the world as the COVID-19 pandemic began to spread. While these may be powerful tools to counter the proliferation of COVID-19, such an abrupt change to normal life also caused the mental health of many people to suffer.
A major study by the Organisation for Economic Co-operation and Development of more than a dozen countries found that from March 2020 onwards, prevalence of anxiety and depression increased. In nations including Belgium, France, Italy, Mexico and the UK, anxiety was double or more than double the level observed before the pandemic.
Long-standing challenge
The events of the past 20-plus months may have exacerbated many health troubles, but even before the pandemic, mental health issues were increasingly becoming a topic for discussion in the boardroom of businesses that are focused on creating a happy and productive workforce.
"There is a clear connection between mental health at work and business productivity. Mental health problems are common in society, and in workplaces as much as anywhere else. By taking mental health seriously, business leaders can improve health and morale in their businesses," says Andy Bell, Deputy Chief Executive at the Centre for Mental Health, an independent charity working to improve the lives of people with mental health issues.
Rather than being a positive factor for mental health, many people say their job adds to their stress. A 2020 survey of employed British adults by employee experience platform Perkbox found almost 80 per cent commonly experience work-related stress – a 20 per cent increase from 2018. Addressing this mental health crisis isn't just a moral imperative, it can bring bottom-line business benefits.
Leading from the top
Now more than ever, ensuring mental health is prioritized across the workplace is a crucial factor that CEOs need to embrace. Leaders should introduce policies to foster a workplace environment that advances positive mental health. In practice, this means establishing reasonable expectations of employees that don't push them to burnout and communicating a zero-tolerance approach towards workplace bullying.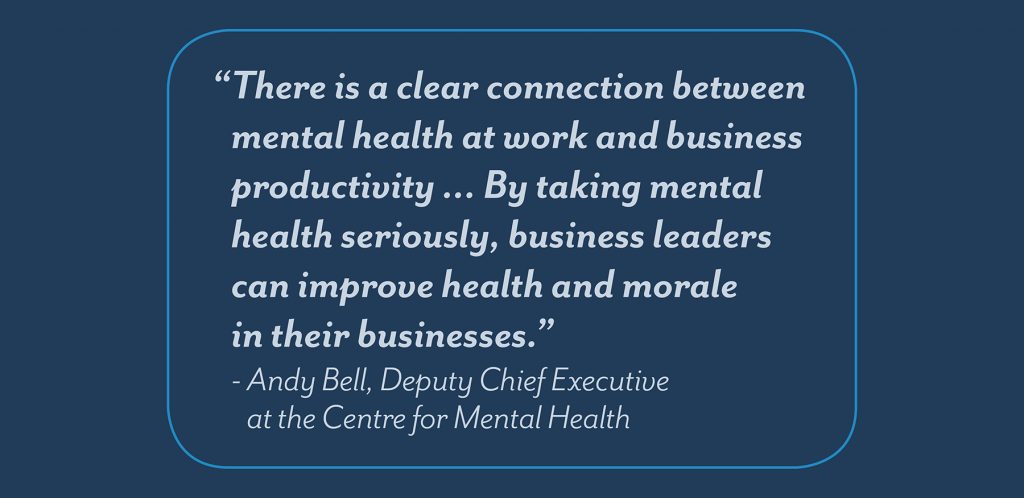 Depending on the exact industry, initiatives such as banning out-of-hours messages and emails to create a clearer separation between work and life can be of value. Proactively identifying people who may need extra mental health support, such as those returning to work after an illness or bereavement, is also a beneficial approach to address potential issues before they arise at work. 
One of the advantages of holding a C-suite position is the ability to effect change across an entire organization. "Business leaders can create a culture of openness about mental health – some have shared their own experiences, which has made it easier for others to disclose – and make it a priority for the organization," Bell says.
Amy McKeown, an award-winning mental health and wellbeing consultant, agrees that if business leaders aren't looking after their own mental health, then ultimately any attempt to make a workplace more mentally healthy will fail. "People behave in the ways they see their leaders behave," she suggests. "CEOs and business leaders need to role model good behaviors, call out bad ones and be seen to be fully engaged with any mental health agenda."
Impactful tools
Tom Oxley, Lead Consultant and Relationship Director at Bamboo Mental Health, a workplace mental health consultancy, points to the power of remote tech therapeutic support, such as online counseling, to improve employee engagement and reduce stress. "Presenteeism will cost you in client relationships, cultural toxicity and safety – a lot more than outright absence," he explains. "Getting it right will result in reduced churn, lower talent costs, reduced risk and better performance."
Despite there being countless technologies and tools that can be used to make work a more fulfilling environment and help address mental health challenges, it's still not commonplace for organizations to offer employees even a mindfulness or meditation app.
Mental health digital platforms such as Lyra Health and mediation apps such as Headspace can form a solid base for all employees who want to keep on top of their stress levels, as well as providing staff with the ability to reach out for extra help if needed.
McKeown hopes that digital mental health tools such as computerized cognitive behavioral therapy will be the next innovation adopted by employers to offer a self-help service for all workers. "Canny employers will be moving towards health and wellbeing marketplaces so that employees can choose the health providers that best suit them," she concludes. 
Prudent Investment
While the initial financial and time costs of implementing a comprehensive mental health plan for an enterprise may cause concern among some business leaders, research shows this type of investment is likely to pay dividends. According to an analysis by Deloitte Canada, the median yearly return on mental health programs was CAD$1.62 (US$1.27) for every dollar invested.