With the completion of its first overseas project in India over 60 years ago, the Japanese engineering, procurement and construction (EPC) firm TOYO Engineering & Construction announced its arrival on the world stage.
From its headquarters in Tokyo, the business has grown into one of the most trusted names in hydrocarbon, petrochemical, specialty chemicals and a wide range of other industries.
It is a partner in the construction of plants from the ground up in its capacity as an EPC contractor, delivering engineering services and turnkey, ready-to-operate facilities to its clients and extending its businesses to new areas for the global trend of energy transition. 
Today, the TOYO reach is global, with subsidiaries in Europe, North America and Latin America, and Asia, including Korea, China, India and Malaysia.
"I see this knowledge transfer to our local colleagues in Malaysia as a very important aspect of my new position."
And it's in Kuala Lumpur that Zenko Tsutsui arrived in 2021 as the new Managing Director of TOYO, after two decades in Japan: the first as a Project Engineer and Consultant for industrial system projects and the second as a Project Control Manager and Project Manager for specialty chemical and petrochemical plant projects.
As he discusses the move with The CEO Magazine, Tsutsui explains that he doesn't feel a big difference between his current and past roles.
"In Japan, I was in charge of the project management for many different kinds of projects," he says. "Each project was like a business, so in a way, I had many different types of clients and was responsible for balance sheets and revenue as well as the welfare of project stakeholders.
"Now, in Malaysia, that has been expanded from project to company. From one point of view, that's the only difference."
Collaborative Strengths
It's a philosophy that has made the transition to TOYO's Malaysian subsidiary smooth, especially at a time when the overall global economic and political situation has been unpredictable.
Since it was founded in 1986, TOYO in Malaysia has been the group chosen by PETRONAS, Eastman Chemical, BASF, FPG Oleochemicals and others for their construction projects. The company is a subsidiary of TOYO Engineering Corporation (TOYO-Japan) with Bumiputera (Malay) equity and its headquarter is located in Kuala Lumpur.
Tsutsui describes his role as a bridge between TOYO's Japanese headquarters and Malaysian operations. "The TOYO group possesses many technologies," he explains. "So we have to integrate all that are available to us so we can provide our clients and project owners with optimum solutions."
---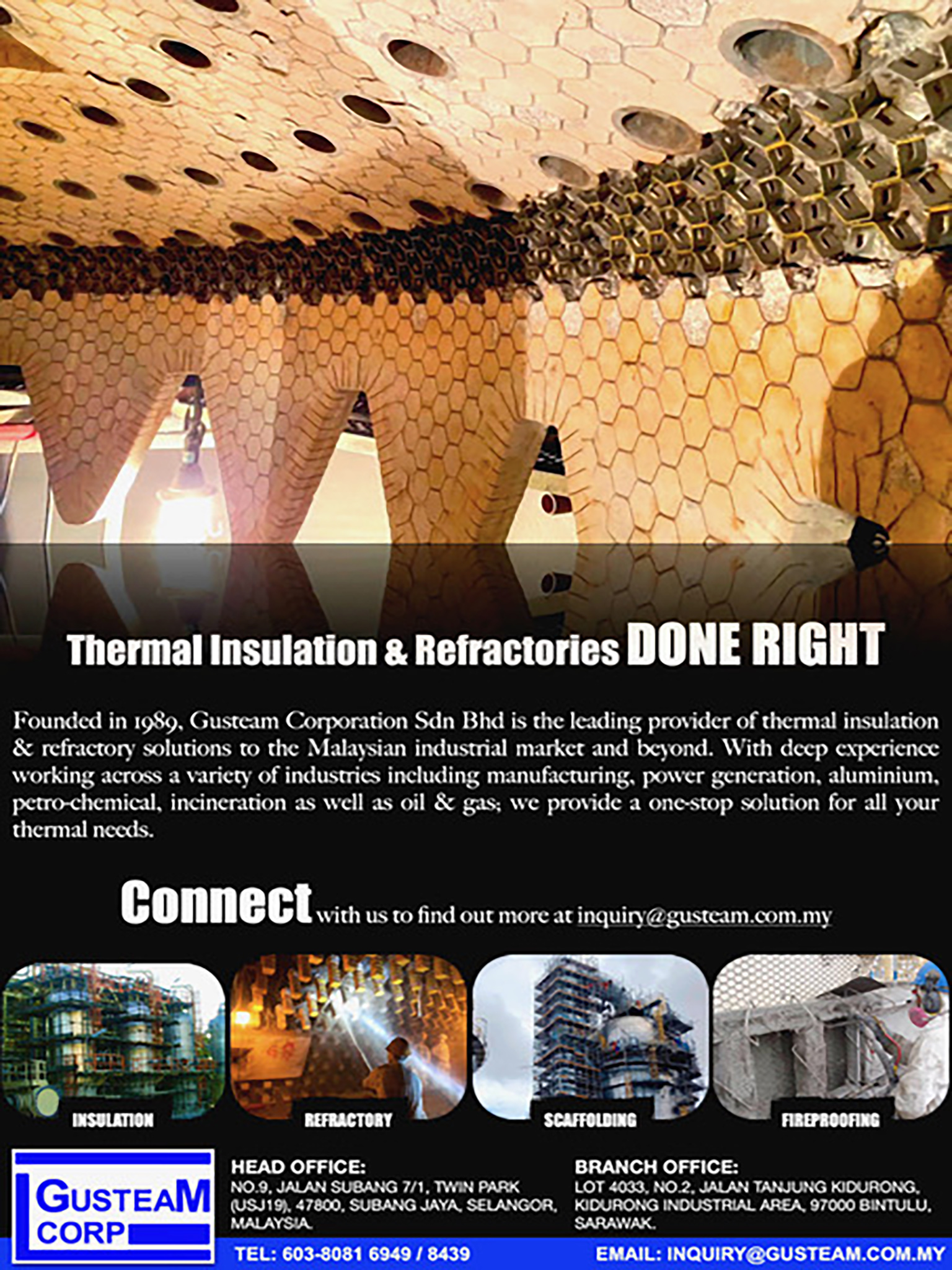 "We have been working with Toyo Engineering for more than 20 years and regardless of good or bad times, the team has been kind and honorable in their dealings with us. They're invaluable work partners and friends." – Choe Kim Toon, Managing Director, Gusteam Corporation
---
Advertisement
His background and project management expertise have equipped him with an understanding of what solutions and technologies are essential in his new location. "I see this knowledge transfer to our local colleagues in Malaysia as a very important aspect of my new position," he says.
While remaining independent entities, cross-border collaboration between the various subsidiaries of TOYO is one of its greatest strengths. "The advantage of TOYO is that we can collaborate with other group companies without any obstacles or constraints," he says.
That means, no matter which operation a client is working with, they can be assured of the very best solutions from all over the world. "And we can integrate them seamlessly with the expertise of other group companies," he adds.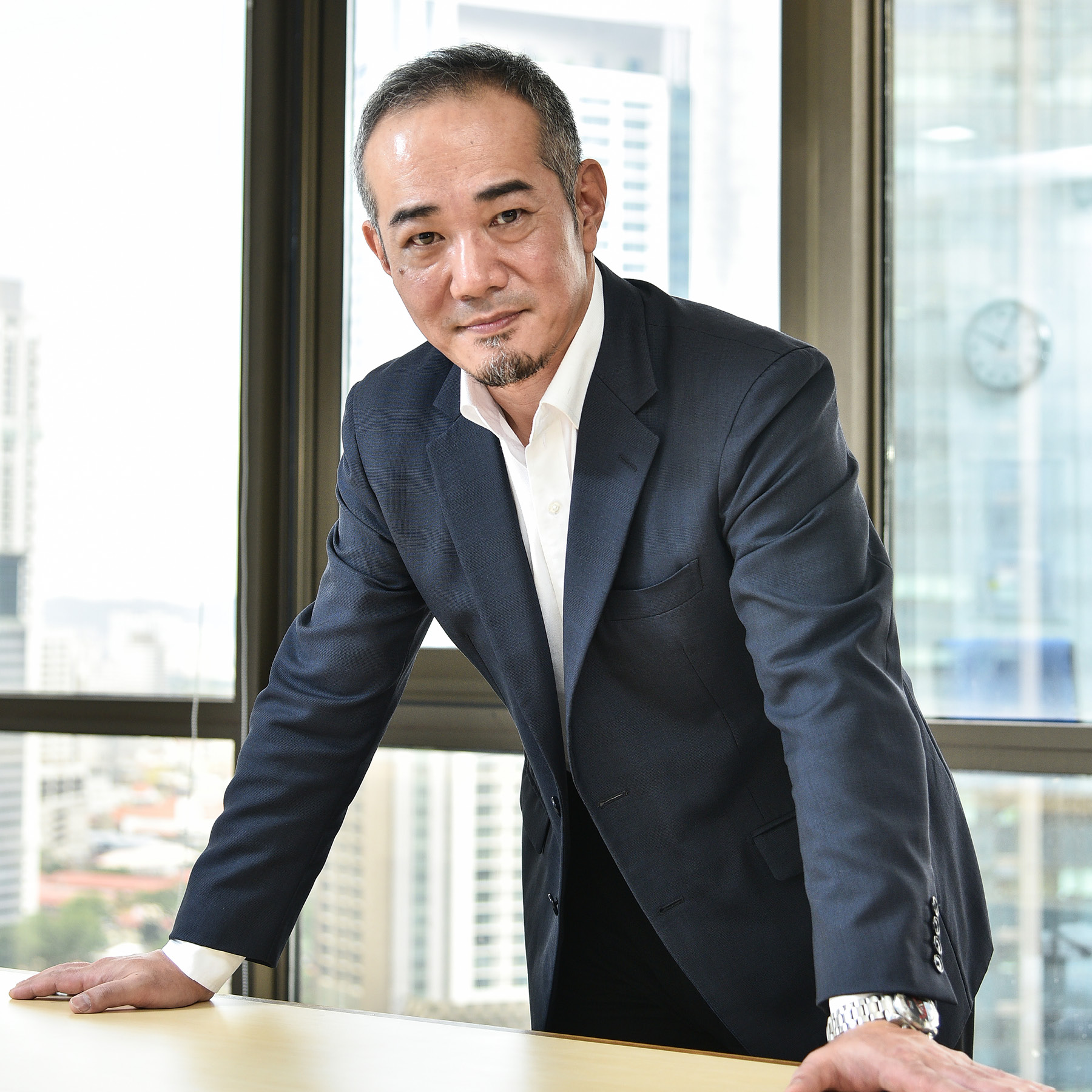 "If there are any issues, we have colleagues who can visit and see what's actually happening. It helps us to resolve issues as soon as possible."
This global network has other advantages, especially from the supply chain perspective. "We can utilize the group to collaborate with partners or suppliers around the world. So, we can closely monitor production or engineering works through the wider group of companies," he says.
It means that communication isn't simply undertaken remotely, through video calls or other means. "TOYO in Europe, the United States or India, for example, can establish a local-to-local conversation. This allows us to ensure aspects like quality and delivery schedule," he explains.
Another advantage of its global presence comes into play if any bottlenecks occur in the production process. "If there are any issues, we have colleagues who can visit and see what's actually happening. It helps us to resolve issues as soon as possible."
Mission: Possible
TOYO's global mission is "Engineering for Sustainability of the Global Community". Environmental initiatives driven from its Tokyo headquarters include the pursuit of low environmental impact plants.
ACES21 is its trademarked energy-saving urea synthesis technology that optimizes operating conditions. TOYO has also founded HERO, an energy-saving consulting service across the entire plant, and invested in the construction of "mega-solar" power plants and biomass thermal power plants to generate clean energy.
The company promotes the processing and disposal of pollutants and other hazardous waste with sorting facilities at construction sites around the globe. In Japan, TOYO claimed a recycling rate of 88 percent in the 2021 financial year.
A One-Stop Solution
The Malaysian entity, however, has evolved into a 'one-stop solution', according to Tsutsui. "We possess a full-force engineering team and are able to solely conduct EPC projects as we have all disciplines in-house, from process engineers, mechanical engineers, piping engineers and other disciplines required for EPC projects," he says.
This means clients have everything they need under one roof. "People can come into our office and communicate with not only engineers from across all disciplines, but also our project management, procurement and construction management and planning services," he says.
For Tsutsui, this is what gives TOYO in Malaysia an edge over its competition. "Most other contractors might have limited resources, or only have a salesperson or company representative based in their local offices and will mobilize engineers and others required to complete the project on an as-needed basis," he says.
---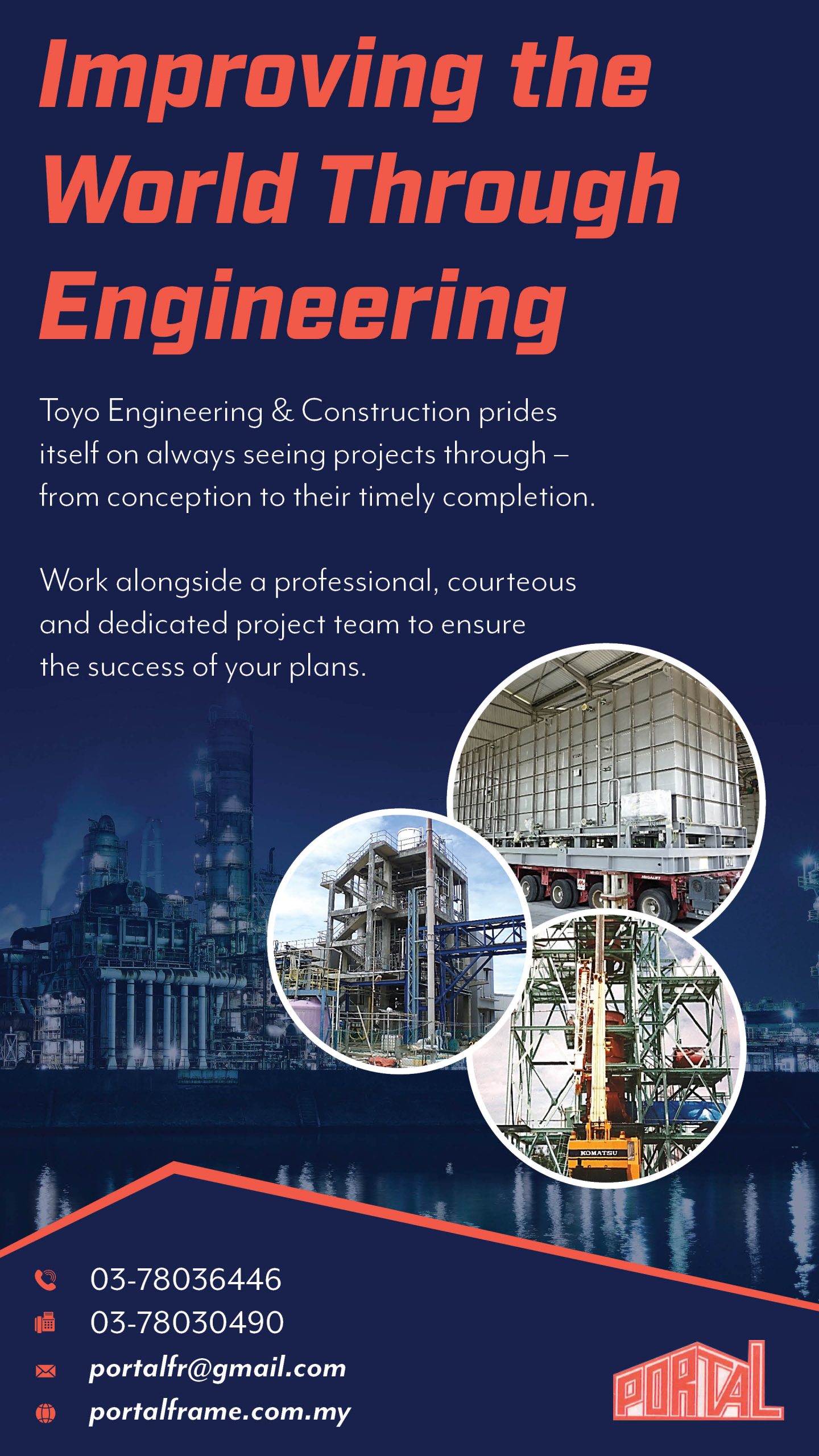 "Throughout years of working together, Toyo Engineering & Construction has always seen projects through from conception to completion on time, and its dedicated project team is always professional and courteous to work with." – Gary Yau, Executive Director, Portal Frame Construction
---
Advertisement
"While at TOYO in Malaysia, everyone we need to conduct a project is already here in our Kuala Lumpur office."
In the current market conditions, the value of such a structure is really brought to the fore.
"From a short-term perspective, the increasing costs of materials is one of the primary challenges that the industry is facing," he explains.
Added to that is the current political climate. "The instability is affecting projects," he admits. "Some clients are having difficulty determining the feasibility of a project right now and many have been suspended."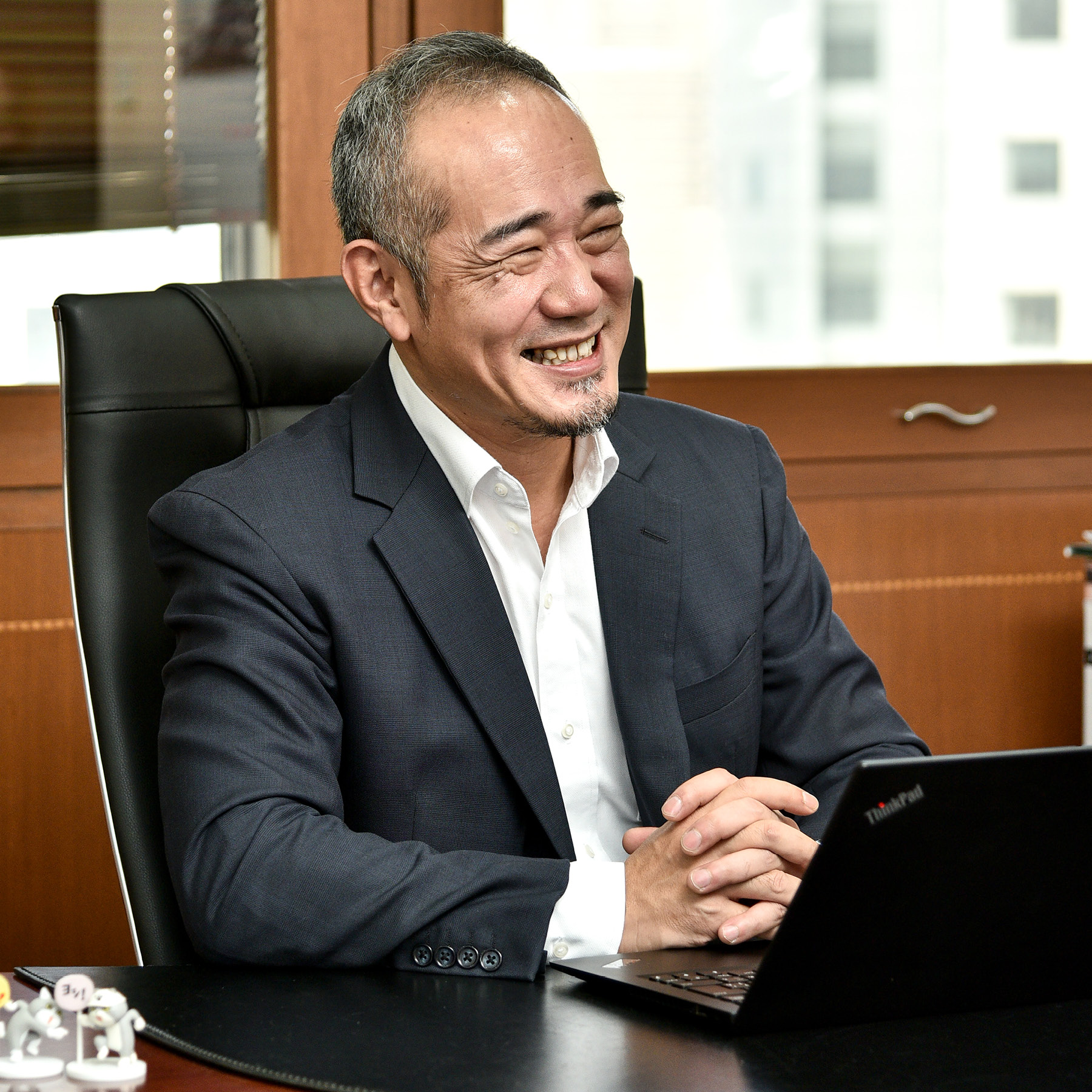 "We have to demonstrate the value-add that we bring to the project such as an extremely high-quality, high-level of safety."
And, for the tenders that are to be bid on, Tsutsui is facing increased domestic competition – and these companies bring something to the table that his clients are increasingly asking for – cost competitiveness. "We know we can't compete with them on pricing," he acknowledges. "So instead we have to demonstrate the value-add that we bring to the project such as an extremely high-quality, high-level of safety."
In addition, he says the company will continue to emphasize the bespoke nature of its EPC contracts. "We have to provide our clients with optimum solutions that completely match what they are asking for," he explains. "For each project, and each client, we need to provide tailor-made contract formation and project management services."
For that, he says, enhancing the businesses project management capabilities is crucial – and this is a major area of focus for the business in the next 12-to-18 months. 
A Passion for Bass
Out of the office, Tsutsui is a keen bass guitarist. "We used to perform live in bars and other venues but during the COVID-19 pandemic we weren't able to," he explains. To ensure that he still had a channel to this much needed outlet, Tsutsui and his fellow musicians turned to technology.
"We were able to continue to communicate and still play and compose music online rather than face-to-face," he says. "Thanks to remote communication, I was able to carry on with an important passion."
Diversifying for Growth
In the longer term, Tsutsui sees opportunity for growth in the next three-to-five years both geographically, driving further into the APAC market in particular, and in diversifying the business.
In September 2022, the Malaysian government unveiled its National Energy Policy 2022–2040. In it, plans were outlined to transition away from fossil fuels to achieve net zero emissions. The core industries in which TOYO in Malaysia operates are set to be impacted.
"Our client's businesses will start to become very diversified, which means that TOYO, especially in Malaysia, would like to fit into this diversified demand and market," he explains.
And, in this new world, he also understands that partnerships will be key to success. "In such a diversified market, especially when we are talking about carbon neutral businesses, it will be difficult for a single contractor or service provider to win," he explains.
"Instead, close collaborations with several other types of businesses, such as technology or service providers, will be crucial to providing optimum solutions to our clients or market."