Yuni Lee Heathcote, a qualified accountant, started her career with a well-paid accounting position in a public listed company. Not feeling she was learning quickly enough, she took a 50 per cent pay cut to join an auditing firm. People questioned her decision, but she knew that knowledge was vital. "I've always embarked on the journey of acquiring knowledge," she shares. "To me, knowledge is enormous. This is where the real wealth is, not just for your career, but for personal growth as well."
By fate, 20 years later, Yuni found her way to the information and communications technology sector, and has never looked back. "It's a very fast-moving industry and I love it," she enthuses. "It's not for the faint of heart because of how fast ICT moves – if one cannot catch up with it, this is not the industry for you."
After a spell with Maxis, the largest mobile operator in her native Malaysia, Yuni then joined YTL Communications and subsequently Telstra, and expanded her horizons. When the CEO role with EZECOM presented itself just over two years ago, she jumped at the chance for two very good reasons. "I really felt EZECOM was on a journey where I could add value. I felt that I could take it to the next level of growth," she recalls. "The second reason is that I've always loved Cambodia. I really love the people, the culture and the country."
"To me, knowledge is enormous. This is where the real wealth is, not just for your career, but for personal growth as well."
In terms of company culture, Yuni was similarly enamoured with the culture her predecessors had built up over 14 years, which fosters a strong family feeling of unity and cohesion. While keeping what works, she knew she needed to reinvigorate the company vision. "When I first came in, I felt blessed because the culture was one that I could easily build on," she says. "The only gap, I would say, was vision and innovation in terms of technology, advancement, creativity and critical thinking."
---

---
Advertisement
Having joined just before the onset of COVID-19, however, that became Yuni's first big challenge, especially because her company business became more vital than ever. "The challenge for me and the company was that we provide essential services. So, from early on, we knew that no matter what, we needed to continue to provide those services," she explains. "We literally never stopped during the entire pandemic until now."
There were so many uncertainties, but Yuni says that keeping clear and consistent communication helped to reinforce purpose, morale and high standards among her team in order to navigate through this life-changing period.
All of this was achieved with Yuni working diligently with the company's human resources team to ensure her employees were safe and always cared for. That included ensuring staff continued to be paid. "We started reading news about how businesses in the UK and US were badly affected, and how other industries like airlines were crashing. It was a nightmare," she remembers. "We were worried about our overall cash flow because we needed to ensure our staff payroll was not interrupted. But we managed to pull through and came out even stronger."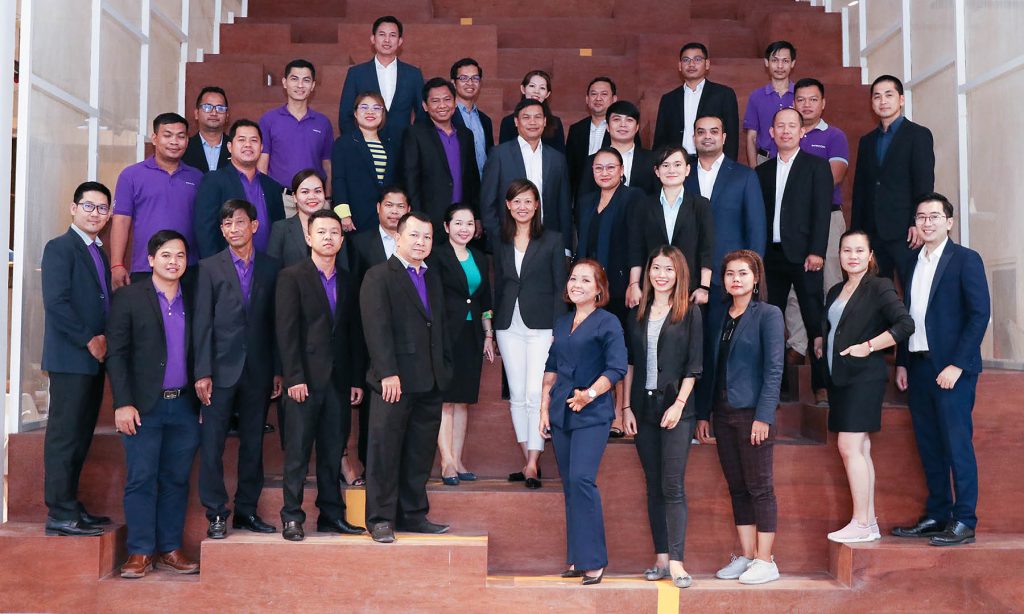 Being the first internet service provider company, Yuni recently secured a corporate bond of US$20 million, guaranteed by CGIF (Part of ADB).
And the lesson that the company learned as a result was that business needs to constantly evolve. So, it is very timely to diversify as the company moves forward. "We have a big ambition. Our vision is to become the country's leading service provider," Yuni reveals. "Connectivity is well and good, but we all know that it is not going to get us to the next level of business growth because connectivity is sheer utility – there's no value-add.
"We have started the journey of transforming ourselves to become the digital data and digital platform player. This means we need to collaborate with partners – in the cloud, security and collaborative space."
Being the largest enterprise ISP provider, Yuni knows EZECOM plays a significant role in the renaissance of Cambodia. "We know the digital economy is the way forward for the country's economic ambition," she says. "It recently discovered oil, which is still in its infancy, while agricultural, manufacturing and services sectors are its top three GDP contributors. These areas require the most focus for reskilling and upskilling."
"We have a big ambition. Our vision is to become the country's leading service provider."
"The government has a very strong ambition to become a middle-income nation by 2030 and a high-income nation by 2050, and it's going to take a lot to get there. That's why it's very important for us as a leading service provider, to create the opportunity and path for the digital journey, to be the platform for these workforces to thrive."
Yuni says that EZECOM will continue to collaborate with the best partners, while maintaining high governance and service quality that's much needed in the industry, to support the kingdom's digital economy ambition. "And we are only just starting."
"We strongly believe that EZECOM will bring the most advanced internet service to the Cambodian people. Huawei, as a main strategic partner of EZECOM, will support it continuously to build the premium wi-fi and the best transmission networks in the country." – William Fei, Cambodia Key Account Director, Huawei Cambodia