One of the proudest moments in William A Hindle's decades-long business career came around 2014 after he gave a talk about the company culture at HindlePower, a Pennsylvania-based manufacturer of utility battery chargers.
That evening, after delivering the speech to a crowd of around 150 of his manufacturing peers, William, known as Bill, went to a nearby bar with his production manager. "As we walked in, we heard this person yell 'Hey, untouchables, you'," he recalls. The two men kept walking, but the yelling continued. "Yeah, you turn around. You're the untouchables."
Eventually, Bill realized that it was he and his teammate who were the 'untouchables'. He went over to the men and asked them to clarify. "They said we just listened to your presentation and your organization's culture is so far ahead of everyone that you are now untouchable," Bill explains, "We can't relate to what you are talking about. It's very difficult."
Bill disagreed with the men then, and still does.  He doesn't think HindlePower's culture was or is 'untouchable'. "I am proud that we have been acknowledged as a model employer, but it is within the power of every organization – regardless of their sector, size and location – to achieve what we have. That doesn't mean it's easy. It requires ambition, bravery and a willingness to be different. But it is definitely possible, and their comments got me thinking about how I could share my ideas more widely."
Love to Win
Bill, who is now 66, has spent more than 22 years building a unique and widely envied culture at HindlePower, where he says his primary goal is not to produce a product, but to improve the quality of the lives of everyone who works there – and, in doing so, create a win–win–win for himself, his employees and his customers.
He explains, "All of us live only one time in this life. We spend more time at work than we do with our families at home. I asked myself, 'Why don't we make work like home? Why don't we make our work a little bit like family? Why can't we make it so that it's an enjoyable event?' Why wouldn't we want to live like this? I don't know why people want to go to work and yell at their co-workers. Why are they mean and nasty? That's beyond me."
In other words, Bill's dedication to leadership comes from a desire to enjoy every single minute of the time he spends at work and for his employees to do the same. "I've become passionate about what I do because I love growing people and being happy. I love the feeling of camaraderie, laughing and joking with my peers and growing and succeeding with them."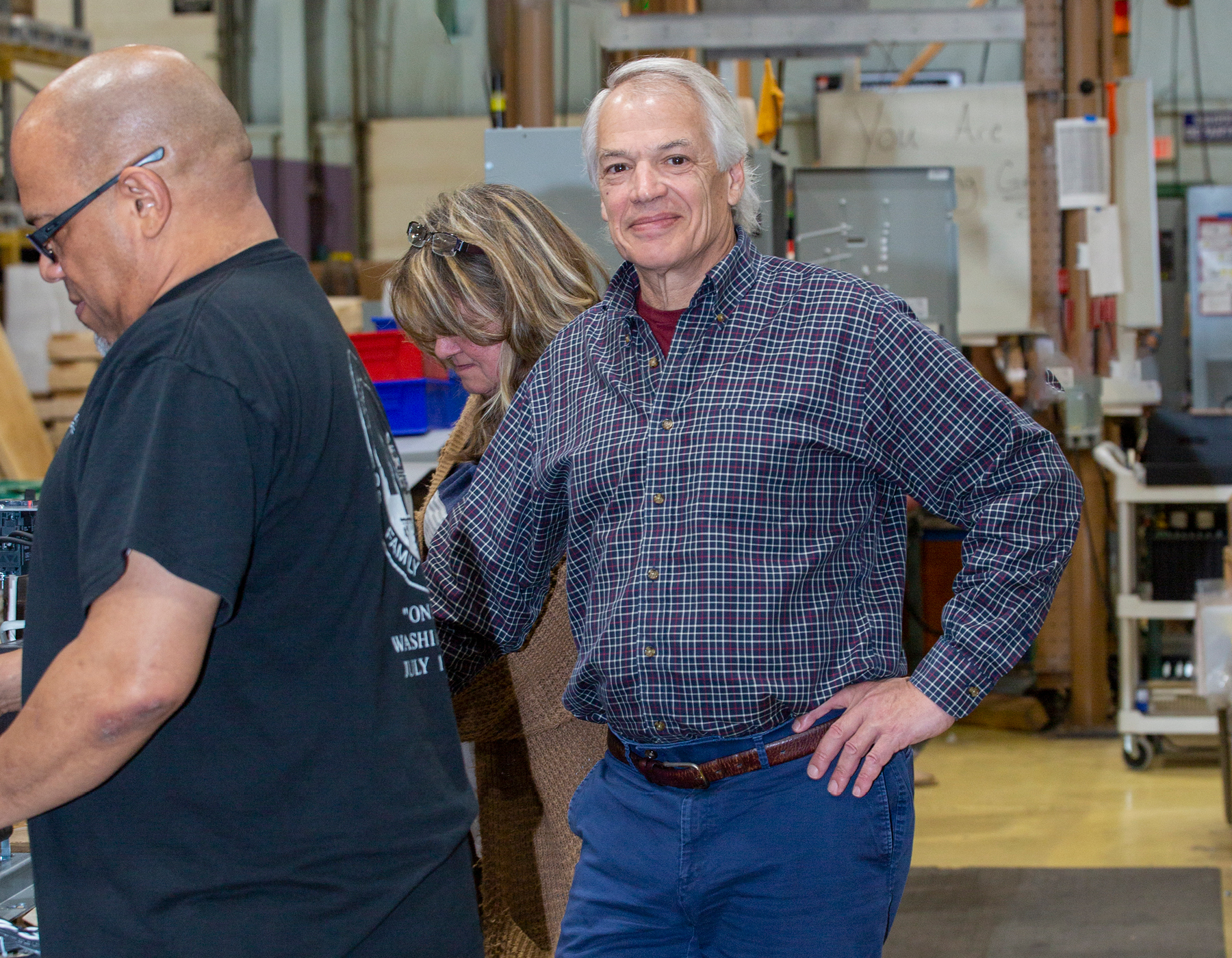 "I've become passionate about what I do because I love growing people and being happy. I love the feeling of camaraderie, laughing and joking with my peers and growing and succeeding with them."
That word 'succeeding' is significant, though, because Bill hasn't just succeeded in creating a fun working environment with his exuberant and unorthodox leadership style. HindlePower stands out when judged by any set of metrics, including the bottom-line profits. It's an award-winning industry leader that can boast a track record of 15 consecutive years of double-digit percentage revenue growth, right up until the start of the COVID-19 pandemic.
The employees have all directly benefitted because of the gainsharing payments they have received.  "I love it when I hear that more and more of my employees are buying houses or new cars or a new sofa," Bill says. "Improving their quality of life, in every sense, is important to us and the main purpose of the company."
HindlePower has won Best Place to Work awards and Bill himself was formally recognized in 2013 for his excellence in leadership, having been evaluated against 321 other CEOs, based on feedback from employees.
Yet those results and that working environment once felt a long way distant, and it was only through adversity that the winning culture was born. Two and a half years after it was founded, HindlePower almost went bankrupt. It was operating in the red and Bill had to make layoffs. Yet from that turmoil the business gained what Bill calls its three guiding lights.
Guiding Lights
The first came from Bill's experience in business before HindlePower was formed.  It was simply, 'to do unto others as you as you'd have them do to you'. "I had worked in businesses and often observed a command and control, authoritarian type of leadership where employees were not treated as a priority. I didn't want to repeat that," he explains.
"In my world, employees will always be the number-one priority; partly because it's the right thing to do but also because they will then take care of the customer the best way they can. The customer will be content, buy more products and, in the end, the profits will fall out the bottom and shareholders will get a great return on their investment. Employees first, customers second, shareholders third."
Guiding light number two came from a devastating personal blow. Nine months after starting HindlePower, Bill found out his 13-year-old daughter had cancer. "I was living in a minivan in the basement of the Children's Hospital of Philadelphia, hoping that modern medicine could cure my daughter of cancer," Bill says. "Thankfully, she won her battle, and what I learned from those dark days was that family always comes first."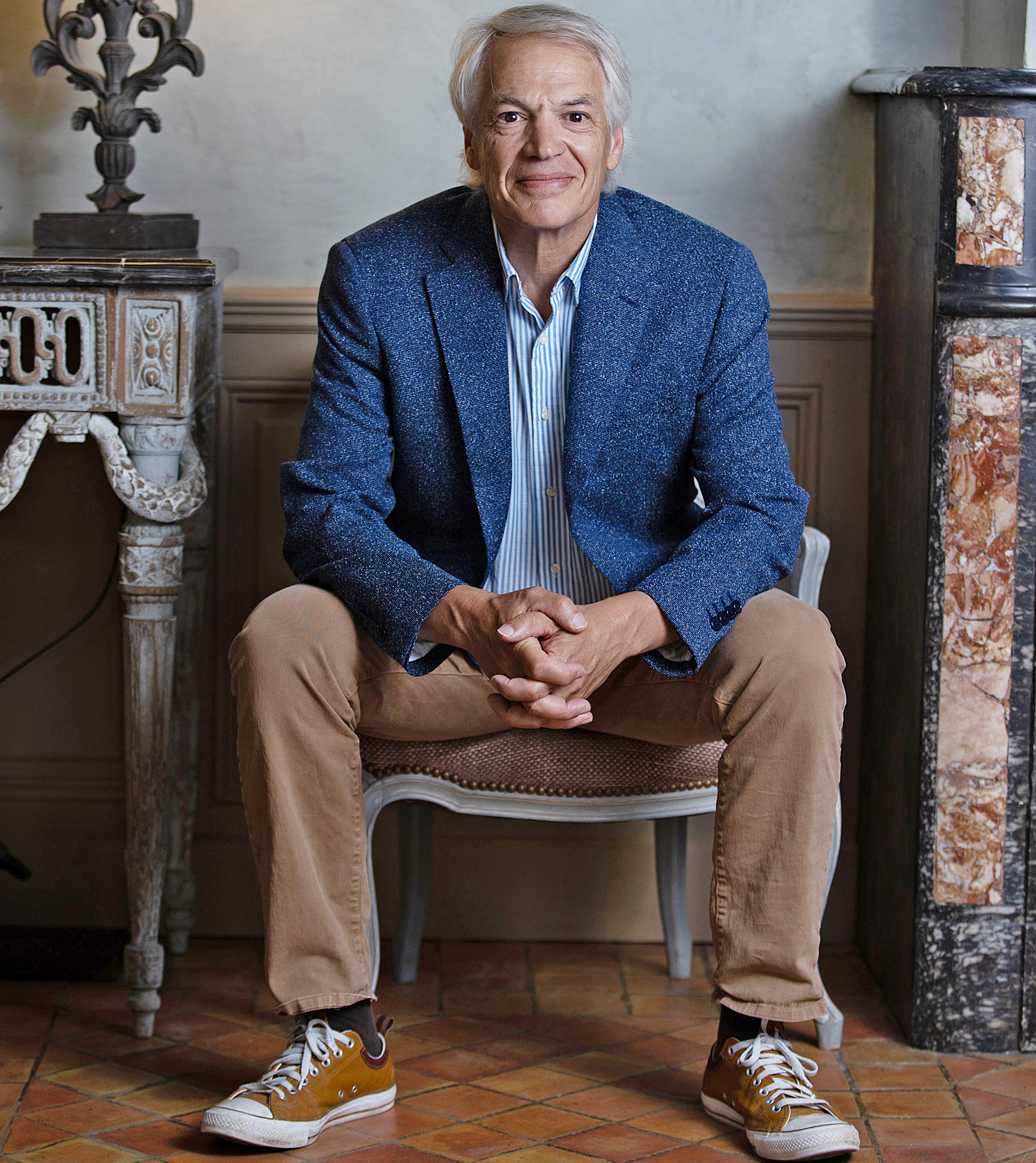 "Leadership comes from the inside out and people will buy into the message when they sense it comes from your heart and that you are being true to yourself."
So, employees are discouraged from letting work get in the way of being there for their loved ones. "When we have children there's only one time that child will get on their first school bus. There's only one time they are going to hit the home run in the baseball game. You have to be there for that!" Bill says. "Your job in the company will be there before, during and after all of those events. We're not going anywhere. The time can be made up. Put your family first!"
The third guiding light was: "If you want to be great, it's up to you." Bill says that when the business almost went bankrupt, they found themselves alone and isolated. "Nobody's coming to help when the chips fall," he explains. "Your future is in your hands; you control your destiny. This became very clear to us. For instance, when you're going into a negative cash flow, the bank is not very interested in lending you more money at that time. They only like to lend money when you're making money. We got right down to the wire."
Work with Purpose
While the start was undeniably tough, out of adversity came those three guiding lights that have been in place ever since.
"My management team and I were determined to make a success of our organization and, having survived those difficult early years, we started to go very hard after the culture," Bill says.  Early in his journey towards becoming a leader he recalls reading the phrase 'seldom is the potential of the American worker tapped' in a magazine and felt an urge to figure out how to do just that.
He soon identified that mutual trust and respect were integral. "It's one of our operational guidelines and it has to be top-down," he says. "I give it unconditionally to every member of my team. When trust and respect exist then workplace personas fall away, defensive walls come down and people open up, laughing together and happy to just be themselves."
HindlePower does not have time clocks. If someone needs to leave early, for example, they can do so, with their colleagues covering for them and the time made up later. Bill says attendance rates are close to 100 per cent, and instead of worrying about getting in trouble for being late or leaving early, employees feel accountable to their colleagues and make sure they're doing their bit to ensure everyone is successful.
"You don't have a job, you have a purpose," he explains. Bill's unique approach to the question of trust is also the reason he does not lock his office door or lock other valuables away from employees. "Nobody thought we could take away the cage around the stockroom, but we did, and we've had no problems; on the contrary, it builds trust."
As the culture blossomed, other aspects also became influential, such as leading with integrity and authenticity. To help explain this to others, Bill has coined a new word: genuinity. "It's not a proper word," he laughs. "It's not in the dictionary, but for me, it is matching the inside to the outside, and it's particularly important when change is involved. In defining the best way forward, you, as the leader, must believe in your heart that what you and the company are trying to do is right and achievable, and entirely aligned with the purpose, mission, values and strategy."
He adds: "Leadership comes from the inside out and people will buy into the message when they sense it comes from your heart and that you are being true to yourself. People know if you're bluffing. Even when you think they don't know, they know. I always say that the people at HindlePower somehow just know what I am thinking, and I've never quite understood how!"
Sabbatical in France
Bill says that his ability to dissect and define what a great culture entails was sharpened by taking a recent two-year sabbatical to study for a Master of Fine Art in France.
"That program allowed me to change my views, refresh my mind and reflect on 40 years of entrepreneurship," he says. "I pondered causes and effects and better defined what had fueled our culture. I learned that the connection between art and business is much stronger than might first appear. An appreciation of art sharpened my vision within a business setting. For instance, when I sat in a new product development meeting my understanding of what was taking place was sharper than it ever was in the past."
Warming to the theme, Bill adds: "Art is all about vision. When we look at the same subject, we don't all focus on the same area or see the same things. In the art world, you must train your eye. Artists must have an eye for detail and be able to step back and take in the whole canvas. They must not only see colors, but the different shades and tones. So often we see what we think we see, and not what our eyes are truly capable of seeing.
"It's said in the art community that when a masterpiece is created, the artist has successfully created 'the whole'. In great paintings, all the elements of construction are in place. Every brushstroke adds to the overall effect. The hues and values of every color must all work together to offer the viewer one story. Even that, though, isn't quite enough. A true masterpiece needs more than the mechanics. It also needs to develop its own life and identity; its own soul."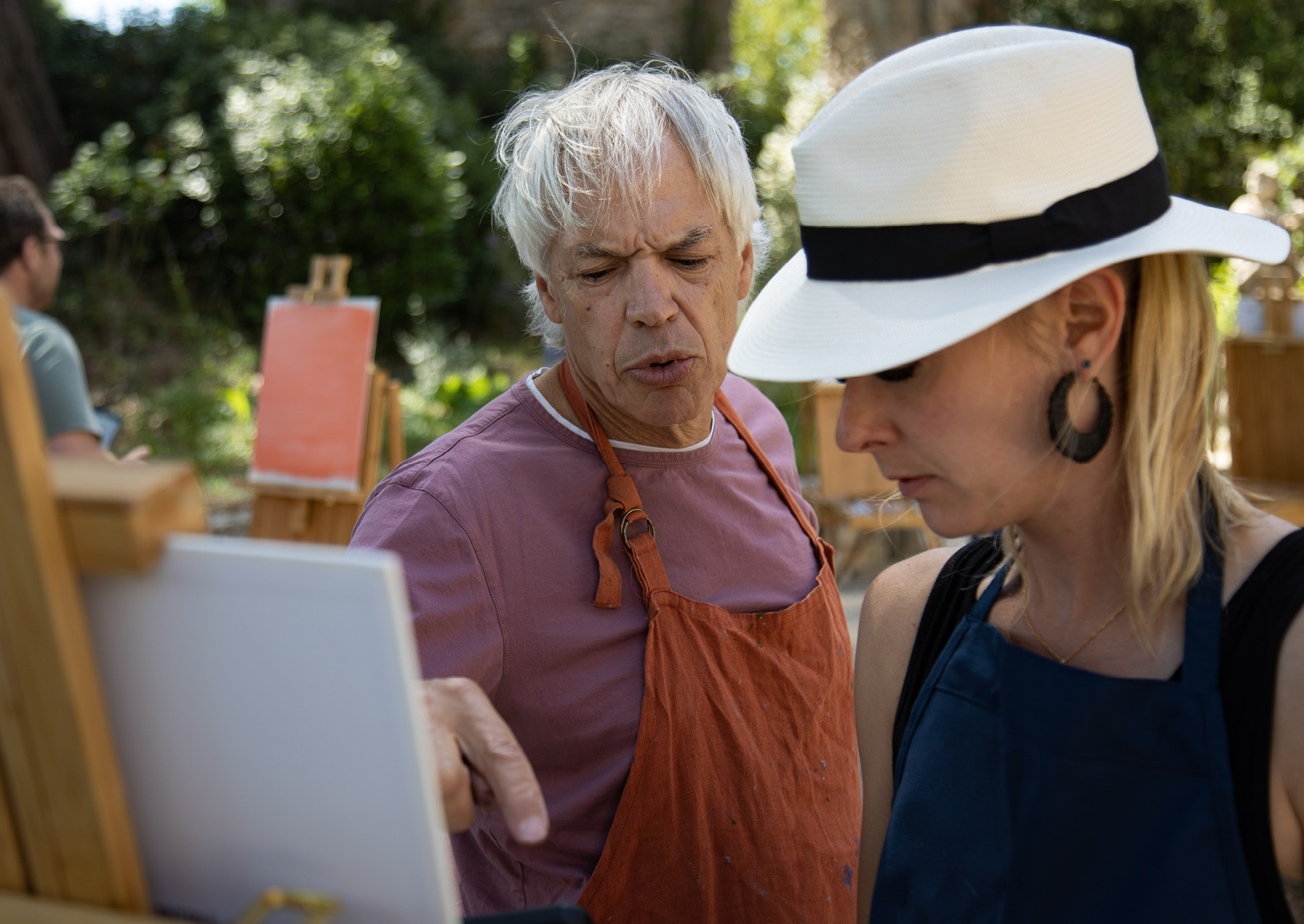 "CEOs work heavily on the left. They operate in a very analytical world, always trying to get bigger profits, more production and more capacity."
Bill believes all of these are powerful metaphors for business. "When all the elements are in place, the mechanics are sound and the communication and decision-making are genuine, authentic and from the heart, then the culture in your business can come alive. Magic occurs. You will have succeeded in creating a masterpiece."
The Hindle Experience
His time in France helped Bill to learn more about business, leadership and culture and he is now using those insights to share his views and ensure that what HindlePower has created is not actually 'untouchable' and can be achieved by others. He is writing a book and has also created The Hindle – a week-long leadership experience that offers leaders the opportunity to study his philosophy at a beautiful chateau in Provence, in south-eastern France.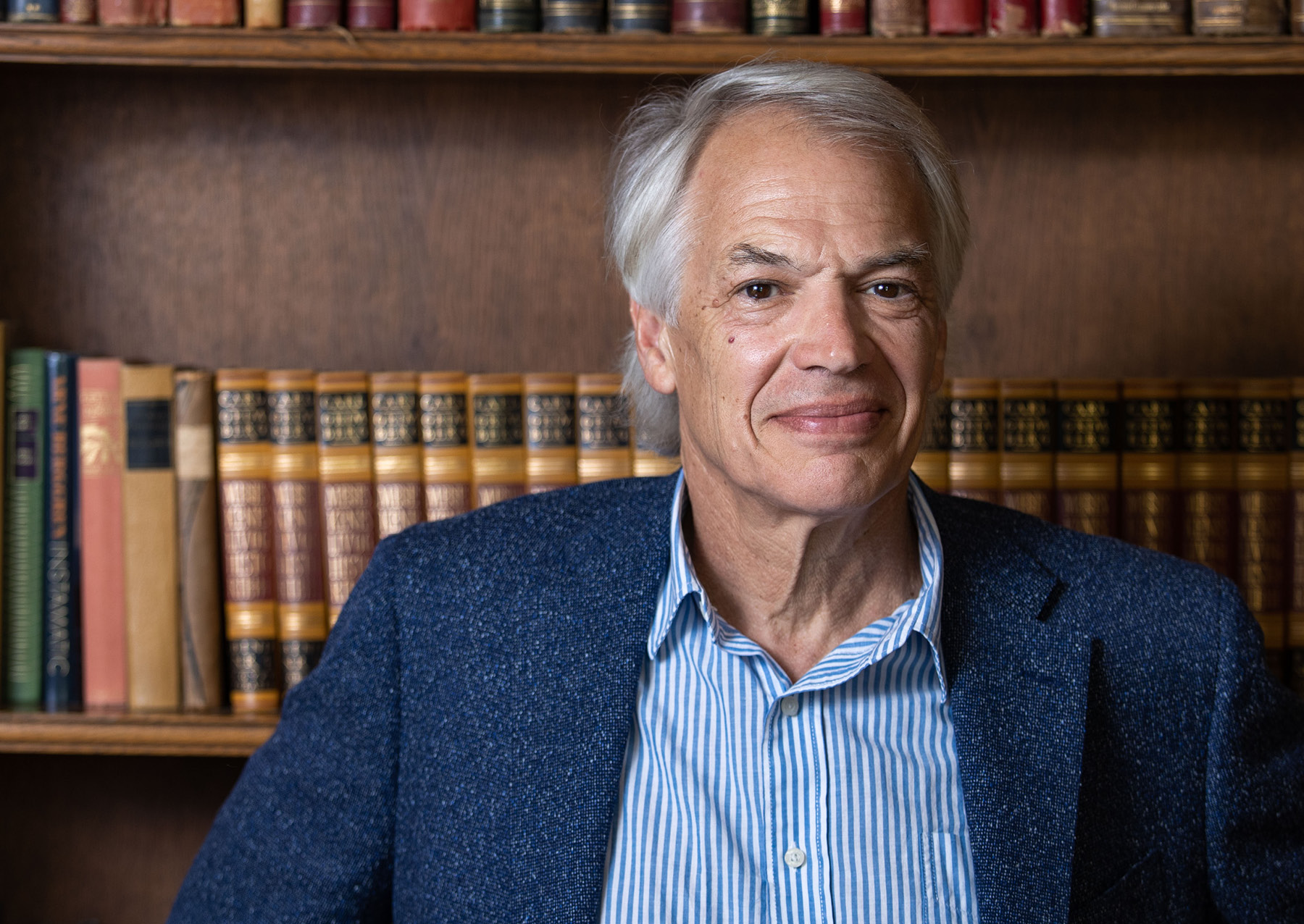 "It's a program that combines leadership and culture and art and soul. Probably 65 per cent of it is really about the structural elements of great culture and people-orientated leadership," Bill says. "We all think we're 'people-oriented leaders', but the question is, are we really taking it to the next level that we need to in today's world, to fit in with the millennials and the new generation of people pulling the load?"
He ran the first program in June with eight business leaders in attendance. In addition to the more traditional learning, the group also followed in the footsteps of Vincent Van Gogh and painted en plein air, in the same location as the great painter once did in Arles, Provence.
"Several had never painted before but that's irrelevant. I learned when I undertook my master's that developing the right side of the brain, which deals with creativity and intuition, can drastically improve thinking with the left's more logical and analytical thoughts. CEOs work heavily on the left. They operate in a very analytical world, always trying to get bigger profits, more production and more capacity, but what we don't realize is that when we strengthen the right side of our brain, the left side goes up with it. On the program it was fascinating to see how painting opened them up."
Add in the services of a world-class chef on site all week and The Hindle clearly offers a very different and holistic experience for attendees. "I think they left with a deeper understanding of how to create a great culture, and I hope they have grown as people," Bill says. "Above all, they've had fun, made friends for life and had an experience they will never forget!"