As nations across the globe grapple with how to safely manage the emergence of COVID-19, a raft of innovative tech companies are rolling out health pass apps with the potential to help fast-track a return to normality for international business and corporate jetsetters. 
These new smartphone apps, often termed vaccine passports, can automatically verify vaccination status and track movement across borders, making them ideal to help facilitate safe travel and work in a global context.
Vaccine passports on the rise
One fast-growing player in the space is OnePassport, an Australia-based regulatory technology firm that operates a mobile credentialing app for managing virus compliance. Its technology enables users to upload evidence of immunization into the company's smartphone app, which can then be used as a vaccine passport.
Co-Founder Michael Maher says the company has seen a rapid take-up of its service among individuals and corporates as society opens up in line with higher vaccination rates. 
"We're currently the number one downloaded vaccine passport app in Australia," he tells The CEO Magazine. "And it's probably because we're the only multipurpose app; it doesn't only work for social scenes like going to the pub or the footy, it works for travel, and it also works for industries and employment."
Most Business Travelers Back Vaccination Passports
Most business travelers (57%) are in favor of the introduction of vaccination passports because they would eliminate the need to quarantine while traveling.

According to Maher, vaccine passports will be essential moving ahead to maintain a safe emergence from COVID-19 as official efforts shift to living and working with the virus.  

While nations are at different stages in this process, he says they are all headed in the same direction when it comes to accepting that coronavirus is here for the long-term.

"COVID-19 will be rampant throughout the community and then it will be about the number of people in hospital and intensive care units. So the QR tracing moves away, and it comes down to being about proving that you're vaccinated."
A myriad of options
Maher's prediction already appears to be coming true as many countries move to roll out vaccine passports in a bid to jumpstart national economies.
In July in France, for instance, the government extended a mandate for certain categories of workers to carry its Pass Sanitaire as part of its strategy to boost immunized numbers.
Italy too has moved to require citizens to prove their vaccination status with its Green Pass – an extension of the European Union's Digital COVID Certificate – allowing holders to do things like attend large events, access gyms and dine indoors.
Meanwhile, in the US, the Biden administration has repeatedly stated that there are no plans for a federal vaccine passport system and several states including Florida, Arizona and Idaho have taken legislative action to ban vaccine passports from becoming a reality.
Maher says while the jury's out on whether governments or the private sector will end up taking the lead on vaccine passports, it's only a matter of time until they become commonplace as the public wants to know that their having been vaccinated gives them certain freedoms. 
"Globally they're still working it out," he says, pointing to the variety of health pass systems launched recently such as Japan's government paper-based approach, New York state's Excelsior Pass app and Quebec's VaxiCode app.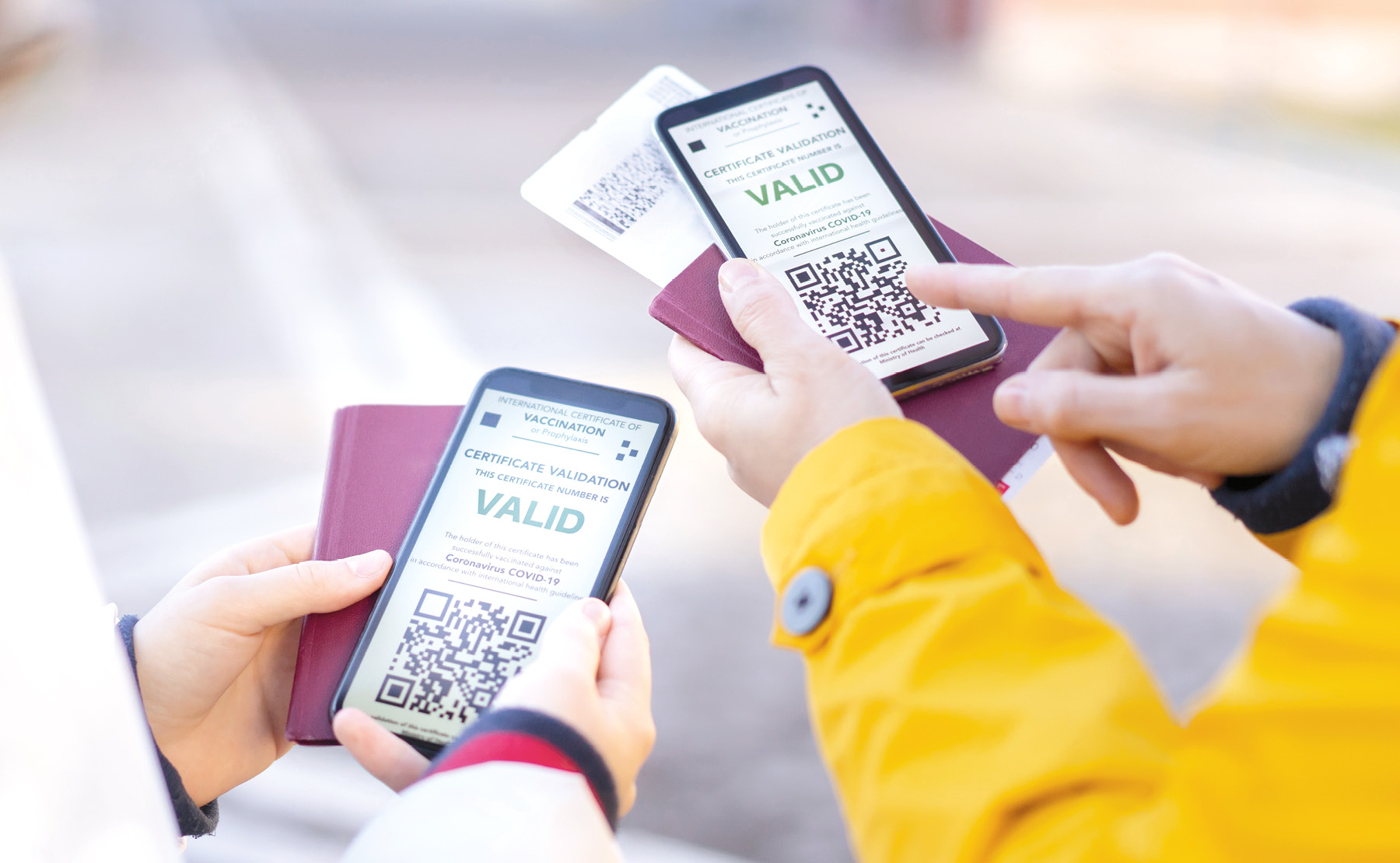 Private sector players

 
In the private sector, much attention has been focused on a group of multi-use health pass apps that act as proof of COVID-19 vaccination and are recognized internationally.
Among these, CommonPass – developed by the not-for-profit Commons Project and the World Economic Forum – is probably the most well-known, with the app having been trialled as proof of vaccination for certain airlines such as Qantas, Cathay Pacific and United Airlines.
Tech giants such as Apple, Samsung and Google are also said to be rapidly exploring ways to make it easy for users to show their COVID-19 vaccine status via their systems, thereby potentially eliminating the need for people to use apps from specialist providers.
Global Attitudes to Vaccination Passports
Support for vaccination passports ranges from 51% in the UK and Germany to 47% in Taiwan, 46% in Australia and Spain, and 22% in Japan.

The piecemeal nature of the sector at present, and the multiple competing private players, doesn't surprise David Tuffley, senior lecturer at Griffith University's School of Information and Communication Technology. Tuffley predicts both the public and private sector will have key roles to play looking ahead.

"It's going to probably come from both sides. I think governments will say, 'This is the standard we expect,' and private developers will develop to conform with that," he tells The CEO Magazine. "How it all pans out, it really is too early to say, but we know that something like this has to happen."
Security challenges remain
While Tuffley is optimistic about health pass apps helping to open up business and re-energize social life, he says questions remain about whether they can withstand security challenges including the pressures on staff to enforce rules. 
With millions of people around the world refusing to be vaccinated, he says it's likely a significant number of citizens will try and game vaccination apps to avoid getting jabbed.
"There's already reports of forged certificates being circulated, paper-based ones, and there's a fair number of people who are really opposed to getting vaccinated, so people like that are probably going to want to get around these regulations," he says. "That's going to make it a bit more difficult."