Preoccupation is a common thread among the world's most successful tech entrepreneurs. They may have made their fortunes in the IT sector and their innovations may have changed the lives of millions around the world, but they're still human. There's often a totally different (and sometimes very quirky) hobby waiting in the wings after close of business.
For Jeff Bezos and Elon Musk, it's spaceflight. For Bill Gates, it's philanthropy and bridge. Twitter's Jack Dorsey is an avid hiker, and Cisco Co-Founder Sandy Lerner is wild about jousting (yes, jousting).
It's not quite as out there for Thomas Carter, the CEO of Total Network Services (TNS), but it's no less important. The "blockchain evangelist" is a lifelong skateboarder and freely admits it's his consuming passion.
"Every founder in the world has been guilty of one thing: shamelessly and wholeheartedly pursuing their passion," he says. "For me, this didn't start with building my first business – it started with skateboarding."
CHAIN LINK
Through TNS, Carter has worked overtime to make blockchain and digital assets more accessible in spaces that hadn't fully realised their potential. "Our mission at TNS is to seamlessly transition the network, and financial and security infrastructure of the digital world, into the blockchain economy," he reveals. "The blockchain services industry is constantly evolving and thankfully, companies like ours are starting to get to the core of what blockchain has to offer our connected world."
It takes a mind that's ahead of the curve to identify this kind of value before the industry does, but it's nothing new to Carter. The Santa Cruz native's formative years helped him tap into a market that was full of nascent technology but lacking direction. The unlikely gateway? Skateboarding.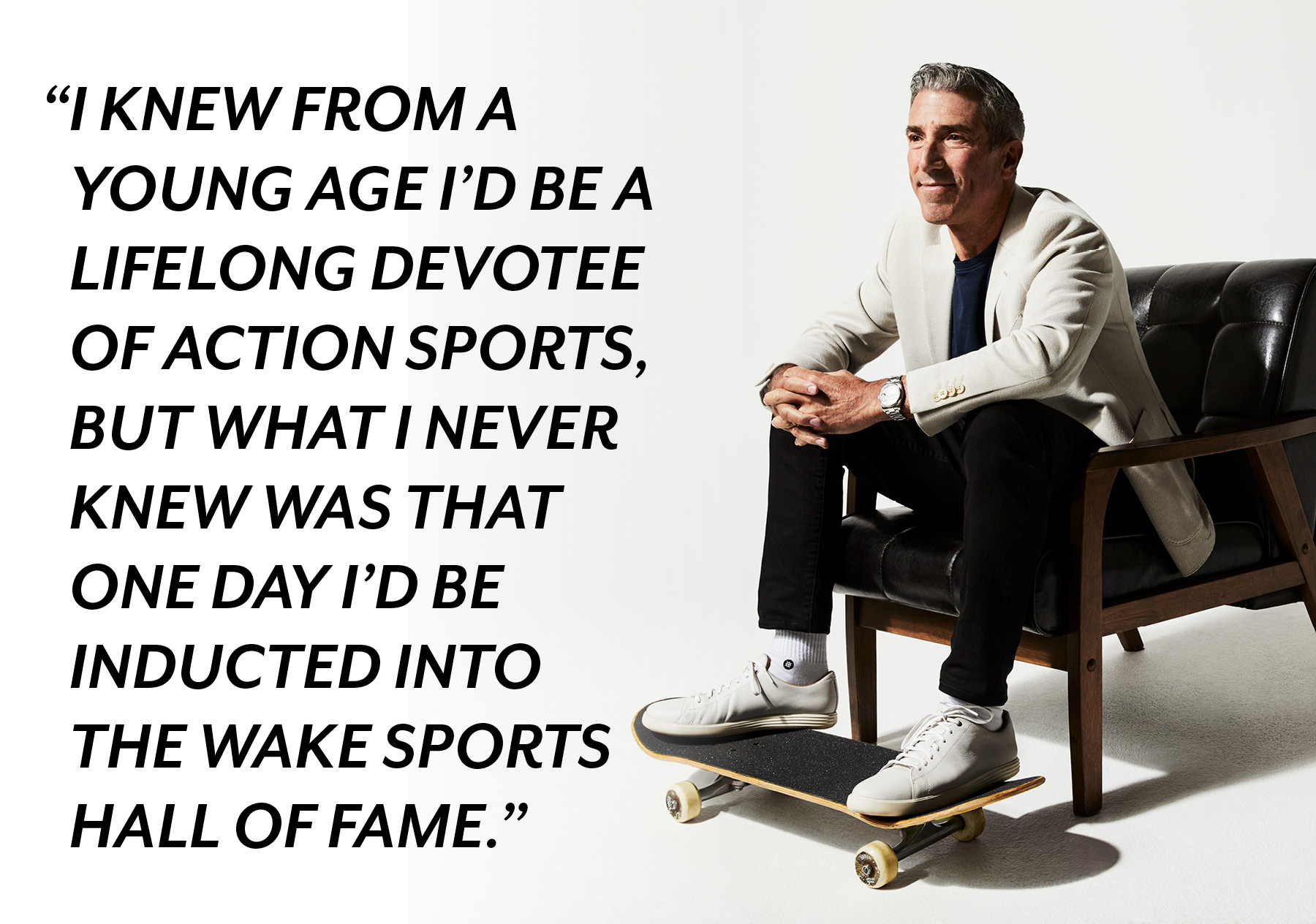 "I won my first skateboard competition in 1976 at the age of 13 and continued to surf and skate competitively through the 70s while working at a skateboard factory," Carter recalls. This glimpse at the backstage of his hobby lit a fire inside the young boarder, who soon graduated to wakeboarding.
"I knew from a young age I'd be a lifelong devotee of action sports, but what I never knew was that one day I'd be inducted into the Wake Sports Hall of Fame for industry innovation," he shares. It hasn't stopped there: in 2021, TNS teamed up with X Games champion Elliott Sloan to create the Mega Park Experience, the first  ever crypto skateboarding event and the culmination of his life's passions.
THRUST INTO GREATNESS
By the late 1980s, Carter seized the opportunity to combine his passion with a growing enthusiasm for business. He founded Thruster, a manufacturer of high-performance wakeboards and one of the first action sports companies to go public. He says it was the perfect learning experience, and set the course of the career that would follow.
"Thruster helped me learn the business process in general," he says. "And then getting acquired and going public helped inform me about raising capital and best practices."
The result was what Carter calls "the first professional athlete social network", which had to be pivoted to motor sports instead of traditional sports and, in the process, had to rebrand the company and "productize it" all over again and put together a new investor package.
"This was before Facebook," he points out. "Public companies have info on the ticker, but private companies didn't have the same level of easy-to-consume information and data, so I made that possible. I was then able to raise money in an efficient manner because I had all of my info together."
The experience gave Carter an insight into the process of raising capital. "I saw the inefficiencies in the process," he says. "Private equity had been productized – when you buy, you can read the info and purchase based on that – so I wanted to make buying shares in a company as easy as going to the store and reading the labels, understanding the product and walking out with a purchase."
As a pioneer in the sector, Carter admits he often found himself stumbling around in the dark, looking for allies who didn't yet exist. "Being an innovator, I didn't have access to the right design, marketing and services," he remembers, adding that it made him realize how in need this service was, so he created a capital markets advisory and consulting practice. "So then I created a multimedia, marketing and design firm, Netrom, which I took public."
LET'S MAKE A DEAL
The concept eventually evolved into the crowdfunding platform Deal Box, which uses digital assets and blockchain technology as unconventional methods of raising capital for young startups. "I thought, if the hallmark of blockchain technology is to provide verifiable digital scarcity and ownership, why not take this to the regulated securities side of finance?" Carter says.
"So that's what I did with Deal Box. I've been doing investment packaging for decades, helping companies structure their offerings and deals for the highest chance of success, so why not also give them a way to utilize this new technology and leverage digital securities instead of traditional routes?"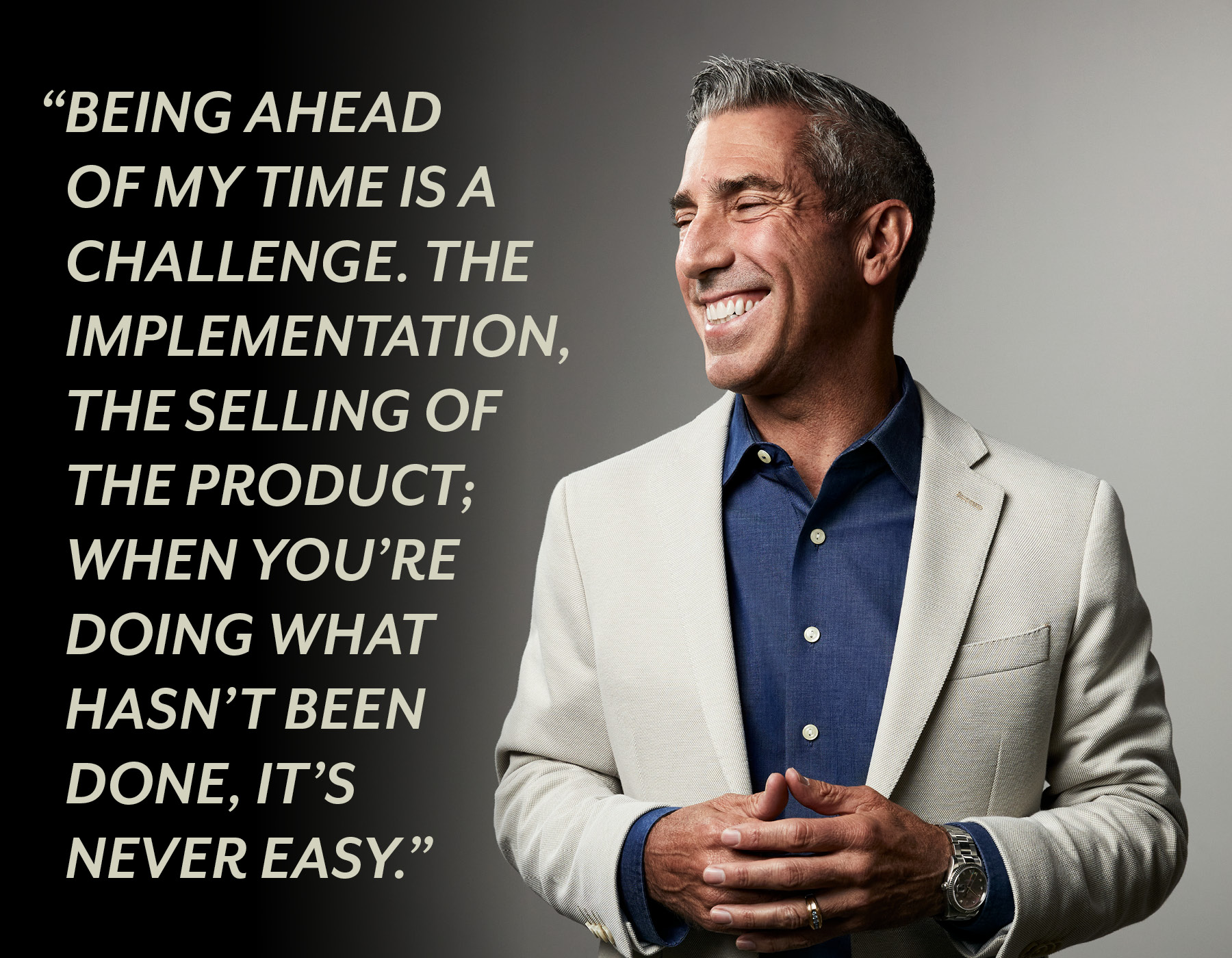 One particularly innovative startup soon caught his eye. "A company came through that wanted to make blockchain adoption easier through standardisation," he says. "It was called Total Network Services."
A subsidiary of Deal Box, an early crowdfunding portal called Equity Round had already opened Carter's eyes to the world of tokenization and blockchain. TNS represented a quantum leap in what could be achieved within that market. "So in 2017 as Founder and CEO of Deal Box, I acquired TNS. And today, our mission is to seamlessly transition the digital world into the blockchain economy."
BLOCK AND ROLL
Although simply stated, Carter concedes that mission isn't so simple in practice. "We want to make this new world simple, standardized and secure for end users," he says. "To make something as complex as digital payments simple and secure through our Digital Names technology takes an incredible amount of effort."
Most, if not all, of the underlying systems that power the digital world are authenticated by security standards set by governing bodies and agencies. "We're working with those governing bodies, such as the Telecommunications Industry Association, to create new standards that would allow enterprises to take the tracking and monitoring of devices to a whole new level," he explains.
These official partnerships have become a key differentiator for TNS, Carter adds. "We're also excited about our channel partnerships, particularly with companies like Forward Edge-AI and COMSovereign, which are helping us utilize the technologies we've built to add value to government agencies such as the US Census Bureau and other departments."
It's hoped that the standardisation quest TNS has set out on will eventually quell some of the volatility of the blockchain industry. "Every day, we read headline-grabbing articles about new players entering the space and new innovations entering the market," he says. "At a high level we're moving from the era of cash-grab innovations to enterprise solutions."
WORLD FIRSTS
While Bitcoin has come to define blockchain in many ways, Carter believes that perception will shift as technology and initiatives such as those pioneered by TNS become industry standards. "We're making a huge shift from the speculative side of blockchain with crypto to now practical applications like our Universal Communication Identifier (UCID), the world's first blockchain-enabled service for supply chain security, device management, software licensing and equipment tracking," he says.
"Our thought was, why not take a technology known for its ability to provide verification and utilize it in an industry that has the most to lose from a lack of that? You end up with bulletproof verification. It's using blockchain to improve a global standard."
According to Carter, it's this kind of innovation that makes for one of the greatest challenges for the CEO of a bleeding-edge company like TNS. "Being ahead of my time is a challenge," he admits. "The implementation, the selling of the product; when you're doing what hasn't been done, it's never easy."
TEAM EFFORT
Fortunately, Carter has a strong team – and the clarity of vision – to help make the impossible possible. "Ultimately, my responsibility as CEO is to do what I'm best at, which is create a clear vision, pull in the key players, pull in the resources and then get out of the way as much as possible and trust my team," he says.
"Since I was a young entrepreneur, I've always had the ability to connect the dots at a high level and create that clear vision for how things should look, and that ability has not only helped tremendously for my team but also for our shareholders."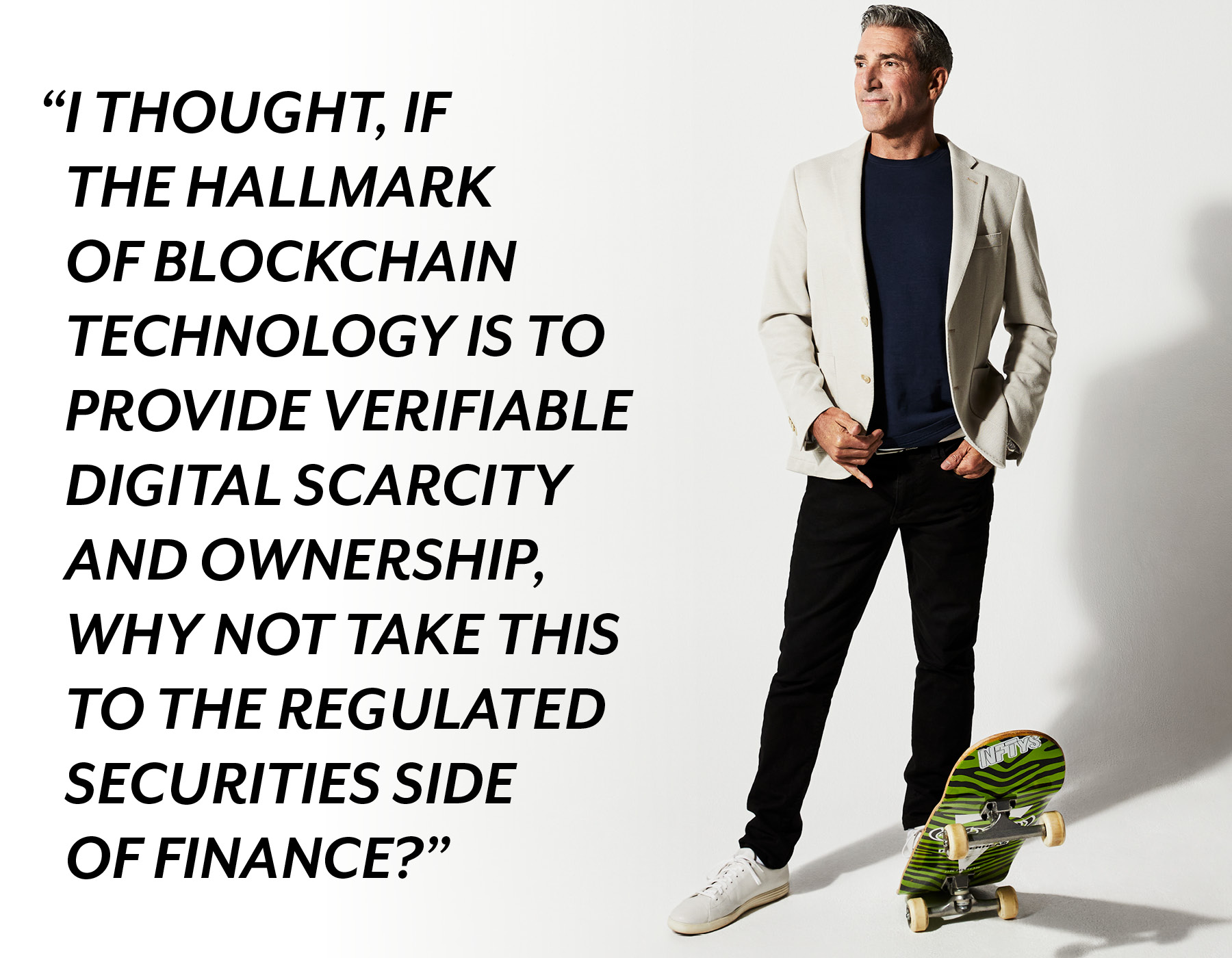 And he was able to do this despite the pandemic, which Carter believes actually accelerated the world's journey towards a more virtually connected world. "Everyone was physically disconnected," he says. "People were on their devices more than ever, trying to maintain any semblance of normal human connection. From this reality, the metaverse conversation was pushed to the forefront and it's increasingly the case that our most prized and valued possessions will be accessible from our mobile devices."
Through blockchain verification, TNS hopes to secure all network-connected devices at a strength previously unheard of in the industry. "If anything, the world just sprinted faster to a place we already knew it was headed," he reveals. "We're excited to be at the forefront of creating a new security standard in this day and age."
Such are the team's efforts that Carter thinks 2022 will be a momentous year for TNS. "From product to sales and marketing, the team has put in the work and the effort," he beams. "I firmly believe this will be a breakthrough year for the business."
OFF TO THE RACES
If so, the years that follow will be a whirlwind of progress and change. "TNS has spent the past year building up our tech stack and creating our applications and partnerships, so 2022 and beyond will be about implementation," Carter explains. "Everything is built and now we're excited to go to market."
Chief among the new offerings is the UCID solution, which will be rolled out to businesses throughout the telecommunications space to enhance security and device management. "The potential for growth we have with UCID is almost hard to fathom, as we have designed the solution to create verifiable data reporting for every network-connected device, and with so much to lose from insecure devices, we have a lot to gain," he says.
TNS is also preparing to launch its easy-to-use, curated non-fungible token (NFT) marketplace, NFTys.io, which will include innovative sustainability features. "It's good that people are considering how efficiently the space utilizes energy and at what environmental cost," Carter confirms.
"One of the things we've done is implemented blockchain solutions that don't use proof of work as their consensus mechanism, and therefore have a much smaller need for energy. NFTys.io uses a proof of space and time consensus, for example."
NEW AND NEWER
The ability to act quickly to address concerns in an industry as fast-moving as this is another of TNS's virtues. "The best companies course-correct swiftly if needed or seek to embrace a new change if effective. Staying married to ideas for emotional reasons because you 'thought it would go this way' is the downfall of so many great projects," Carter suggests.
"When technology moves as fast as it does, remaining nimble allows you to be more reactive and fluid. There are a lot of shiny objects in this space, so you need to have the discretion to effectively navigate the hype and leave what is old behind and embrace the new."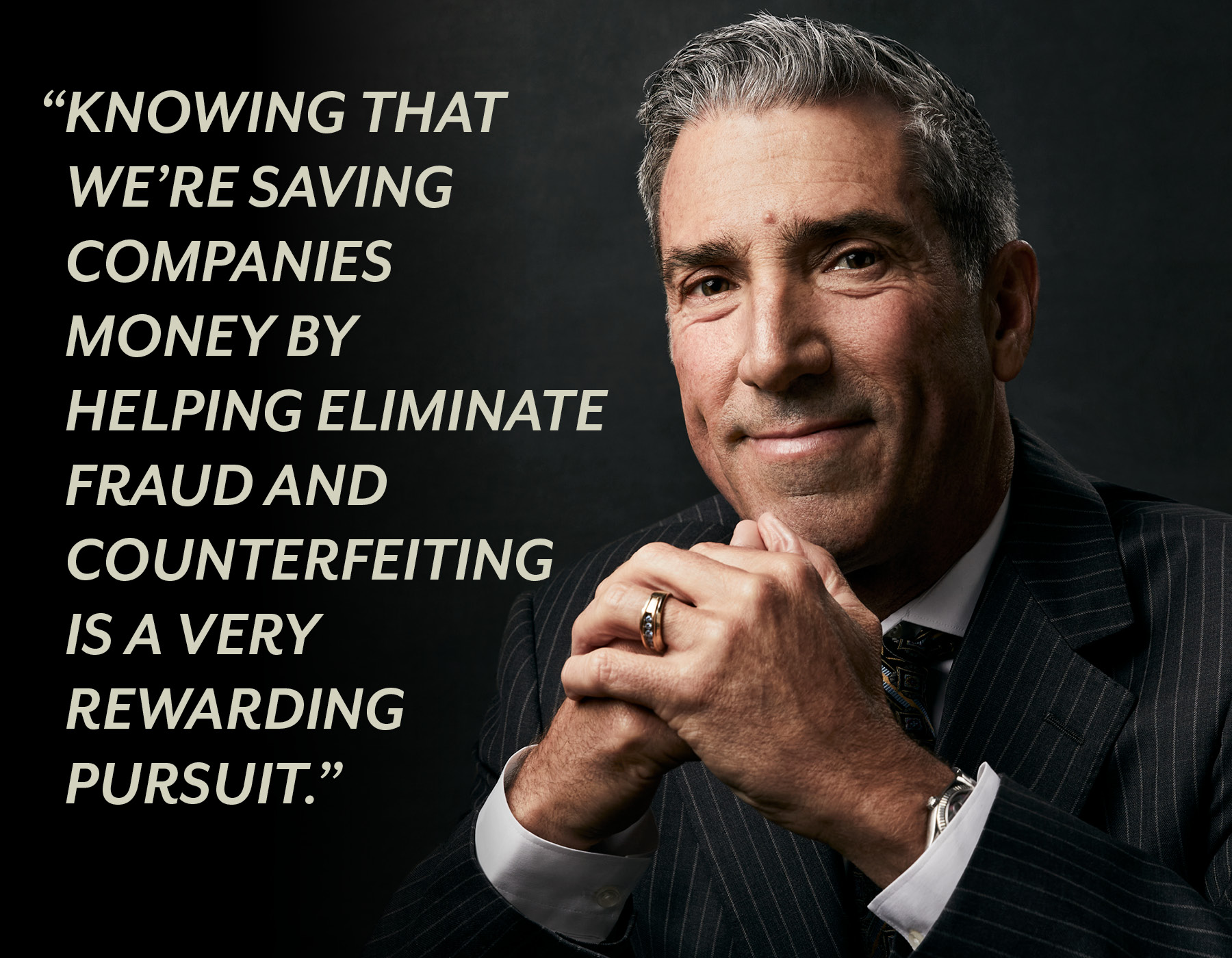 With so much new on the horizon, and the added energy it takes to think ahead of an already progressive industry, you'd be forgiven for thinking Carter is constantly exhausted. In fact, the opposite is true. "It's exciting to work in a space that has yet to realize its full potential," he enthuses. 
"And although it makes me smile knowing that so many people have been able to benefit from my wakeboarding innovations and the culture has come so far as a result, I'd say that TNS's innovation in the telecommunication space is by far the most impactful thing I've accomplished in my career. Knowing that we're saving companies money by helping eliminate fraud and counterfeiting is a very rewarding pursuit."
Creating a new technology is one thing, but Carter says taking a crack at creating a new standard – thereby shaping the way that businesses fundamentally approach device security – is an absolute game-changer for the whole Internet of Things realm. "There's a fresh energy that comes with being able to huddle and innovate with a group of people who all fundamentally understand where we're headed and how the new will enhance the old. We are the dreamers of the dreams."