It's fair to say that the past 15 years have hardly been plain sailing for business leaders. It took a good decade to fully recover from the tsunami that was 2008's global financial meltdown, only for COVID-19 to whip up the waves again and rain all over everyone's parade.
Talking of rain, it was either causing deadly floods or steadfastly refusing to fall as climate change strongarmed corporations in almost every industry into creating a section called 'Sustainability' in their annual reports and left them scrabbling to find ways to offset all that nasty carbon.
Perhaps the biggest wind of change has been digitalization, buffeting the landscape more than any natural disaster and heralding what many have called a fourth industrial revolution.
So it's surprising that, after such a tumultuous few years, one of the biggest factors affecting business growth has nothing to do with any of the above. The companies that have consistently outperformed their rivals are those with diverse workforces who love their jobs. Numerous studies across dozens of countries have revealed that staff morale and inclusion policies are a far more reliable indicator of bottom-line success than almost anything else.
Seeing the light
The CEO Magazine has coined the term 'kaleidoscope companies' to describe the new breed of organizations that don't just pay lip service to the issue with table tennis tables, funky colored walls and Taco Tuesdays, but enshrine it in their core values.
They proactively seek to eliminate the gender pay gap, increase racial diversity at board level, publicly support LGBTIQA+ causes, offer generous packages for new mums, seek ways to employ more disabled workers and invest in comprehensive training programs to facilitate internal promotions and upskilling.
A kaleidoscope is all about seeing the light and watching with awe as the vibrant colors tumble to create beautiful new patterns as you twist to see what's possible.
Accelerated growth
One thing that's distinctly possible is that your share price is going to benefit. A major survey by MarketPsych pulled together millions of pieces of data from 2006 to the end of 2020 to compare the performance of those in the top five per cent for high workplace sentiment to those at the bottom. 
The companies where employees reported feeling valued and content, including Accenture, Marriott International and Cognizant Technology Solutions, grew by an average of 5.19 per cent. Meanwhile, those languishing at the other end of the spectrum, including McDonald's, Tyson Foods and UPS, managed only 2.76 per cent.
The same seems to be true in China where CSI 300 companies that invest in workplace safety and training expand around twice as quickly. 
The Harvard Business Review argues that firms need to invest as much in their employees as their customers. Its 2019 report concluded, "A great employee experience leads to a great customer experience."
As Sir Richard Branson said in 2020, "My philosophy has always been, if you can put staff first, your customer second and shareholders third, then shareholders do well, customers do better, and [you] yourself are happy."
The pandemic heightened the need to look after employees, with Gallup's 'State of the Global Workplace: 2021 Report' finding two per cent decreases in employee engagement in 2020 from 2019 and workplace stress up by five per cent to record levels.
In the UK, half of the manufacturing companies have boosted spending on staff wellbeing since the start of the outbreak, with many reporting a subsequent surge in productivity.
Almost 90 per cent of Fortune 500 companies now have an employee resource group to support workers, encourage a sense of community and improve experiences for minority groups. 
Why diversity matters
Organizations with diverse management enjoy 19 per cent more revenue from innovation projects and a better financial outcome, a 2018 survey of 1,700 companies across eight countries found. 
It was backed up by a major Built In report in 2020 that concluded diverse companies:
Generate 19 per cent more revenue

Have 2.3 times as much cash flow

Are 15 per cent more likely to exceed median industry profits

Are preferred by three out of four workers
A Boston Consulting Group study revealed that the differences are even more pronounced in the digital sector where the more culturally varied the workforce, the greater the rewards from ploughing money into new technology.
Which are the kaleidoscope companies?
Refinitiv releases an annual list of the top 100 businesses for diversity and inclusion using 24 metrics including cultural mix, internal promotions, training cost per employee, women in senior roles, disabilities, upskilling, flexible hours, day care and wages. 
In its 2021 survey of 11,000 publicly listed companies, this was the top 10: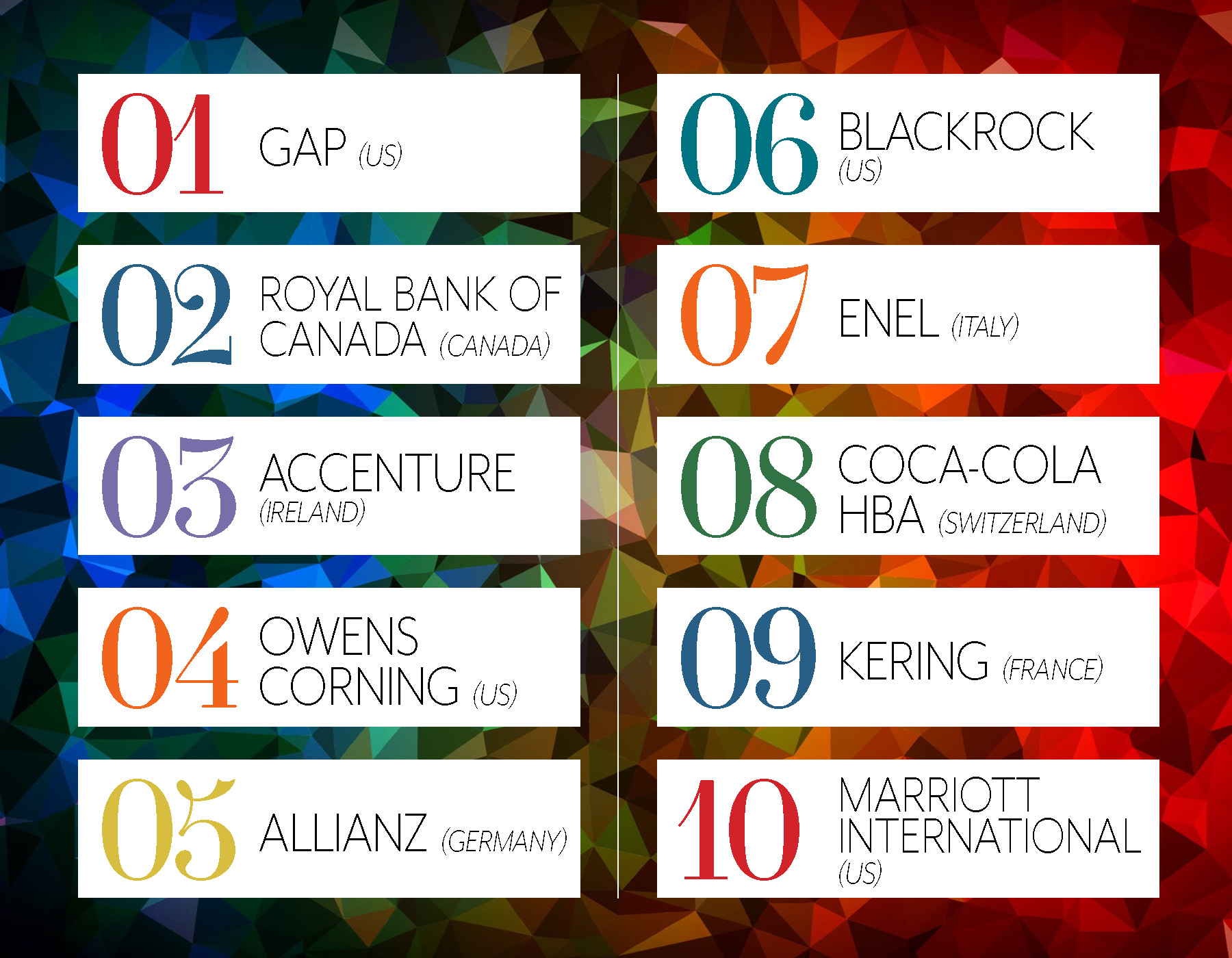 "We believe that inclusion isn't optional … we all deserve to belong."
- Sheila Peters, Chief People Officer, Gap
Refinitiv described global progress as 'slow', and noted that the US accounted for a quarter of those named, with many investing record amounts to improve their circumstances.
A good example is Yum! Brands, owner of Taco Bell and KFC, which announced in 2020 it was spending US$100 million to fight inequality and increase diversity among senior management.
"Every day, our brands have the privilege to serve and employ people of every race, ethnicity, gender identity, sexual orientation, age and background," CEO David Gibbs said. "As such, we remain steadfast against all forms of discrimination and inequality, both conscious and unconscious, that thwart opportunity for our people."
Boxing clever
Inclusion isn't just about how you treat an individual employee; it's also the message your company sends out about its values. On LGBTIQA+ matters, for example, that might include donations to supportive charities, sponsoring rainbow pride events, boycotting right-wing media with a perceived anti-inclusive agenda, and endorsing international human rights campaigns.
Among the major sponsors of Sydney's famous Gay and Lesbian Mardi Gras are American Express, Proctor & Gamble, Deloitte and Google. The city will also host the inaugural World Gay Boxing Championships in 2023, with several high-profile corporate sponsors set to contribute. 
Corporations that actively promote inclusive policies aimed at retaining LGBTIQA+ staff see tangible financial benefits, an Out Now study showed. It estimates the US economy would be boosted by US$9 billion if more companies followed suit.
According to DiversityInc, the top 10 US companies for LGBTIQA+ employees are: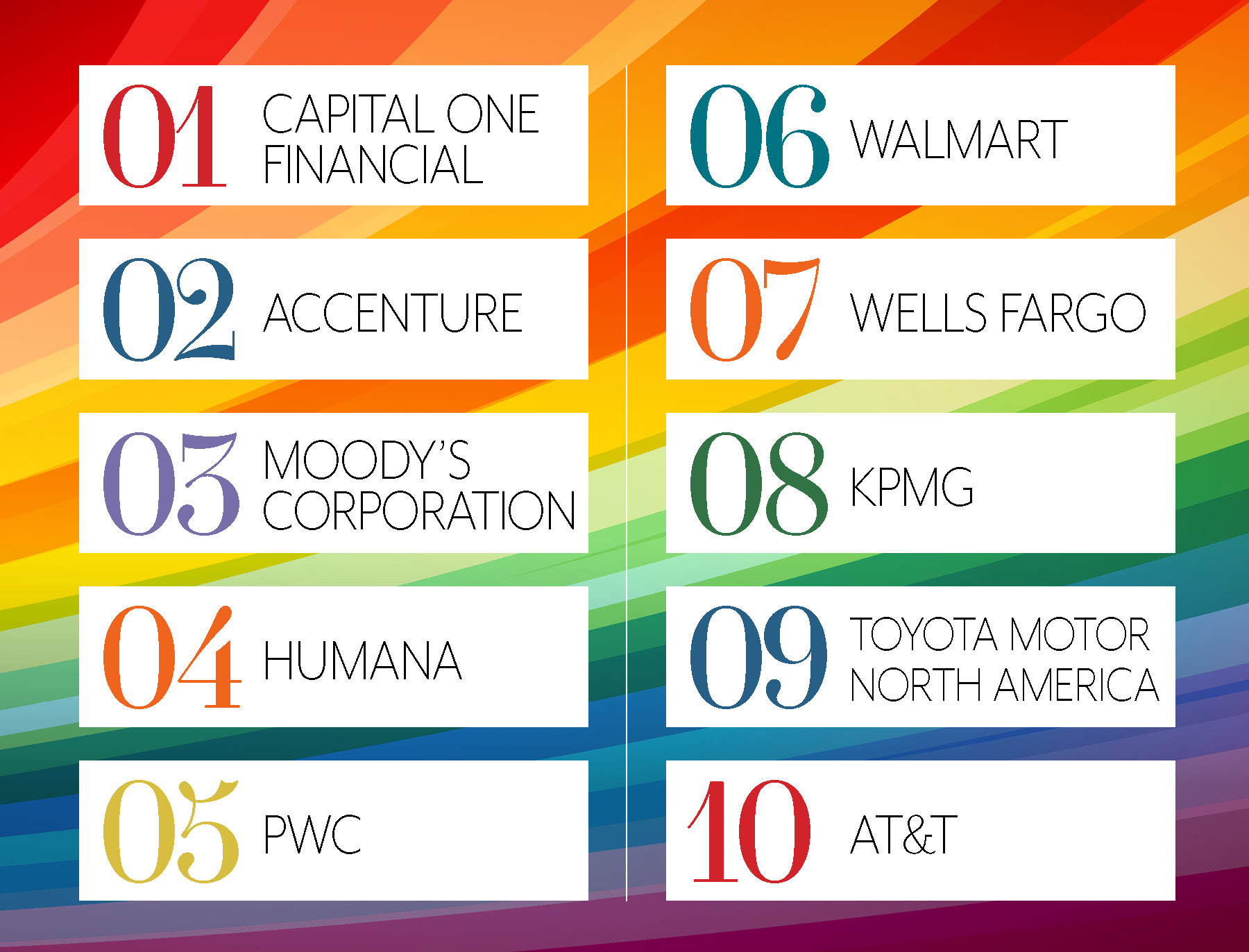 A 2021 report found that 25 US companies, including at least three on this list, outwardly supported such causes while making substantial donations to politicians campaigning on anti-LGBTIQA+ issues. However, it's notable that 91 per cent of Fortune 500 companies have introduced anti-discrimination guidelines for sexuality.
Accenture appears on many compilations of best places to work and was one of the first US firms to pay for gender reassignment surgery for staff. It's also in DiversityInc's top companies for those with a disability alongside Eli Lilly, Marriott International, Hilton, PwC and EY.
"Diversity and inclusion needs to be something that every single employee at the company has a stake in."
- Bo Young Lee, Chief Diversity and Inclusion Officer, Uber
The enablers
Also famed for its commitment to disabled workers is EY, itself co-founded by a lawyer who turned to accounting when he became deaf and lost most of his eyesight. It's part of Valuable 500, a coalition of major businesses promoting greater opportunities for those with disabilities.
More and more companies are developing similar initiatives:
KPMG runs an Abilities in Motion Network to encourage feedback from disabled employees so conditions can be improved.

Microsoft created an neurodiversity hiring program

to unlock potential.

SAP in Germany has an Autism at Work framework to integrate those with autism into the workplace. Similar schemes are available at Freddie Mac, Ford and Walgreens.

At EY New Zealand, 17 team members volunteer to provide professional mentoring to those with accessibility needs.

Bloomberg

actively seeks out potential employees with a disability and runs a scheme for its staff to better understand the experience of the partially sighted.

Boeing actively recruits at

disability

conferences.
The gender agenda
One area where even some kaleidoscope companies have struggled is the gender pay gap. Worldwide progress has been glacial – in the US, women earn 81.1 per cent of their male colleagues' wages, a figure virtually unchanged since the 1980s.
In the UK, some major operators have an embarrassingly big percentage gap in favour of men including Lloyds Bank (40.2%), British Airways (37%) and NatWest Bank (34.3%).
Unsurprisingly, businesses where there is pay equality are much more likely to thrive, a 2020 Refinitiv study reported. Curiously, it found that if women are paid more than men, it also has a detrimental effect.
Major companies that have completely closed the gap include Starbucks, Adobe, Intel, Salesforce and, fittingly, Gap. 
"A diverse mix of voices leads to better discussions, decisions and outcomes for everyone."
- Sundar Pichai, CEO, Alphabet
Another twist
The major business players who haven't put a healthy workplace culture and inclusion at the top of their agendas aren't going to enjoy any more plain sailing in the next decades than they have so far this century. As we've seen, the flood of evidence about the value of happy, safe and diverse employees to any corporation is overwhelming, and the corporate world has finally caught on.
But the true kaleidoscope companies were pioneering progressive policies and transparency long before many of the studies were published. Why? They care about combating injustice, prejudice and hate because it's the right thing to do. At the time, their accounts departments probably raised a collective eyebrow at lavish indulgences like free gym memberships, paternity leave and mental health days, but the mindset it cultivated permeates throughout every department.
To quote a song from The Lion King, "The twisting kaleidoscope moves us all in turn." And Disney would know as, among its impressive list of diversity credentials, are eight openly gay characters in its family movies, something that would have been unthinkable a few decades back.
Businesses today need to remember that perhaps the most important components of a kaleidoscope are the mirrors that turn to conjure up the cavalcade of shapes, each one reflected uniquely. However, if you don't continue the rotation, they remain motionless and you won't find out what's possible.