Brain cancer survival rates have only slightly improved in the past 30 years, but Cure Brain Cancer Foundation CEO and The CEO Magazine's Not-for-Profit Executive of the Year winner Lance Kawaguchi is on a personal mission to deliver outcomes fast.
Before his mother passed away from cancer in 2016, Lance Kawaguchi made her a promise – to give back to something bigger than himself. So, after more than 25 years working as an investment banker, he made the decision to drastically change career, choosing instead to commit himself to fighting the disease that had taken away the woman who had always pushed him to better himself.
"She was, and remains to this day, my inspiration," he tells The CEO Magazine. "She was a school teacher, and so I chose brain cancer since it kills more children than any other disease."
The five-year survival rate for those suffering with brain cancer sits low at just 22.3 per cent. It's a figure that has scarcely changed in the last 30 years, creeping up from 21.2 per cent in 1986, while survival rates for Australians with other types of cancer diagnoses, such as prostate and breast cancer, have significantly improved.
It's a lack of progress that Kawaguchi, The CEO Magazine's 2022 Not-For-Profit Executive of the Year, is determined to turn around as the CEO of Cure Brain Cancer Foundation.
Forging a New Path
Arriving in the not-for-profit sector with no experience, Kawaguchi was inevitably met with scepticism. "Most people told me that I wouldn't last more than two or three months because I didn't have not-for-profit experience," he recalls. "The biggest challenge was proving to people that it's not about being a not-for-profit expert, but are you a good person, do you care about people and do you execute on your promises?"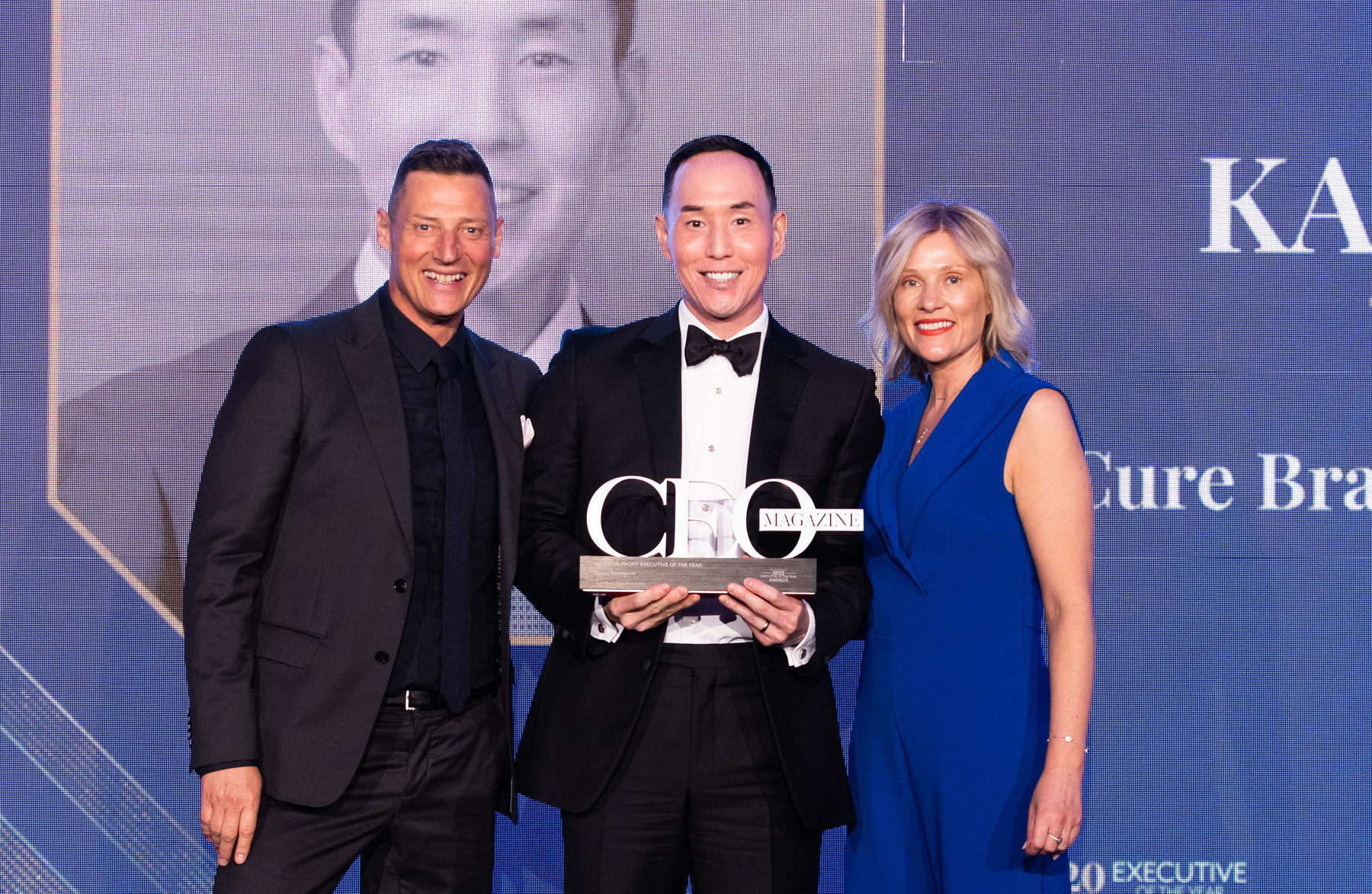 "IN THE PAST 12 MONTHS, WE HAVE COMMITTED OVER A$11 MILLION INTO BRAIN CANCER RESEARCH INCLUDING INNOVATIVE CLINICAL TRIALS AND PRE-CLINICAL RESEARCH ACROSS ADULTS AND PAEDIATRIC BRAIN CANCER."
Not only that, but the organisation had been through a period of "turmoil", he reveals, so his first six months in the role was spent convincing people that it was back on a positive path.
Kawaguchi's experience in the fast-moving investment banking field actually proved to be an incredible asset in bringing about the necessary changes. "I found charities move very slowly so what I try to instil is a sense of urgency," he explains. "I like to move the needle and ensure that, if the community needs it, then we execute within days, not months."
Since coming on board, he has helped to streamline the Foundation, taking it from 32 employees to nine, and he has shifted the focus from big, costly events to digital. "I try to lock in net profitability," he says. "We are really leveraging digital with APIs, using Stripe, Salesforce and really trying to apply what I learned in business into the not-for-profit world."
Erasing Research Silos
"In the past 12 months, we have committed over A$11 million into brain cancer research, including innovative clinical trials and pre-clinical research across adults and paediatric brain cancer," he says. "That's more than the Foundation had invested in past five years combined."
The hefty increase comes in recognition of the fact that the brain cancer community does not have the "luxury of time", prompting Kawaguchi and the Foundation to innovate and collaborate with some of the best minds in order to fund research with the greatest chance of success.
To do this, Kawaguchi decided to expand the Foundation internationally in order to better connect the work that is being done all around the world in the field of brain cancer research.
"We are in the process of establishing an entity in the United States and exploring ways to bring the Middle East and Asia–Pacific into the fold, connecting organisations and research institutes around the world to reduce silos and increase collaboration to ultimately find a global cure for brain cancer," he says.
Leading the Foundation through the uncertainty of the COVID-19 pandemic was certainly challenging, according to Kawaguchi, but it also created the opportunity for change – one that he seized. "We had to be agile and dynamic, pivoting to digital fundraising platforms and online means of communication since physical events, particularly for the immunocompromised community, were not an option," he says.
"This not only reduced our cost base but also allowed us to connect in new and innovative ways, expanding our community across Australia and into new markets globally."
Serving Community Needs
But that wasn't the full extent of the Foundation's transformation. When Kawaguchi took on the CEO role in January 2021, with the pandemic still in full swing, he embarked on a review of the organisation to better understand the needs of the community it served – those affected by brain cancer.
Through conversations with hundreds of community members, he and his team came to understand that its mission to increase survival from brain cancer was not enough.
"We also needed to address quality of life," he says. "With 100 per cent staff buy-in, we amended our mission to reflect our community, allowing us to pivot to meet the needs of those affected by brain cancer."
The result was the launch of support services to enhance quality of life through a program entitled the National Advocacy Service. To date, the service has achieved the release of A$8 million in government funding support for those patients and their family members affected by brain cancer.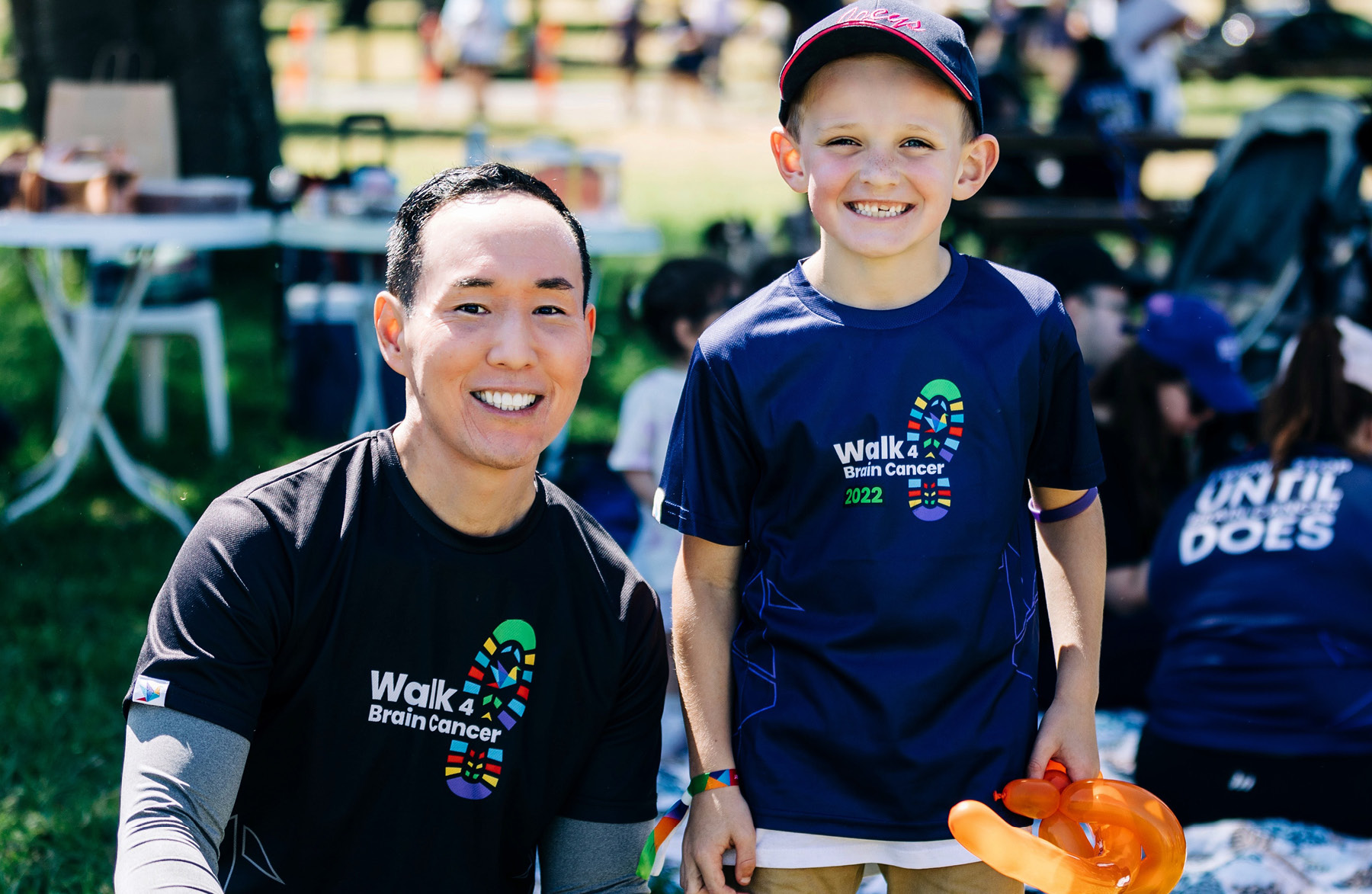 "WITH 100 PER CENT STAFF BUY-IN, WE AMENDED OUR MISSION TO REFLECT OUR COMMUNITY, ALLOWING US TO PIVOT TO MEET THE NEEDS OF THOSE AFFECTED BY BRAIN CANCER."
Another important initiative he has introduced is the launch of the Foundation's first mid-career fellowship in response to the rapid decline of people in the research field due to lack of funding. "This fellowship provides researchers with the stability they need to continue their vital work in the field," Kawaguchi explains.
He believes advances in oncology will be best supported through ventures and impact investments. Under his leadership, the Foundation launched the world's first brain cancer-dedicated Clinical Accelerator program, which supports early stage biotechnology companies to rapidly progress innovative therapeutics.
His leadership also led to the commitment of the revolutionary clinical trial of GBM AGILE for Australian patients, with the Cure Brain Cancer Foundation sole-funding it for A$8 million without using taxpayer money. "Up to 150 patients will have access to the newest treatments from the United States and we're going to pay for the whole thing," he says proudly.
But he is quick to stress that all that has been achieved in the short time he has headed the organisation is the result of a group effort. "This sense of achievement belongs to the entire Foundation staff who each had a voice and critical input into the organisational change," he says.
With fundraising so critical to the Foundation's work in the absence of government funding, Kawaguchi is also constantly inspired by the "unwavering efforts" of the brain cancer community.
"Our dedicated community helps raise funds that allow us to fund priority-driven research and support services," he says. "I'm constantly reminded of the strength and dedication of those community members who allow us to fund such innovative research to find better treatments for this insidious disease."
---
Related Articles