When I talk to leaders about their style, authenticity is one of the most common traits they name. Everyone wants it from their own boss, and every leader aspires for their reputation to reflect it.
Some may say that the term has become ubiquitous without really being understood, but there are two things I know for sure: when you come across an authentic person, you know it. When you work with an authentic leader, you feel it.
What is Authentic Leadership?
I believe that being an authentic leader means you know how to bring your true self into your leadership role and inspire those around you to do the same. You invest time to explore the deep essence of your values and principles, you're insatiably curious about discovering your unique purpose and not hiding behind someone else's. You lead by being grounded, with an open heart and mind about what can be different. Comfortable in your own skin but never complacent, you welcome others' differences, drop your ego, become vulnerable and, above all else, truly listen. 
Stig Bell, Director of People & Culture at SBS Australia and The CEO Magazine's HR Executive of the Year 2018, says authenticity is all about vulnerability. "Ultimately, it's about being vulnerable enough to let people in. To show others that you're a human being with the same thoughts, feelings, emotions and challenges as anyone else. It's about being true to yourself, your values and beliefs in the way you engage and lead others. People can sniff out a phoney a mile away."
Why is it Important?
Airbrushed leaders who 'fake it 'til they make it' are no longer tolerated. Research outlined in the Harvard Business Review shows that a majority of employees believe authenticity in the workplace leads to better relationships with colleagues, higher levels of trust, greater productivity, and a more positive working environment.
Leadership philosophy is evolving fast. David Armsworth-Maw, Associate Coach at Human Leadership, explains why it's a critical capability right now. "In a rapidly changing post-pandemic world, authentic leaders can change the perspective around needing to make a choice between 'people or profit'," he says. "Rather, they successfully integrate their self-awareness, humanity and future commercial aspirations, and implement internal and external strategies which change the dynamic to 'people and profit'."
Six Components That Make up Authentic Leadership
---

Beware of being instantly impressive versus consistently authentic. 
Those who know their strengths and weaknesses, and honestly admit them, have spent valuable time holding up a mirror. We need to process our experiences, and understand how we think, feel and behave in order to expand our emotional intelligence (EQ). 
How you decide to do this is your choice, but make a conscious decision to invest in expanding your EQ and self-awareness. 
Work with a coach, dig deep to expand your EQ and learn how to stay resourceful when triggered.
Ask for 360 feedback regularly, learn about your blind spots and explore a personality profile tool.
Investigate your strengths, embrace your superpowers and learn how to be a lot more of who you already are. 
Self-awareness is a lifelong journey; hold it lightly but commit to it wholeheartedly. There are no shortcuts. 
---

Simon Sinek, author of

Start With Why,

observes that, "Most people can explain what they do, but few can articulate why. Our why is the overarching purpose, cause or belief that drives us when we are at our best."
Knowing your purpose in life helps you live and lead with integrity.
It requires some soul searching in both your personal and professional worlds so you can discover what's really important and unique to you, so that you can lead for change. 
Knowing your purpose helps you to stay genuine, so you don't need to act one way in private and another way in public.
Simone Anderson, Vice President and General Manager Oceania at Lamb Weston, understands the importance of becoming comfortable in her own skin, and knowing her leadership purpose.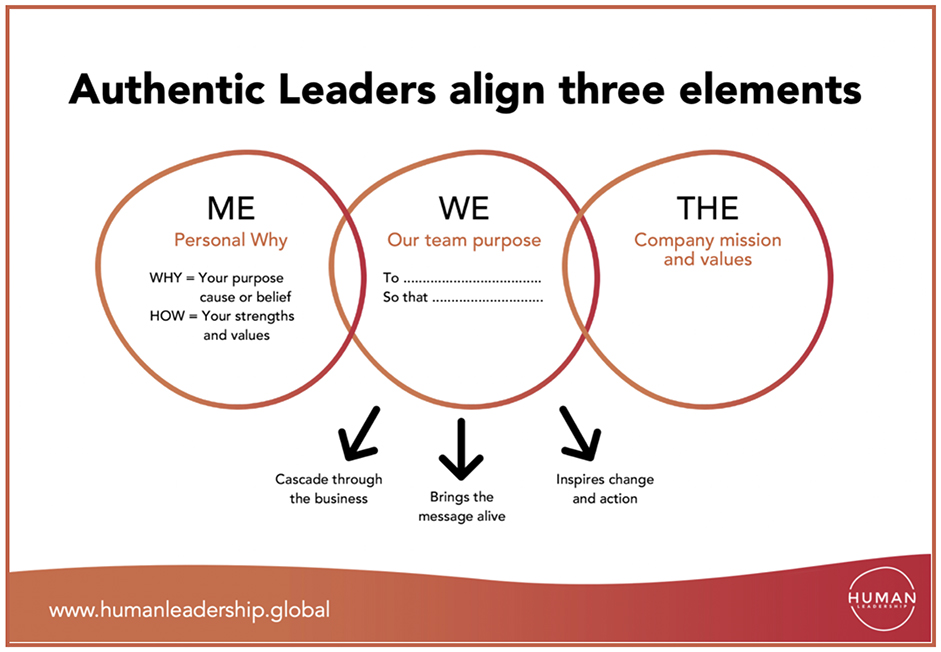 "Early in my career, I had many accidental leaders who didn't have a clue what they wanted from their teams," Anderson says. "I knew back then that my style would become purpose-driven, honest and that everyone would know why they were there and feel valued.
"My purpose is to lead a group of courageous humans to tackle the impossible challenges, so we have fun winning together. At Lamb Weston, we carve out time as a senior leadership team to expand our individual why – which we freely share with each other, to create a team purpose."
For Anderson, authentic leadership means bringing the real her to work; the same Simone as she is at home with her family. "I aim to create an environment where everybody knows their value, the importance and purpose of the role they play," she says. "In turn, this makes it safe for people to bring their whole selves."
---

We're so busy at work as human 'doings' that we often forget about the value of human 'beings'. 
Authentic leaders build loyalty through understanding the values they – and others – live by. Their own values are obvious because they bring them alive every day.
Find a full list of values and principles. Circle at least 10 that describe you. Prioritize your top five. How you do this makes you uniquely you.
Write a paragraph on what each one means to you. How do you bring them alive at work and at home?
Get curious about other people's values; ask them what they prioritize.
There's also an authentic enquiry to have with yourself about the match between your own values and those of the company. Mismatched values are a top reason leaders struggle with maintaining authenticity. 
"At SBS, we embrace differences, and we look out for one another both professionally and personally," Bell says. "These values are built into the DNA of our workplace culture where Diversity, Equity and Inclusion is at the heart of who we are.
"We recognize that to truly live our values we need to create mechanisms for people to fully participate in the workplace in every aspect of themselves. For example, we recently amended our public holiday and leave policy so our employees can make their own choices around holiday dates that are more meaningful for them or culturally appropriate."
Being truly authentic means knowing your own values and principles, as well as respecting other people's differences.
---

There's a polarising reaction to statements about leading from the heart. I spot the subtle (and not so subtle!) eye rolling in my leadership workshops.
But great leaders integrate all three centers of intelligence from their head, heart and gut. They tune into their heart intelligence by genuinely caring. 
At Audible, an Amazon company, the team strives to build authentic relationships guided by their People Principles, one of which is 'Activate Caring'. 
"Our Activate Caring principle is a vital element to how we lead authentically," explains Amanda Norris, Audible's APAC Senior Director – HR. "This principle encourages us to create the deepest camaraderie, trust and a more meaningful experience of the work that defines our days. We let others really get to know who we are as individuals. Leaders understand this and teach it through exemplary action. We value shared honesty, and we remember that people will invariably forget things you say, but they will rarely forget how you make them feel."
At a time where burnout and psychological safety need to be high on a leader's watch list, how you care and show empathy as a leader matters.
---

The concept of vulnerability for leaders often generates a level of fear of getting things wrong and 'what if?' scenarios. But vulnerability needs to be led by example. Leaders need to make it safe for others to be true, to make mistakes – and learn from them. 
It's not easy and it's not always comfortable. 
You can practice vulnerability by:
Spotting when you are doing the opposite. For example, jumping in to give an answer or being a perfectionist.
Expressing what you don't know. Allow others' ideas in as it helps to build connection.
Being willing to fail and accepting help freely.
"I believe we can lead with authenticity when we know ourselves – understand our vulnerabilities, strengths, values and beliefs, and are willing to let others see these or challenge us about these respectfully," Norris adds.
---

Genuine human connection creates the safety to bring your true self to work. Active, deep listening is the single most powerful ingredient to building trust and encouraging the very best in others. 
Get curious about how you listen. Ask others what you do well and how you could do better.
Listen to understand versus listen to respond. Often, people don't want an answer or solution. Practice paraphrasing back what you hear so people feel valued for being them.
Develop your empathy. Stand in other people's shoes and imagine what an experience is like from their point of view.
"Engaging in an authentic and personal way builds loyalty, and a strong desire to deliver on organisational goals and objectives," Bell says.  "And it just makes work a happier place to be when your true self is recognized."