Among the various tricks used by horror-film directors to terrify audiences, silence is one of the most potent; a go-to tool for creating atmosphere, building tension, stimulating anxiety – a prelude to the inevitable 'hurling popcorn and Coke onto your chest in fright' moment.
Pulling away in the McLaren Artura plug-in hybrid at the car's global launch in chic Marbella, southern Spain, I can't help but wonder whether the brand's engineers spent time holed up in a dark room with a stack of Wes Craven flicks, but then got scared and ended up watching Charlie Chaplin movies instead. 
Unless instructed otherwise, every drive in the Artura automatically begins in electric mode (a legal requirement in Europe), a silent, emotionless experience at odds with the aggressively styled, scissor-doored, lime-green supercar I've just slipped into – and, so far, offering little in the way of suspense or terror. The only jumpy thing is my right foot, desperate for some action. It's not necessarily how you imagine driving a McLaren to start. 
But this, remember, is a new dawn of supercar electrification, not only for the planet's future, but for McLaren's own survival as it enters its second consecutive decade of making high-performance road cars.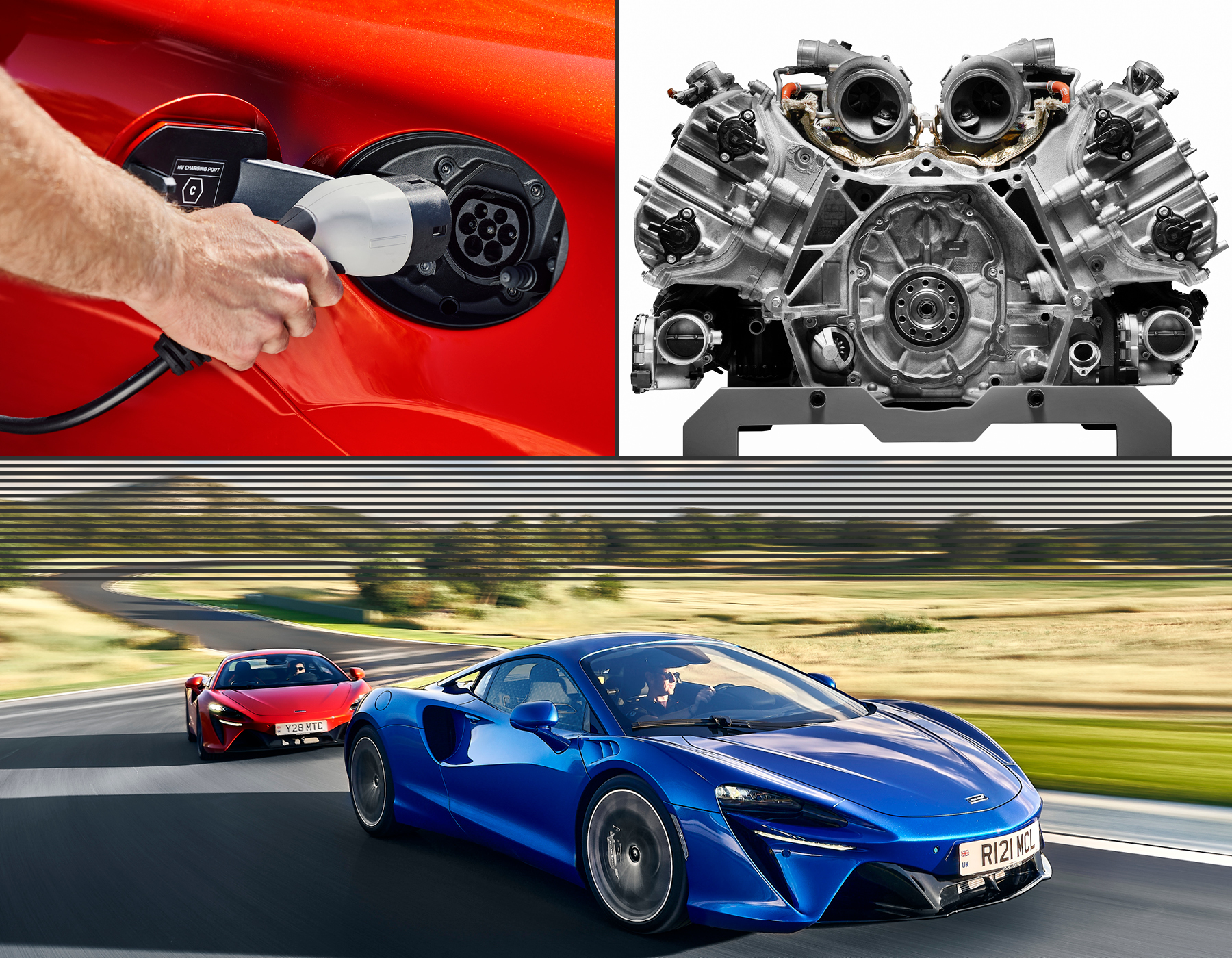 Although it's not the British marque's first foray into hybrid vehicles – the radical and low-volume McLaren P1 hypercar used an e-motor back in 2013 – the mid-engined Artura effectively replaces the brand's most popular model, the entry-level 570S, laying the groundwork for upcoming hybrid/fully electric supercars. Much is riding on the Artura's success, or failure.
Moreover, all the important bits are brand new, and are expected to form the basis of a new generation of McLarens: its V6 engine, the eight-speed dual-clutch gearbox, the hybrid componentry, the carbon-fibre monocoque chassis, the electrical architecture, the interior functionality. The cabin itself is a more luxurious upgrade on past McLarens, which have been the aesthetic grey men of the supercar world. The only part that doesn't feel totally refreshed is the exterior, but it's still a stunning piece of car design with lashings of wow factor.
Just as my legs are going numb from lack of use, Marbella's ritzy enclaves give way to the open highway … and there it is: the motoring version of cinema's 'jump moment'. Switching from electric mode to the combustion engine, the Artura comes alive vociferously; it growls, it leaps for cars on the horizon, metaphorically it makes you throw your popcorn out the window. It is, I'm happy to report, pure theatre – and worth a round of applause.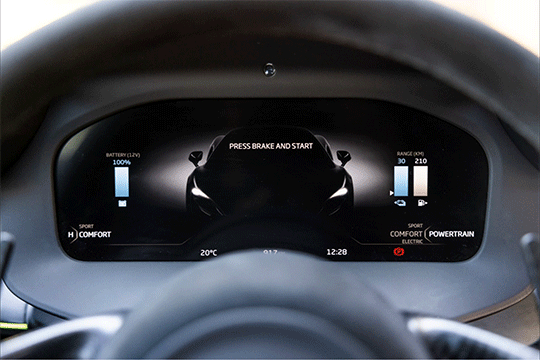 There's not too much drama involved in this particular production, mind. Its twin-turbo 3.0-litre V6 may produce 500 kilowatts and 720 newton-metres, and reach 0–100 kilometres per hour in a nice, flat three seconds, but the Artura is not as out-and-out scary as those numbers suggest, and certainly not as hair-raising as some other cars in this elite automotive bracket. 
It's a kind of grown-up supercar, occupying the ground between adolescence and middle-age. This isn't an unfortunate case of undercooking on McLaren's part, either. The brand readily admits the Artura, like the 570S before it, can be used on a daily basis, presumably provided it doesn't involve boring stuff like families and kids.
And yet, unlike some other primo cars, in which you can be travelling at 120 kilometres per hour and it still feels like a slow jog, 120 in the Artura definitely creates a sense of pace and excitement. Partly because it behaves like a proper supercar should – throttle response is immediate, the dynamics are engaging, the steering is precise – and partly thanks to a driver-focused cabin that puts all the important controls at your fingertips, meaning you can concentrate more on speed, less on button fiddling. The expansive forward view helps, too, psychologically bringing you closer to every enticing stretch of straight road, every sweeping bend.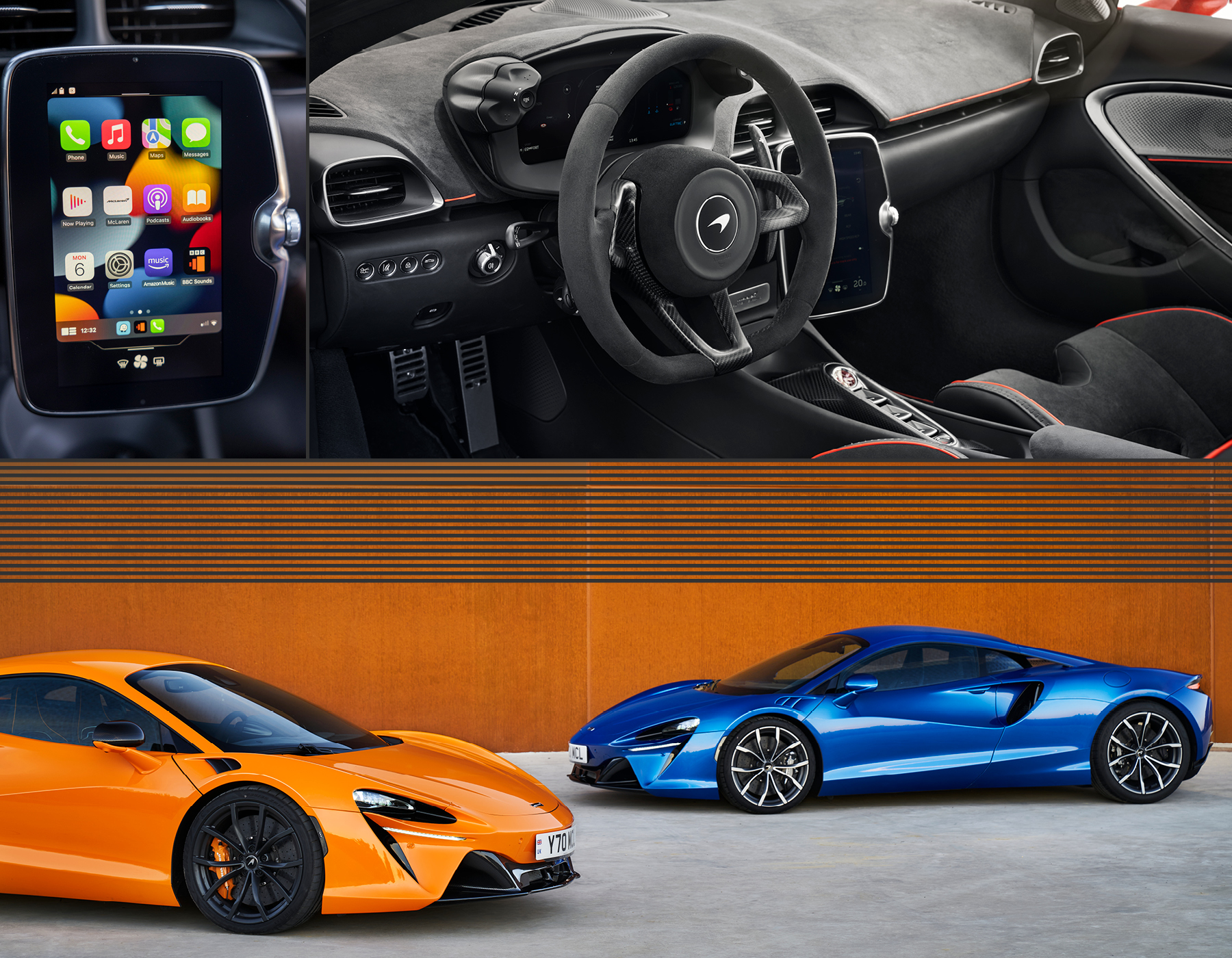 The different drive mode selectors – E-Mode, Comfort, Sport and Track – are mounted on the steering wheel (one for handling, one for performance) so in theory you never have to remove your hands from the leather. This is mightily handy in Sport and Track modes (although McLaren politely asked media testers not to touch the latter until we arrived at an actual track) where the car stiffens noticeably and urges you to keep piling on the speed. It's not so essential in Comfort, which transformed the Artura into a capable, more chilled tourer-type proposition, and absolutely pointless in electric-only E-Mode, which despite delivering instant torque of up to 225 newton metres, is destined, by comparison, to remain a dead-below-the-waist sensation.
Saying that, the Artura's electric stealthiness, available for a maximum range of 31 kilometres, may come in handy for folk who live in genteel suburban neighbourhoods, or those who just don't want supercar fireworks all the time – people in comas, perhaps.
Its quietness was certainly appreciated in the sleepy Spanish villages we passed through on our Sunday morning drive. Interestingly, the 7.4 kilowatt-hour battery doesn't farm its juice from regenerative braking as many hybrid cars do, instead charging directly from the combustion engine.
Beyond pure performance, McLaren has always explored the boundaries of new technology; it was, for example, a pioneer of the carbon-fibre monocoque chassis with its Formula One race cars.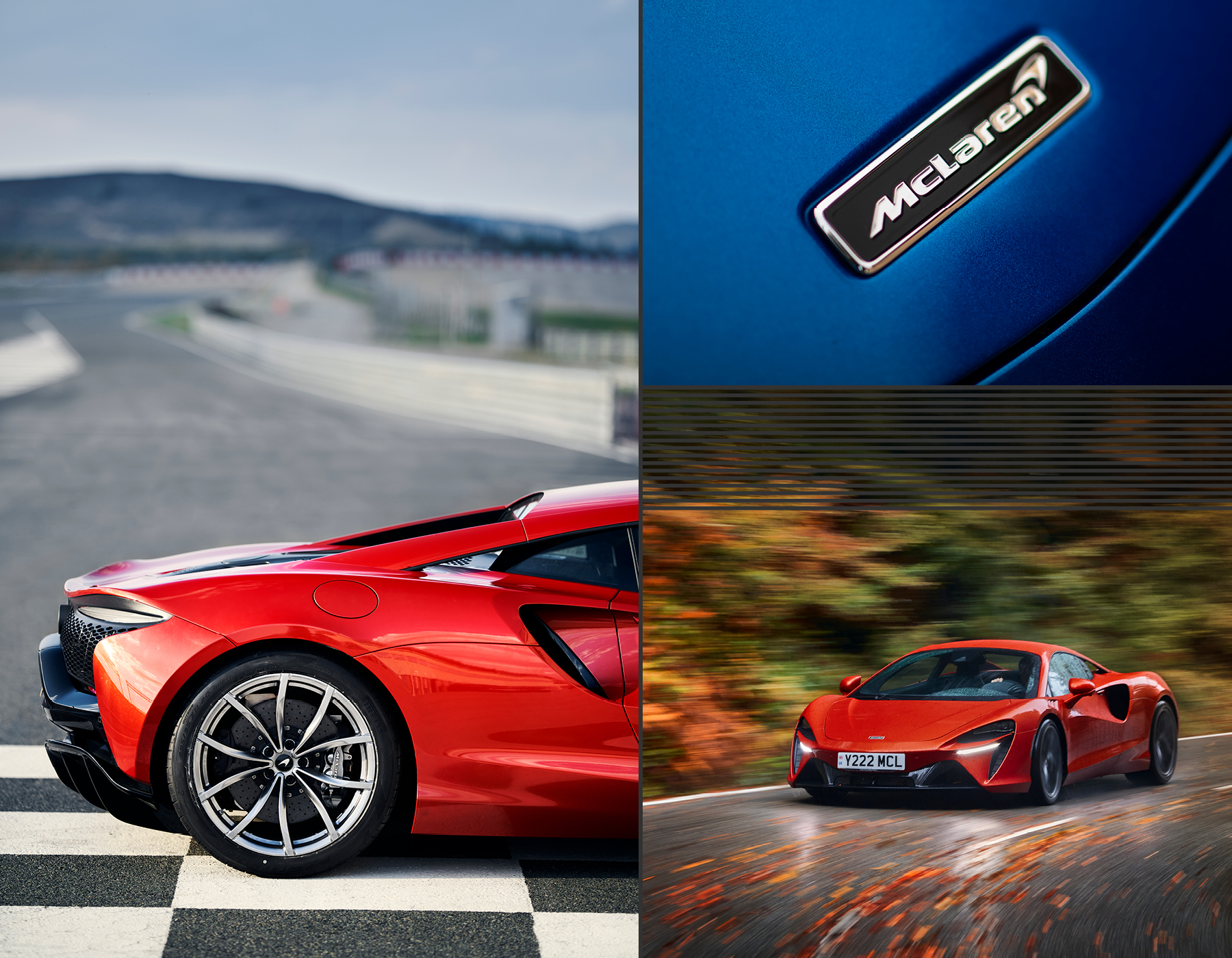 While some puritans say this obsession has produced a string of vaguely robotic road vehicles over the past decade or so, it's impossible not to doff your hat to some of this car's bonkers tech, notably the next-gen Cyber Tyres, developed in conjunction with Pirelli, which contain electronic sensors that send real-time data (tyre temperature and pressure) to the car's brain.
You can witness some of this sorcery via a display in the cockpit, as I did when trying the Artura around Malaga's Ascari track during a hot, windswept lunchtime session.
It's a fascinating sideshow, for sure, but not something you'd recommend doing too often in A, a car as blisteringly quick as the Artura, or B, on a tricky, technical 5.4-kilometre circuit that has, among other motorsport-inspired sections, a corner mimicking the insanely cambered bends of the Indy 500.
Out here at Ascari, among the engine and exhaust noise, the hubbub of pitlane, the sound of screeching computer-chip-filled rubber, is where the Artura is at its best – proving that when it comes to the business of supercars, silence isn't always golden.