As a Frenchman working in Asia for Swiss-based construction firm VSL International, travel has always been a way of life for Ronan Hasle. That is until the pandemic grounded entire airline fleets, sealed borders shut and saw the introduction of quarantine for travellers. It was a huge adjustment for Ronan, not only in a personal sense but also professionally as the entire company moved to a more remote style of working.
As a specialist in post-tensioned and cable-stayed structures, foundations and ground engineering, VSL contributes to the methods and construction of transport infrastructure, buildings as well as industrial and energy-producing structures, and it maintains, repairs and upgrades structural elements to guarantee performance, safety and durability.
Ronan, who first started working for VSL's parent company Bouygues Construction in France in 1993 and has worked for them in a variety of roles across Asia since 1996, was appointed as VSL's North East Asia Area Director in 2015 – a role based in Hong Kong with responsibility for VSL's activities in Hong Kong SAR, the Philippines, Thailand, Vietnam and Mainland China, as well as Japan on occasion.
He is also the Manager of the company's worldwide Ground Engineering Business Line,  which provides support for projects in the company's various regions. The broad reach of his position meant that Ronan frequently found himself jetting from country to country.
"I used to travel quite regularly between these different countries until it all stopped," he tells The CEO Magazine. "The most challenging part has been to move from being on a plane every week to go and meet our partners and clients, to not being able to move around. We had to shift away from face-to-face meetings to a totally remote type of management with our teams and external stakeholders."
During this transition, the one thing that became very clear for Ronan was the "importance of interaction". "When you travel and can see other people face-to-face, you don't realise how important communication is," he reflects. As part of its transformation during this uncertain period, VSL focused on increasing interaction in order to keep everybody engaged despite the remote working scenario.
"I would say that we've managed to create an environment that allows for remote interaction, and that is not so different from when we were working face-to-face," he says. "So I don't feel our people have been left behind, but that's something that we keep monitoring as time goes by."
We have been lucky enough not to have had too many cases within our industry because quite a lot of preventative measures were put in place right away, so we were not impacted too much.
VSL put in place all the necessary measures to keep its workers safe, minimising the impact of the pandemic from a health perspective. This response ranged from the provision of masks and antibacterial gel to the implementation of a remote working policy and the dispatch of computers. "We have been lucky enough not to have had too many cases within our industry because quite a lot of preventative measures were put in place right away, so we were not impacted too much," Ronan says.
The pandemic is only the latest in a wave of big changes over the last seven years, according to Ronan. "The centre of gravity of our activity has gradually shifted," he says. "We've seen very strong development in the Philippines, for example, compared to seven years ago."
Meanwhile, a slowdown has been witnessed in Vietnam, Thailand and Hong Kong due to a changing environment and growing competition. Despite these obstacles, VSL has demonstrated a "certain resilience" across the region, according to Ronan. "Everyone within our organisation has reacted quickly and adapted to the different circumstances – dealing with COVID-19 restrictions, the shifts in activity and so on," he says. "We've actually been very well supported by VSL."
Moving forward, there are two main areas of focus for VSL, Ronan reveals. The first is climate protection, with the company committing to reduce its carbon footprint by 40 per cent in terms of Scope 1 and 2 emissions as defined by the GHG Protocol, and by 30 per cent in terms of Scope 3 emissions.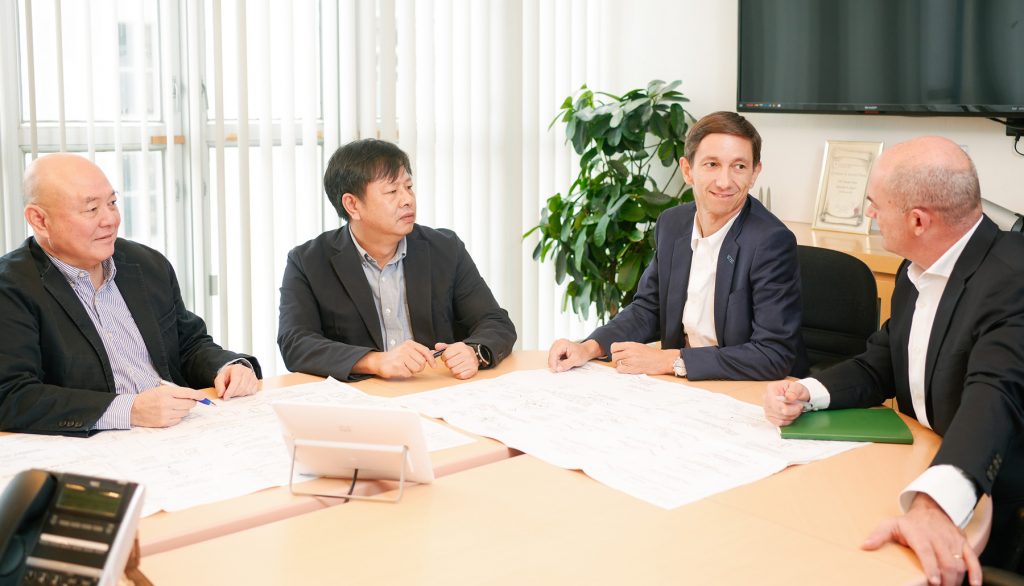 "I believe strongly that this will generate business opportunities for us," he predicts. "In terms of energy, the mix is becoming greener than in the past and these are opportunities that we want to tap into. We are actually already starting to work on some projects like this, such as the post-tensioning works we're carrying out on wind farm facilities in China or Vietnam."
The second area of focus is the adoption of a new strategic approach, called 'Be More', for a continuous improvement of performance. "Mainly inspired by lean management principles, Be More is about collectively identifying what takes time, money or energy without generating too much value, and to change our habits, in order to create value, and to keep on improving quality and client satisfaction," he explains. Key to this will be the digitalisation of many processes in order to save time and simplify things, helping to generate growth.
"We're putting in place what is necessary for us to move towards our common vision – it's not only the vision of one leader, it's the vision of all of us together."
"VSL and SAS Asia Bar Systems have been partners in the industry for more than a decade. As the company is at the forefront of the construction market locally, we are honoured to have supported VSL on numerous significant projects." – Penny Lau, Managing Director, SAS Asia Bar Systems