During their interview with The CEO Magazine, Rogelio and Maree Rodriguez bounce so many anecdotes off each other that it's hard to know which one to start with.
Is it that, growing up in inner Sydney, Rogelio would swap his school books for a delivery uniform every afternoon as he helped his father, Rogelio Senior, in the family Spanish carnicera (butcher shop), Rodriguez Bros?
"We didn't have a driver, so after school Dad and I would go on deliveries to restaurants in the city, stay for a chat and a pizza here, a steak there, and come home," he says. He'd catch up on homework the following morning on the train on the way to school.
Or perhaps that Queensland-raised Maree was actually one of Rogelio's customers before becoming his wife. "I come from a Sicilian-Croatian background and we used to sell Rodriguez Bros products when they first started," she explains. "When I finished uni, my dad sent me to Sydney to hustle the suppliers and get good prices and I ended up coming back with a boyfriend."
"If you can't beat them, join them," Rogelio pipes in.
Customer-Centric
Maybe it's the fact that, celebrating 50 years since opening its doors as Australia's first Spanish smallgoods producer, the Rodriguez Bros reach now extends across the country, thanks to a mix of classic distribution methods and a more "familiar" transport network.
"We've got customers that have their family members going to visit them, say in Perth for example," Rogelio says. "They will come up to our shop first, stock up, get a suitcase, put a towel down, throw on some ice packs, wrap everything up in the store and fly it on the plane with them."
There are also the "sea change retirees", as Maree refers to them, who have swapped Sydney for Wollongong or other coastal communities but who still, once a month, charter a whole bus to come and visit the store and stock up on the products that remind them of home.
And then there's the customers who have become like family, for whom a visit to Rodriguez Bros is a Saturday morning tradition that harks back to their early childhood. They also feel an almost proprietary attachment to the business. "If I rearrange the shop, they'll come in and ask why I'm trying to be fancy," Maree says with a smile.
Don't even mention the move to packaged products. "A lot of our customers are still upset that we're putting our chorizo in packets because they still want to be able to pick it straight out of the bucket, even after I tell them that we're simply complying with government food regulations," she adds, laughing.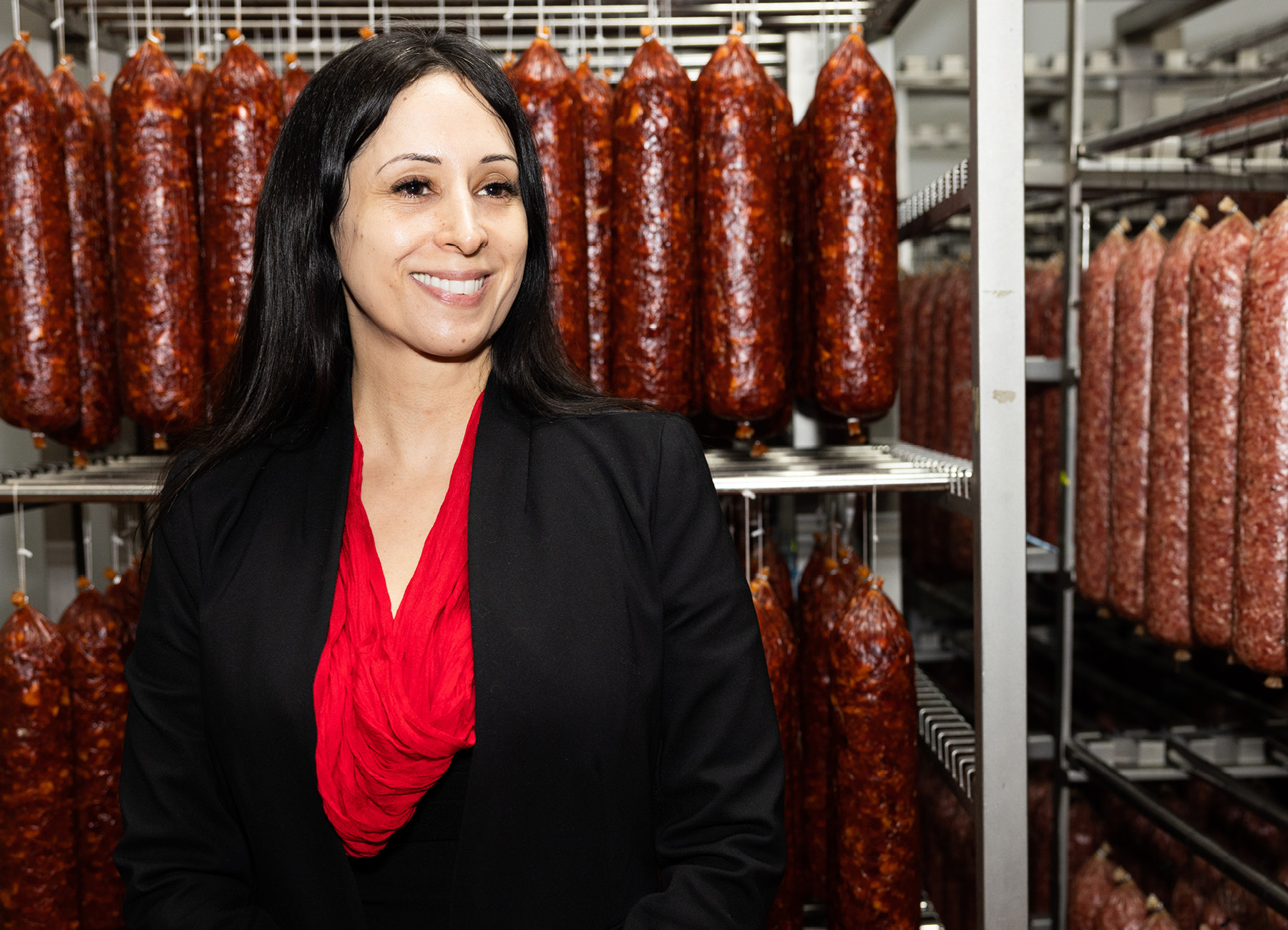 "Try telling a Spaniard what to do with their chorizo."
- Maree Rodriguez
And while she knows most businesses wouldn't have 80-year-old Spaniards waving walking sticks saying they want to buy their chorizo off a rack rather than from a piece of plastic, she also understands exactly why the change provoked such a reaction.
"Try telling a Spaniard what to do with their chorizo," she says.
It's this proud continental heritage combined with a typical Australian humility, humour and work ethic that has seen Rodriguez Bros become the name of reference not only for the Spanish (and now South and Central American) communities in Australia but also for food lovers of any background looking for high quality Spanish flavours.
As the business has expanded from small beginnings in Leichhardt in inner Sydney, via Yagoona, to the much larger premises it now occupies in Chester Hill in the city's west, it is the community grapevine that has driven the growth. "When he rented the space to open a butcher shop, Dad had a couple of local people as customers," Rogelio says. "More started coming in, buying his meats, and that kept growing and growing. It's amazing, the power of word of mouth."
And despite the fact that they've never hired a sales representative to court new custom, you'll find the Rodriguez Bros label in some of the biggest supermarket chains in the country, such as IGA and Harris Farm. "Some of our larger customers actually came to us after listening to the feedback of their clients," Maree notes. "That's how Costco came around, for example."
A Simple Recipe
Rogelio is the fourth generation of a family of artisan butchers hailing from the dry, arid plains of Llerena, in Spain's landlocked Extremadura region. "When my dad was growing up, his family had a deli where they made their own jamón, salamis and sausages," explains Rogelio. The art, as was passed down to him, involved using every part of the animal possible. "So he learnt to cure one part of the pig, use the head for a soup, make sausages out of the intestines, and something else from the liver and the heart," he continues.
Leaving Spain in the 1970s with his wife Elvira, Rogelio Senior came to Australia in search of a better life. He tried his hand at construction and carpentry, but kept coming back to what he knew and was good at. "Which is what he used to do at home," Rogelio adds.
He quickly gathered a loyal following of Spanish immigrants, hungry for the cuts – and the techniques – from the motherland. "He massages jamón by hand, he still rubs the salt in with his hands, still mixes spices by hand," Maree says, using the present tense because, even as he approaches his 80th birthday, Rogelio Senior is still heavily involved in the day-to-day operations.
After finishing school, Rogelio ramped up his involvement in the family business. "I did deliveries, met customers, found a few opportunities here and there," he adds.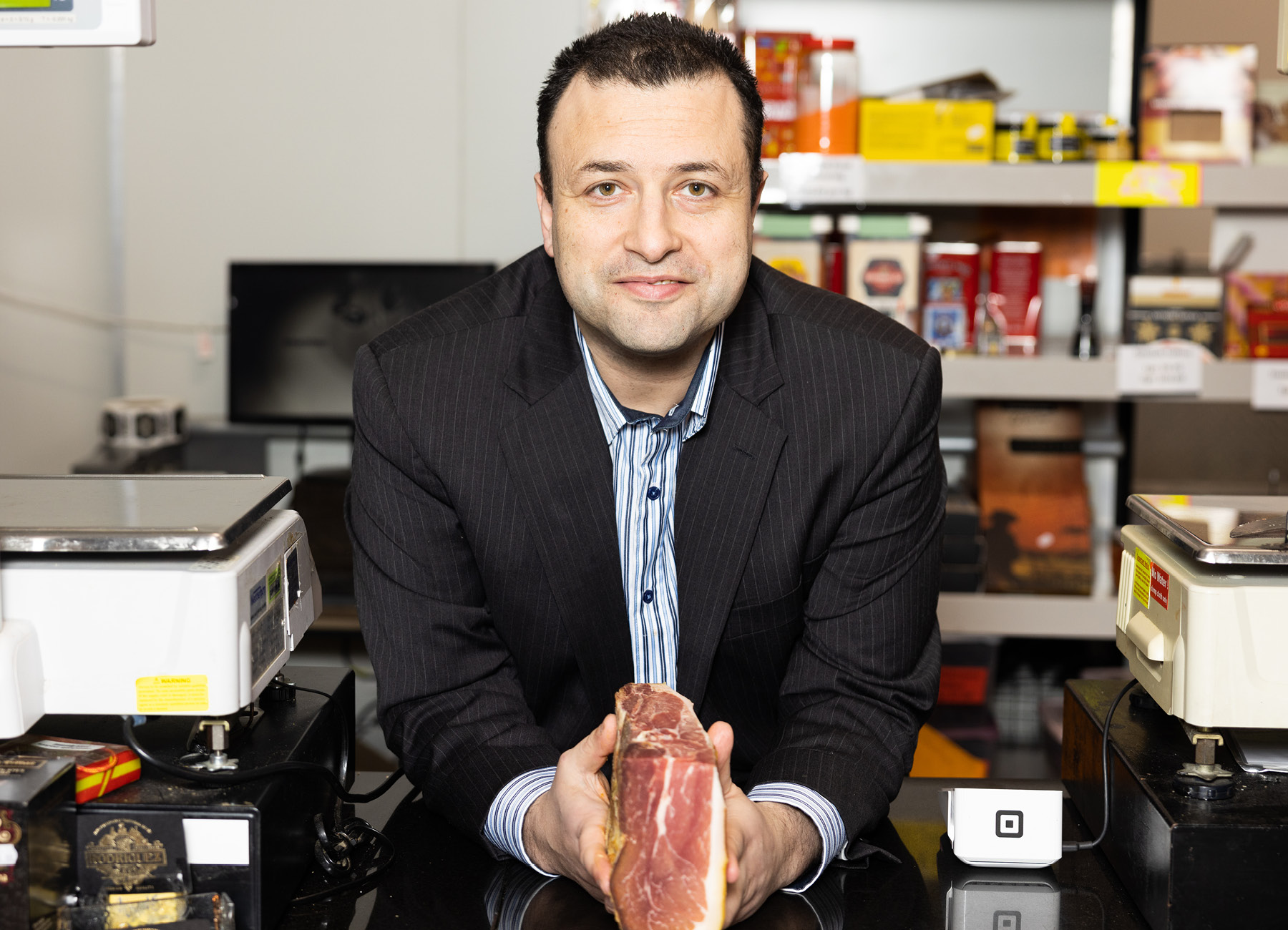 "When you make the right product, putting good ingredients in and a good quality selection of Aussie meats, you get good stuff back and a product that you can sell to the market."
- Rogelio Rodriguez
His efforts started to pay off and the business was able to employ its first delivery driver. And Rogelio was able to start to steer the business toward wholesale clients for the first time. "I was able to stay inside the butcher shop, making smallgoods, organising orders, just growing the business slowly, slowly."
The growth has been organic, based on a simple recipe that remains unchanged. "We just focus on what we've been doing for generations," Rogelio continues. "When you make the right product, putting good ingredients in and a good quality selection of Aussie meats, you get good stuff back and a product that you can sell to the market.
"That's it, that's all we've been doing," he explains.
He knows that they'll never be able to compete with the "big boys that mass-produce hundreds of thousands of kilos a week". But that's a space neither father, nor son or daughter-in-law, wants to be in. "We make a good product, we cost it up, and put a humble margin on," Rogelio continues. "We strongly believe in value, quality and service and that's what we've done until now."
Bigger and Better
But when you're making high-quality products, people are bound to notice – especially in a nation of travellers who return back from summers spent in Barcelona or Madrid, keen to recreate the flavours of their holidays in their own kitchens. "Australians are just awesome," Maree asserts. "They will try a new product and be really enthusiastic about it."
Moving from Yagoona to larger premises in Chester Hill has been a turning point that really has allowed the business to match demand – and even get ahead of it. "If we'd stayed, we wouldn't have been able to take on all the business we've got now. We would have had to start to say no, and lost a lot of business," Rogelio says.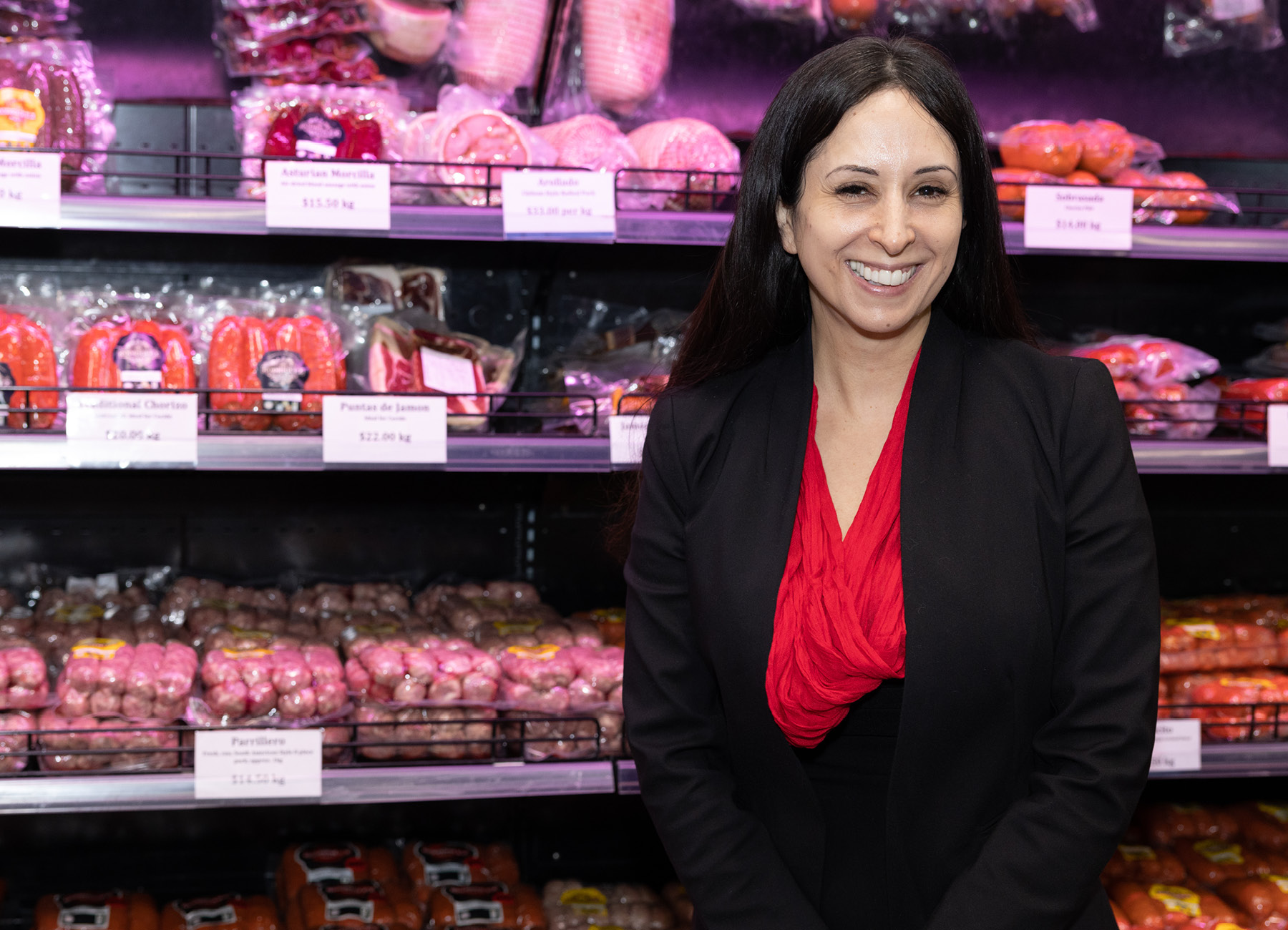 "Food is such a big part of the culture of our family life, that we wouldn't feed an inferior product to our children. So we wouldn't do it to our customers either."
- Maree Rodriguez
The bigger premises has allowed them to better meet the needs of their expanding wholesale client base, including national restaurant chains such as Soul Origin and Mad Mex. "When buyers used to approach us, I would have to tell them that we were too small and that I was worried we'd let them down," Rogelio continues. "Moving to the new factory, all of a sudden – boom – we had the ability to put more systems in place to meet their food safety requirements, to meet their volume requirements, to install bigger machines."
And suddenly backbreaking work that was once done by hand became a whole lot easier as well.  "Imagine making two tonnes of sausages and loading it by hand in 20-kilogram buckets from the mincer to the sausage filler," Rogelio says. "Now, we have a 150-kilogram metal trolley bin and the machine lifts it up by itself. All of a sudden our workers are fresh all the way through and it's more exciting for everyone to work in a happy workplace like that.
"From here to there, what a difference," he reflects. "When we go back to our old retail shop, we get a bit of claustrophobia now."
But the decision to modernise tradition isn't an easy one and, at Rodriguez Bros, it's only undertaken when there's no sacrifice to quality. "If you've got the bucks and you want to streamline things, a lot of companies will use automated machinery to massage their meat, salt it, and that sort of thing," Rogelio explains. But that comes at a cost. "It's just not the same and you have to draw a line in the sand and say: 'Right, how far are we willing to go?'"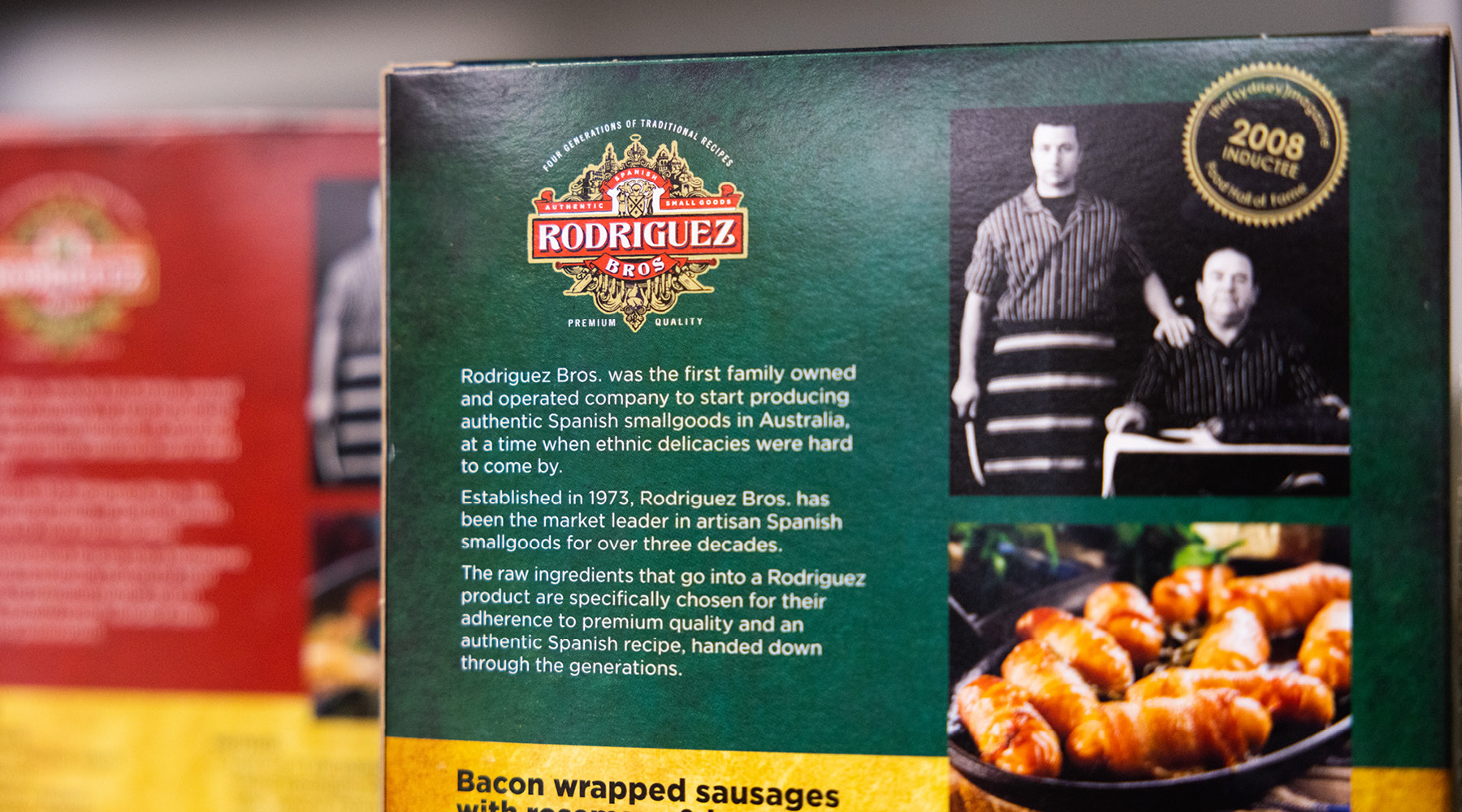 Extended Community
Walk into Rodriguez Bros today (or browse its selection online) and you'll notice that beyond Spanish products, the company also stocks pantry favourites from Central and South America, including Argentina, Uruguay, Chile, Mexico, Columbia, Brazil and Peru. And while Rogelio Senior has been carving meat up the Argentine way for decades, it's Maree who has expanded the product range.
"I wanted to make sure we were strong on not just doing meat, but giving everyone the whole culinary experience," she says. "They can come to us and pick up all the bits and pieces that they need to make their dishes from home, even though we are so far away in Australia."
"It's one thing going from hand-tied sausages to automatic-linked sausages; it's going to affect the presentation but the product is still going to taste the same when they cook it and that's a sacrifice we can live with because there are only so many hours in the day and so many people you can fit in the factory," Rogelio says.
Yet salting jamón in a big vacuum tumbler is vastly different to working it by hand in the old-school, traditional way. "Running it through a conveyor belt, where a big metal rod rolls with the same pressure continuously, is just not the same as massaging by hand when you squeeze the meat to get all the blood out. Every leg is different, you can feel it, and that's going to affect the quality. If you leave a little bit of blood in the vein, you're going to find out 12 months later when you've finished and sold the product," he reveals.
"And I think our customers would give us an earful," Maree adds. "Food is such a big part of the culture of our family life, that we wouldn't feed an inferior product to our children. So we wouldn't do it to our customers either. They would come back and tell us if they weren't happy and it's not going to be a gentle complaint, you're really going to get it."
Cool in a Crisis
During the COVID-19 lockdowns, when many of their loyal, longstanding customers weren't able to travel to the store, the sense of community so ingrained in the Rodriguez Bros DNA came to the fore. "We've known a lot of our clients since we were really young," says Maree who, during the pandemic, assumed full responsibility for the retail and retail distribution side of the business.
"The elderly clients, especially, it was a nightmare for them so if they needed extra groceries, we would throw that in as well. And if I couldn't find a delivery driver, I'd do it myself in the car, with my daughter in the backseat, just like our parents did when we were small," she explains.
"We just found a way, we were really flexible with whatever we were doing, we called in favours if we could and just tried to help out really quickly," she adds.
For Maree, her roots in the Italian food industry were evident during the crisis. "It's very different to the Spanish food industry here. I was more used to having to fight and change and adapt because it's so much more competitive for Italian food in Australia than Spanish," she notes.
So, when the first effects of the pandemic were felt, she kept a cool, calm head. "I knew certain parts of our business would go really flat and, to compensate, we had to bump up other parts to stay ahead of the curve," she continues. Anything retail related, for instance, was "incredibly flat out", while a lot of their key clients – restaurants in particular – had ground to a halt. "We just wanted to know how to support them, how to be as flexible as possible."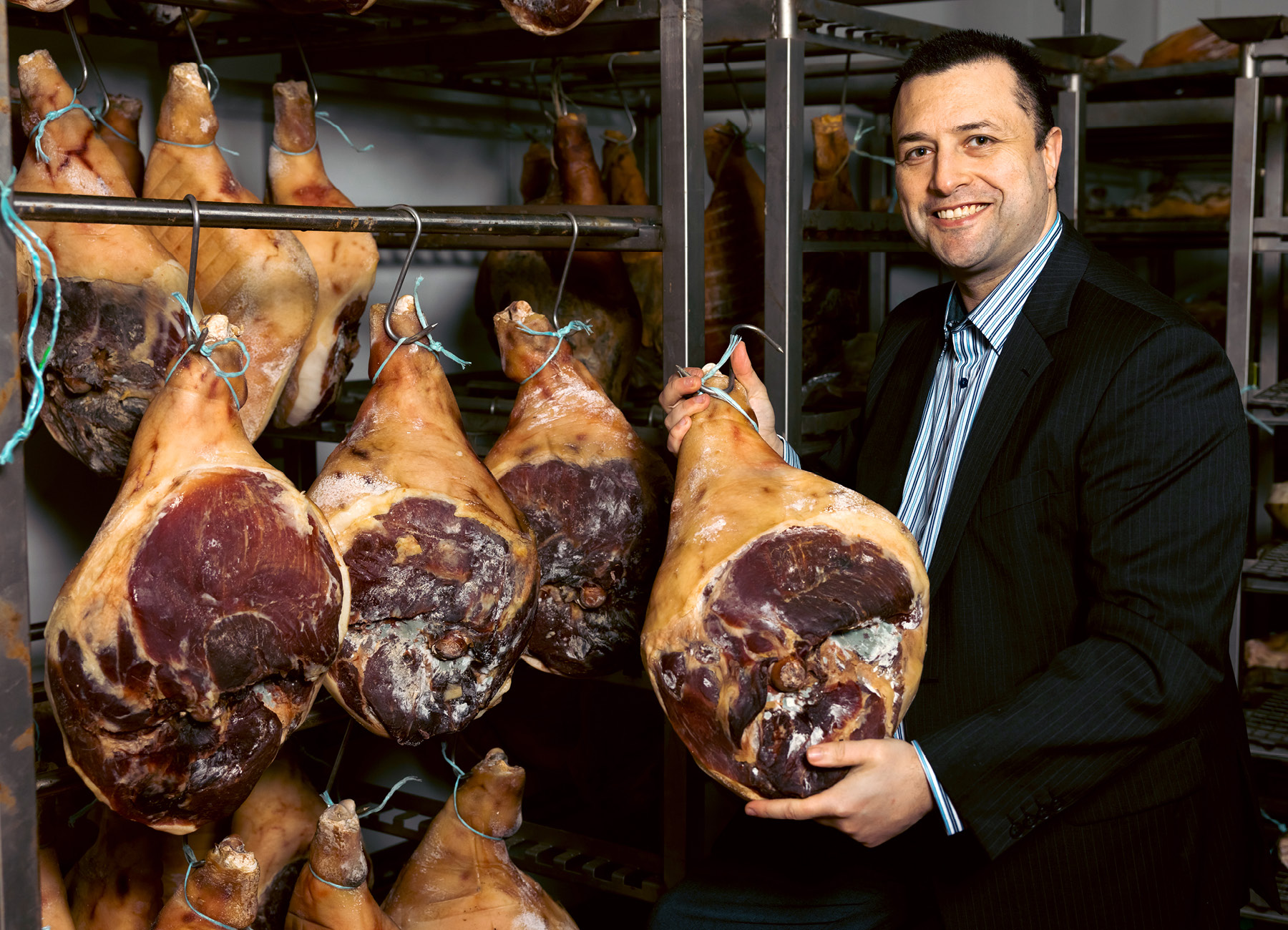 "That's part of the service. We are always making changes and custom products for our customers."
- Rogelio Rodriguez
"There was a lot of absorbing on both sides and that's mainly because of good supplier relationships," Rogelio adds. "One of my suppliers rang me up out of nowhere and just said, 'Look mate, I know you're good for it. Pay me when you can pay me, just keep ordering stock. I know you guys are doing it tough there in Sydney'."
To pay it forward, Rodriguez Bros extended credit terms for many of its big customers.
"On the retail side, I was dragged kicking and screaming into online retail and we finally did it," Maree says.
With many wholesale clients unable to place their usual bulk orders, the duo also made the decision to invest A$90,000 in a barcode and labelling machine to allow them to start producing retail packs that these customers could sell instead. "For us, that price is a big deal, a big step, and just moving into barcoding is a nightmare," Rogelio explains.
But during a time when the only way to keep afloat was to "adapt on the fly and listen to what our customers' needs were", as Rogelio says, it was a move that had to be made. "That's part of the service. We are always making changes and custom products for our customers and because we can do that it helped us pull through," he reveals.
And survive they did, without having to let go of anyone on their team. "I spoke to everyone at the start and told them if they had young children or elderly parents or were scared to come in, that it was OK, that we would work around it and figure it out," Maree says. "We did experience, and continue to experience, staff shortages from the fallout of the COVID-19 pandemic but this is due to the growth in the business. We've retained all of our original staff and need more, but with industry-wide shortages, we just can't source enough staff."
Future Forward
Now, as they look to the future, these lessons from the COVID-19 pandemic are providing a platform for growth. "The way we've adapted to our customers, whether big or small, and our employees, has made us stronger and has helped a lot in terms of extra sales and avenues that we've opened up now that we are online and offering our clients a bigger retail range," Rogelio asserts. He expects, therefore, to see the Rodriguez Bros label more in supermarkets and local delicatessens.
And, as consumers increasingly look towards value in their weekly shop, he knows the business has an advantage. "Quality, service, value, price, that's something we've always done and that's going to work to our advantage," he adds. "I think we're going to do well."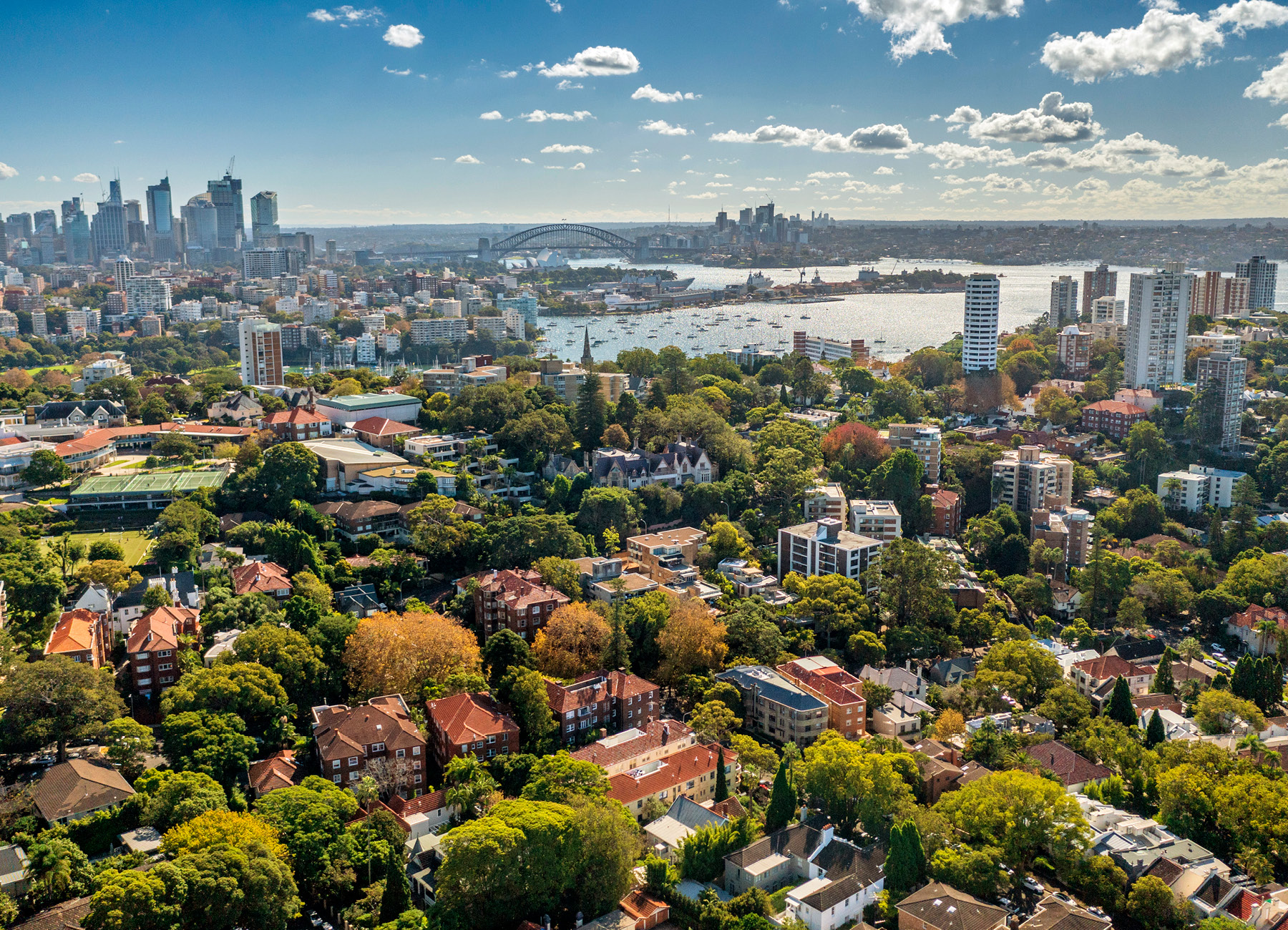 "I want the local communities to be able to go somewhere close to them and get the product and get it fresh, the same as you can in Sydney."
- Maree Rodriguez
Maree foresees an increase in demand for its products in regional areas. "I'm working on a distribution network to our end retail clients," she says. "I want to fill in a lot of those gaps, I want the local communities to be able to go somewhere close to them and get the product and get it fresh, the same as you can in Sydney."
The pair say people are often surprised to learn the extent of their roles in the business. "I think people assume we have a whole corporate team behind us," Maree notes. "But no, it's just the family; the two of us and Rogelio's dad basically do all the corporate work normally reserved for a team of people."
Yet, as the business grows and their customer base expands beyond the longstanding clients to include bigger corporations, both are aware that they need to make a shift – in mindset at least.
Recipe for Media Success
Whether they've courted it or not, the very nature of what Rodriguez Bros does – top-quality food made with passion – is bound to attract attention. None more visible than an appearance a decade ago on one of the country's most popular TV shows, Masterchef.
"One of the contestants was Spanish and she was a regular customer of ours," Maree explains. "For an episode, she wanted to make a traditional dish, and the producers wanted to film her sourcing the ingredients for an authentic Spanish meal."
The prime-time TV coverage came on the back of the company's induction into The Sydney Morning Herald's Food Hall of Fame in 2009. "It caught us by surprise, we didn't see it coming," Rogelio says. "Dad was very shy and joked how it wasn't bad for an old man."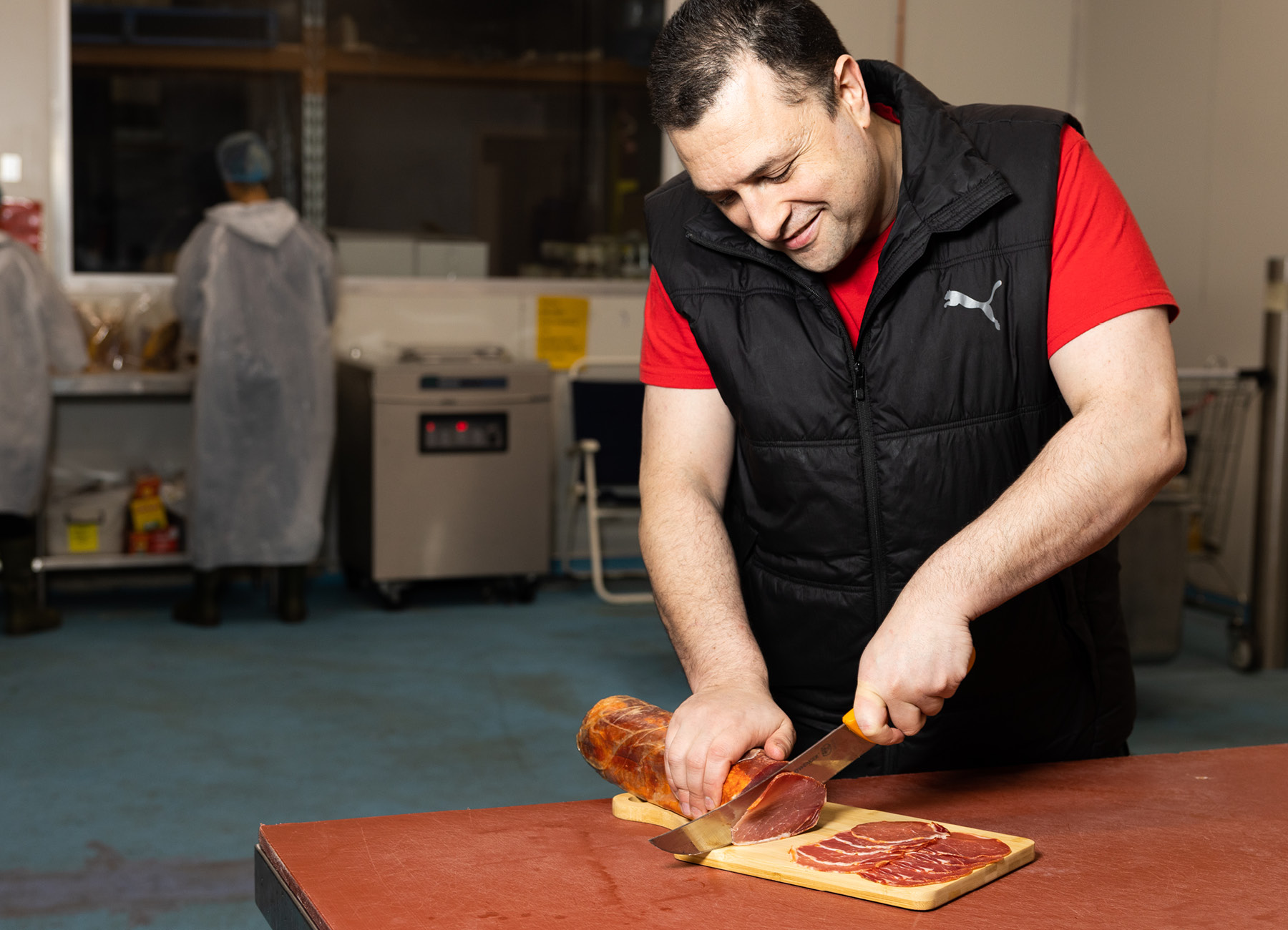 "Everyone has the same hours in the day, and it's just what you do with them. Some people spend money on marketing, blasting the phone, looking at equipment, going to food shows, and this and that. We just focus on keeping it simple."
- Rogelio Rodriguez
"To him, it's just what he does every day," Maree says of her father-in-law, who adds that the weekend before speaking with The CEO Magazine, she was manning the stand at the Good Food and Wine Show, where the sheer reach of their product really sunk in. "
The number of people coming to us to say how much they enjoy our products and where they eat them, or the chefs telling me all the innovative ways they are using our products was incredible," she adds. "I wish my father-in-law could have been there to hear all the compliments."
It's clear the family is still humbled by the recognition of all they have achieved. "Dad started this by coming over to Australia and having a little butcher shop and now look," Rogelio notes. "It leaves you speechless because Dad still tells me how, when he first came to Australia, he came with one of his childhood friends who had to lend him the money to pay for a stamp so he could send a letter to his mum.
"We came from pretty much nothing," he continues. "But everyone has the same hours in the day, and it's just what you do with them. Some people spend money on marketing, blasting the phone, looking at equipment, going to food shows, and this and that. We just focus on keeping it simple."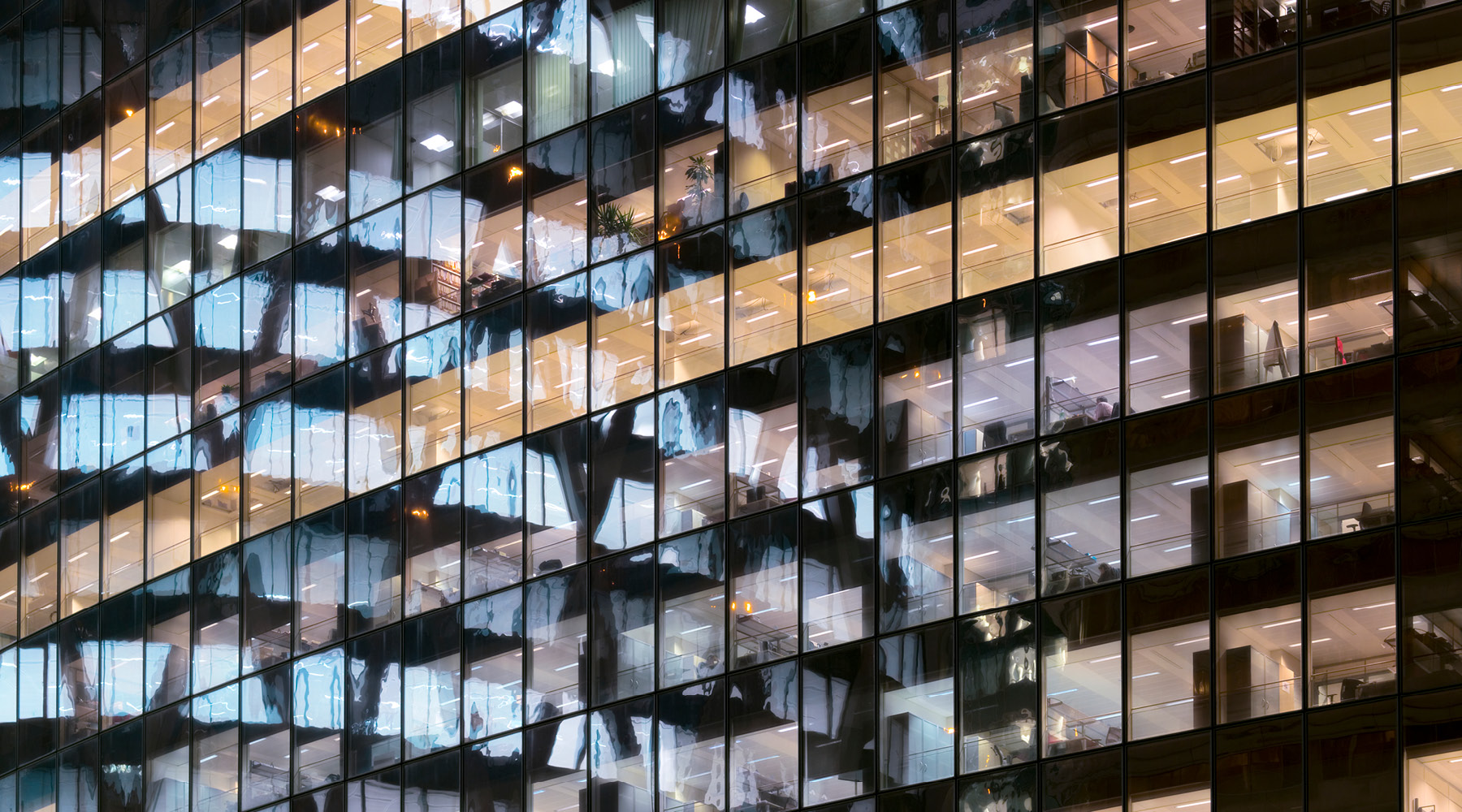 Home Truths
For Maree, a decade spent away from the family business cemented how passionate she was about it. "I worked in the corporate world, in academia, I tried everything I wanted to do," she explains.
"When I came back into retail, it was like a realisation that this is where I'm supposed to be. This is what feels like home. I missed speaking five different languages a day with our customers, I missed that feeling I get when I source a really hard-to-find product and manage to bring it into Australia. Just the look on their faces, when people get their hands on something that they haven't eaten since their childhood."