In the more than 40 years since brothers Philip, Lawrence and Bill Tsang founded Dakota International, the brothers successfully manoeuvred the company through major economic changes, expanding across the region in response to evolving conditions. Today, the company is a garment manufacturing empire supplying the likes of H&M, ECI, Garan, Kappel, Next and Lidl.
But now, Dakota is ready to take on new milestones led by a second-generation team made up of Philip's sons Pascal and Bryan in the roles of Sales Director and Country Manager Myanmar respectively, and Lawrence's nephew Jacky as Board Director and Herman Leung as Head of Operations, with Philip still at its helm as Chairman. 
In the 1980s, when the labour market in Hong Kong became less favourable and it was difficult to find skilled operators for their factory, Dakota set up a new facility in China where economic liberalisation was getting underway.
"The Hong Kong industry was ripe with opportunity but hiring capable people was not easy, so it was already becoming something of a high-risk market," Philip says.
"The brotherhood we share is very important to us."
Later, as wages began to rise in China, the brothers looked ahead once again and decided that opening more facilities in Cambodia would enable Dakota to continue benefiting from the low labour costs that have kept manufacturing in the region so competitive. When economic reforms began in Myanmar, the company opened a factory there as well.
"We were motivated by all the economic changes we were seeing, and we knew we had to do this to survive," Philip says. "We also wanted to expand our company."
Shared brotherhood
The company now has six facilities across China, Cambodia and Myanmar, with a total manufacturing area of 150,000 square feet. It employs some 10,000 people and produces around 38 million pieces of garments each year, with plans to increase this by 20 per cent in the coming years. 
This level of achievement could not have been reached without the close bond of the leadership team, according to Philip. "The brotherhood we share is very important to us," he says. "It is the core of Dakota, and this is the reason why we built it up.
"We treasure each other's hard work. We've stuck together up to now and solved every single problem we've faced. We haven't fallen out." 
Just as they value the bond they share, they also recognise they are deeply indebted to the work of their team. "The people are an essential part of Dakota," Philip says. "They're also part of our family." 
While Dakota has greatly strengthened its position by expanding geographically, its new leadership team has also pursued vertical integration, enabling the company to shorten its lead times by producing fabric at its own mill.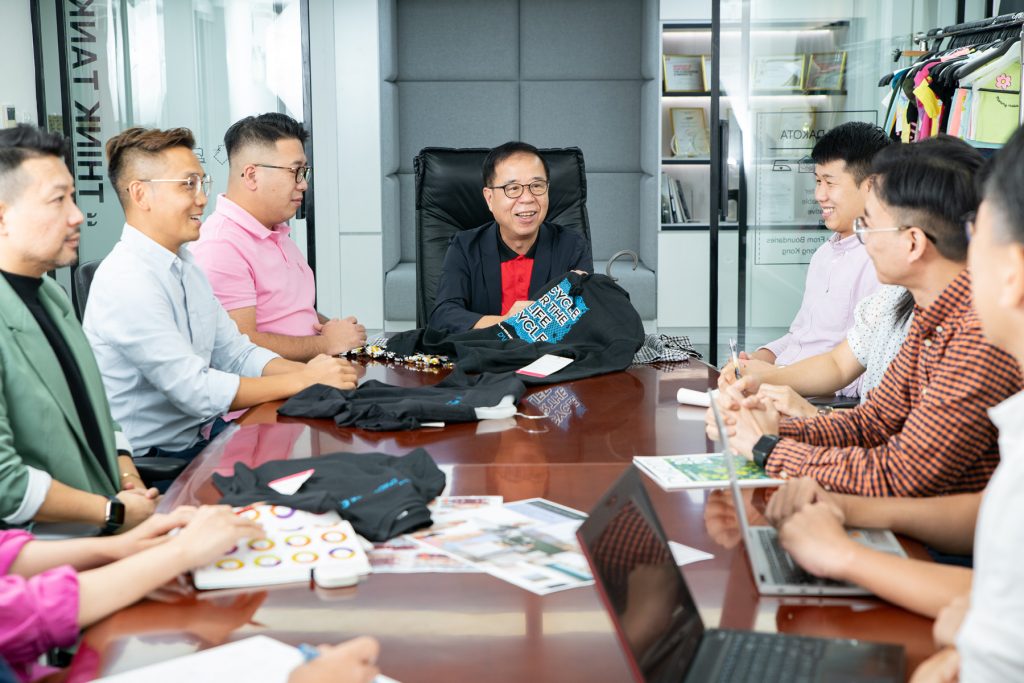 "In the modern apparel manufacturing industry, having your own fabric mill means you can provide a better level of customer service."
"A vertical set-up is becoming very important in manufacturing," Philip stresses. "The fashion industry has sped up, and in the modern apparel manufacturing industry, having your own fabric mill means you can provide a better level of customer service because your factories have very short lead times to produce a garment."
Thanks to the fabric mill, Dakota's typical lead time is between two and three weeks, compared to around six or seven weeks before the company had a vertical set-up. 
"We've tried everything we can as a garment manufacturer to ensure we reach our goals in our business," Philip adds. "The best way we can have control over the time of delivery for the fabric we need is to make the fabric ourselves." 
Anticipating changes
Fabric production is not the only thing the brothers prefer to keep in-house. Dakota also has its own design studio, where the company's fashion team partners with various independent designers to create new styles. The team uses 3D design software and special fitting software to make this process more efficient. 
"This has really enhanced our product development capabilities," Philip says. "It allows us to deliver designs and solutions in a very timely manner. Our design team can even do high-end fashion, and thanks to them we are able to provide a one-stop solution from design to production to packaging and everything on the manufacturing side."   
In such a fast-changing and demanding market, it is becoming more and more important for Dakota to constantly improve efficiencies while expanding its capacity and maintaining quality. To help with this, the company has adopted automation technology and strives to keep a strong focus on Industry 4.0 – the term used to describe the broad shift towards the use of data, interconnectivity and smart automation in manufacturing. 
"We know that we have to enhance our efficiencies, our quality and our capabilities while producing a greater range of different products and designs at the same time," Philip says. "Of course, we have to expand our capacity, so we are turning to automation and a range of other technologies to help us to cope with these challenges, and to help us to survive in the modern fashion industry." 
In the coming years, one key focus will be on using artificial intelligence to enable employees to keep tabs on manufacturing processes with a mobile app that brings together data from various different systems. "We're also looking at different kinds of machines, different kinds of computing technology that can enhance the whole supply chain," Philip says.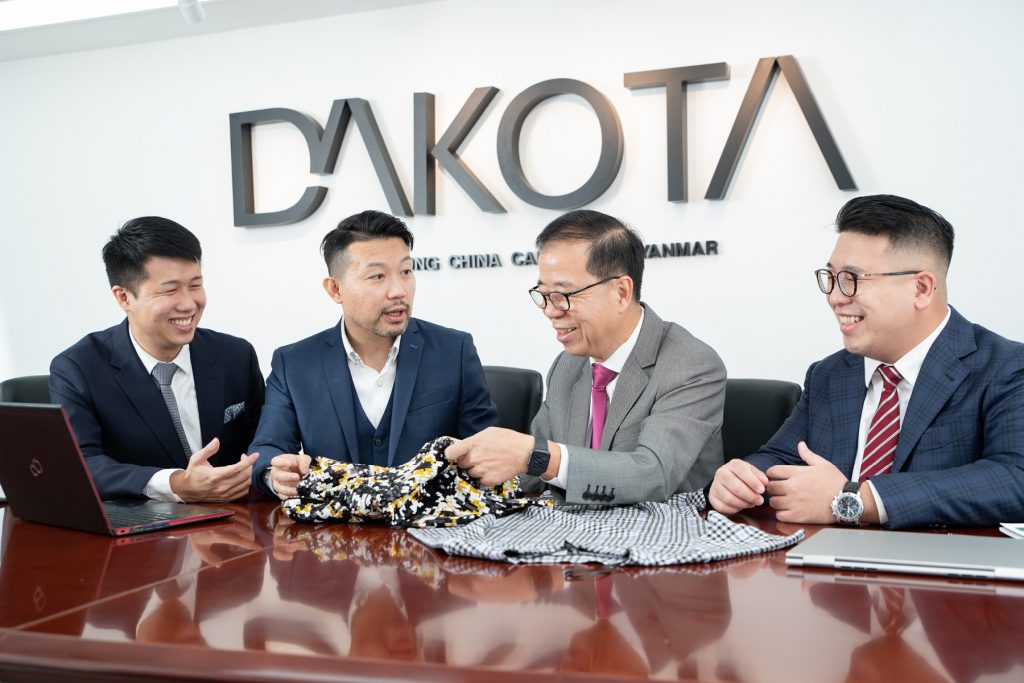 "We know that we have to enhance our efficiencies, our quality and our capabilities while producing a greater range of different products and designs at the same time."
Another key focus for the coming years is sustainability. "The world is changing," Philip says. "We cannot just provide the best quality with a short lead time. We have to focus on the sustainability aspect, both environmentally and socially."
This mindset is about far more than just keeping up with new trends. Anticipating changes in the industry and being proactive about responding to them is a vital part of the company's culture, and perhaps the key reason Dakota has been so successful. 
"Everyone here is always thinking about achieving more in the business. It is about foreseeing problems and searching for the opportunities. If we see an opportunity, we grab it, and if we find potential problems, we solve them before they have even happened," Philip says. 
Moving into Cambodia in the year 2000 was a prime example of this, he adds. "We were one of the pioneers in garment manufacturing in Cambodia," he says. "It's the same with setting up the fabric mill in Cambodia; we foresaw a problem, and we prevented it from happening."   
Team Spirit
Perhaps because Dakota is a family business at its heart, the brothers' leadership style is centred around encouraging each team member to take care of the others, to stick together and to foster a sense of camaraderie. After the COVID-19 pandemic struck, Dakota arranged vaccinations for all its workers, who have now all received three doses.
The company also provided hygiene equipment, like thermometers, sanitisers, masks, and worked with the government to secure wage subsidies for workers during the lockdown period in May 2021.
"You have to have your heart in the company," Philip says. "You have to understand every element of the business, the market, the industry, in order to build the kind of empire we have. It is about multitasking and learning every step of the way." 
Philip agrees, and views that level of involvement with the details of the business as vital to gaining an accurate understanding of its broader needs. "Getting a clear picture about what you're doing is very important – you have to know what you're doing," he says. "You have to know where you fit in." 
Once that has been taken care of, he says, you need a little bit of luck, and you need to be ready to react when it comes your way. "When a chance comes, you have to catch it and tell yourself it can be done. Confidence is very important."