Anfield, home of the legendary Liverpool Football Club, has seen some spectacular action over the decades as the English club won multiple league titles and European silverware in front of its adoring fans.
But few were quite as spectacular as the scene earlier this year when giant, Transformer-like cranes covered much of the green turf; their booms soaring up over the stadium roof as their highly skilled operators gently lifted away a vast section of the Anfield Road Stand as part of construction work that will add 7,000 to the ground's capacity.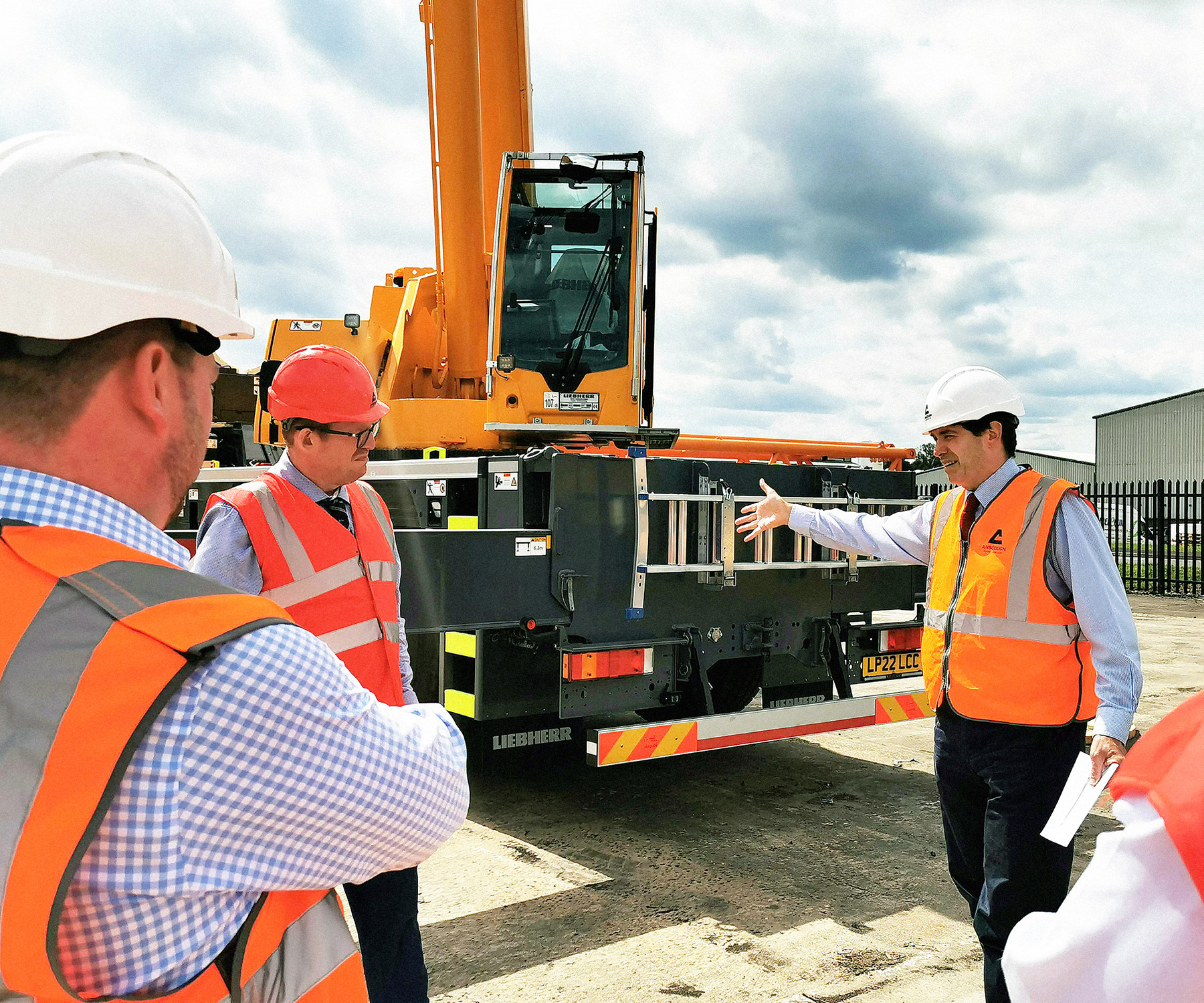 "It's an amazing sector to be a part of – we literally build bridges!"
"It was extraordinary to watch," says Peter Gibbs, CEO of Ainscough Crane Hire, the company charged with executing the major project. "They literally had millimeters to spare on either side, so had to be meticulously accurate in their planning and movements. When I see something like that, it's just so impressive."
He's seen his teams undertake hundreds of such jobs, some even more demanding, but says he still gets that same sense of awe.
"They routinely deliver solutions to seemingly impossible situations because they're the best in the business," he reflects. "We have so many great people and they make me enjoy getting up and working every day. It's an amazing sector to be a part of – we literally build bridges!"
Rapid Growth
Founded in Wigan in 1976 with just six small cranes and a van, Ainscough grew rapidly in the 1990s through a series of acquisitions, before a management buyout backed by venture capital in 2007 helped it on its way to becoming the United Kingdom's market leader.
Now fully owned by private equity firm Blackstone, it has a fleet of 400 cranes – some weighing 800 metric tons when assembled – and provides lifting equipment from its 30 depots across the country.
The business is one of only 120 logistics operator license businesses to have Driver and Vehicle Standards Agency-earned recognition and has received industry acknowledgement for training excellence. It is also considered one of the top 1,000 places to work worldwide and is a recognized leader for driving safety standards across the industry.
Gibbs, a former military pilot in the British Army, joined as COO in 2018 and was appointed CEO two years later.
---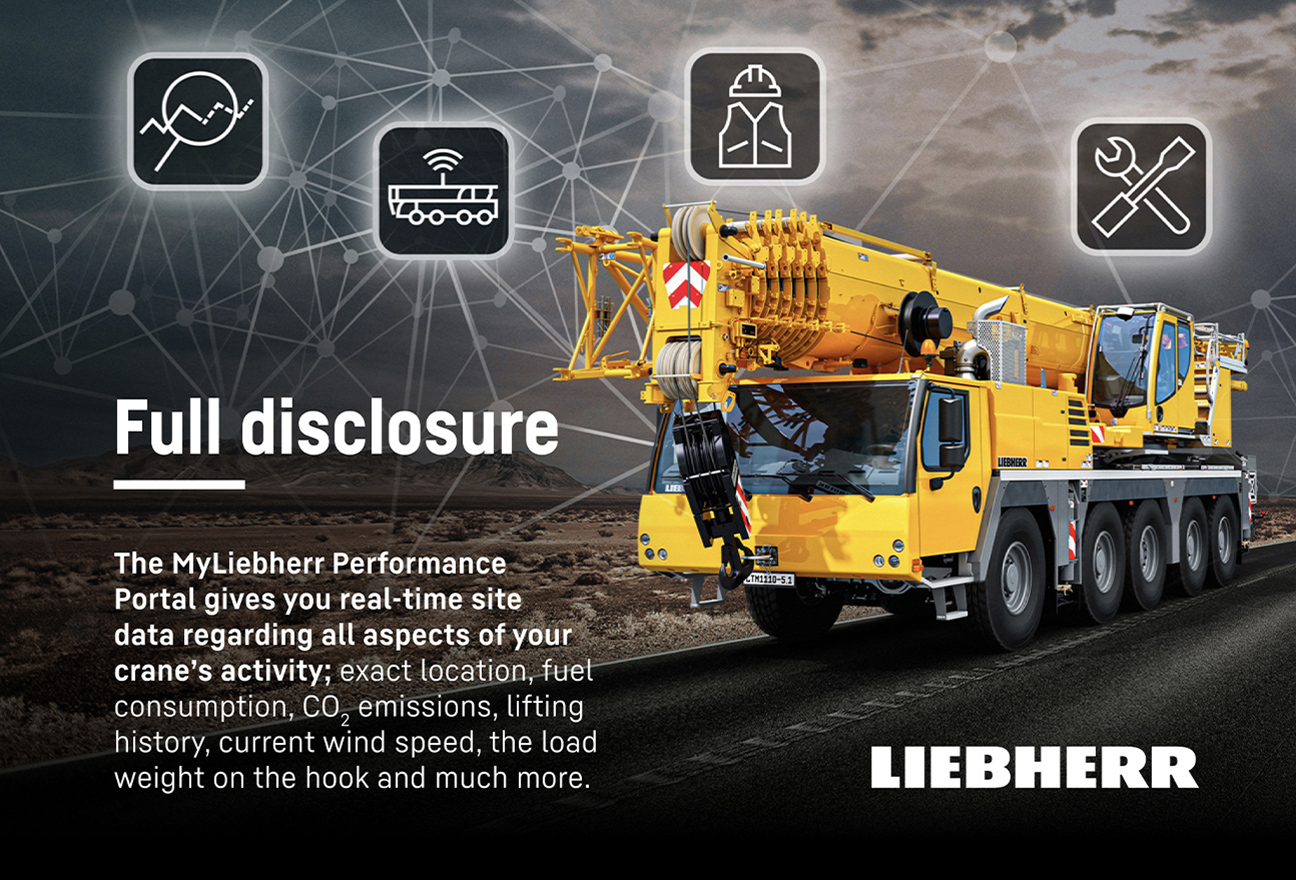 "Liebherr's working relationship with Ainscough is a true partnership, founded on trust and mutual understanding. The ability to share technical and operational data allows us to make technological improvements that benefit both Ainscough and the wider lifting industry." – Richard Everist, Manager Director, Liebherr Great Britain
---
Advertisement
"For me, coming into this business has taken me back to my early flying career," he says. "That was an environment where the asset was obviously highly valued and had to be delivered effectively by the aircrew. I got the same feeling when I saw a crane and crew in operation."
He could also see, however, that there was work to do, both on Ainscough itself and the wider industry.
"When I joined, the business felt a bit like an uncut garment. Everybody we worked with knew our intrinsic value, but the sector was largely unregulated, so cranes were seen as commodities rather than as a critical, high-value service.
"We're taking Ainscough back to the space it should occupy, with the focus on safety, competency and value, which I believe is critical to the sector's long-term sustainability, especially given the impact of inflation and the need to differentiate our services from equipment hire."
Industry Disruption
But achieving that is easier said than done, given that he's also had to navigate through the impacts of the COVID-19 pandemic, Brexit, the Russia–Ukraine war, supply chain disruptions and a growing risk of stagflation.
"They all brought disruption and uncertainty to every aspect of the business, so it's worth looking at how the phoenix rose from the fire," Gibbs says.
"Brexit and the COVID-19 pandemic caused labor shortages, with whole skill sets disappearing from the United Kingdom at a time when infrastructure was growing. There's a huge competency gap and double-digit rises in labor costs, so many large projects are being impacted."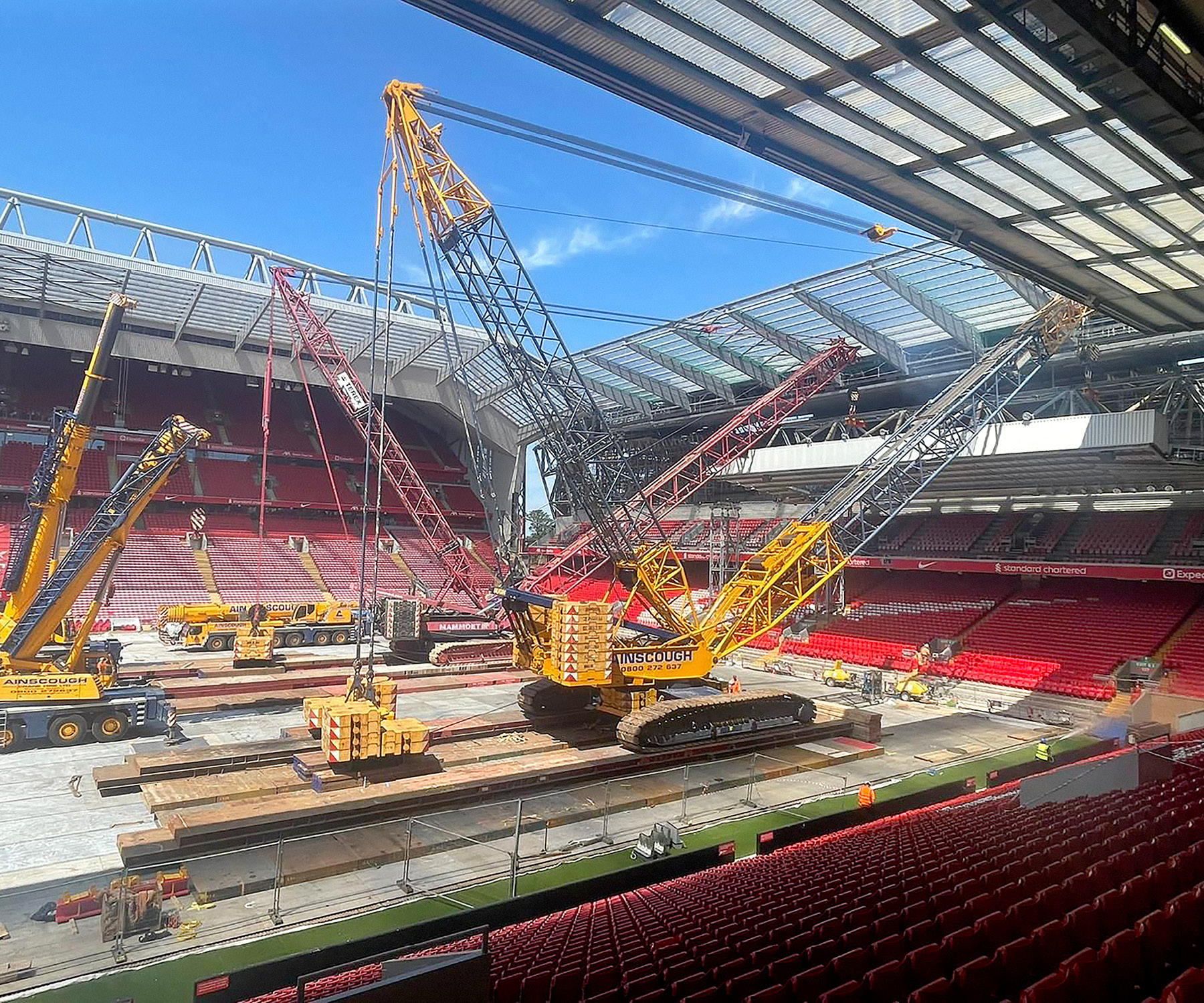 "The lockdowns helped drive our business forward because the problems they threw up highlighted our service role."
The difficulties have been immense and meant Ainscough had to ensure its service remained unrivaled through training and retention of its experienced teams and long-term partnerships. Key to that was its long-term partnership with Liebherr, which provides almost all its cranes as well as supplying spares and repair support.
"It's an invaluable relationship that brings major benefits to us, because we get the best equipment as well as uniformity of the operating system," Gibbs explains.
Alongside our safety and training focus, these key relationships also helped Ainscough defy assumed logic and actually thrive during the years of the pandemic. "The lockdowns helped drive our business forward, because the problems they threw up highlighted our service role."
Anyone watching from the famous Kop end at Anfield as the mighty machines maneuvered the metal girders and roof segments into place with pinpoint precision wouldn't have doubted the skill and experienced required for a second.
Gibbs may not be a die-hard Reds fan, but no-one will be prouder than he when Liverpool take to the field for their home matches this season, with several thousand more fans being able to roar their support from the newly constructed stands at Anfield Stadium.