Over the course of the two decades he has lived in China, Patrick Williams says he has witnessed the progress and development of the country at incredible speed. "I have seen how innovation has brought about change in the country, especially in Suzhou. I was amazed at the speed that technology was advancing in China," the Senior Vice President of Rosti Asia tells The CEO Magazine.
"When I first came to China, it was more about the labour and the manufacturing. If you see what has happened, China has mobilised the whole country to push forward with technology and innovation, and look how it has excelled."
Initially, Patrick did not plan on staying in China for long. "I first came to China in early 2001 and I was not sure that I would stay for the long-term. I was going to go home after two weeks, but my boss at the time convinced me to stay. He told me it was an important challenge in my career and to give it three months," he says,
"After three months, I had actually gotten used to life here and I was impressed by my colleagues; they were kind, hardworking and dedicated. So I decided to stay and it has been 20 years since. China is now a second home to me and I am having the best time here."
Significant Progress
Rosti Group's affinity with China began way back in 2001, and the company has since grown from strength to strength. "When we first set up the factory in China it was primarily for a manufacturing operation to produce plastic components. In 2003, we got a large contract with Xerox to produce photocopiers and we had to learn to manage a supply chain," he says.
"In 2005, we started assembling for contract manufacturing and moved towards doing full assembly for our customers. In the first five years, we were building up the capability of our people and building up the platform of our customer base."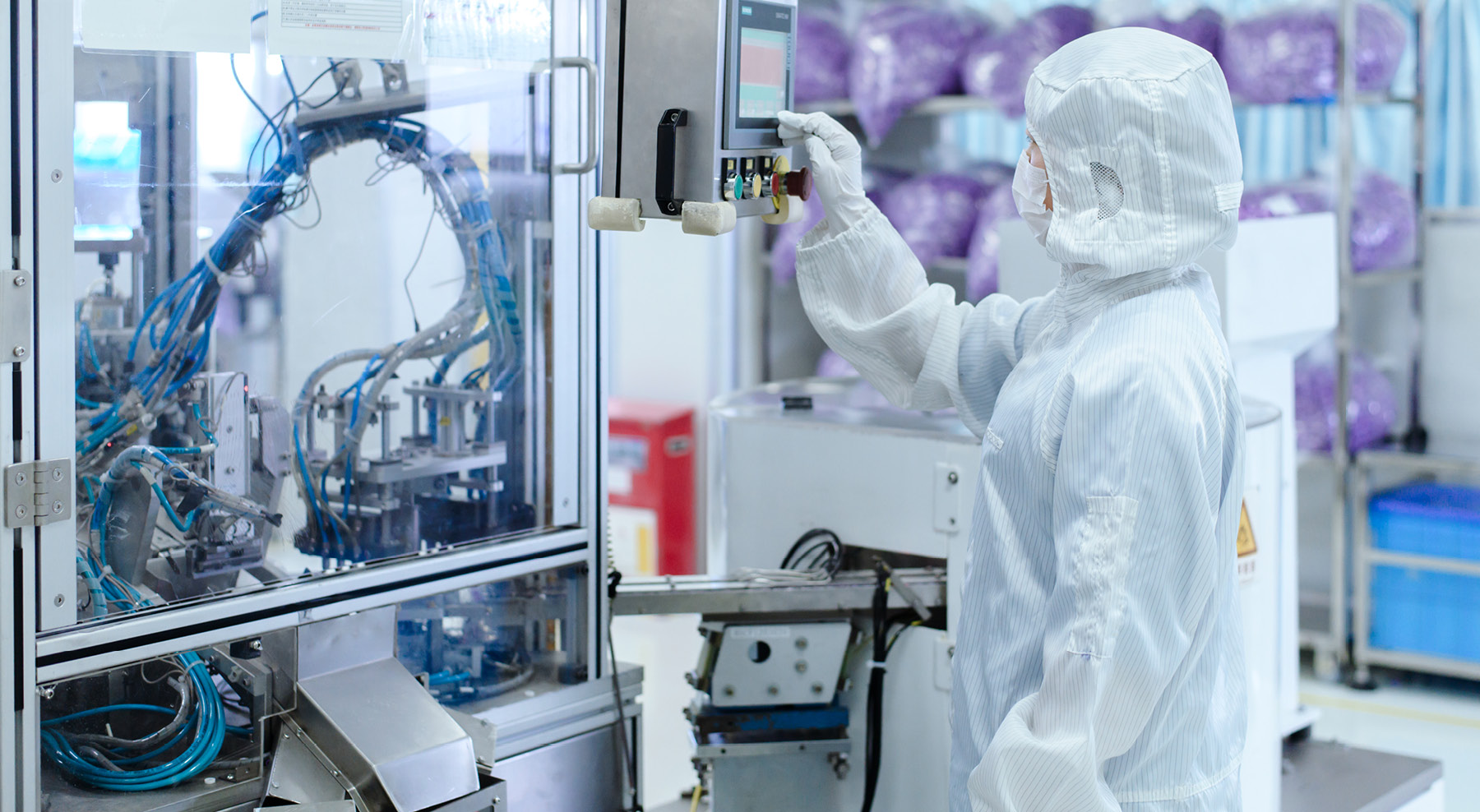 "I was impressed by my colleagues; they were kind, hardworking and dedicated."
By 2007, Patrick says the company had built its own 14,000 square metre factory. "We also moved into the automotive industry, doing a lot of work for Mercedes Benz. In 2010, we then entered into the medical market; built ISO 13485-certified manufacturing facilities and GMP Class 100,000 clean room, and kick started a 12-year partnership with Nutricia," he says.
"In 2012, Rosti Group had the foresight to execute the 'China+1' strategy and set up presence in Senai, Malaysia. The factory for Rosti Malaysia was built with assistance from Rosti China, and this allowed some of the business to be transferred from China to South-East Asia. At the same time, its factory in Suzhou expanded to 17,000 square metres. In 2015, work began on phase three of the Suzhou factory and it currently stands at 25,000 square metres.
"With over 1,000 employees, it is one of the largest factories in Rosti Group."
Innovative Technology
Establishing a digital innovation lab in the Suzhou facility in 2018 was another crucial move for Rosti Group, as innovative technology is ingrained in the company's DNA. "Innovation is a vital pillar of our growth strategy, and it helps maintain our lead," Patrick says.
To date, Rosti Group serves in a variety of sectors, including automotive, consumer electronics, medical and food packaging, to provide differentiated solutions with full design support for its partners.
"When customers visit out factory, what I hope to hear is 'Wow!'," Patrick says. "That's because what we have is state-of-the-art, including injection moulding machines and the latest digital and automated technology.
"Take our 3D printing technology for example, we are able to deliver parts 'from concept to reality' to our clients in 72 hours. We've got a paperless system on our production floor. Everything goes through the digital platform that we run through our Manufacturing Execution System, and we have live data to improve operations, so everything is very efficient."
Agility is Key
For Patrick, the COVID-19 pandemic has further reinforced the necessity for constant innovation, and the need for the company to be agile in its supply chain. "COVID-19 has caused tremendous devastation on our business, but because we've got quite a diverse market sector, we managed to really develop our medical and hygiene sectors, and that has really boomed over the last two years, dampening the impact from other sectors," he explains.
The pandemic has also fuelled the progress of digitalisation. "Take equipment and machines from Europe as an example," he says. "We had to go digital for installation and adjustments as the technical team was not able to enter China. We worked with them remotely in order to successfully commission complicated automation production lines.
"As clients are not able to visit our factory, we essentially 'virtualised' our whole company and did 360 virtual reality online tours for them. We had online meeting sessions with our customers to 'live stream' our production processes, to showcase our core competencies and share successful case studies to clarify any doubts."
During this time, Patrick also observed the need for localisation. "For the benefit of our customers, we actively seek local suppliers for raw materials in order to extract greater value. At the same time, this helps local partners to boost their production capabilities, to obtain certification and further refine the local supply chain," he says.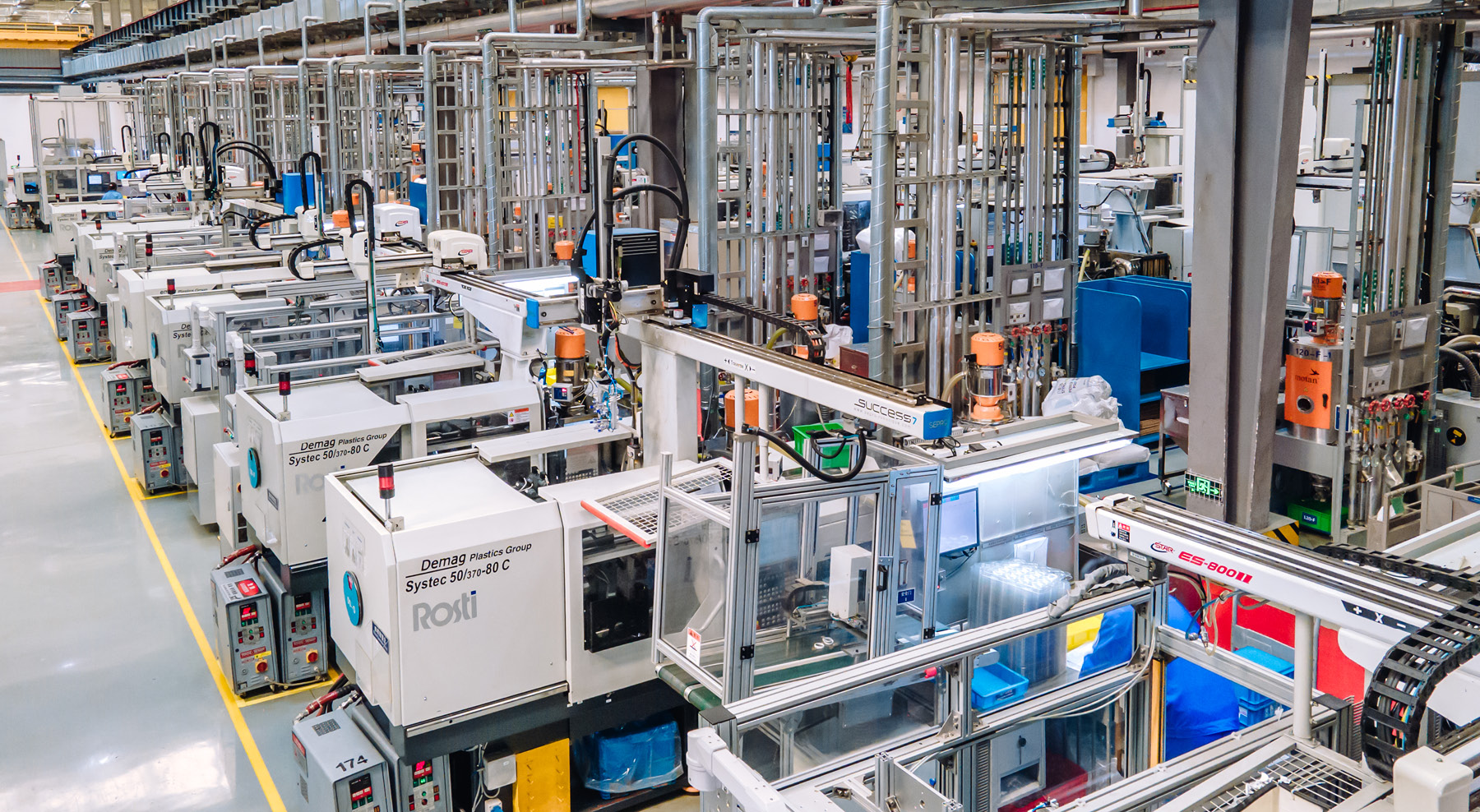 "For the benefit of our customers, we actively seek local suppliers for raw materials in order to extract greater value."
"Our suppliers are our strategic partners and our assets. As such, we're open and transparent on how we do our costings. We also share our technology and know-how with them, and we build a long-term partnership. In turn, they become part of our value-add to our customers."
Best Way Forward
Patrick maintains that sustainability is the best way forward for the industry. "We call it the 'Rosti Sustainability Program'," he explains. "First, we need to consider how our factory can be efficient by using the most cutting-edge and energy efficient machines. And we are also working on how to reuse and recycle plastics.
"Next, we look at early design and the technology aspects. How can we keep innovating and reduce the usage and minimise wastage of plastic by improving design? How can we find new ways of injection moulding to go paint-free and replace the current painting practices that are not environmentally friendly? Concurrently, we're also working with our customers on developing sustainable plastics, while decreasing the usage of crude oil."
He says the company are also making sure they do their bit for the environment on the operational side. "Many of our clients are international corporations, and they have their long-term targets when it comes to sustainability. Therefore, these clients want to make sure that they have a sustainable partner. We do this by making sure that we get third-party accreditation. We have obtained accreditation from 'RBA', 'Sedex' and 'EcoVadis' as testament to our sustainability efforts."
In addition to what is necessary for operations, Patrick believes that sustainability and care for our environment has to come from the heart. "Our people do it not because we are told to do it, but because we want to do it. It is vital that we protect the environment and leave the world a greener place for our future generation. It is like health and safety, it is important that this is driven into company culture."
Moving up the Ranks
Patrick had already been working with Rosti UK for 15 years before moving to China. He started out as a trainee moulding technician and worked his way up to Senior Vice President of Rosti Asia. "I was lucky to be able to learn, grow and advance within the system, so I firmly believe that training and developing staff is the bedrock of a solid corporation. We call it 'The Rosti Way'," he says.
"In my 20 years at Rosti China, I have witnessed its growth from a group of young specialists to becoming the company's core competency and fine leaders in their fields. This is the key to a successful business."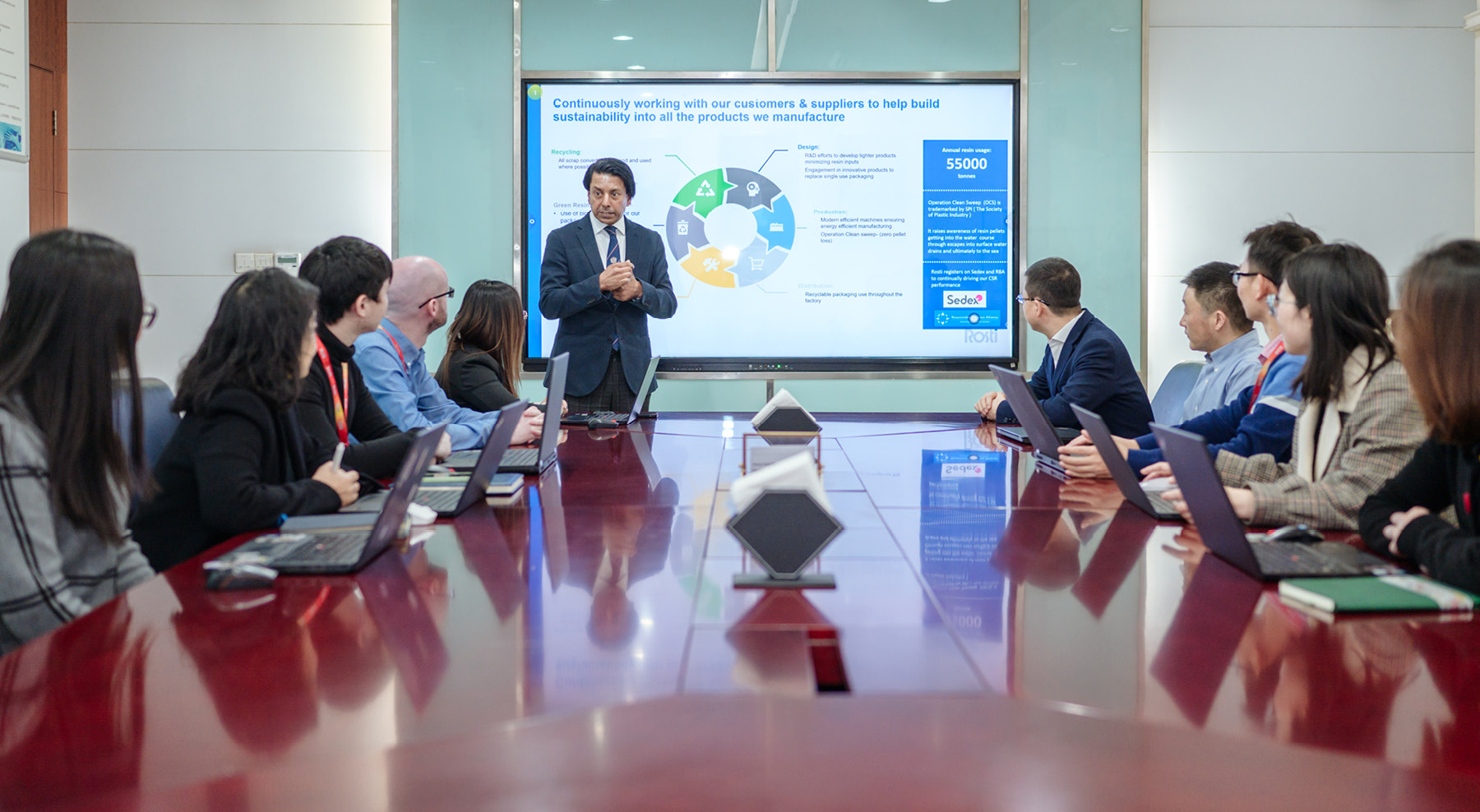 "The best management style is to let your staff lead and find the solutions."
Having been in business for 77 years, the Rosti Group has a long history, but its core values have never changed. "We are always open and we care about our staff. By doing so, they will in turn care for our customers. And customers are at the heart of our business. Many would ask 'Why do people like to stay at Rosti?' I think that is because they see prospects and a future here," Patrick shares.
Patrick stresses that trust and having a close bond between a leader and their team is crucial. "Trust between family members is a value held dear in Chinese culture, and it is a notion that has been handed down from generation to generation. My leadership style is built on trust and caring for one another. I allow my staff to learn from their mistakes and grow together with the company. I strongly believe that the best management style is to let your staff lead and find the solutions; all you need to do is to give them guidance and support.
"As the Chinese saying goes, 'Nothing is too difficult for a willing mind'. Where there's a will, there's a way," he says. "We at Rosti China are absolutely determined and dedicated to achieve our goals. No matter the challenge, we can always succeed and learn from our experiences and continue to grow."