The best leaders are not afraid to share their vulnerability. It shows they aren't perfect; that they have humility and empathy, while still being strong and secure enough to admit their own shortcomings. As research professor Brené Brown says, "Vulnerability is not weakness; it's our greatest measure of courage."
Vulnerability shows that underneath everything and despite their obvious talents, a successful leader is just like everybody else.
He may be the most successful Australian businessman of this century, but underneath that weighty mantle, Mike Cannon-Brookes is still like one of us. With his long hair and beard, he has something of a Dave Grohl vibe, and is rarely seen dressed in anything other than a ubiquitous T-shirt and baseball cap. Come as you are.
Press shots of Cannon-Brookes with his Atlassian Co-Founder and Co-CEO Scott Farquhar (who he calls "my mate, Scott"), look more like a pair of former music stars – maybe a DJ duo from the late 90s. In fact, in an old article on the duo from 2013, they admitted they are often anonymous within their own company in their casual attire.
"How long have you been here?" a new employee once asked Farquhar on his first day.
"Oh, about 11 years," Farquhar replied.
"And what do you do?"
"Well, I'm kind of in management."
Keeping it real
Cannon-Brookes has been married to Annie Todd for almost 12 years and they have four children. Described by her husband as "a beautiful woman from way out of my league", her Instagram paints a picture of a happy and loving family living a fairly ordinary life. Social media can create any image it likes, but Todd only has around 1,200 followers and certainly isn't trying to influence anybody.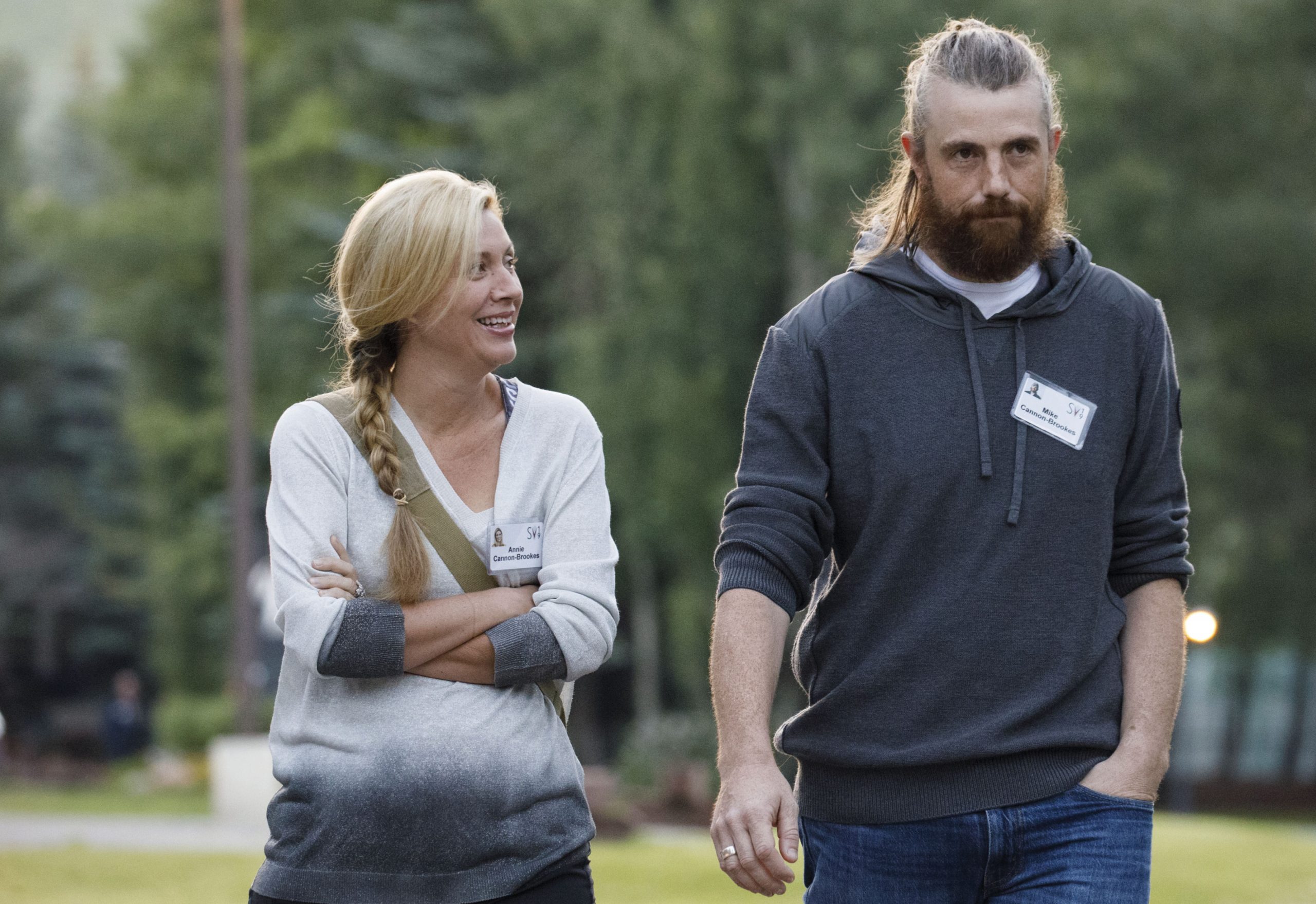 If you want to get your own sense of Cannon-Brookes' humble nature and self-deprecating humor, go straight to the source and watch his TED Talk on impostor syndrome. "Most days, I feel like a fraud. Like I don't really know what I'm doing," he confesses.
In his very funny talk, he admits that in the early days customers would call up asking for accounts payable and he wasn't sure if they were giving the company money or asking to be paid. "I attended board meetings where I didn't know all the acronyms being thrown around, and had to write them down surreptitiously so I could Wikipedia them later," he recalls.
It's certainly a brave thing to admit to his 5,700 staff, not to mention the rest of the world, but Cannon-Brookes has a few runs on the board now which back up his credentials, whatever sense he might have internally that he's not worthy.
Phenomenal growth
Like the most romantic business success stories, Cannon-Brookes and Farquhar started Atlassian on a bootstrap budget. While Steve Jobs started Apple in his garage, the Australian pair rented a very basic office on Sydney's Kent Street, funded by US$7,000 on their credit cards as a kitty.
Admittedly, Cannon-Brookes was anything but working class – his father was a global banking executive who sent him to one of the city's best private schools, Cranbrook. But at 23, he and Farquhar, who had met at the University of New South Wales (UNSW), received no backing from family or friends – and certainly not from venture capital companies, which were then uninterested in Sydney's IT potential.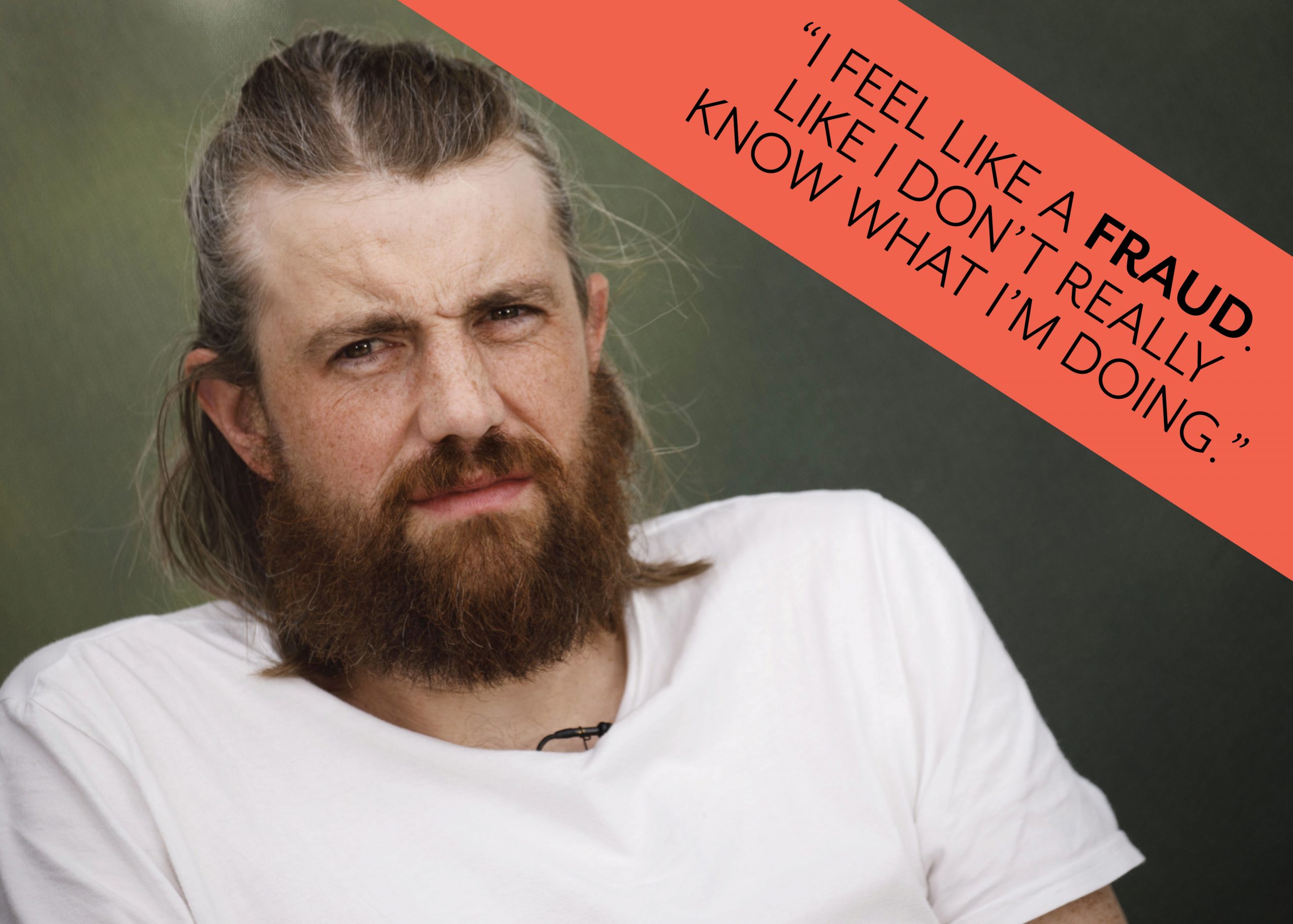 Atlassian had to start making profit quickly to survive, and once it started, it never stopped. In November 2021, the company hit a market cap of US$95 billion. Given that Cannon-Brookes and Farquhar have a 22.7 per cent stake each, it means each is worth at least US$20 billion.
The 'accidental billionaires' as they are sometimes referred to, only started Atlassian because they didn't want to work for anyone else. And, of course, now they will never have to.
Cannon-Brookes nudges just ahead of Farquhar in the various rich lists due to his property investments. In November 2021, he was listed with a net worth of US$22.9 billion. In Australia, only Gina Rinehart and Twiggy Forrest have higher net worths. For a long time the 'richest Aussie under 40', Cannon-Brookes is now the richest Australian under 50 at the age of 42.
The company has an important anniversary coming up: in February 2022, it will have been 20 years since Atlassian was registered as a company and began work on its first successful product, Jira – the agile team software upon which the organization was built. Confluence and Trello have followed in the list of successful project management software tools and, without ever having a sales department, Atlassian has attracted clients such as NASA, Tesla, SpaceX and eBay.
A former Australian IT Professional of the Year and Australian Entrepreneur of the Year, in addition to Atlassian, Cannon-Brookes is an Adjunct Professor at UNSW's School of Computer Science and Engineering as well as Chair of the Computer Science and Engineering Industry Advisory Board.
The trappings of success
In fact, Cannon-Brookes can afford just about anything. In 2020, he bought a minority stake holding in the Utah Jazz basketball team, chipping in hundreds of millions for the privilege. A handy player at high school, he invested alongside friends and fellow tech entrepreneurs Ryan Smith and Ryan Sweeney, with the whole deal worth US$1.66 billion in total. At the time, he was quoted at the time as agreeing to the deal before quickly adding, "I have to check with my wife." She agreed. 
The Cannon-Brookes family has also spent around US$215 million on property in the past few years, including around US$18 million for Casa Paloma at Newport on Sydney's Northern Beaches, which was previously owned by model Jennifer Hawkins. In 2018, they bought their family estate, Fairwater, for close to US$70 million, right next door to business partner Farquhar's US$50 million mansion Elaine at Point Piper.
Not a bad place when it comes to working from home.
Team Anywhere
Indeed as an example of Atlassian's progressive approach, flexible working is something the company is keen to embrace post-COVID, despite its cool offices on George Street. In fact, the company has just introduced its TEAM Anywhere policy.
Unlike tech giants such as Amazon, Netflix and Google, who are encouraging a return to the office, Atlassian has told employees that they only need to visit the office four times a year, and use it more like a conference facility. Employees can live and work from anywhere as long as they're legally allowed to and are in the same time zone as their fellow workers.
Cannon-Brookes said that since the middle of 2020, Atlassian no longer required employees to ever set foot in the office – although they could if they wanted to. "I would say it's been highly successful," The Guardian reports. "We've still got a lot of things to do, but we don't ever expect to mandate people to come back to the office again. For all the people who want it to go back to normal, quote unquote, it's not normal; the new normal is not going to look like it did in the past."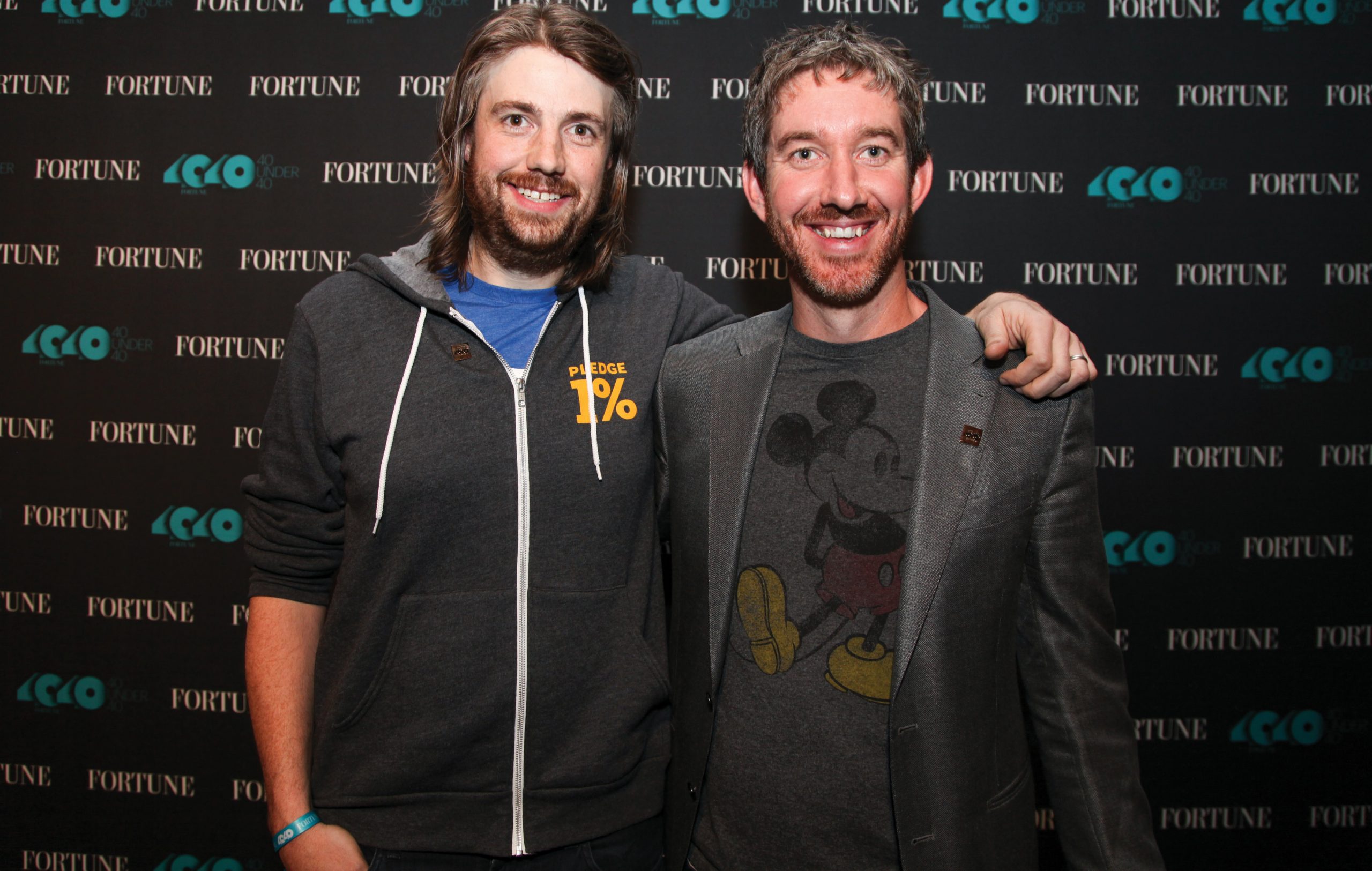 Nevertheless, Atlassian is building the world's tallest hybrid timber building as its new Sydney headquarters. The 40-storey building housing up to 4,000 employees will be located in a new tech precinct at Central Station, due to be finalized by 2025. And so the tech giant consistently voted the best place to work in Australia and Asia will have a new home – should employees choose to visit it.
Progressive approach
The software billionaire is certainly a progressive individual and despite his company's huge size and value, Atlassian remains proudly different. Its five core values are:
• Open company, no bullshit
• Build with heart and balance
• Don't #@!% the customer
• Play as a team
• Be the change you seek
And in 2006, Cannon-Brookes and Farquhar started the Atlassian Foundation with the invention of helping make the world a better place. For the past 15 years, the company has contributed one per cent of annual profits, one per cent of employee time and one per cent of company equity to support the vision of the foundation.
Of all the causes he supports, sustainability is the one closest to his heart. His Twitter posts are 98 per cent green – and two per cent green and red, for his beloved South Sydney Rabbitohs, an NRL club that he bought a stake in in November 2021, joining its other well-known investors, Russell Crowe and James Packer.
Sustainable passion
The software boss is very vocal about Australia's slow progress in terms of renewable energy, and often puts his money where his mouth is to give things a nudge. Last year, he and Annie pledged more than US$8 million to install solar and battery energy in communities that were affected by bushfire and floods, and in doing so started the Resilient Energy Collective.
A regular angel investor, Cannon-Brookes has also invested around US$55 million in Brighte, a green energy organization, and is part of the investment team behind Sun Cable, a giant solar farm in the Northern Territory.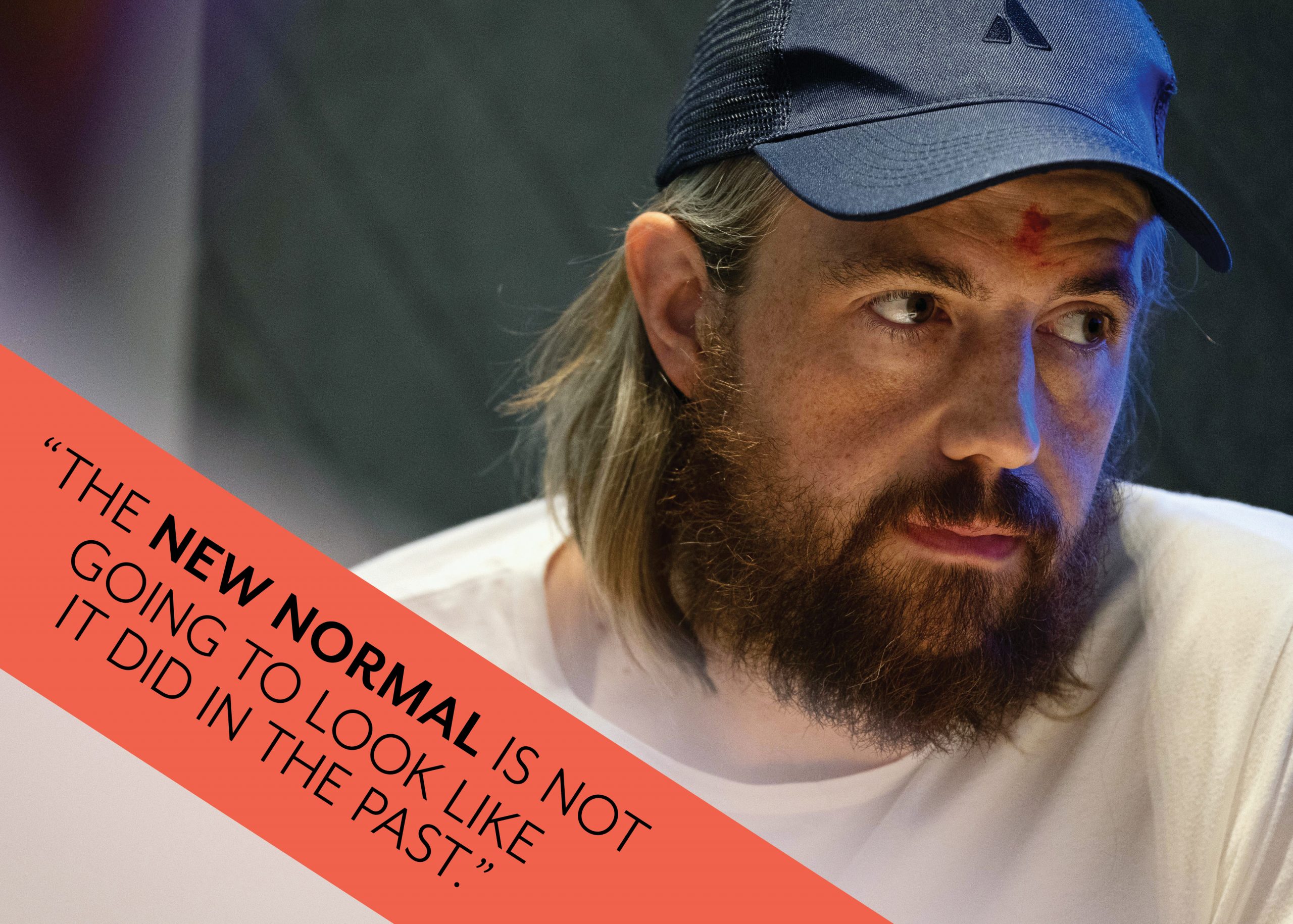 He believes there has never been a more compelling time for Australia to adopt clean energy – not only with the (literally) burning platform of climate change, but the economic situation coming out of the pandemic. "It is the best opportunity we have for large-scale job creation in the Australian economy today," he told the ABC's The Business program.
With his deep pockets, business contacts and acumen, and commitment to sustainable energy, Cannon-Brookes might be the biggest hope Australia has for making real change in the area of climate. Social responsibility
Cannon-Brookes also believes he shouldn't be alone as a business leader with a conscience, and that talented employees will increasingly start voting with their feet if their bosses don't show the social responsibility they expect of a leader.
"The responsibility of business leaders to provide leadership in areas of the community, and participate in leadership alongside government and other groups, is something they should be aware of," he said in an interview with The Guardian.
Having surveyed Atlassian staff, Cannon-Brookes was surprised by just how many were willing to leave a company over a poor social stance – and across all generations.
"There's a cost of inaction as much as there's a cost of action here," he added. "There's a huge correlation if you look at corporate social responsibility between profitable, sustainable businesses and those who care about their corporate social responsibility. One of businesses' goals is to stay in business, and to be a sustainable business you need to have fantastic people and take longer-term sustainable positions on a lot of issues."
There is currently no more sustainable business in Australia than Atlassian and no more progressive boss than Cannon-Brookes. The married father of four with his own IT business and a casual rockstar vibe is trying to persuade Australia's politicians that solar can save us. Just like Dave Grohl, he's looking to the sky to save us.