Decades before he started Axis Research & Technologies, a top-brass chain of high-tech, high-touch medical training bioskills facilities across the US, Founder and CEO Nick Moran was a fighter. His black belts in six martial arts earned him the Masters Hall of Fame Humanitarian Award.
But for Nick, fighting was not about seeking violence or merely a physical outlet. MMA was his training ground, a highly competitive arena where he could use his athletic ability and discipline to dominate.
In the wake of his fighting career, Nick became a coach in mixed martial arts and hockey, as well as an entrepreneur. Through his chain of California fitness centers, he taught youth about health and wellness, sometimes using cadavers to help them understand how the human body works.
"I wanted to teach these kids about human anatomy, to show them where injuries occur, how fat is stored, and how the body moves," he says.
It was here that Nick identified a pain point in the medical device industry. Combining his passion for health, wellness and saving lives, he established the first Axis bioskills lab and training facility – a model now emulated across the United States.
Today, Axis partners alongside top universities, health care research centers and medical device manufacturers, making it possible to practice surgical techniques, develop medical devices and provide training, research and educational demonstrations to audiences around the globe.
"Our cadaver labs and technology platform allow medical researchers and device manufacturers to test and train on products that change the way lives are saved," Nick says. "We are honored to be able to work alongside top medical device companies that make such an impactful difference in this world."
Having locations in high-density health care regions has put Axis on the fast track to meet the burgeoning demands of the health care sector.
And Nick says it's just the beginning. "We're expanding into the hospital sector and absolute total medicine."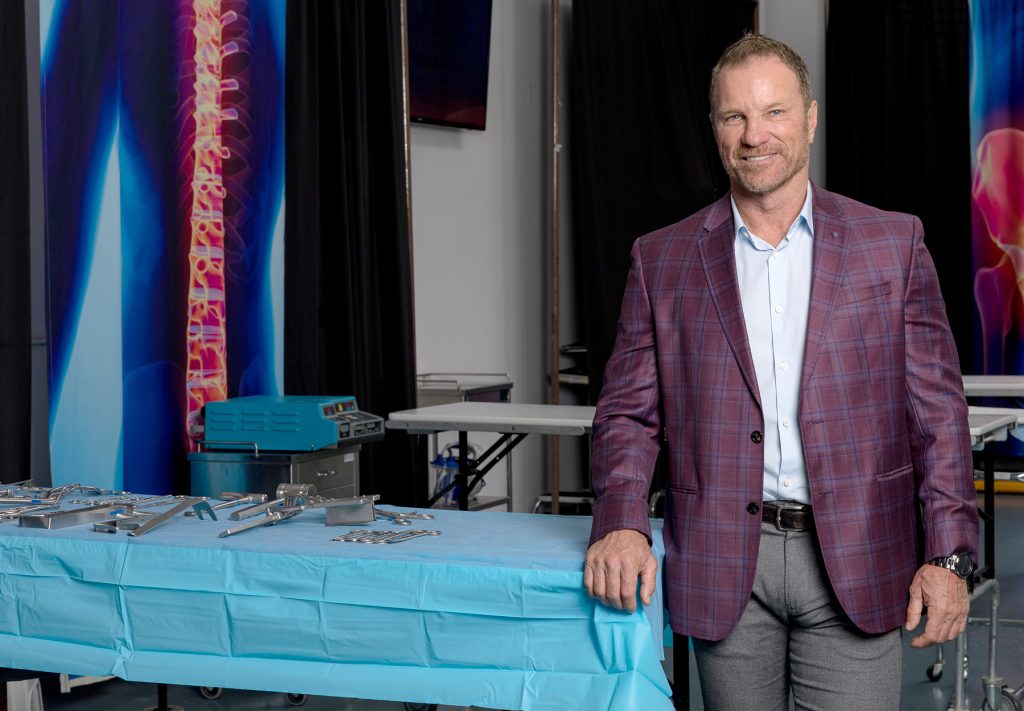 Partnering for innovation
Beyond Axis' laboratory space and cadaver training, Nick is now leading a technological innovation that will further enhance the way medical device companies train and learn. The platform will also change the way hospitals assess risk, collect data and create more efficient, time-saving practices for a safer and better functioning SmartOR.
"Axis' virtual technology platform gave us a front-row seat at the trends impacting health care," Nick says. "Coupling that with our expansion into the hospital sector, we realized that the hospital systems were in dire need of something we have – the ability to capture and utilize data."
Today, Axis is collaborating with Johns Hopkins University Applied Physics Laboratory and BDO's Digital and Healthcare Division on the development of OMNImed™ SmartOR, an intelligent system and smart operating suite that makes it possible to collect data and create a digital model of all procedures on the fly.
According to Nick, the data collected will be available and accessible to users worldwide and will provide valuable information to medical staff.
"Imagine if the operating suite could serve as a data-collecting machine capable of creating digital models of procedures in real-time," Nick says. "One that monitored every instrument in use, caught every action in the room down to the millisecond pre- and post-procedure, and then was able to break down that information into millions of data points. The improvements in health care would be incalculable."
We are honored to be able to work alongside top medical device companies that make such an impactful difference in this world.