The small town of Buchloe in Germany's southern district is home to about 13,000 people. It's a small, quiet village in a mixed residential area nestled among Bavaria's rolling greens and breathtaking alps. While it's famously home to a popular brand of European cream cheese, it's also known for something a little more unorthodox – the birthplace of exclusive passenger cars designed to exceed 300 kilometres per hour.
"When the weather's fine, we can see the Alps. Take a 60-kilometre drive and you can go mountain skiing," Andreas Bovensiepen proudly boasts from his office meeting room. "My father and brother lived onsite; I personally live in Munich, but I grew up on the factory premises within the company."
It's this extreme blurring of life and work that has seen the Alpina name rise through the ranks in 56 years across two generations. In its infancy, it was a family business that helped define the golden era of European motorsports. Today, it carries that very same performance DNA into the world of low-volume luxury car making in a way that no other carmaker has.
And for those who have never heard of Alpina, there's a perfectly good reason for that too. The marque's secret to long-term success can be credited to its 'if you know, you know' business model – a strategy which drives demand and exclusivity into each of its limited-release products dating back to its earliest creations. The proof is in the numbers. Search for a 2003 Alpina Roadster V8 and it's likely you'll find a second-hand one priced in the region of US$415,000. Not bad for a humble family business that also spruiks its own wine on the side.
Today, Bovensiepen, son of Alpina Founder Burkard Bovensiepen, is the CEO of this bespoke German outfit developing some of the world's most exhilarating cars draped in sheep's clothing.
The art of Alpina
Spotting an elusive Alpina in the wild will often ponder a similar line of query: 'Isn't that just a BMW?' Yes and no would be the correct answer. Alpina has enjoyed an intimate relationship with BMW dating back to the early 1960s when the company's Founder first established the partnership.
"It was by accident that we became associated with BMW," Bovensiepen says. "My father went to the Frankfurt Motor Show in 1961 and saw the BMW 1500 and thought, 'This is quite a nice sedan with a big engine compartment and tiny carburettor.' Of course, he was in Bavaria and was also not far away from BMW."
The story runs a little deeper than just the convenience of proximity though. As his family grew in size, he needed a bigger car, which led him to the BMW 1500 – a sizable passenger car of the time that would be equivalent to today's BMW 5 Series.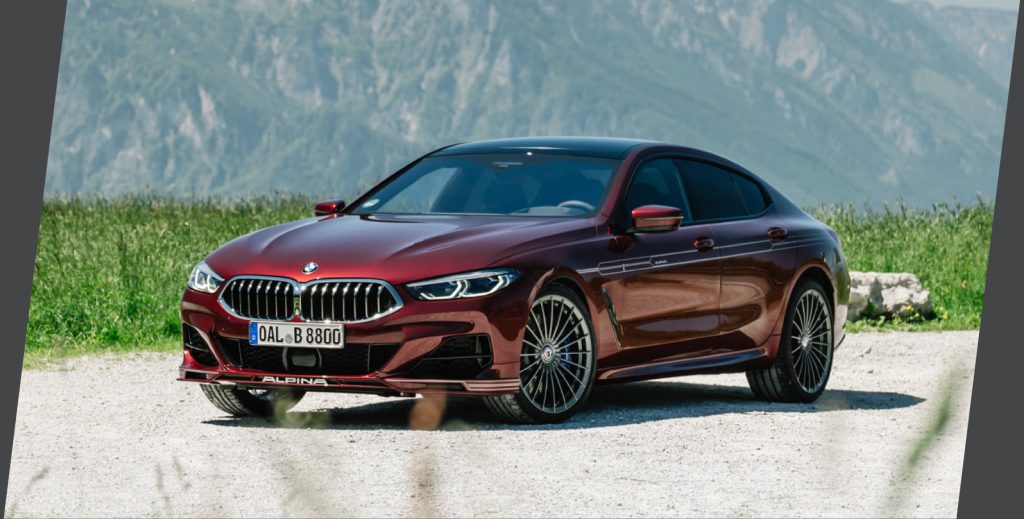 "If you are convinced about the product, then the product should be right and a success in the market. It's short and simple and, of course, form follows function."
Upon purchasing one, he felt that the 1500 wasn't fast enough for his liking, so he sourced his own carburettor kit to bolt onto the BMW engine. Alpina would essentially become a tuner for BMW in the early days, selling go-fast kits for those who wanted to enhance the performance of their car. At a time when BMW didn't have its own performance arm, this particular niche played perfectly into Alpina's business model to a point where BMW itself was referring power-hungry customers to the small company.
BMW tested Alpina's product and decided that vehicles fitted with them would still retain the factory warranty so long as Alpina covered the warranty of its carburettor kits. The rest, as they say, is history.
But Alpina wasn't always in the business of building 300-kilometre-per-hour BMWs. Far from it, in fact. Under Bovensiepen's grandfather, the company produced typewriters before attempting a pivot into the textiles industry. The move failed, the typewriting business was sold off and it was his father who would resurrect the Alpina name and turn its sole attention towards tuning BMWs. The reason for such a drastic move was simple: he had no interest in typewriters and just wanted to build fast cars.
German precision and functionality without the gaudiness remains at the company's heart to this day. Just as the Alpina moniker was chosen for its ease of pronunciation and connection to the Alps, its cars were designed to deliver performance and refinement in the purest form.
"Try to make the best product," is the greatest business lesson Bovensiepen learned from his father. "If you are convinced about the product, then the product should be right and a success in the market. It's short and simple and, of course, form follows function. Always have attention to detail."
From racing suit to corporate suit
Bovensiepen isn't cut from the same ilk as the usual corporate figures. A quick search of his name will return two profiles: 'Alpina CEO' and 'race car driver'.
While his love for fast cars makes him more than handy behind the wheel, he was never pushed to take over the family business by his father. "There was no pressure," he says.
"When I was a schoolboy in 1976, my father took me to school in an Alpina B7 Turbo prototype. It was a 5 Series and 6 Series development car with 300 horsepower. I will never forget the acceleration – like a jet.
"It was unbelievable and I still have it in my memory like yesterday because at the time, it had more power than a Porsche Turbo. It was completely out of this world. This kind of experience, if you are a small boy, you won't forget it."
Even his first car wasn't spared from the exploits of an adolescent with a penchant for speed. Bovensiepen changed the suspension and added spoilers to his used US$7,400 hatchback which was "cheap and rusty". By the time he was 16, he was a self-proclaimed motorbike fanatic. By 18, he bought another bike and sent himself broke.
"I invested my money and had no more money," he laughs. "So I used my mother's car and small trucks from the company. I couldn't afford a BMW."
Growing up around cars and racing during the late 60s was a time when Alpina had iconic drivers like Niki Lauda on its team. It was natural that this would compound Bovensiepen's love of motorsport.
"You attend some racing and it's difficult not to get crazy about cars. I was involved very early, but when I started in business, I didn't immediately work with Alpina," he admits.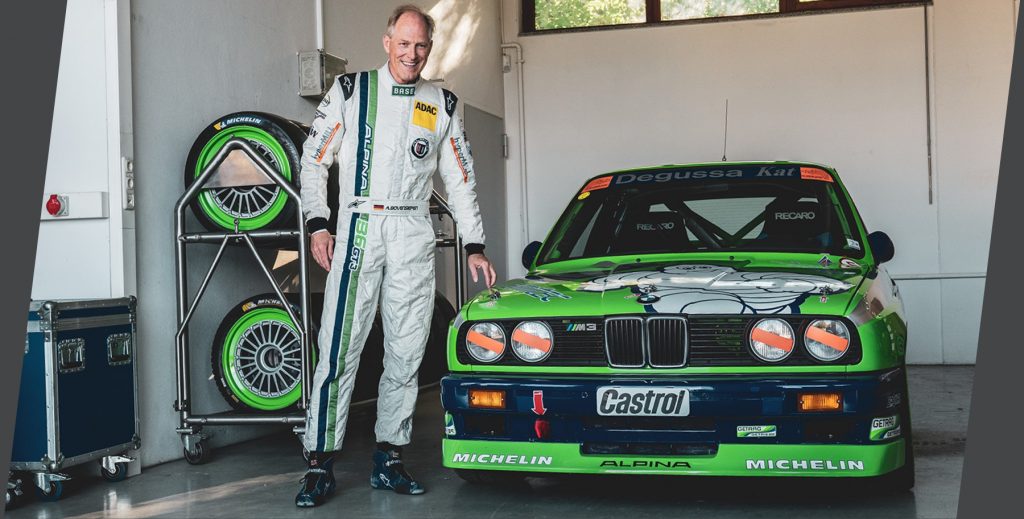 "I invested my money and had no more money. So I used my mother's car and small trucks from the company. I couldn't afford a BMW."
Like most young adults in the workforce, he worked his way up, starting at a carbon fibre company producing parts for the Deutsche Tourenwagen Masters series in the 80s and 90s. He'd eventually find his way into BMW where he was stationed in suspension development for two-and-a-half years before his natural talent really began to shine through.
"We did the E46, E36, Z3 and at the time, I was asked to join the Z8 project for two-and-a-half years, and I was head of weekly technical meetings. I was at the business meetings as well where you would count the cost of the project," he shares.
"This was interesting because there was a group of people in special vehicles – the BMW Z3, Z8 and X5. The SUVs were just starting so they looked for small motivated teams and asked me if I wanted to help the project as a leader, to get this project from a small development cost frame into reality."
Bovensiepen saw this opportunity as more than just an engineering and cost-saving exercise. The X5 project would leverage an M5 engine and manual gearbox in its home market, but by fitting an automatic gearbox, the American market could also be simultaneously targeted to broaden the sales window. He took this very same idea back to his father's business.
"At the time, Alpina wasn't in the US because my father only wanted to produce 500 cars for the whole world. In America, people are only allowed to go 60 miles per hour [97 kilometres per hour] and cannot exploit our cars. So it didn't make sense to go there," he says.
"But then I convinced my father that we have to go to America; we have to do this halo project for Alpina. So finally we took almost 10 per cent of the whole BMW Z8 production numbers and built 555 examples of the Alpina Z8. Today, if you want to buy a used one, it will cost at least US$350,000. It was a really good project."
Once the success of the Alpina Z8 project was cemented, Bovensiepen's father did what any intelligent CEO would – offer his son a spot in the family business.
"My father said, 'It would be great if you could join Alpina and work for us.' We negotiated a deal, even though I was still a member of the board from the first day. After working seven-and-a-half years in other businesses, I finally joined Alpina."
Secret to winning big: stay small
When Alpina asked why customers bought its cars in a survey, some interesting responses came back. "The answers all said that it's a really exclusive car, the suspension set-up and the power, and the fact it's not sitting in every corner. They have the main quality of a BMW with nice navigation and space – all the advantages of a big manufacturer but in an exclusive car," Bovensiepen says.
This is likely why the company has chosen to remain small and agile even in the face of ever-growing revenue figures. "Our turnover was rising over the years much more than our sales figures. This year we've reached more than 2,000 cars produced. Our turnover will be €125 million [US$140 million] this year," he explains.
There are also clear disadvantages to expansion in the car manufacturing industry. Alpina's winning formula has always relied on the larger flagship BMW models. While BMW has expanded its model range into more compact offerings, as a smaller company this isn't a direction in which Alpina plans to follow suit.
"Expanding a range into the smaller models like BMW makes it harder to earn revenue as the competition is stronger. We always had our target to grow in the bigger cars like the X7 or Gran Coupe.
"BMW also has its M performance cars, so it makes no sense that we go into competition with cars like the M2. Especially since we are not able to make a different body and the development costs are too high."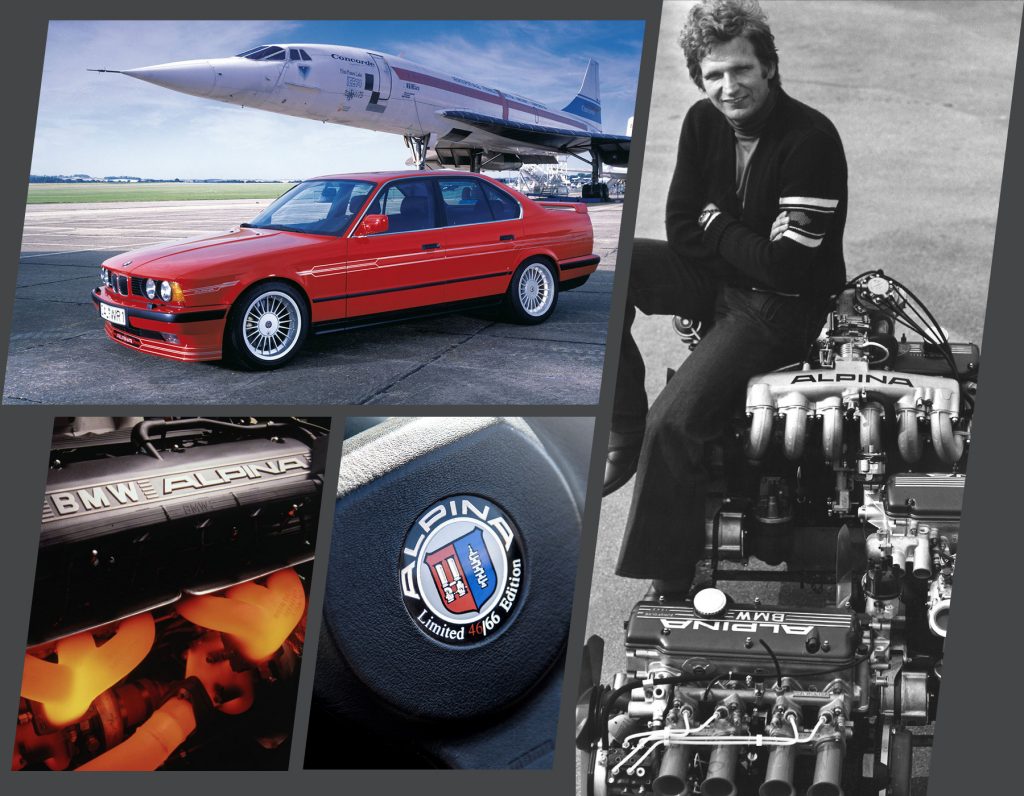 "Sure, electric is a game-changer and a transition, but I'm not so sure it goes as far as politicians predict today."
While the Alpina name was forged in heated battles on the racetrack, it's today's luxury segment that Bovensiepen sees the most potential for the company's success in the future.
"We have very much developed in the past 10–15 years within the luxury segment. I think it's very important to produce one unit less than the market expects from you to keep the price high. Of course, we have to grow because development costs are growing every year, but we like to have a car for customers who think it's an exclusive car."
So where does Alpina lie between technical innovation and sound business management? "Both are important. It's important to make a very high-level technical product, but also important to be present in the major markets," he explains.
"Being in Europe only, it's not enough to cope with the ever-rising development costs. It was always our target to expand in Europe and Japan. Then I decided to go to America and now I'm excited to be in Australia as well."
Fuelling its own future
It's difficult to discuss the automotive industry without raising one of this decade's most polarising issues that concerns the entire world: the extinction of the internal combustion engine and the rise of electric power.
This is a critical turning point for companies like Alpina since its foundations were (and continue to be) built on tuning petrol engines from the BMW production line. Bovensiepen admits that he hasn't thought that far ahead when it comes to transitioning into fully electric Alpinas. And despite all the hype around alternative fuels, he's not even fully convinced that electric vehicles could be the silver bullet that world leaders make them out to be.
"To be honest, I have not thought about it. Because I have no idea what will be here in 30 or 50 years," he admits. "We finally have a good base product in the BMW car. Then we have to look at what they are doing in the marketplace. We need convincing base cars from BMW so we can look at what we can do.
"With Alpina, it was not only about the engine but the whole car. Higher horsepower, efficiency, ride comfort, space and touring car traits. It's not only about horsepower, as horsepower is easy to achieve, and an even higher power output is possible for electric."
The reason for Alpina's hesitation is "battery and range", he explains. "We have not completely made up our mind. First will be plug-ins, but I think there will always be a marketplace for people looking for something special and different: wheels, tyres, suspension, look and aero.
"Sure, electric is a game-changer and a transition, but I'm not so sure it goes as far as politicians predict today. In Europe, the infrastructure is still not ready for 30–50 per cent of cars to go electric. And it's not ready in big cities. If you live in a big flat in the city and want to charge your car in the parking spot, it's only a 5–10 per cent possibility to charge your electric vehicle while others have to walk two kilometres to find a charging station.
"So I think this will be slower, but in Europe there's very much a green wave and companies saying they are going 50 per cent fully electric. It's more interesting for stock market investors."
There are also wider societal issues that have to be addressed in the adoption of EVs. How major populations in China, India and Africa will handle the infrastructure transition, as well as the sheer amount of lithium needed to manufacture the batteries, for instance.
"There's a lot of discussion. I think there will be a mix of different technologies like hydrogen. I think this decision for the whole car industry is not decided today," Bovensiepen says.
"EVs still need charging from energy made by coal and CO2 so it's a little strange. I'm not so pessimistic about fossil fuel engines in the next 10 years as some big companies are. I think there will be customers in 10–15 years who like to turn the key or push the button and hear the engine running. I think for small companies like Alpina, there will be a niche for petrol engines as well."
The business of luxury
Bovensiepen is quite happy with how his brand is positioned these days, despite its departure from a pure racing name. With its rich motorsport roots still intact, the modern Alpina has often been referred to as Germany's answer to another iconic luxury carmaker.
"Sometimes the British press says Alpina is like Bentley. So we went into this area where the average customer is five years older, who doesn't say, 'I have to prove every day on the German motorway that I have the fastest car. From time to time I can do it, but I don't need to show it off like a schoolboy to everybody,'" he laughs.
Impressive range, luxury, comfort, rarity and speed are where today's Alpina thrives. "I think everybody has to find their niche. Alpina started in the 60s as a tuner, but then BMW Motorsport came up through the racetracks and Alpina developed a little bit more in the cars and people who do very high mileage – 50,000 kilometres or more.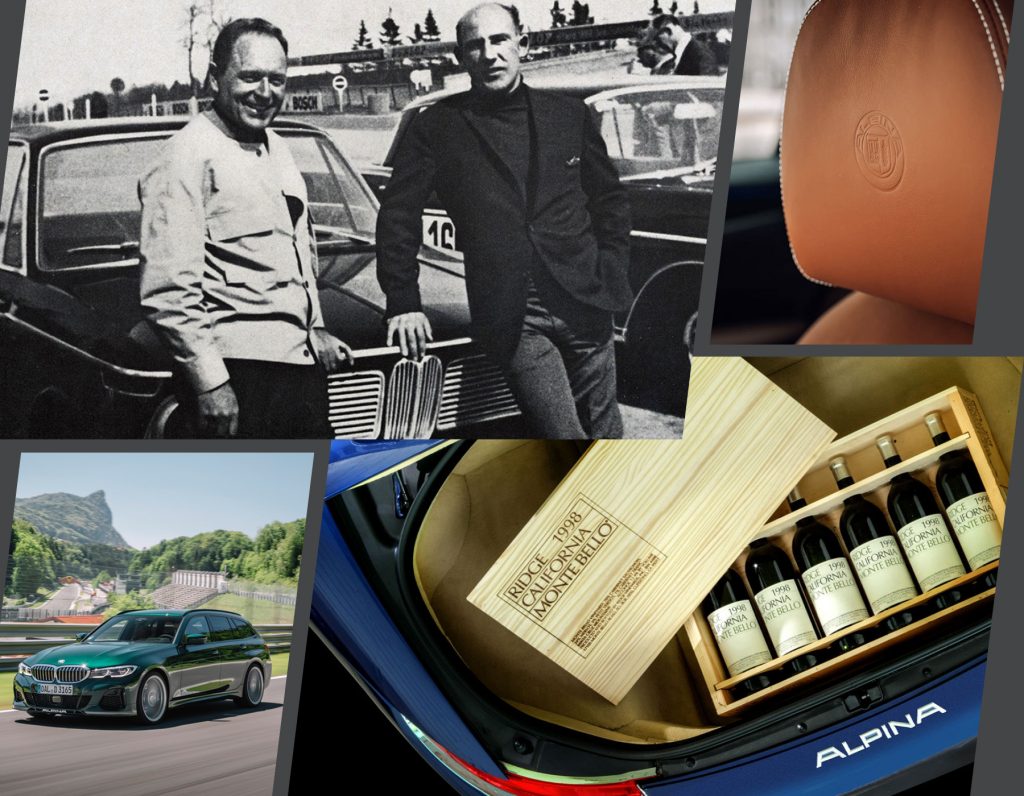 "In Germany, instead of flowers for wives, when a brand-new car gets delivered they have a small case of Alpina wine. The customers can enjoy the nice wines in the evening."
"Then Alpina came in a certain direction looking to make the perfect grand tourer for long-distance driving – fast on a track but having good overall comfort as well – and sporty, very smooth, overwhelming torque and easy to drive. With BMW Motorsport making very sporty cars, we developed Alpina further into the luxury segment."
It's a win–win situation for both Alpina and BMW Group, according to Bovensiepen. BMW Motorsport looks after the sports car market while Alpina covers luxury. "I think today, it's perfect for everybody," he explains.
And what advice can today's CEO of the legendary Alpina house teach others about succeeding in the luxury business?
"I would say look at the biggest markets, have a global strategy, look at America, Asia and Europe altogether. What kind of product is wanted? Do you have the expertise to do it? Otherwise you have to get the right team to do it. Be quick in your decisions and make a solid product.
"In Germany, instead of flowers for wives, when a brand-new car gets delivered, they have a small case of Alpina wine. The customers can enjoy the nice wines in the evening," Bovensiepen smiles.