The impact of the COVID-19 pandemic was – and still is – a wake-up call to businesses around the world to pay closer attention to the details. Its onset caught out far too many that had not maintained work environments adequately, had not considered underlying shortcomings in their facilities' conditions, and had not foreseen the burden on employees who could not work safely.
However, for some, it was a call to arms. Neal Pomroy, CEO of Diversified Maintenance, saw the challenge the pandemic presented and took it on squarely as an opportunity for the facilities maintenance specialist to show its colors.
Founded in 1973, the company is an industry leader in facilities management and maintenance, providing its services to more than 9,100 clients nationwide from its 20 offices. With more than 10,000 employees and 550 field managers, it has the reach and expertise to service retail, industrial and manufacturing facilities, high technology, offices, logistics, fitness centers, banks, health care and educational institutions.
All those clients needed Diversified Maintenance as a matter of urgency when the pandemic struck, placing the company's resources under strain, but its contingency plans were quickly put into action by well prepared staff. "Our hearts and minds go out to all the people who were affected by this pandemic. It's been a horribly difficult time, but I think it was a relative advantage for us. I'm stretching the word relative there, as it was a tremendous challenge. It was unbelievably difficult," Neal tells The CEO Magazine.
"I think what helped us navigate that disruptive scenario better than many others is that we stressed a culture of empowerment and accountability to our employees. Our teams responded in faster cycle times, informed by their knowledge and their expertise, and that nimbleness and entrepreneurial wisdom was rewarded in a fluid and difficult environment. We are completely focused and aligned on getting it right and getting it right as fast as possible, so I think the reason we were able to perform a little better than average is that cultural difference."
Neal had only joined Diversified Maintenance a few months earlier, so it was a real baptism of fire for him as he steered the company through the initial stages of the pandemic. Prior to joining Diversified Maintenance, he most recently worked for a hospitality services management firm, while at the start of his career, he held a number of finance-related positions. He also has an MBA from Harvard.
"The thing that intrigued me most was the fantastic team. The company has
a very good culture."
The team effort of all his staff at the start of the pandemic confirmed his primary motivation to join Diversified Maintenance in the first place. With strong division presidents, heads of sales and customer relations, marketing, operations and finance that all have the best teams in the business, Neal had noticed the unified staff and its laser focus on customer satisfaction, and where that could take the company.
"The thing that intrigued me most was the fantastic team. The company has a very good culture, but it's really a culture built around obsessing about customers and customer delight, making sure our people are safe, have fulfilling jobs and are as happy as possible," he says. "That culture of customers and people has really resonated in every engagement with the company. And facilities management is a tough industry. I just felt like this company was a gem and there was a tremendous amount of opportunity, and it has that kind of relationship with its staff and and customers. I felt like that was a fantastic foundation to build on."
MOVING FORWARD
While the pandemic was a tough initiation for Neal, he's taking on board the lessons learned to focus on three core areas that will keep Diversified Maintenance on a strategic path of growth and development.
First and foremost, he is driving an unwavering commitment to customer satisfaction and retention. This is the kernel of long-term success, he believes, and will always dictate the company's objectives. Complementing that is building the company's reputation for quality offerings by providing a broader range of services, which in turn will capitalize on its capabilities to expand its customer reach and promote greater brand awareness nationally.
"In the short-term, you'll see us do a lot of things to continue to obsess about our customers. We have invested a lot of money in organic sales growth and retention of both customers and employees," Neal points out. "We're going to continue as those initiatives are really bearing fruit. Our organic growth rate is a little over 10 per cent. No-one in this industry is growing organically at that rate. What that means is we're attracting customers that we think are going to be great partners going forward. We're going to continue to play that hand. We're continuing to invest in customer retention."
Over the past couple of years, Diversified Maintenance has achieved healthy and material improvement in profitability of more than 1,000 per cent. That was critical as a metric for profitability and to ensure the company's long-term stability. "We now have enough size and scale that there's a consistency in performance, and we have valuable cash flow, which allows us to invest in further differentiation of the company going forward," he smiles. "I think the company is now in the position it deserves to be in."
"In the short-term, you'll see us do a lot of things to continue to obsess about
our customers."
To capitalize on that stability, the company is undertaking several initiatives for management to build internal rapport, and diversify to new services that will enhance the company's broad appeal to customers. "In the short-term, you're going to see us doing more. We have a couple of initiatives we're keen to push," Neal shares.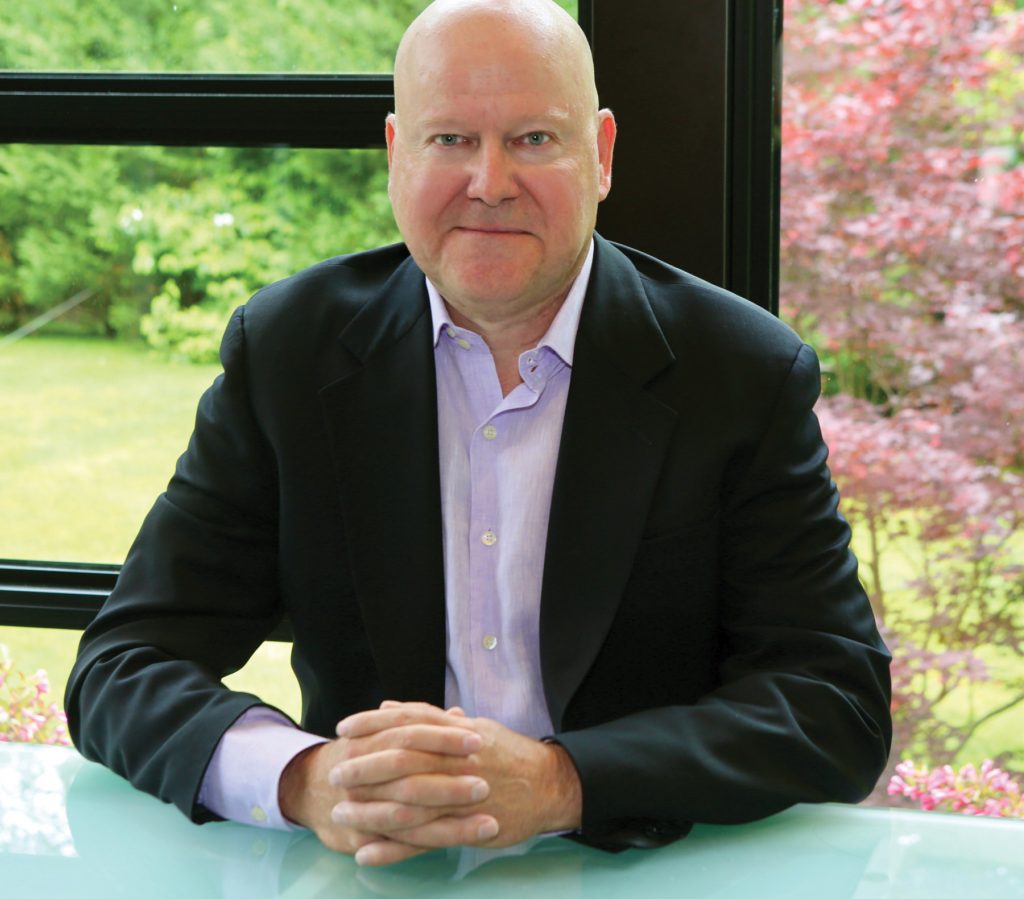 "The first is we've launched a diversity and inclusion initiative. We want to continue to challenge ourselves to be a better company for our staff and our community, and be better at recognizing and respecting the unique needs and perspectives of team members. We're doing a lot around employee engagement and communications, trying to foster a community where our team members feel connected and valued.
"And we're going to target what I call vertical expansion through new services. Right now, Diversified Maintenance is looking to expand those services into more things that our customers buy, and there are going to be two or three industry verticals that we'll enter in a big way over the next year or so."
Neal points to the close ties with suppliers as a turning point for the company's performance during the pandemic. "At the time, all of the supplies around facilities management – personal protective equipment and cleaning supplies that our customers need – we manage a lot of that not only for ourselves, but also for our customers. Our global relationships and our scale let us perform better than average, but it was dicey," he recalls.
"When there are delays, when there is complexity, when there's confusion in an organization, it can't respond quickly. It doesn't respond well and it doesn't perform well. I think having good relationships with our suppliers lets us be a little more nimble, more entrepreneurial and more consistent in our performance. But a lot of volatility in your supplier base is going to catch up to you."
"Our global relationships and our scale let us perform better than average."
The business is looking at deeper partnerships with other facilities management companies, partnering or joint venturing with them to build a platform for profitable growth. Neal is also holding conversations with several small and mid-size companies that could benefit from the greater infrastructure from a larger company like Diversified Maintenance. By partnering with other appropriate companies, it can take new services to customers that are both simpler and carry lower costs.
Neal envisages the company as one of the go-to partners for that kind of collaboration because of the mutual benefits that can be found. "When we find a way to work together, we make them look good by doing a great job for our shared customers," he says. "We want to find ways to invest in those companies so that we do a better job for them as well. They value our national customer reach and we value the specific things that they do really well, so we're trying to find a way to work together.
"A key part of it is bringing to customers some new ways we can achieve their goals, save some money and gain some performance. It might be that we're partnering with another firm so they don't have to manage two relationships. They can look to us to manage that. We're doing that in some expansions of our service offerings. We're also investing in some equipment around some new services that make what we do more evident in their operations."
FINE-TUNING OPERATIONS
Diversified Maintenance is analyzing its business intelligence to generate better insights into how it presently performs. The company is also investing in new technology, new staff and training them, running several pilot programs in the use of automation, with some early opportunities to use robotics and other more advanced equipment. That is a key performance indicator for customers, and leverages the talents of its frontline workers, Neal explains.
"Our first goal is a dynamism around consistency and superior performance. For us, that means we do what we say we're going to do," he says. "We're achieving very high marks in customer satisfaction and on the metrics we use internally for our own efficiency. In our day-to-day operations we're managing the business against the biorhythms of performance.
"We use the phrase 'details matter'. Safety, cleanliness and hygiene really matter. That's building consumer and employee safety and health. We're asking ourselves the question, how can we be a critical vendor and partner for our customers in meeting those objectives? That's leading us to partner with some additional people so that if we're already there doing two activities, can we help do the third one in a more seamless way? Then you don't have to bring in a new manager and lines of communication."
TEAM EFFORT
Neal is inculcating a culture of risk tolerance in employees, suggesting that new ways of working can be effective as well as liberating for people. While new ideas don't always work, he believes that's no reason to not try them. "It's OK to try some new things and fail," he points out. "We use the old rubric of 'go ahead, fail'. If you're going to fail, let's fail fast and let's learn from that failure. Let's figure out whether it needs to be retooled and reimplemented or let's not do that again.
"We have internal training that aligns with that culture. We have communications and updates for senior management all the way to the 10,000 frontline workers we have out there. We're trying to do a better and better job about that and making sure that those systems are all aligned and performing well under that culture."
Neal is an enthusiastic supporter of letting people test their limits, stretching themselves to find hidden talents and developing newfound confidence that they might not otherwise gain. Promoting people to positions that challenge is one way to develop their skills, and at the same time build the skills base of the company.
"It's OK to try some new things and fail … If you're going to fail, let's fail fast and let's learn from that failure."
"Over time I have a better understanding of what's happening," he says. "We're trying to provide people with unique opportunities. We do a lot of promotion from within. We sometimes put some people in positions that they have to stretch to, or feel uncomfortable, or maybe we're more confident in them than they are.
"They see that when you're growing and adding really good people, then that's actually not threatening. That's empowering, and they see a business that's investing in its people. I think that creates a little positive mojo as well, so we try to get the small things right on why people should want to work here."
Without that drive for new skills and knowledge, people don't grow, and so the company doesn't grow either. It' a two-way street, Neal says. "I think one of humankind's greatest enemies is we don't know what we don't know. If you can be humble, I think by and large you benefit and the organization benefits. It's that focus on the objectives and figuring out how you can help individuals meet their objectives that can be combined with the overall goal."
DIVERSITY AND INCLUSION
Diversified Maintenance and its sister company, Environmental Service Systems, have announced the introduction of a joint D&I strategy for diversity in recruitment, employee development, inclusive procurement, corporate social responsibility and transparent performance reporting.
"We want to continue to challenge ourselves, quite frankly, to be a better company for our staff and for our community," Neal insists. "If we can continue to be better at recognizing and respecting the unique needs and perspectives of team members, we can capitalize on the wonderful, empowered diversity that's in our story – in our company and in our customers."
The D&I initiative is based on five key pillars: organizational commitment, workforce diversity and inclusion, supplier diversity, corporate social responsibility and performance optimization.