With public pools closed in many areas due to the coronavirus pandemic, it seems that wild swimming – swimming, for instance, in seas, rivers and lakes – has become a trend with a 94 per cent increase in the search term 'wild swimming' between 2019 and 2020.
In the UK, organized groups of hardy individuals are reaping the mental and physical health benefits of immersing oneself into rivers, lakes, the wild ocean and just about any natural body of water.
The thrill of discovering a new destination and waking up the senses offers a compelling reason to adopt this sport. However, not all of us are built to tackle the elements and embrace the surge of coldness that often accompanies this experience.
That's where natural hot springs come into play. They offer a perfect compromise between being outdoors yet with the promise of comfort and relaxation attached.
Selected from a recent study carried out by QS Supplies, the most attractive hot springs in the world were chosen based on data from Tripadvisor and Instagram. They were then carefully selected to only include those with minimal human intervention.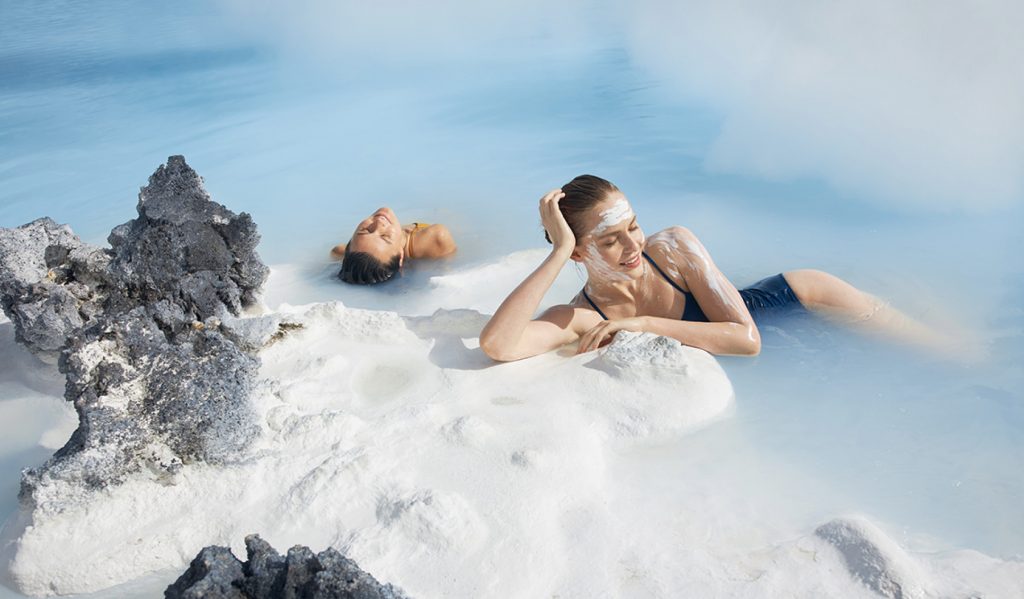 Blue Lagoon, Iceland
Renowned for its healing properties and mesmerizing blue hue, the pristine geothermal seawaters of the lagoon are enriched with silica, algae and minerals that have remarkable rejuvenating powers. Warmed to a comfortable 38℃ (100.4°F), bathers can rest their eyes on the moss-covered lava fields and volcanic landscape surrounding the lagoon.
Whether you are seeking serenity or pleasure, some highlights include an in-water bar, where you can choose from an array of both non-alcoholic or alcoholic beverages, and a mask bar, ideal for those who value natural beauty and a healthy glow with algae and silica in abundance. For a more pampering experience, indulge in a massage suspended in the warm blue waters or head over to the sauna and steam room.
---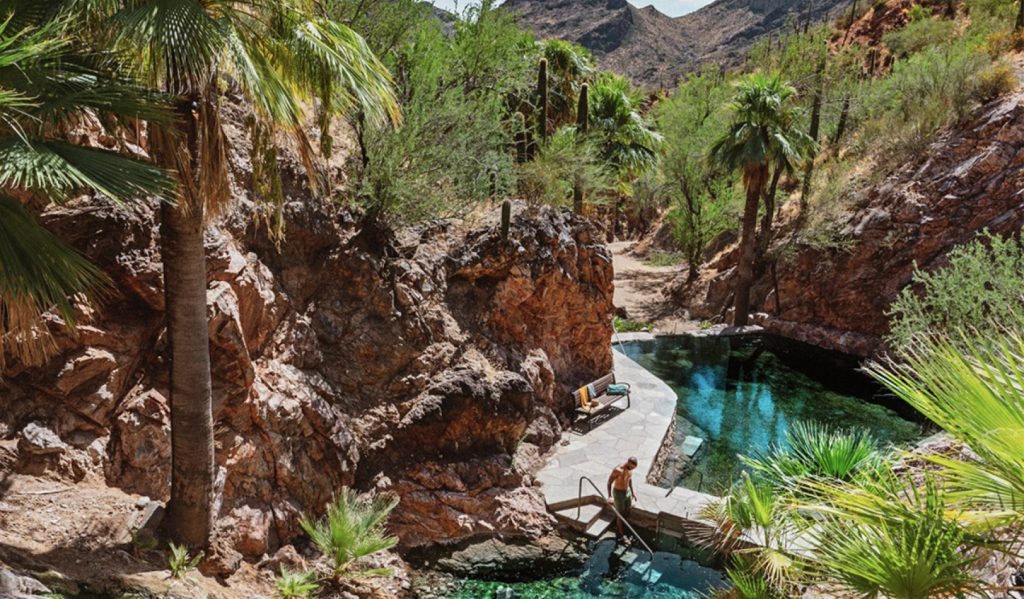 Castle Hot Springs, US
Castle Hot Springs is recognized as one of the top luxury outdoor destination resorts in the US with a long and rich history. Located in the heart of the Sonoran Desert with the Bradshaw Mountains providing a stunning backdrop, the natural hot spring pools have been visited by indigenous tribes, celebrities and dignitaries around the globe, who found their way to this remote desert oasis.
Each hot spring contains its own unique blend of naturally occurring minerals that have beneficial properties for guests who choose to soak in the geothermal waters before heading over to the property's farm where you find an impressive array of produce used across the menus at the resort's restaurant.
---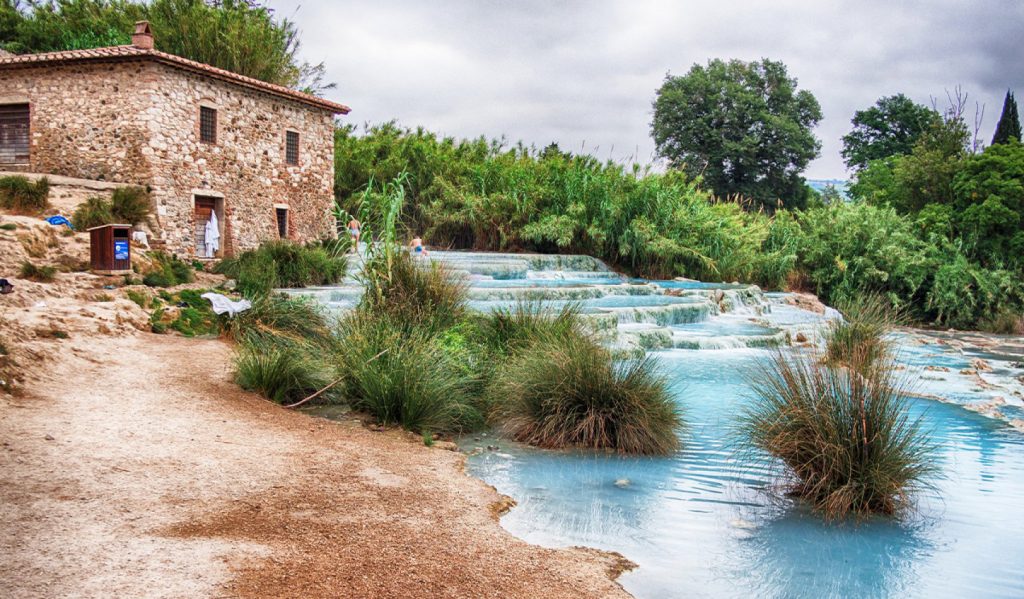 Terme di Saturnia, Italy
This group of hot springs in Tuscany, of which the Cascate del Mulino is the most well-known site, boasts an old stone mill nestled behind a staircase of tranquil blue pools at a constant temperature of 37.5℃ (99.5°F). Born from a crater, according to mythology, that the god Saturn is believed to have created with his thunderbolt, the thermal water is rich in sulfur and beneficial minerals for the lungs and cardiovascular system.
---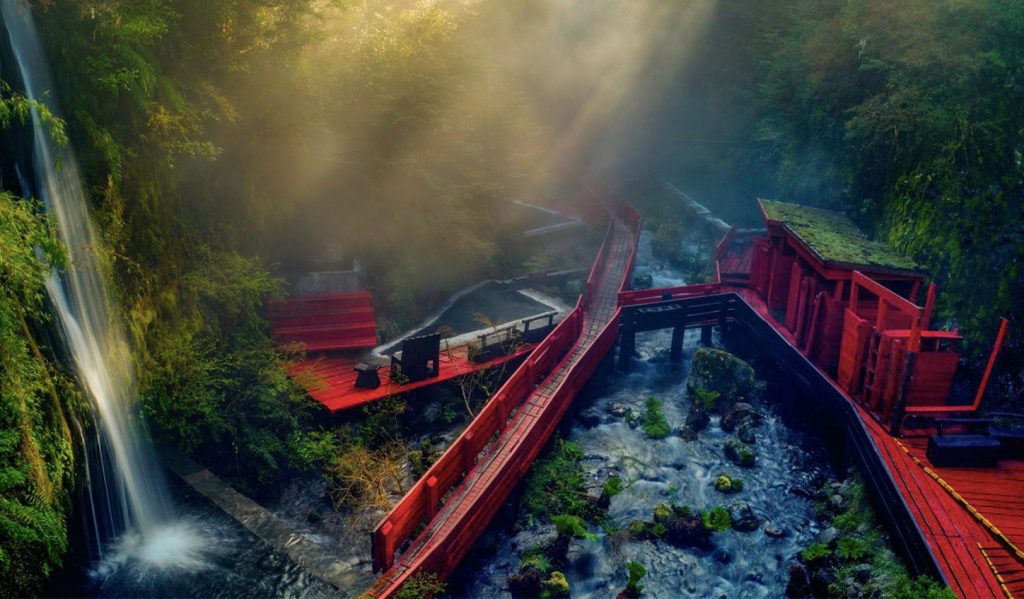 Termas Geométricas, Chile
A maze of red planked walkways amid verdant greenery is the best way to describe the hot spring site, which consists of pure thermal water fed from more than 60 springs. With a choice of 20 pools in total from which mist rises eerily into the forested Chilean landscape, finding a suitable spot makes the journey almost as intriguing as the destination – being at the bottom of a canyon.
---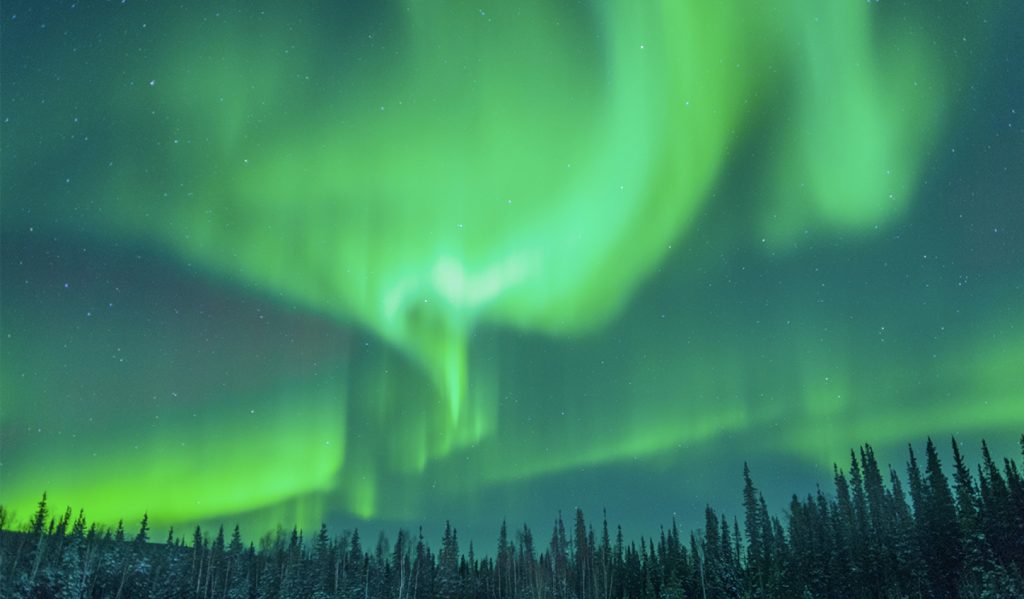 Chena Hot Springs, Alaska
Chena Hot Springs are a world famous feature of the Chena Hot Springs Resort, situated in the Alaskan wilderness surrounded by enchanting forests and mountains – a landscape that offers a Narnia-like experience in the winter from the steamy comfort of a 41℃ (105.8°F) outdoor lake or hot tub.
This unique remote location provides the ideal conditions and vantage point for viewing the spectacular northern lights from August to April while soaking away your troubles. Rich in minerals, the waters have been used for more than 100 years to cure aches and pains, as they continue to do today. It's also considered one of Alaska's more easily accessible hot springs and has plenty of diverse activities on offer, including geothermal renewable energy tours, an ice museum with a bar and horse-drawn sleigh rides.
---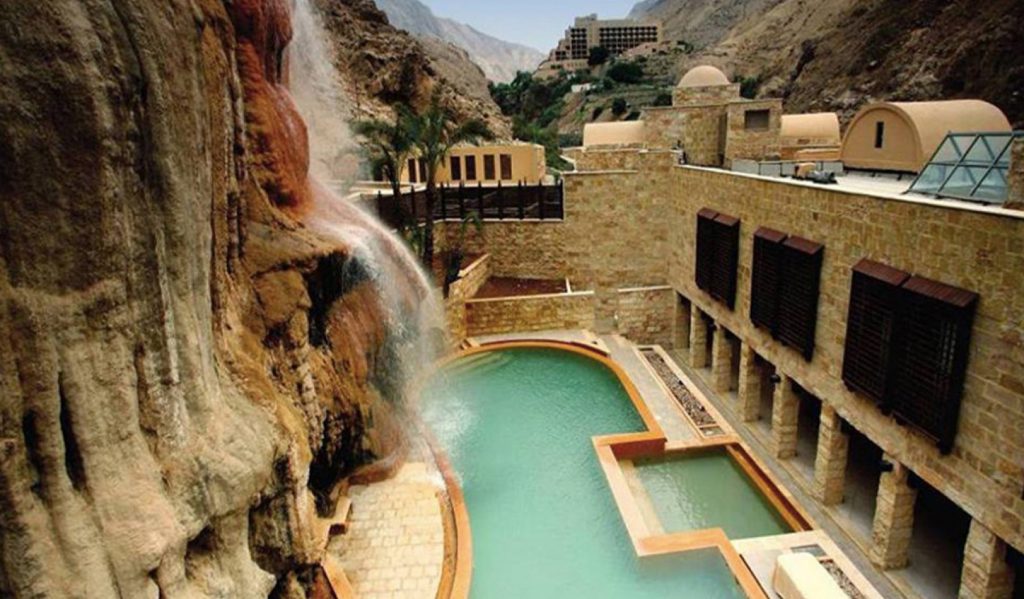 Ma'in Hot Springs, Jordan
This lush desert oasis, with its breathtaking waterfalls and hot springs that date back to biblical times, is a feast for the eyes within an otherwise arid landscape. In close proximity to the Dead Sea, Ma'In Hot Springs Resort & Spa offers a stunning backdrop of the main hot waterfall cascading down a cliff at searing temperatures of up to 60℃ (140°F), which guests can view from the natural thermal pool. For the ultimate authentic adventure, the Bedouin dining experience is a must after bathing in the healing waters that ancient kings frequented to improve their health.
---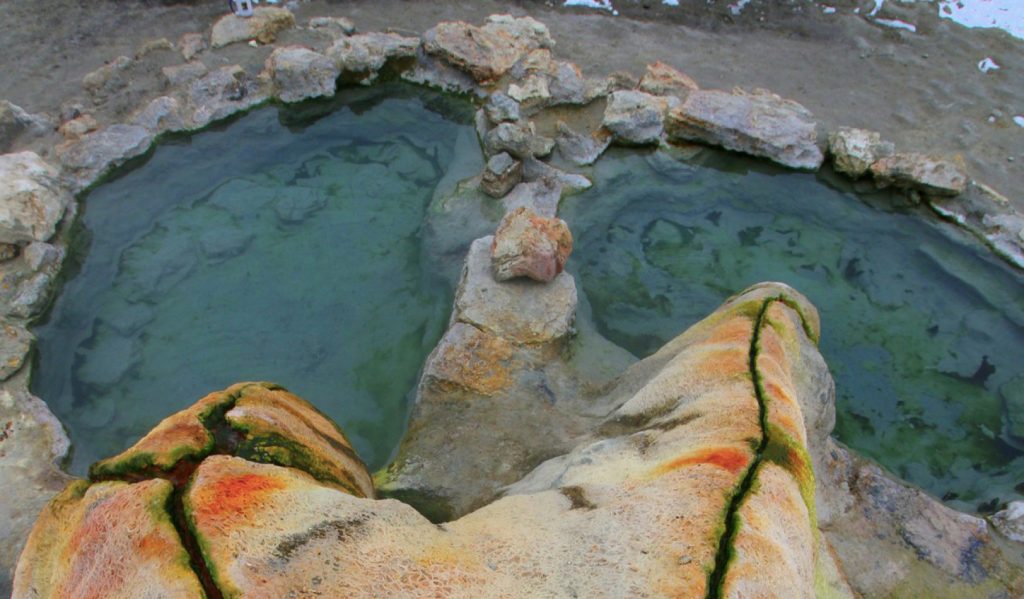 Travertine Hot Springs, US
For travellers who plan to take a road trip in the US, Travertine Hot Springs in California is a popular destination for visitors and locals alike and features captivating views of the Sierra Nevada mountains. In the past, the site held significance for Ute Indians, who bathed in the warm mineral spring waters for their healing properties. Today, the rock pools are still characterized by their limestone formations and wide open skies in the heart of nature.
---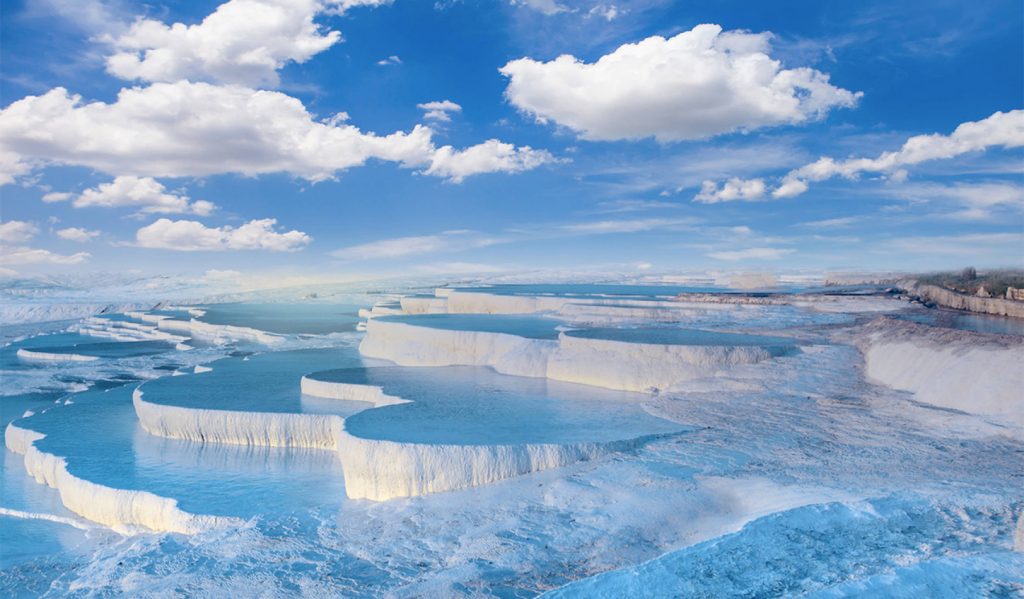 Pamukkale Thermal Pools, Turkey
What first appears to be a snow-filled landscape, which explains the meaning of Pamukkale – which translates to 'cotton castle' – is the result of solidified calcium carbonate rich water. These iconic white terraces with crystal-clear blue water are one of the nation's most popular tourist attractions and this is partly a result of the site's location, neighboring the Roman spa city of Heiropolis where ancient ruins abound. Cleopatra herself is believed to have bathed in the pools. Collectively the ruins and the thermal pools were declared a UNESCO World Heritage Site in 1988.
---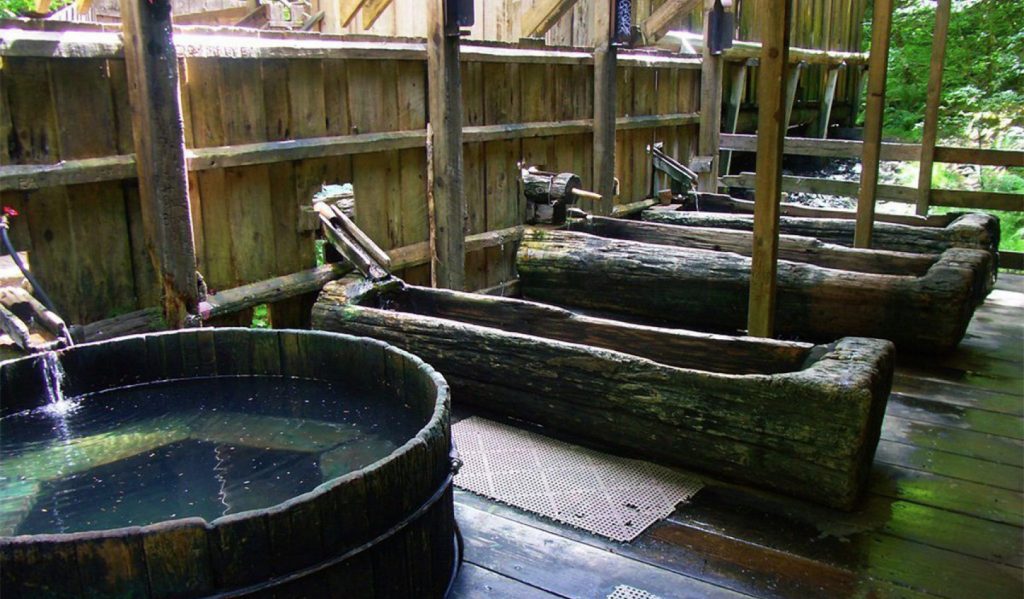 Bagby Hot Springs, US
Situated in the dense and magical woodlands of the Mount Hood National Forest in Oregon, Bagby Hot Springs can be accessed by foot along a picturesque 1.5-mile walking trail. It leads to a generous flow of hot mineral water from two underground springs that bathers can enjoy within a selection of private and communal tubs of cedar bathtubs. For nature lovers, the open-air bathhouses and the secluded location make for a restorative experience like no other.