Miranda Kerr's face is one of the most recognizable on the planet. In every corner of the world, people have become familiar with her flawless features – the chestnut locks, cherub lips and glowing, dimpled cheeks that have appeared on billboards and magazine covers for the past three decades. She's graced international runways, walked for Dior, Chanel, Stella McCartney, Miu Miu, Balenciaga, and Loewe, and she became the first Australian to earn the coveted wings of a Victoria's Secret Angel in 2007.
So, while Kerr may already be a household name thanks to her prolific modeling career, she is now also garnering an impressive reputation in an entirely different industry as the CEO and Founder of beauty and skincare brand KORA Organics. Kerr launched the brand in 2009 – the result of a deep interest in and appreciation for wellness that can be traced back to her teenage years.
"When I was 16, my mum had cancer in her spleen," the 38-year-old tells The CEO Magazine. "This encouraged us as a family to research the ingredients in all the products we were using. We were shocked to see how potentially carcinogenic and toxic certain ingredients can be and that they were available and assumed to be safe."
From the age of 13, when this young girl from Gunnedah, NSW, started modeling, she was granted an inside look at the beauty world, effectively road-testing most of the brands available on the market. With her skin as the palette, Kerr learned "how to prime and prep the skin and which textures and products worked underneath make-up". She also came to realize that there was a glaring gap in terms of what she was looking for as a consumer.
"Back in 2006, I was having a conversation with a friend about how I was eating organic and had cleaned up our products at home so they were less toxic but that I hadn't been able to find anything that was certified organic in the skincare space," Kerr explains. The friend introduced her to an aromatherapist, who put Kerr in touch with chemists that could help her formulate "powerful, results-driven products that were certified organic". From there, KORA was born.
"I knew from the day I started that modeling wasn't a long-term job."
"I wondered why no-one else was doing it," she says. "So I decided to take it upon myself. I invested my own money, and we started creating samples." As it turned out, the transition from supermodel to skincare entrepreneur "felt very natural", because, after all, modeling was never Kerr's only plan. "I knew from the day I started that modeling wasn't a long-term job," she continues. "I never in my wildest dreams thought that my modeling career would last this long. I took it with a grain of salt and appreciated every job as if it was my last."
Before long, KORA had made its way onto Australian department store shelves and was quickly becoming renowned for its luscious face masks, creams and cleansers – with each and every ingredient certified organic and filtered through rose quartz crystals during the manufacturing process. But as the brand's profile grew, Kerr reveals that many people assumed she was simply lending her face to a company that she had little to do with. "They thought I was just the model for the brand or that it was a licensing deal, but I built this company from the ground up with my own money, my own ideas."
Kerr admits that going out on her own and pouring her personal funds into the creation of KORA was a considerable risk, but she had the utmost faith in the brand. "Any big investment is daunting, but I was confident in my vision," she shares. "The products really worked and no-one else was doing certified organic skin care, so I knew I had something."
KORA was on an upward trajectory, but between juggling the company, her still demanding modeling career and being a devoted mother to her son, Flynn (now 10), from her marriage to actor Orlando Bloom (which ended in 2013), Kerr had a fair bit on her plate. "I was working crazy hours and traveling the world for modeling," she sighs. "So KORA was my passion project."
But when Kerr began a relationship with Snap CEO and self-made billionaire Evan Spiegel in 2015, a subtle but significant shift occurred. Speaking with Forbes magazine in April this year, Kerr said that part of the catalyst for KORA to expand into the US was due to Spiegel's encouragement: "He was just like, 'I don't know why you're spending all your time building other people's brands when you should be spending this time and energy focusing on your brand.'"
Global takeover
KORA burst onto the American market following an exclusive launch with beauty giant Sephora in 2017. From there, nothing could slow the brand's trajectory. "I had to build a team based in LA to support the increased demand," Kerr explains. "We now have two HQ offices, with about 50 employees between LA and Sydney."
At present, KORA is stocked in retail outlets across 30 countries and shipped to a total of 120 countries via its website. Now, four years since Spiegel's sage advice, Kerr says she still enjoys bouncing ideas off her now-husband (Spiegel and Kerr tied the knot in 2017). "We truly complement each other, as we both have different strengths," she smiles. "I'm just so grateful to have him. I am so lucky to have such a smart, successful and driven husband."
Given they are responsible for running two hugely successful, albeit vastly different, companies, and have welcomed two more sons, Hart, three, and Myles, who turns two in October, into their family, Kerr and Spiegel have certain processes in place to ensure their home life flows smoothly.
"It's definitely a challenge fitting everything in, as I'm sure most parents understand," she concedes. "I love being a mother. It's my favorite thing in the world. We as parents feel it's really important for our children to understand and see that work is a part of life but that obviously they're the priority.
"While I do feel very busy, I'm pretty good with planning and have learned to prioritize and multitask a lot more. I have a different color-coded calendar for everything – even the kids' nap times and 20 minutes for lunch – which helps me stay organized."
"I built this company from the ground up with my own money, my own ideas."
As far as self-care is concerned, Kerr praises the benefits of meditation, massage and exercise, because "in order for you to give your best to others, you need to feel your best".
To this day, Kerr owns 95 per cent of the company – an essential decision to "make sure my vision was fully executed. I didn't want anyone to try and dilute that." She is actively involved in all aspects of KORA, from marketing to product development and retail, and she has no intention of stopping anytime soon.
Now, in 2021, the rest of the world has finally caught up with Kerr – with the global wellness industry worth an estimated US$1.5 trillion. As a result, the market is saturated, with more brands than ever before jumping on the 'clean beauty' bandwagon. And while Kerr is bolstered by the shift towards natural alternatives, she warns that "the beauty industry is pretty unregulated; therefore, a product can easily be marketed as natural, clean or organic but might only contain one organic ingredient".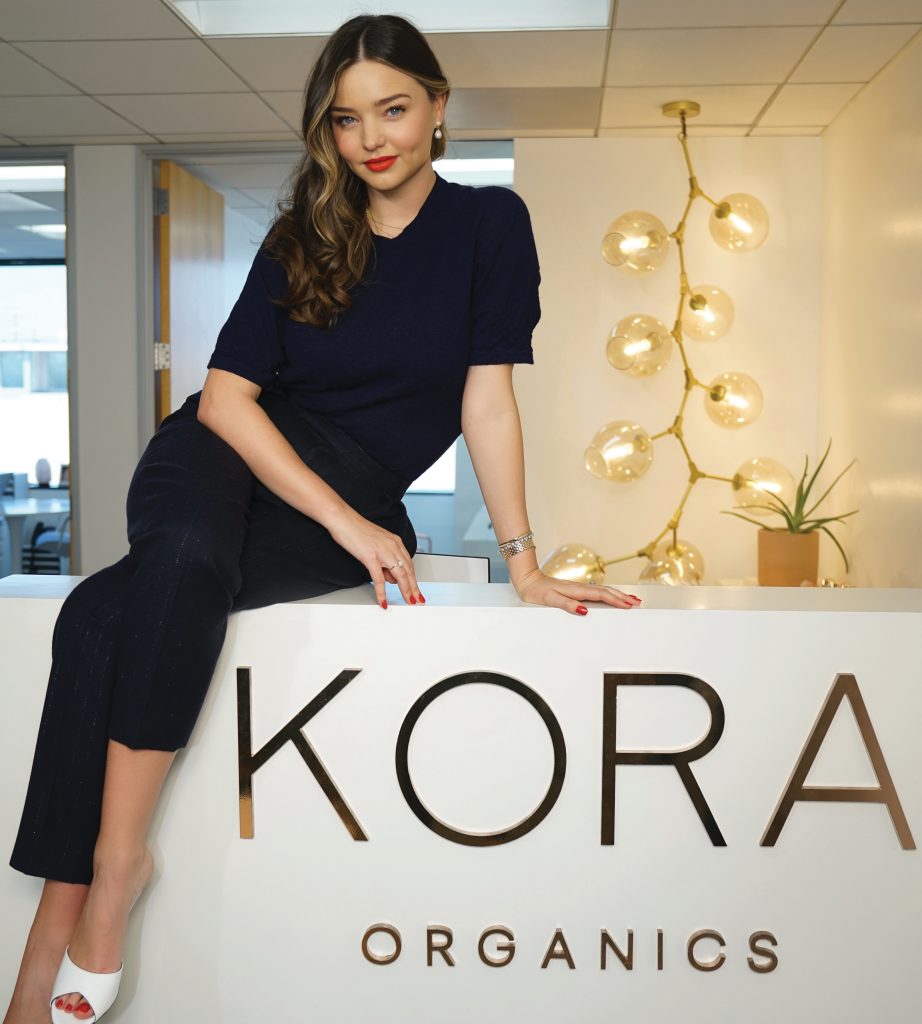 "Being Certified Organic is the most heavily regulated ingredient system in the world, it guarantees products and the ingredients are genuinely organic and produced to the highest feasible sustainability practices," Kerr enthuses.
"Everything from the ingredients to the manufacturing facilities to the packaging materials must be reviewed, approved and audited by Ecocert/Cosmos. This means our customers can trust that our products are what they claim to be. Not only are they clean and free of unnecessary toxins, studies have shown that certified organic ingredients can contain up to 60 per cent higher antioxidants than non-organic ingredients, and therefore produce more powerful results."
Reflecting on the 12 years since the brand's inception and her pioneering role in shaping the industry, Kerr says she feels "so proud that KORA was one of the first brands to pave the way in what is now a global phenomenon".
"It's not just about success or building the brand to sell it and make money; I truly believe that health is wealth and I want to continue to educate people and spread the message of self-care and investing in your health."