Although they play a pretty important part in our day-to-day lives, teeth get a rough deal. With the average Australian simply not that excited about paying a visit to the dentist, a sentiment that hasn't been helped by the pandemic, our pearly whites are often left neglected. In fact, the Australian Dental Association's 2020 National Consumer Survey of around 25,000 people found that a substantial 60 per cent of people hadn't paid a visit to the dentist in two years.
It's an issue healthcare distribution business Henry Schein Australia is keen to address. "There's a very significant number of Australians who don't actually go to the dentist or even have a dentist," Vice President and Managing Director ANZ Mike Covey tells The CEO Magazine. "As a result, dental caries, the issues that come from the breakdown of the teeth's surface, is very significant here in Australia."
Mike knows his stuff – he has just celebrated 10 years with Henry Schein, taking his total time in the dental industry to more than 15 years. Indeed, according to the World Health Organization, dental caries is the world's most widespread non-communicable disease and a significant global burden.
"There's a real challenge in terms of how oral health fits within systemic health management," he shares. "That's got everything to do with the lack of communication that occurs between dentists and doctors, because often the health of your mouth can have a huge influence on the health of your body overall."
A growing body of evidence supports this line of thinking. For example, a recent study by the University of South Carolina School of Neurology in the US found that people with gum disease had higher risks of stroke and narrowing of brain arteries.
"In Australia, the waitlists and the challenges in delivering oral health through the public health system – in particular during the pandemic but even before then – are extensive and complex," Mike explains.
"If you compete with the management of other health areas such as mental health or diabetes, oral health often doesn't get a platform to really advocate for how important it is to get the health of your mouth right – because it's a good thing for your mouth but also for your body in general."
An "extremely broad" range of products is required to help tackle the oral health challenge, according to Mike, which is where Henry Schein Australia comes in. The company carries more than 70,000 items to cater to the "not straightforward" needs of dentistry, which can range from clear aligners, dentures, veneers and teeth whitening to regular check-ups and root canal treatments.
To better cater to the diverse needs of the medical sector it serves, the company has heavily invested in a digital transformation which Mike describes as a "significant shift" for the company. "In dentistry, in the past two years through the pandemic, there has been such an acceleration in the adoption of digital platforms in terms of interacting with customers," he reveals. "We've been on that path for more than eight years now but really, the past five years have seen us really focus on ecommerce."
Adopting an "omnichannel approach" is a big part of this shift, with Schein Online offering a one-stop shop for customers to log in and research the products before making a purchase. "Then if they decide they want to place an order, they can proceed into a shopping cart-type environment," he says. "Our approach to ecommerce is aligned and complimentary to the existing sales and customer service teams."
The platform's adoption of machine learning/artificial intelligence technology means that users can also benefit from a recommendation tool, promotional offers and live chat. "There is a lot of technology that we run in the backend that makes the online experience for all customers effortless, no matter what they are looking for or what their specific needs are based on the type of practice they run.
"Having a really good-quality ecommerce platform is critical to customer engagement," he points out.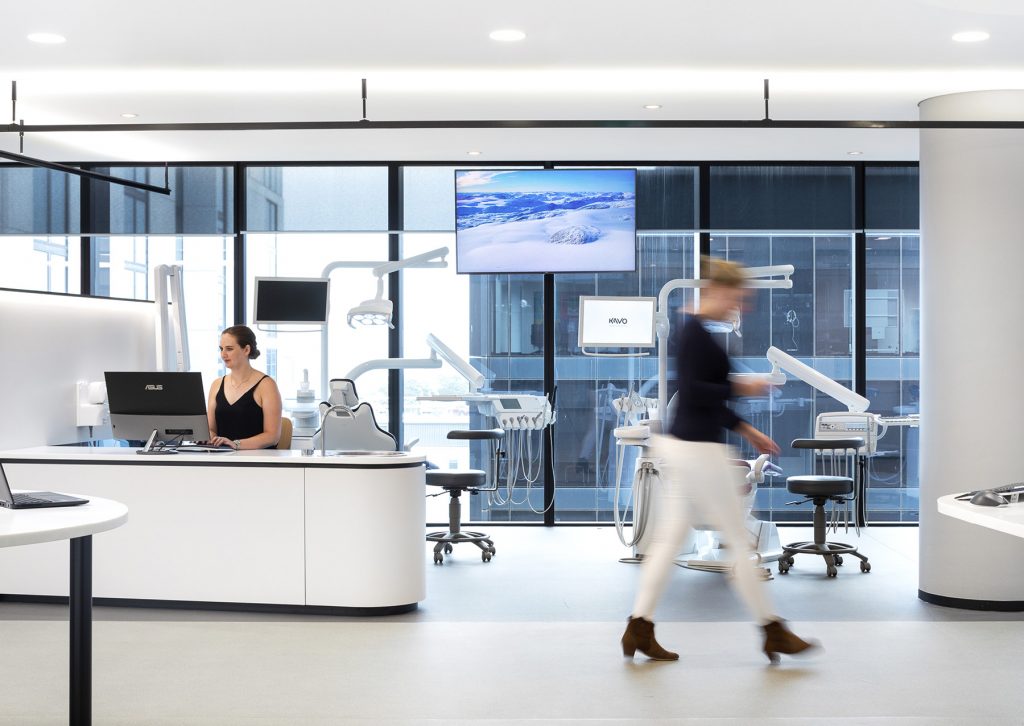 "We want to make it as effortless as possible for our customers to have a great experience."
Additionally, prior to the pandemic, the company would hold around 150 face-to-face education events every year. However, these ground to a halt as a result of the pandemic. "We realised that we still needed to reach our customers to educate them around products, how to use the products, and how to build out that area within their practice," Mike recalls.
And so Dental Education Hub was born – a digital platform dedicated to education which incorporates webinars, live television, hybrid events and masterclasses. "We are now the number one digital dental education site in Australia," he shares proudly. "During last year we had more than 30,000 unique visitors."
A massive organisational shift entitled 1HS also promises big things for Henry Schein Australia. Under the new structure, customers have a relationship manager to oversee their purchases as well as other services to create a "more holistic experience". To ensure the project is a success and further enhance the customer experience, the company has made a major investment in its customer relationship management system, Salesforce, and introduced advanced warehouse management systems into its large warehousing operations, enhancing efficiencies and reducing errors.
Essentially, its aim is to reduce the amount of effort the customer has to make, with Mike drawing inspiration from the business book, The Effortless Experience: Conquering the New Battleground for Customer Loyalty. "We want to make it as effortless as possible for our customers to have a great experience," he stresses. "We consistently share this message with the team. It's all about alignment and focus."
"We are a proud and exclusive manufacturer to Henry Schein, and together we have built a reliable, trustworthy partnership for over 50 years in Australia that focuses on innovation and exceptional customer service while leveraging our organisations' collective strengths to drive success." – GC Australasia Dental