Cyclect has been one of Singapore's most successful and award-winning construction and engineering companies for many years, with a reputation for innovation and harnessing cutting-edge technology for its many high-profile projects.
Its electrical experts have played key roles in such world-famous landmarks as Gardens by the Bay, the Marina Bay Sands Resort and even the Singapore Grand Prix. In recent years, it has successfully diversified into robotics, renewable energy and cybersecurity, enjoying impressive growth.
However, when COVID-19 hit, not even Cyclect was immune from the shockwaves of devastation and disruption that reverberated across the world.
"The past couple of years haven't exactly been sunshine and roses," Group Managing Director Melvin Tan reflects. "It's just been very intense for us, as we are an extremely essential partner to many critical facilities, and are highly dependent on workers and service staff. Just like a restaurant, we need people on site but, unlike a restaurant, we can't do takeaway or delivery – we have to provide services there and then."
Melvin is the third generation of the Tan family to run the company since it launched as a modest machinery repair workshop during the Japanese occupation of the country in 1943. He joined as a trainee in 1997 when Cyclect's main business was repairing ships. Today, its 700 employees operate in nine countries. Before the pandemic, it had been enjoying some of its most successful years, but suddenly there were new realities that had to be dealt with.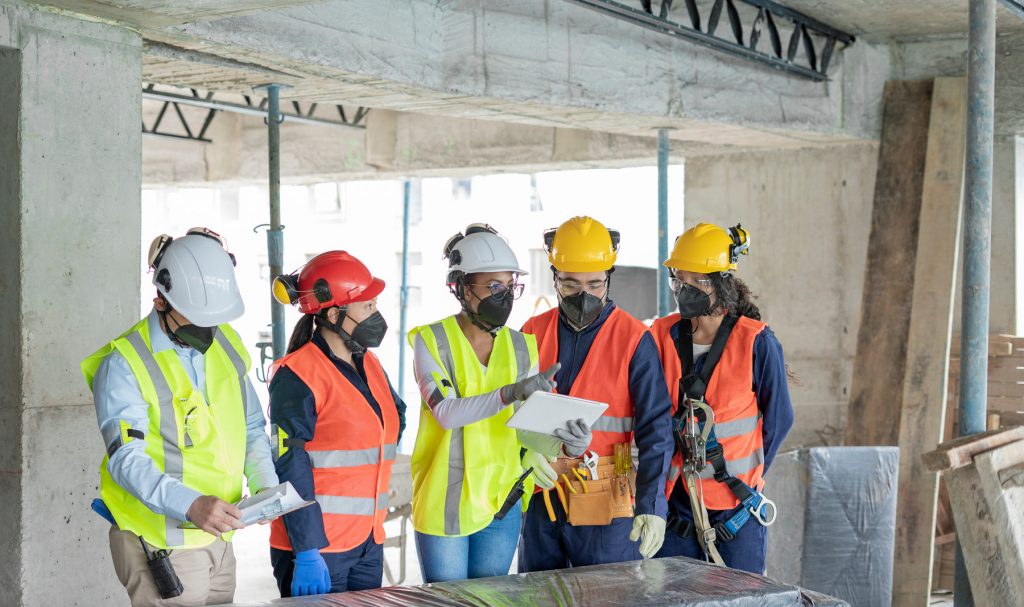 Protecting every team's wellness
"We'd had some good years as there was a lot of investment into Singapore and we'd won a great deal of work," Melvin says. "However, at the onset of COVID-19, it was hard because we didn't know how to pivot.
What made COVID-19 so impactful to us is that nobody expected it.
"It was surreal. I remember some streets of Singapore were empty during lockdown. It was crazy every day trying to figure out what the new rules and situations were. I recall just focusing on taking care of the physical and mental wellness of my team. I had to protect them as best I could because we didn't know whether COVID-19 would turn us into zombies, right?"
Cyclect employed hundreds of foreign workers who became trapped for months, away from their families, not knowing when they'd be allowed to travel.
"As it dragged on, some of them hadn't seen their kids for nearly two years so the mental anguish was bad. Everybody was like, 'I cannot wait to go home. I need to start a family.' I knew we just had to let them go back and hope they'd return someday," Melvin explains, admitting that the stress and uncertainty took a heavy toll.
"Internally, I was constantly in a state of worry. I woke up at three or four in the morning, getting news updates and planning the day ahead, what needs to happen at eight o'clock, what instructions I'd give to my team. I went into operations mode – we had all hands on deck because nobody could predict what changes were instituted that day by various governments.
"What made COVID-19 so impactful to us is that nobody expected it. There were no standard operating procedures. Our governments were prepared for terrorist attacks and other crises, but not a pandemic of this scale. Operationally we succeeded with the team intact, but we weren't unscathed because of COVID-19 infections and shutdowns."
Despite the restrictions on movement and disruptions to the supply chain, Melvin moved quickly to ensure his network was connected and able to communicate. He liaised tirelessly with clients, project partners and government officials, with him and his team working 12- or 14-hour days.
"There was a ridiculous amount of work, so mentally, we took a beating," he says. "I felt like I needed to support my teams by helping workers overcome the fatigue and supporting those who couldn't see their families. My role was to back them up.
"But going forward, we're now a lot wiser. I've made sure we have programs, policies and playbooks to manage different crises. However, I admit we haven't written our procedures to deal with a zombie apocalypse; I wouldn't know what to do. I don't have the tools to deal with it yet!"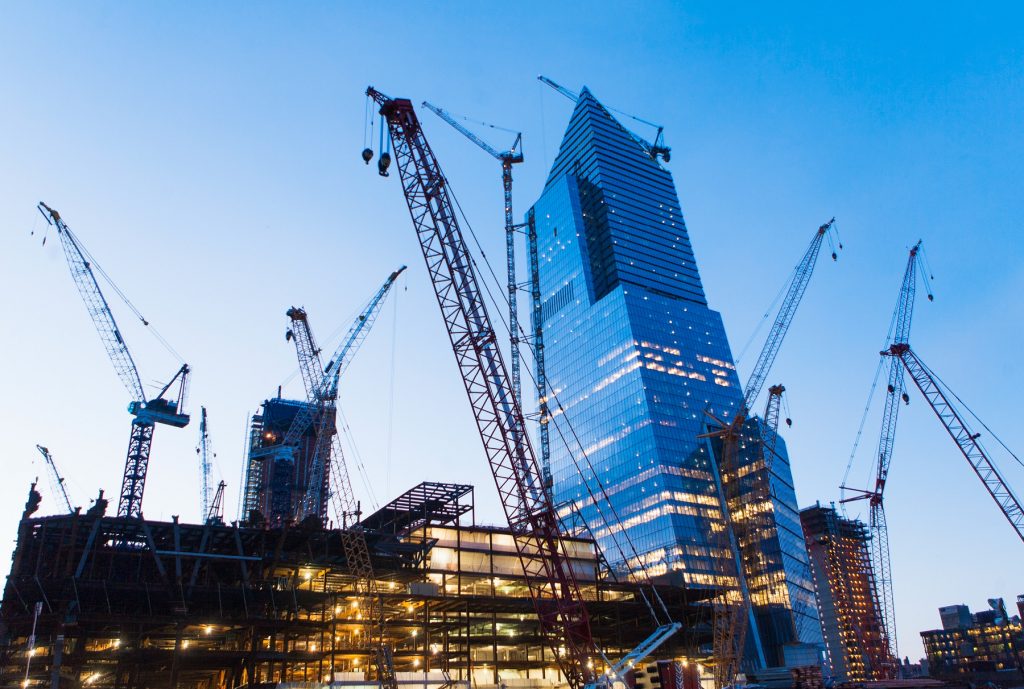 Sustainable engineering
One fight where Melvin does have some powerful weapons is in the battle to decarbonise. Every major project now comes with a long list of sustainability KPIs, and the company is well placed to address them.
"It's an area we've transformed. With our experience in heat recovery and electrical engineering, we helped large manufacturing facilities reduce their waste to generate energy that will help reduce carbon emissions. For more than a decade, some of these plants have saved hundreds of tonnes of CO2."
And sustainability has to go hand in hand with responsibility, according to Melvin. "They must be layered throughout the business. We try to discover who we're buying products from, whether or not they came from a slave labour camp."
Enhanced connectivity
Perhaps the sector with the most potential for growth is the Internet of Things, where more and more everyday objects are linked in vast networks of data.
"Everything is connected, from the lights in our homes to our phones and cars," Melvin says. "I have an electric vehicle and it's linked to my phone and my office. I think many more things will be added. It's a space we're investing in to see how everything comes together. There will certainly be many more pieces of the puzzle."
One such piece is cybersecurity. He strongly believes there's a gap in the market when it comes to protecting both individuals and corporations from malware and hackers.
"We are collaborating with BDATA, an innovative Canadian startup, to develop various cybersecurity applications to protect manufacturing, critical infrastructure and military assets. Its solutions have gone into military drones, autonomous mining operations, pipelines, power plants and water treatment plants to prevent devastating attacks on critical infrastructure."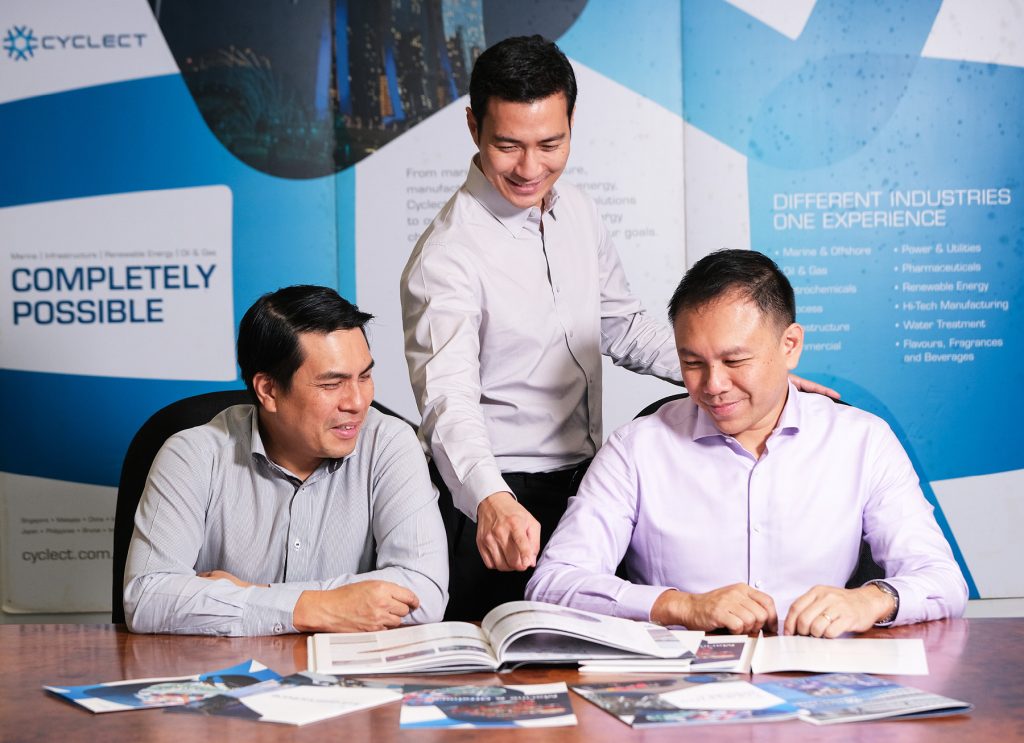 Targeting future growth
Melvin's strategic plan for the next few years is all about the three Ds: digitalisation, development of skills and diversification.
"Digitalisation is transforming all elements of business and presents an opportunity for Cyclect. Everything digital requires power and cybersecurity," he explains. "Remote working and control of facilities will be essential. Even maintenance works, which are manpower intensive, can now be done with cameras and artificial intelligence, detecting broken glass, fire, smoke, and safety or security infringements. It goes beyond customer relationship management and enterprise resource planning so we can get analytics if equipment fails."
I recall just focusing on taking care of the physical and mental wellness of my team.
Cyclect has also developed robotic technologies to make hotel banquet operations more efficient, lower cost and reduce the reliance of manpower to do heavy lifting. It works alongside humans so one operative can now do the work of four.
Meanwhile, development of skills means training and retaining people so they have increased knowledge. The cost of people power is escalating so skills are essential to keep up with increased productivity.
"Once we've done that, then we can diversify even more into adjacent, emerging markets. The fact that we were able to tide through during COVID-19 is because we're a diversified business that stuck to its principles of grit, innovation and agility. It makes our goals completely possible," Melvin points out.
No-one can predict whether the next few years will bring sunshine and roses or be blighted by crisis, but Melvin has made sure Cyclect is equipped to prosper whatever comes next – except zombies!
Pivoting to an Ownership Model
Cyclect recently negotiated with the Bangladesh government to develop solar plants that will reduce CO2 emissions by around 55,000 tonnes a year for the next 20 years. It will not only provide sustainable energy, but also educational and technical facilities and other infrastructure to support the community.
The project represents a significant pivot for Cyclect from being a service provider to an all-encompassing role as a constructor and investor in an ownership model.
"As a cable manufacturer, it is a great pleasure to be supplying our products to a professional company like Cyclect, which is known for delivering high-quality engineering projects. We wish the brand continued success and that our partnership deepens." – Pearl Yu, Director, Keystone Cable (S)
"Cyclect is a vital partner for Siemens in Singapore. Working together from the early stages of the project, we've seen the high level of professionalism and collaborative approach throughout. With mutual trust and respect, we look forward to producing a successful project." – Ryan Mai, Executive Vice President Regional Solutions & Services for ASEAN, Siemens Smart Infrastructure
"At signify, we are firm believers in 'winning together'. Our successful cooperation with Cyclect over the years has been built on shared values and commitment to sustainability. It has facilitated mutual benefit and long-term growth for our companies." – Jitender Khurana, Country Leader Singapore and Export Markets, Signify