At age 22, the last thing Mateusz Jedruszek thought he'd find himself doing was managing a US$3.6 million excavation project in Australia. The young man had travelled from his native Poland to study English and was doing odd jobs to make ends meet while completing an advanced diploma in management when he fell into civil contracting.
"They recognised that I had the ability to manage small groups of workers, so I was given the opportunity to look after a few jobs around town," he recalls. "After a few years, I was placed in charge of a civil excavation project where I was working with machinery and bigger crews. I was a leading hand on the job."
The project was completed without a hitch, leading the company to offer Mateusz sponsorship. "I wasn't really planning to stay in Australia for any length of time," he says. "My plan was to go back home and work in the family business, but I saw how much trouble people went through to stay in Australia. It's a hard thing to come from overseas and stay in this country. When it was offered to me on a platter, I couldn't really say no."
Mateusz made the decision to not only stay but also to concentrate on a career in construction full-time. "I did a TAFE course in structural engineering for the first four years," he says. "When I finished, I told my boss at the time that I wanted to move on and tackle something new. I was 25, I had a lot of energy."
Unfortunately, the timing of Mateusz's ambitions coincided with the global financial crisis of 2008. "A few builders collapsed, and my boss was one of them." Although he quickly found work at another civil contractor, there was a fire inside him he couldn't ignore. "I always had this thing in my head that I wanted to be the big boss," he says. "I wanted to be a project manager on a big construction company, a site manager on a big job at the top tier. This was my goal."
Basically, we do whatever needs to be done. Sometimes it's demolition or excavation, sometimes it's heavy works.
Further driving this ambition were the conditions of his fellow workers. "I was working on a rail extension project, and I'd watch my co-workers," Mateusz says. "I saw their lifestyles, or lack of lifestyles. I saw how many hours they'd work, how bullied they were by their bosses. I looked at that and thought, 'That's not life. I don't want to live like this.'"
After a long holiday in Europe, Mateusz returned with a plan. "If you have a desire to do something, you can do it," he says. "Just don't chase money or success; do it because you want to achieve a goal. I wasn't doing it because I wanted to buy a big house or an expensive car, I just wanted to go out there and succeed."
By establishing Perfect Contracting, Mateusz did exactly that. "I wasn't exactly sure what it was going to be, so initially I did a bit of everything," he says. Labour hire, digging and pouring concrete were on the menu in the early days, and it didn't take long to find work. "There were only two of us at the beginning. We did a job hand-digging trenches and pouring footings for a friend; soon I got calls from friends who needed a hand on another job, and then another job. So I employed another worker, and then another."
Today, Perfect Contracting is a team of 200 that specialises in building and construction, demolition, civil construction and the removal of hazardous material and waste. In fact, the business has grown so large that Mateusz split it into various branches. "As Perfect Hire, we provide recruitment services to other projects and clients," he says. "That's recruitment, long-term placement. We've got boys working on the Harbour Bridge, in the Argyle Mine in WA, at Kurnell, on multiple Tier-1 infrastructure projects."
A third business, Perfect Concrete Care, is also growing rapidly – almost too rapidly. "I can't get enough vans," Mateusz laughs. "There aren't enough vans coming into the country to keep up with my needs. Every week, we have the conversation, 'When can we get more vans?'"
Mateusz affords his crew the kind of opportunities and autonomy he knows is the right environment to do the best work. "They run on their own. The first employer I took on is an operations manager, he's been with me for over a decade. The second is now the CFO. The third is now the General Manager of Perfect Concrete Care. We stuck together."
So too for Perfect's onsite workers. Still affected by the inequality he witnessed early on, Mateusz has taken care to provide Perfect with a strong culture. "It comes from the top down," he says. "We don't tolerate harassment or bad language. We speak to each other with respect. We're upfront about our expectations. We make sure everyone's paid the same. That's how we drive the business every day."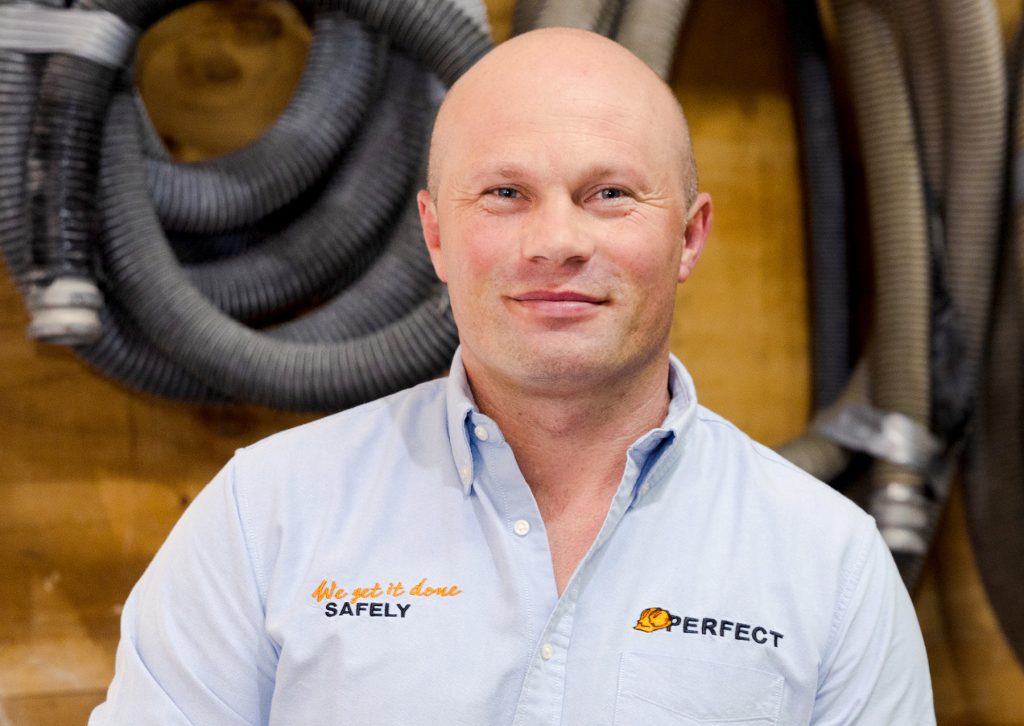 If you have a desire to do something, you can do it. Just don't chase money or success; do it because you want to achieve a goal.
That and the work itself, which Mateusz says is whatever it needs to be. "Basically, we do whatever needs to be done," he says. "Sometimes it's demolition or excavation, sometimes it's heavy works. The big jobs are done at a fixed price, while smaller services such as cutting concrete are rate-based. Clients can hire machines with operators, with attachments. They can even hire trucks. Whatever's required, we can do. That's why our motto is, 'We get it done.'"
At the moment, Mateusz is in the midst of more growth. "We're expanding our heavy vehicle fleet, and we have to," he says. "We're booked out." Coming to the rescue in the meantime is Perfect's network of subcontractors. "I have key relationships that help me with machinery, vehicles and smaller works, but we try to do as much in-house as we can. That said, we've got a few potential business acquisitions happening."
The success of Perfect Contracting exemplifies Mateusz's drive and unflappable self-determination. When he arrived in Australia, Mateusz had never seen an excavator before. "But I was lucky that I'd driven a tractor on the family farm when I was growing up," he says. "On a farm, things always break down, and you have to fix it. You get familiar with the machinery. I'm grateful I had so much practise."
And as the old saying goes, practise makes Perfect.
"It is a privilege to partner with a leading contractor that lifts industry standards through its experienced team and can-do attitude. Perfect Contracting is always looking to invest in products that will improve safety and productivity." – Will Visser, Managing Director, Brokk Australia