An engineer by trade, General Motors (GM) CEO Mary Barra always looks for ways to improve situations and solve challenges. As if born with a crystal ball installed in her very DNA, imagining what's next and then capitalizing on those opportunities comes second nature to her, almost in the same way improving people's lives and creating a better world do.
Barra has been with GM throughout her entire career, starting at the young age of 18 as a quality inspector, measuring gaps between the wing panel and door. She took on the role of CEO in 2014 and Chair in 2016 with one clear goal – to use her new-found status for good.
"As Chair and CEO of General Motors, I now have a unique opportunity – and responsibility – to use my engineering mindset to help make the world a better place on a much larger scale," she posted on LinkedIn. "At General Motors, we have a vision of zero crashes, zero emissions, zero congestion. It is our North Star that guides everything we do. I am grateful every day to lead a company with a vision that I am so passionate about."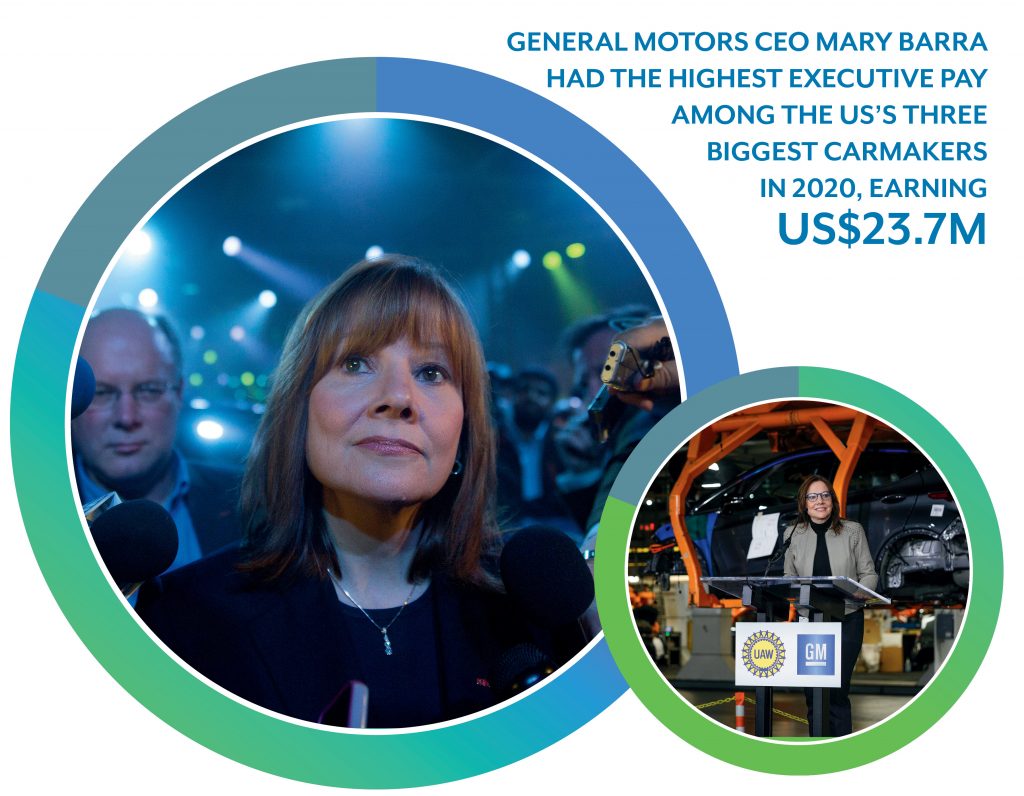 A second-generation GM employee (her dad being the first, working 35 years as a die-maker in a GM factory), Barra reveals that cars are her life. They're a symbol of freedom that have revolutionized society, and now, more than a century later, she sees the opportunity to revolutionize society again.
EV EVERYTHING
Detroit-based GM is one of the biggest and most successful car manufacturers in the world, loved for its iconic brands like Cadillac, Chevrolet, Hummer and more. And now there's about to be even more to love about the brand as Barra charges towards a cleaner, greener future with plans to exclusively offer electric vehicles, ending the production of its cars, pick-ups and SUVs with diesel- and gasoline-powered engines by 2035.
In January this year, she announced GM's intention to lead an equitable and inclusive transition to a net-zero-carbon future and shared details of its plans to introduce 30 new EVs by 2025. They're plans that cost a whopping US$27 billion and are likely to put GM in a position to overtake Tesla in the race to a true, mass-market electric car future.
"This is how we will win. We are pivoting to a growth strategy and a zero emissions future from a position of strength," Barra said in a statement. "Climate change is real, and we want to be part of the solution by putting everyone in an electric vehicle."
They're lofty goals. In the scheme of things, 14 years isn't very long, especially when an unprecedented worldwide pandemic is added into the mix. But Barra is confident it can be achieved thanks to learnings from its Chevrolet Bolt EV and EUV, and the rate at which the company was able to make significant headway during COVID-19.
While assembling masks and other personal protective equipment for frontline workers during the pandemic, GM somehow managed to accelerate its EV programs as well, revealing its GMC Hummer EVs and the Cadillac Lyriq. It also announced a Chevrolet Silverado electric pick-up – all efforts Barra acknowledges couldn't have been made possible without GM's passionate people.
CHANGING THE WORLD
"The key to our success was our people," Barra posted on LinkedIn earlier this year. "We listened, learned, empathized and included each other. I am so proud of our team's agility as they rose to every challenge. We are committed to bringing that same determination to all areas of our business."
GM is a company with more than 100 years under its belt. Yet nearly half of its employees have only been there for less than a handful of years. According to Barra, it all comes down to purpose; these new hires want in on changing the world.
"We believe there's much that needs to happen, but we have to set ambitious goals because we believe in the science; we believe that we need to do the right thing for the environment, and we believe that we now have the technology," Barra shares with Alison Beard on the HBR IdeaCast podcast.
"Our employees are excited about that, and they want to be part of it because they want to make sure they're not only working for a company that's doing the right thing, but it's doing the right thing for the environment for safety, not only for their children but for their children's children too."
CLEANING HOUSE
While GM has a bit of a roller-coaster history with soaring highs and sinking lows, Barra may be exactly what the company needs to finally stay at the top this time. In an industry where women comprise less than 25 per cent of the entire workforce, she has consistently challenged the status quo, taking old-fashioned GM into the disrupted car business of the future by transforming it into a tech company that's leaning heavily into ride sharing, autonomous-driving technology and EVs at an incredible pace.
It wouldn't have been possible, though, if GM kept to the course it was on prior to her arrival as CEO; one impacted by bankruptcy, a government bailout and an ignition-switch design flaw that resulted in a devastating 124 deaths. The company's inner workings were dysfunctional at best, and Barra knew a lot of work had to be done to bring the company back to greatness, replacing a culture of blame and bureaucracy with one driven by accountability and collaboration. As part of this shift, she notoriously chopped GM's 10-page dress code down to two words: "Dress Appropriately".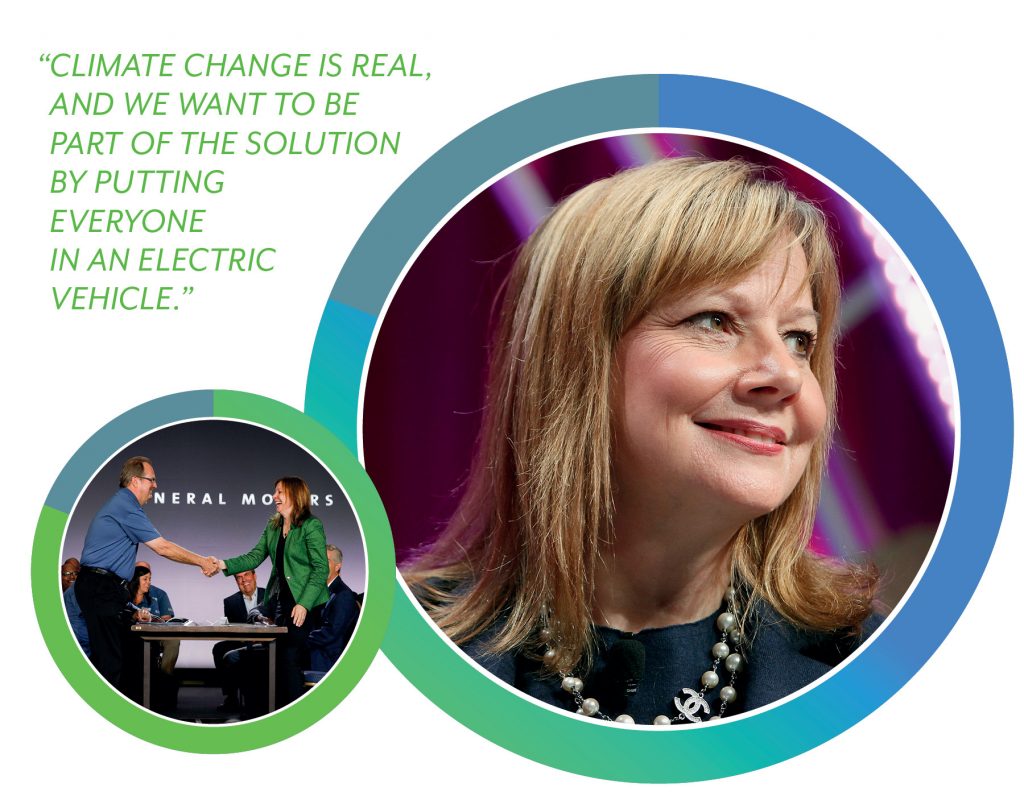 "In this area of rapid transformation, you have to have a culture that's agile," she said in a 2016 interview with
Fast Company
. "We still have a lot of work to do."
And that was after two years in the CEO chair. Now, five years later, a lot of that work has been done, and GM is back in the fast lane. With Barra's no-nonsense management philosophy focused on handing power to managers and keeping GM as lean as possible guiding the once-again industry titan, the company is flourishing. Its culture is instilled with excellence, accountability, a drive for continued efficiencies and the tenacity to win – all things "responsible for driving maximum engagement and inclusion" in how it works.
PAVING THE WAY
Even more, Barra has championed for more diversity in the workforce, noting how critical it is for the company's ongoing success. Under her leadership, GM has consistently scored highly in gender equity reports. In 2018, it was one of only two global businesses that had no gender pay gap.
"As a company, we are determined to lead and define the future of personal mobility," Barra shares. "To do that, we need dynamic and diverse people, which means finding and developing the best talent around the world. From the boardroom, where half of our members are women, to the conference room, supporting a strong and diverse workforce is a high priority. I aspire to make General Motors the most inclusive company in the world."
She remembers her own career, which was made possible by leaders who, years ago, saw the benefits of a diverse workforce. And while she's the first female in Detroit's 'Big Three' carmakers, Barra, reflecting on her legacy, is certain she won't be the last – no crystal ball necessary.