Resilience is the first word that springs to mind when Lukasz Babuska, Faurecia Vice President Russia, ponders the qualities that helped the automotive technology company survive the pandemic. It is an attribute he believes the company possesses in abundance, partly because of its talented workforce, but also because of its location in Russia – a country renowned for its resilience during tough times.
French-based Faurecia made the decision to commence its Russian operations in early 2020 to meet growing demand from auto manufacturers who were ramping up production in the Moscow and St Petersburg areas. However, at the time, it was considered a risky move.
"At the time, the market was unknown and unpredictable, and the people had limited ability to support the automotive business," Lukasz tells The CEO Magazine, adding that what the people lacked in technical skills, they made up for with soft skills, such as resilience. "You need to be resilient to live in Russia – the country prepares very hardy habitants. One of the unexpected benefits of entering the Russian market was finding these reliable, agile, fast-learning staff."
Russian expansion
Faurecia's move into Russia proved to be a wise one. Since then, the company has gradually strengthened its Russian footprint, an expansion that has gathered pace in the last two years, and in June this year unveiled a new industrial site in Tolyatti in the Samara region. The new addition is now the company's largest site in the country and its regional headquarters, building on the Group's six sites across the nation.
Designed to be "scalable and modulable", the Tolyatti site will enable Faurecia to expand its industrial capacity with a particular focus on seating. Operations at the new facility will cover all elements of complete seat systems, including covers, foams and metal welding. It is also equipped with the latest technologies for CO2 emissions reduction, in line with the Group's CO2 neutrality objectives for controlled emissions by 2025.
"With the confidence of our customers and employees, and the support of local and regional authorities, Faurecia will play a key role in Russia's growing automotive market."
Lukasz describes the new Tolyatti plant as the "anchor" of the company's industrial presence in Russia, both in terms of its production capacity and its state-of-the-art technologies for CO2 emissions reduction. "With the confidence of our customers and employees, and the support of local and regional authorities, Faurecia will play a key role in Russia's growing automotive market."
The company is also in the final stages of nominations for Stellantis and VW Group's plants near Kaluga. The coming awards are expected to increase Faurecia's business presence within original equipment manufacturers in the Moscow region.
Growing opportunities
There can be little doubt that Faurecia's Russian operations have played an important role in the company's successes, particularly though the uncertainty of the pandemic. In the first half of 2021, the company as a whole reported an encouragingly strong performance with a substantial increase in sales expected to top €7 billion (US$8.2 billion).
This impressive growth comes despite the shortage of semiconductors, supply chain disturbance and the substantial growth of raw materials indexes, which have created challenges for the company. "The current crisis relates to semiconductors," Lukasz shares. "The semiconductor is an electronic component employed in the manufacture of various IT devices, and as our industry goes digital, it's an important product for us. So, as a consequence, we're facing the same issues as the IT industry right now."
Although the Russian car market declined by 9.1 per cent in 2020, with the global market also slowing down as a result of the pandemic, things are already looking up. According to the AEB Automobile Manufacturers Committee, between January and May, it increased by 38.7 per cent to 663,312 cars sold and Faurecia is confident it will continue to rebound in the coming quarters.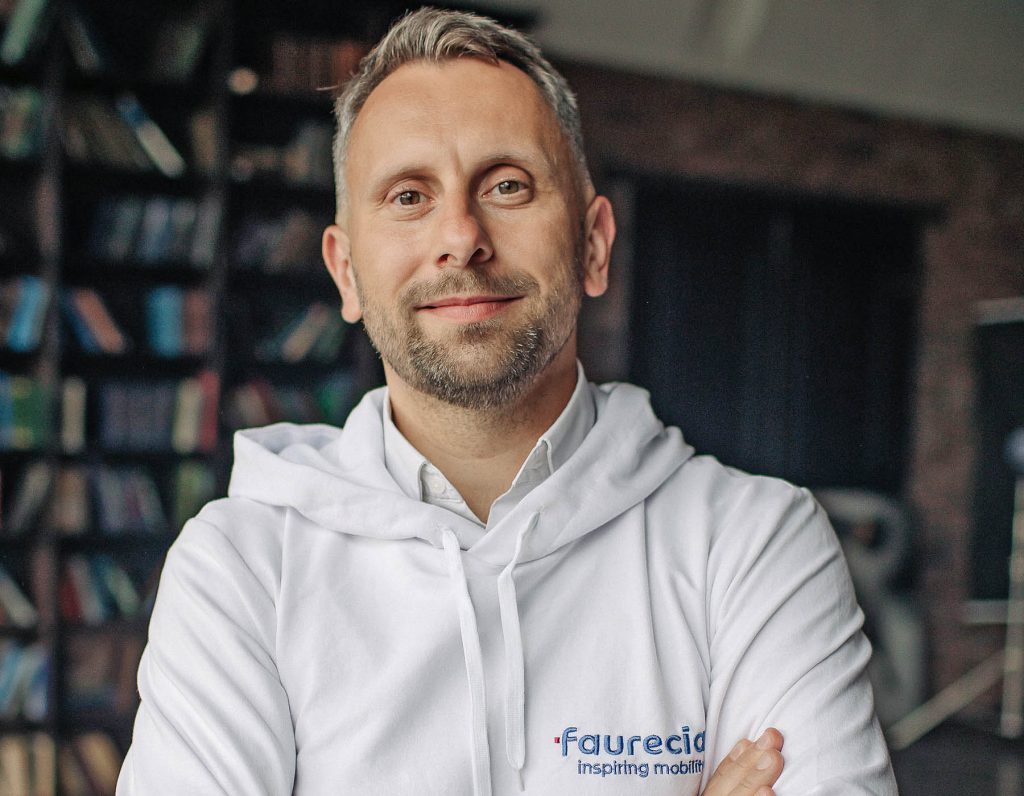 Shifting focus
Meanwhile, a significant transformation is underway within the company itself as it evolves from a supplier of OEMs to a more hands-on, forward-thinking role. "We're delivering the engineering, technology and innovation, so we can provide the full customer experience," Lukasz says. "That's why we're changing our product groups to develop more electronics."
For this plan to succeed, Faurecia must extend its customer portfolio, Lukasz reveals. "One of the ways to level up our light vehicles is to enter into the commercial business," he points out. At present, 90 per cent of commercial business is delivered by local suppliers. "One of our targets and the objective we put to out teams was to first of all know and understand the customer, why they are working only with the local suppliers and what we need to change in order to become the supplier ourselves."
"Our company has taken up the challenge to demonstrate that, by 2030, we will be carbon neutral in controlled emissions."
This process has been underway for some time now, he adds. "It was a couple of years ago when we started connecting and building relationships with the customers, starting to understand their behavior and their needs. Day by day, we are building up trust," he says.
Expanding its range of products is another tactic, with the company now producing exhaust systems. "I believe this is just the first step towards achieving greater scope," Lukasz explains. "So, last year, we started to deliver mini-mufflers and we are expanding our portfolio of products step by step to increase our revenue with these important customers."
Future vision
As part of this transformation and growing focus on electronics, the company announced it would acquire Japanese company Clarion in 2018 and in March 2019, it became wholly owned by Faurecia, forming its fourth business group Faurecia Clarion Electronics. Based in Saitama, Japan, its aim is to become a global leader in cockpit electronics and low-speed advanced driver-assistance systems with more than €2 billion (US$3.2 billion) in sales by 2022.
"Right now, we are bringing infotainment and electronics on board for customers all over the world," Lukasz says. "And we are well represented in all our OEMs as well by this business group." This "key milestone" in the company's strategic transformation brought an additional 9,000 staff, including 1,650 engineers, into the Faurecia fold – a massive boost for a business that is built around its people.
Not only that, Faurecia is built for people, and Lukasz's understanding of this focus has helped forge his continuing path through the company. "My next challenge at Faurecia is in the role of Total Customer Satisfaction and Quality Vice President for Faurecia Automotive Seating," he shares. "The customer's needs are at the heart of every decision we make, and I'll be creating an ambience throughout the company to improve our ability to do that."
On the cutting edge
On the sustainable mobility side of things, Faurecia is responding to rigorous new regulations being put in place around the world that aim to tackle climate change. These measures go hand in hand with the rapidly rising demand for electric vehicles. The company is therefore working to accelerate the transition to clean mobility solutions. To do this, it is addressing all market segments from passenger vehicles to commercial vehicles and industry with energy-efficient solutions and zero-emission fuel cell technologies.
"We are really recruiting leaders, and when you do that, it's very easy to find our spark and to ignite the difference between us and our competitors."
Internally, it is also thinking bigger picture. "Our company has really taken up the challenge to demonstrate to the market that, by 2030, we will be carbon neutral in controlled emissions," Lukasz says. Locally, the business has made major strides too. "I have no doubt that, since being in Russia, we have developed a sustainable business.
"When we started here, from the very beginning we decided not to take just short-term day-to-day decisions which would deliver quick profits, but instead build up our sustainable business – it may be marginal, but it's beneficial for the future. We wanted to create a new concept of the supply chain and to be present in Russia for many years, not just come here to deliver one product, one process and then disappear."
Making things happen
To achieve these objectives, Faurecia is working closely with the government, regularly meeting with the relevant ministers and authorities. It has also signed a deal to deliver a complete system for commercial buses and is in the process of producing two prototypes of a new hydrogen solution through its Symbio joint venture with Michelin, which will bring the project closer to fruition. Created in 2019, Symbio aims to become a world leader in hydrogen mobility, combining the hydrogen fuel cell-related activities of both parent companies.
Faurecia has also been awarded a significant contract for fuel cell electric vehicle storage systems from Hyundai Motor Company. The deal will supply the entire hydrogen storage system (including 10,000 hydrogen tanks), which will be produced in Bavans, France, with delivery to start this year. Over a four-year period, the company will equip around 1,600 Hyundai heavy-duty trucks that will then be delivered to Hyundai Hydrogen Mobility in Switzerland, a newly created joint venture between Hyundai and H2 Energy to spearhead hydrogen mobility in Europe.
Meanwhile, Faurecia's Cockpit of the Future vision conjures a "personalized, predictive and connected environment", which will help occupants use their time on board the vehicle to maximum effect. This could involve touches like infotainment, ambient lighting, postural and thermal comfort, as well as immersive sound. Lukasz says the new offerings take into account today's "connected lifestyles", making the transition between driving, working, relaxing and socializing as seamless as possible.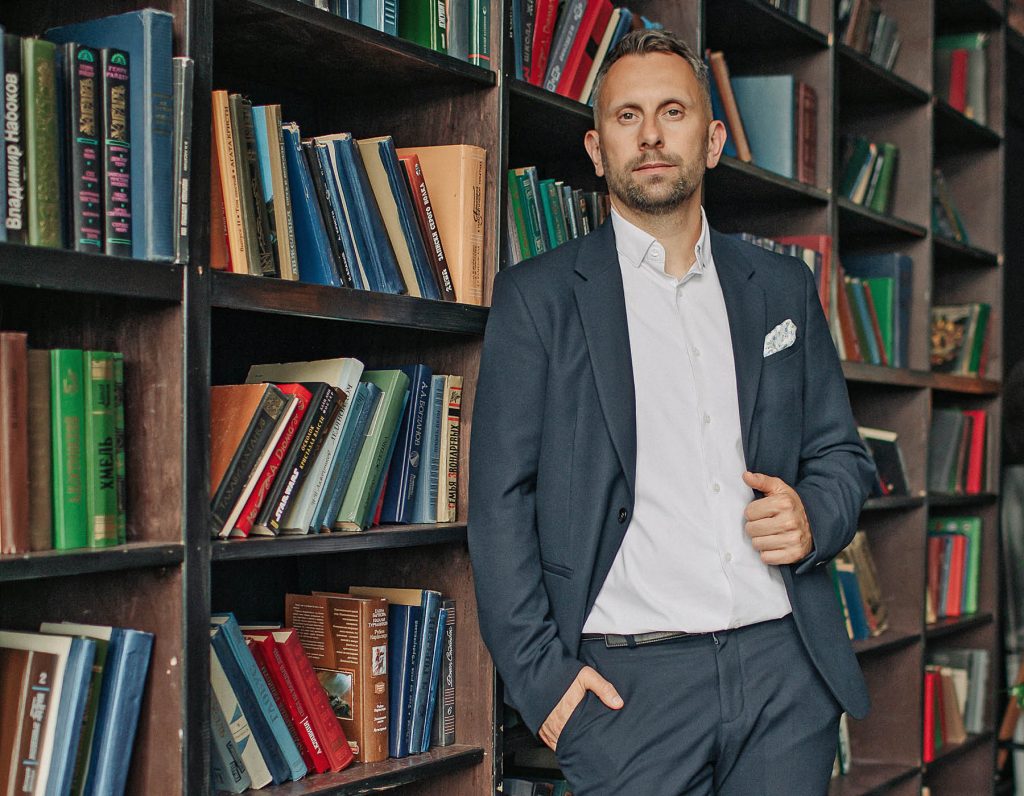 Competitive culture
As exciting as these developments all sound, Lukasz firmly believes that Faurecia's focus on developing its people will be what stands it apart from competitors. "We're recruiting talented people, but we're not recruiting them to a particular position – we are recruiting people for the future," he explains. "We talk about sustainable development, but we also need sustainable hiring."
That means being open to the fact that a candidate could one day be Lukasz's own boss. "I am more than happy to have candidates who interview better than me who are able to take the lead of the company," he says. "We are really recruiting leaders, and when you do that, it's very easy to find our spark and to ignite the difference between us and our competitors."
Having fun is also a priority for Lukasz, something that he is constantly reminded of by his two children, aged five and eight. He likens his progression in his role to one of their games. "When they start new games, they are a blank canvas – they are at the entry level," he explains. "They are building up relationships, they are exploring, they are very humble to the new features inside the game. And at the end, when they are on the highest level, they have experienced new things."
This fun approach is essential to foster innovation, according to Lukasz, and it is something that is woven into Faurecia's DNA. Indeed, these "dynamics" are a large part of what attracted him to the company in the first place. "You can feel how the company is perceived by the market, how the company is perceived by the people. I would say I am fully aligned with that," he reflects. He believes he shares a number of characteristics with the company such as its resilience, dedication and autonomy as well as its "crazy, innovative and accountable" style. "The company is driving me and I'm driving the company, so we're really aligned."
Lukasz admits his own approach to leadership has also evolved over his years with Faurecia. "When I came to Russia more than 11 years ago, I was given some advice from my colleagues and our management to take care, to be a little bit distanced from the Russian employees," he recalls. "But I finally discovered that the real difference and the real game-changer comes when you are close to your people and when you are really giving them the opportunity to thrive and giving them autonomy. If you trust your people, you receive really big benefits from it."
The pandemic effect
When it comes to the company's response to the pandemic, Faurecia's people once again took center stage. "You need to be really close to the people and understand them – it's less about control," Lukasz insists. Even with his new duties just around the corner, he says he'll remain close to Russia. "Certainly, I'll be managing the Russian perimeter in terms of TCS and quality. Customer satisfaction is the backbone of the company, and Russia is the best example of that."
Ensuring the company has the skills that it needs to forge ahead with its ambitious plans has also been a major challenge. "We have been recruiting entirely new people over the past 15 months," he says. "It's bringing to management, and particularly to me, a new set of skills, qualities that we need to learn, develop and demonstrate. I would say the word of the year for sure is resilience."
From Zero to 60
Faurecia was formed in France in 1998 by two automotive component suppliers, Bertrand Faure and ECIA. It designs and manufactures seats, exhaust systems, interior systems and the decorative aspects of a vehicle, but it is increasingly moving into technology solutions that will help take the automotive industry into the future.