As cruise ships around the world fire up their engines after a pandemic-enforced hibernation, some are turning to Hempel for a helping hand. "These ships have been idle for over a year due to COVID-19," says Group President and CEO Lars Petersson.
And it's not a case of simply pressing the start button and sailing off towards the horizon, either – the process has been compared to the launch of a whole new vessel. "One of the largest operators came to us asking for our suggestions on what to do," he shares. "So we put in place a program in order to get their ships in perfect condition again."
For a name synonymous with paint and coatings, such a service isn't part of Hempel's bread-and-butter operations. But for Lars and his team, there's a certain pride in having the kind of in-house knowledge to offer it in the first place. "It's a good complement to our coating business," he admits. It also demonstrates how this traditional chemical company is today thinking outside of the box. "Because if we don't create new solutions, we will stall."
So, while creating better coating technology remains the core focus, Lars reveals the business is also bringing innovations in terms of digitisation and the services it can offer. "We have 400 research and development colleagues around the world and they really are the heroes of the group," he says.
Firm foundations
Founded in Copenhagen in 1915, Hempel is one of the world's leading suppliers of coatings for the marine, decorative, energy and infrastructure industries. As a protective layer applied to boats, bridges, buildings and everything in between, its coatings deliver more than just aesthetics: these products play an important role in decreasing maintenance costs and increasing energy efficiency.
Without special hull coatings, the shipping industry would expel an extra 384 million tonnes of CO2 annually as vessels consumed more fuel to move through water. This is just one example of the sustainability impact the company's product range has.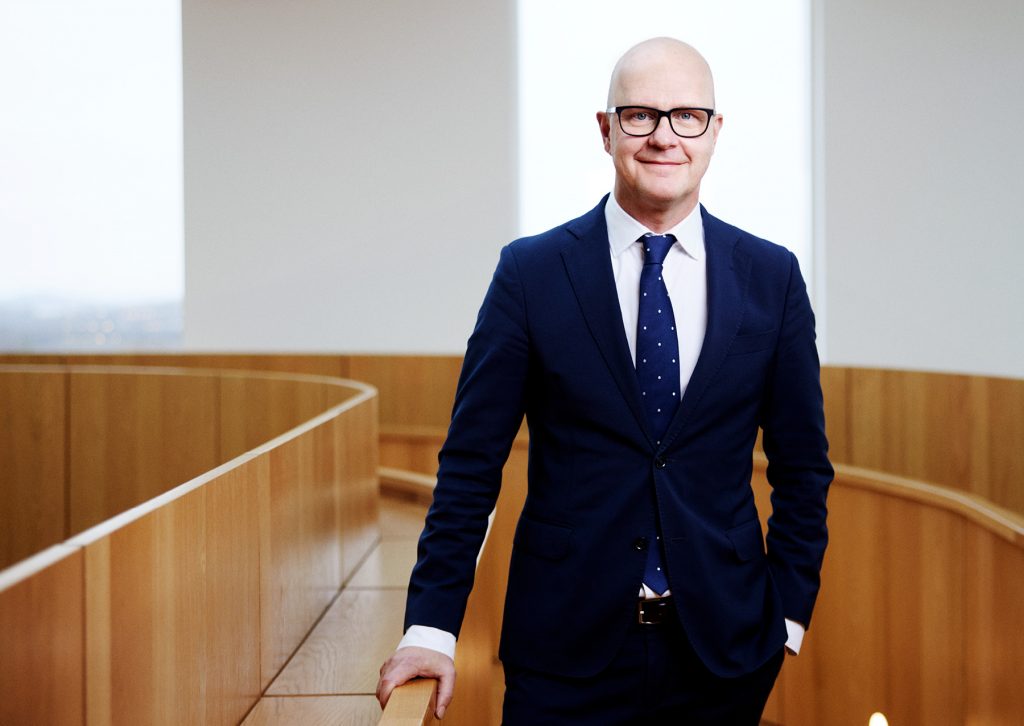 "We have 400 research and development colleagues around the world and they really are the heroes of the group."
Since 1948, the company has been 100 per cent owned by the Hempel Foundation. This fairly uncommon structure serves a dual purpose of offering a stable financial base for the business and undertaking extensive philanthropic work: in 2020 alone, the foundation donated more than €15 million to development projects across education, nature and science, and since 2010, over 280,000 children have been positively impacted by its education projects.
For Lars, this ownership structure provides extra incentive in the workplace. "Our foundation is really special," he says. "We're not working for a private investor or for the stock market. We are working for the kids whose education we support. That gives us meaning."
A bold ambition
Lars, who started with Hempel as Group Executive Vice President and COO in March 2015 before becoming Group President and CEO in July 2019, says that 2020 was a turning point for the business. "We used the time in lockdown to have a good look at our strategy. We realised that, in this new world, it's not only about how you spend your money, but it's also about how you make it."
After what he describes as "qualitative dialogue", an affirmation was made. "We are here to shape a brighter future with sustainable coating solutions," he explains. By that, of course, he means safeguarding Hempel's legacy for another 100 years or more. But he's also out to ensure the company continues to innovate sustainable solutions for its customers.
As Lars and his team looked to map out this new strategy, they came to another realisation. "We're actually a little bit too small to be big, and too big to be small," he says. In other words, no longer a niche business, Hempel's work across multiple markets and multiple segments means it's one of the largest players in the coating world. "However, our competitors are substantially larger than us."
In order to keep up with the levels of innovation, sustainability and digitalisation required to serve its customers around the globe, the business needed to grow. "We set a target," he reveals. "We want to double our revenue by 2025."
"We're actually a little bit too small to be big, and too big to be small."
Just over one year into the ambitious plan, Lars admits that it's been a little daunting. "But we are building confidence because we are actually doing it," he confirms. The segments where the company can achieve market leadership have been identified as decorative coatings, energy, infrastructure and marine. "It's about spending our time, our money and our focus on where we can build a significant presence and where we can be a sustainability leader."
Much of this growth is projected to come from mergers and acquisitions. "We've been on a clear mission to find other companies who could strengthen our positions in the customer segments or geographies where we believe we can make an impact," he says.
The business has already made some important plays. Last year, the purchase of two important brands was completed: Wattyl Australia and New Zealand (acquired from The Sherwin-Williams Company, the largest paint and coatings company in the world) and Britain's Farrow & Ball, the luxury decorative paint and wallpaper company that shares Hempel's sustainability principles.
A sustainable mindset
The target may be to double the company's revenue, but Lars is clear that this isn't to come at the sacrifice of its environmental footprint. In 2025, the same year it hopes to achieve its financial objectives, Hempel has also set a goal of carbon neutrality across its operations.
Among the other targets in its Futureproof sustainability framework, Hempel promises to engage systematically with its customers to establish sustainability partnerships. Collaboration is at the core of Lars's agenda.
"When I meet with customers, I ask what their sustainability challenge is," he shares. After all, he reasons, everybody has one. "Some would like to use less paint; others would like to work with a supplier who can take back surplus products."
In the beginning, he wasn't always able to offer an answer. "But now we are really starting to have the solutions," he says.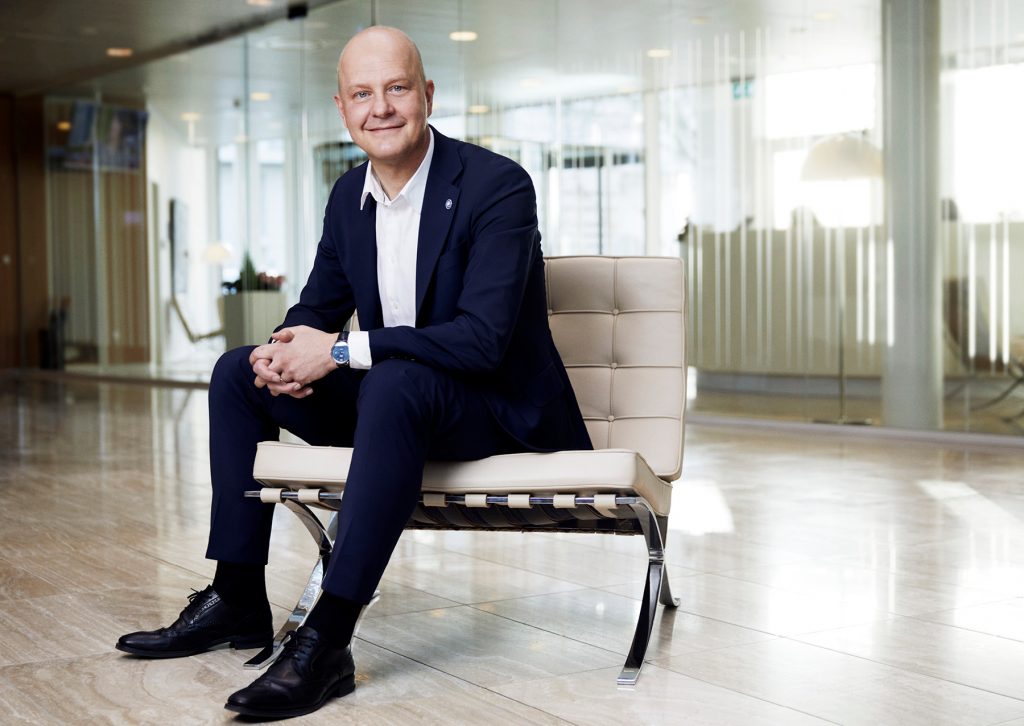 "To double in size and to make sure we embed sustainability is actually a business transformation."
Lars admits that, for his younger self, sustainability wasn't at the top of his mind. Today, inspired by his children, he is aware he has the influence to drive change. Along with environmental actions, Hempel's Futureproof framework also includes provisions to ramp up its culture through safety, fairness, inclusivity and healthier working practices.
Last year, the company added its name to The Valuable 500, a global community campaigning for disability inclusion. "We want to be an inclusive place to work for people with different disabilities," Lars explains in a video shared across Hempel's social media.
For the company to achieve these two big goals, Lars appreciates that a foundational shift will have had to occur. "To double in size and to make sure we embed sustainability is actually a business transformation," he concedes.
However, with his legacy at the back of his mind, both are set firmly in his sights. "It's about trying to hit those two targets before I can leave Hempel to the younger talent in this group."
Leadership Lessons
"When I got the job, I realised that I have worked for six different CEOs within my career, but had never had the job myself," Lars says. "Of course, I was inspired by things I liked and less inspired by the things I didn't like." But if he had to describe his leadership style, he says it's that he is always himself. "I'm like a mirror to my colleagues. When we do great things, I cheer. And when things are not really up to my standard, I say it, but I try to say it in a nice way."

"It's all about the strategic business relationship in which Hempel and Tronox understand each other's needs and requirements, find mutually satisfying solutions and execute them so both companies can grow together." – Arjen Duvekot, Vice President Sales EMEA (Pigment), Tronox