There's much to be said about individuality as it applies to the corporate world. All businesses are not created equal, even when they're serving the same purpose. It just takes one sales gun, one IT whizkid, one catchy buzzword or one brilliant idea to gain the edge over the competition.
Of course, if it were that easy, everyone would be doing it. If you're going to stand out among your rivals, an edge – whatever it looks like – is crucial. The problem is that many businesses don't know what form their edge takes, and sometimes it takes an outsider's clarity of vision to crystallize things.
Denizens of the world of business process management (BPM) exist to do just that. Hired by companies to optimize operations, BPM firms carefully consider a business's affairs and determine the best way to streamline them, often using the latest innovations. This is a step beyond consultancy or project management, as ultimately every facet of the business is improved.
Yet even those in the BPM sector strive to stand above their peers; despite living behind the curtain, they are still businesses and no less responsive to an outsider with a vision.
Case in point: WNS, a consultancy service established by British Airways in 1996. Originally 'World Network Services', the Mumbai company hit a successful groove during its first years of life. Expansions throughout India and into neighboring Sri Lanka widened WNS's footprint while several high-profile acquisitions built muscle.
By 2009, however, progress had stalled. Despite a worldwide headcount of 15,500, WNS had entered a kind of stasis, which in the world of consultancy puts one squarely on the road to obsolescence.
"I thought WNS was something I could really fix, with a good team and by creating some clear differentiation."
The company was still able to recognize its predicament, however, and knew exactly what to do about it. "I got a call around that time," says Keshav Murugesh, a 'turnaround strategist' with a knack for being able to quickly and thoroughly diagnose a business's domain and issue an effective remedy.
"The caller said he was in charge of a company called WNS and wanted to meet me. I said I'd never heard of them; they weren't competing with Atos Syntel, where I was CEO at the time. WNS was, and still is, a BPM company and I was more in IT services."
Despite his reservations, the two made arrangements to meet and discuss bringing Murugesh on board. "He travelled from London to the US, where I was working, and over lunch he told me I was the right guy to turn WNS around," Murugesh recalls. "I asked him why, and he said everyone he spoke to told him I had the right ingredients to do that." 
The chat failed to spark Murugesh's interest, and he excused himself. "We shook hands and I went to catch my plane out," he says. "And he joined me, as he was flying straight back to London. That's when the penny dropped; if someone could make that kind of effort – to fly nine hours to the US for a two-hour meeting and then fly back again, it made sense for me to take a look."
What he found was an industry leader that had lost its way. "I thought WNS was something I could really fix, with a good team and by creating some clear differentiation." At the time, growth had slowed and talk of a sale by then-majority owner Warburg Pincus was rife. "It was at that point that I took the reins as CEO to architect an audacious turnaround, just as I had done for Syntel."
Under Murugesh's leadership, Syntel had doubled its revenue from US$185 million to US$410 million, and grew its market cap from around US$350 million to more than US$3 billion, in just eight years. As he cast his gaze over the ins and outs of WNS, new chapters not just for the company but the entire outsourcing industry began to speak to him.
Ignition
Murugesh knew that WNS could become a unique entity within the BPM industry, and the key was instantly apparent to him. "When I took control, I found that the company still had a strong set of clients," he says. "All it needed was steering in the right direction with a strategic vision. I focused on two key areas – the business model and work culture – and wove it tightly to client centricity."
Immediately, Murugesh began rebuilding WNS as a business transformation partner for organisations, with culture at its core. A new mission statement enshrined a values-based culture, the CIRCLE of Values (Client-first thinking; Integrity; Respect; Collaboration; Learning; Excellence). "To this day, these values have engaged WNS employees at all levels," he says. "It integrates employee and organization growth with high performance."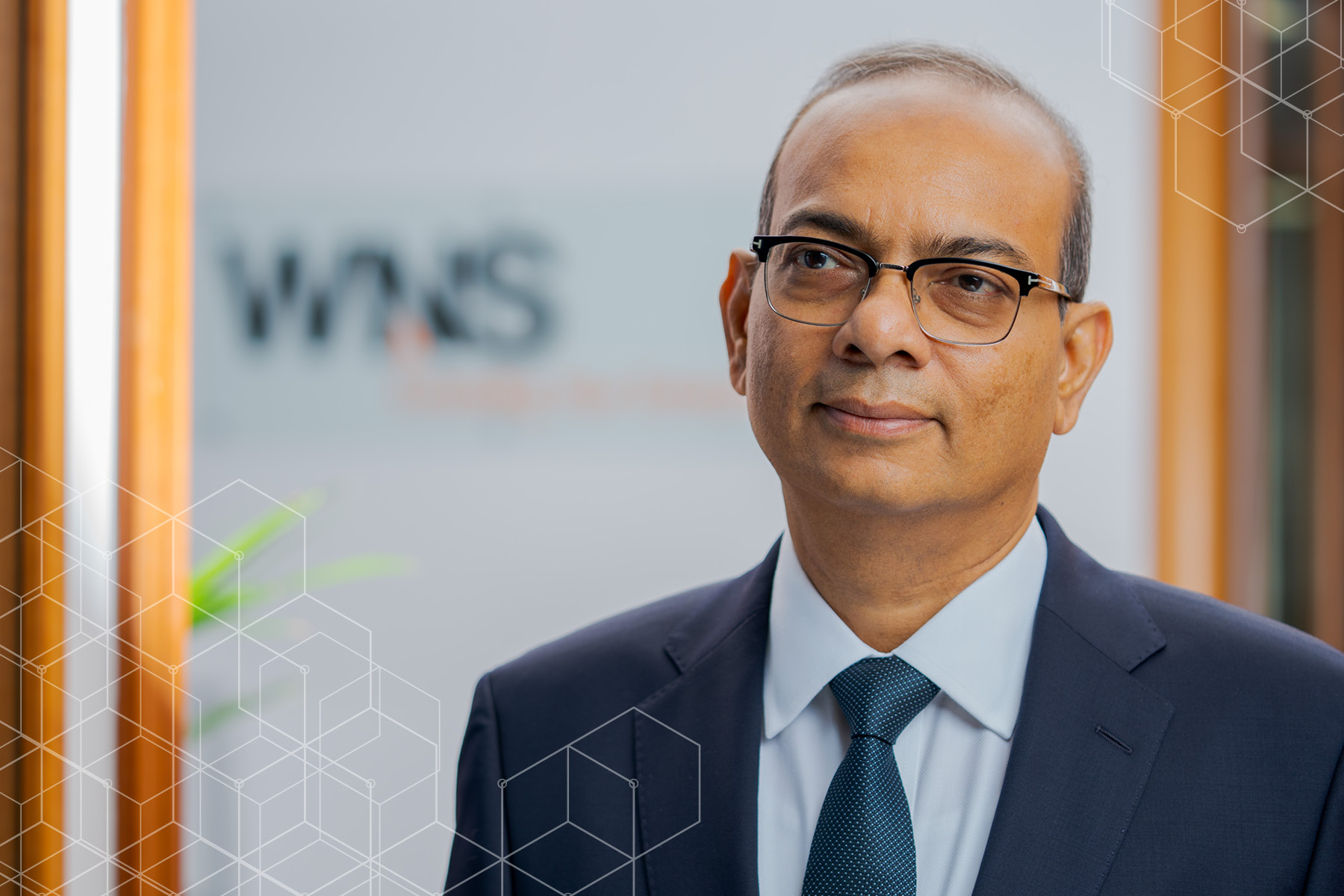 "What was a pioneering move has since been widely adopted across the industry."
The values-driven work culture also provides a strong base to drive learning and development, innovation and inclusion within the company. During Murugesh's time in the role, staff numbers have ballooned to 55,000 as a result.
Simultaneously, Murugesh turned his attention to innovating the WNS business model. "At a time when the outsourcing industry was focused on services such as payroll or accounts payable, I spotted a huge untapped opportunity – to provide business processes tailored to the industry-specific requirements of each client," he says. To do so, Murugesh and his team selected the 'vertical' business model, which gave him a choice opportunity to showcase his interest in IT. "We restructured WNS's solutions and services to meet the specific needs of clients' industries by understanding their 'domain' and combining it with the right technology, analytics and talent," he says. 
Until that time, the BPM industry bedrock had been cross-industry horizontal solutions; Murugesh's notion broke WNS free of those shackles. "By going vertical, we could build end-to-end industry-specific capabilities as well as hire and train new talent," he says. "What was a pioneering move has since been widely adopted across the industry."
A New WNS
Today, WNS is light years ahead of its origins. The company currently offers vertical-specific BPM services across diverse industries, including travel, insurance, banking and financial services, manufacturing, retail and consumer packaged goods, shipping and logistics, health care and energy and utilities. In all these industries, Murugesh has ensured that WNS is acknowledged for its domain expertise.
"I have consistently challenged the status quo with visionary purpose and bold decisions to propel WNS and the industry to explore uncharted territory," he says.
The Three Ds
One key differentiator for WNS is its embrace and channeling of the power of what Murugesh calls the "Three Ds".
"Our efforts to co-create business transformation with our clients are driven by our Domain Expertise; prowess at driving and managing the Data-to-Insights Journey; and the ability to drive Digital Innovation," he says. "Whenever we come together with a client to co-create a solution for their unique challenges, we look through the lens of this triad for an optimal, holistic outcome. In fact, we proactively adopt this approach for all our client engagements, no matter how big or small."
WNS's acquisition of industry talent, and upgrade of knowledge and skills of thousands of employees every year through The Gateway, its in-house domain university, is a well-oiled program from strategy to execution.
North America has become the largest client in the WNS stable, with a 49.1 per cent revenue share. Strategic acquisitions – including HealthHelp back in 2017 and hyperautomation company Vuram – helped the company expand its presence in the US as well as build capabilities in health care and procurement services. As the world continues to rebound from the worst of the COVID-19 pandemic, WNS has collaborated with its US-based clients across industries to shape that recovery.
"Following the impact of COVID-19, I'm working towards an asset-light, digitally led and scalable hybrid 'Hub-Spoke and Edge' model," Murugesh says. "This is a blend of work that can and must be done in the office (Hub), work that can be performed from home (Edge) and satellite offices where employees can meet to discuss key agenda and bond with colleagues to keep the organizational fabric alive (Spoke)."
Such flexibility is also on the table for clients, who can choose between WNS's traditional, full-time equivalent-based revenue model and an outcome-based, non-linear model. "The latter has caught on across the industry," Murugesh says. "But we were one of the first companies to have turned it into a business success. Non-linear revenue accounts for close to 34 per cent of WNS's revenues."
As CEO, Murugesh has ensured that innovation and technology are the cornerstones of WNS's continuous evolution. "Our future-ready offerings have become game-changers for clients in a digital-first landscape," he says.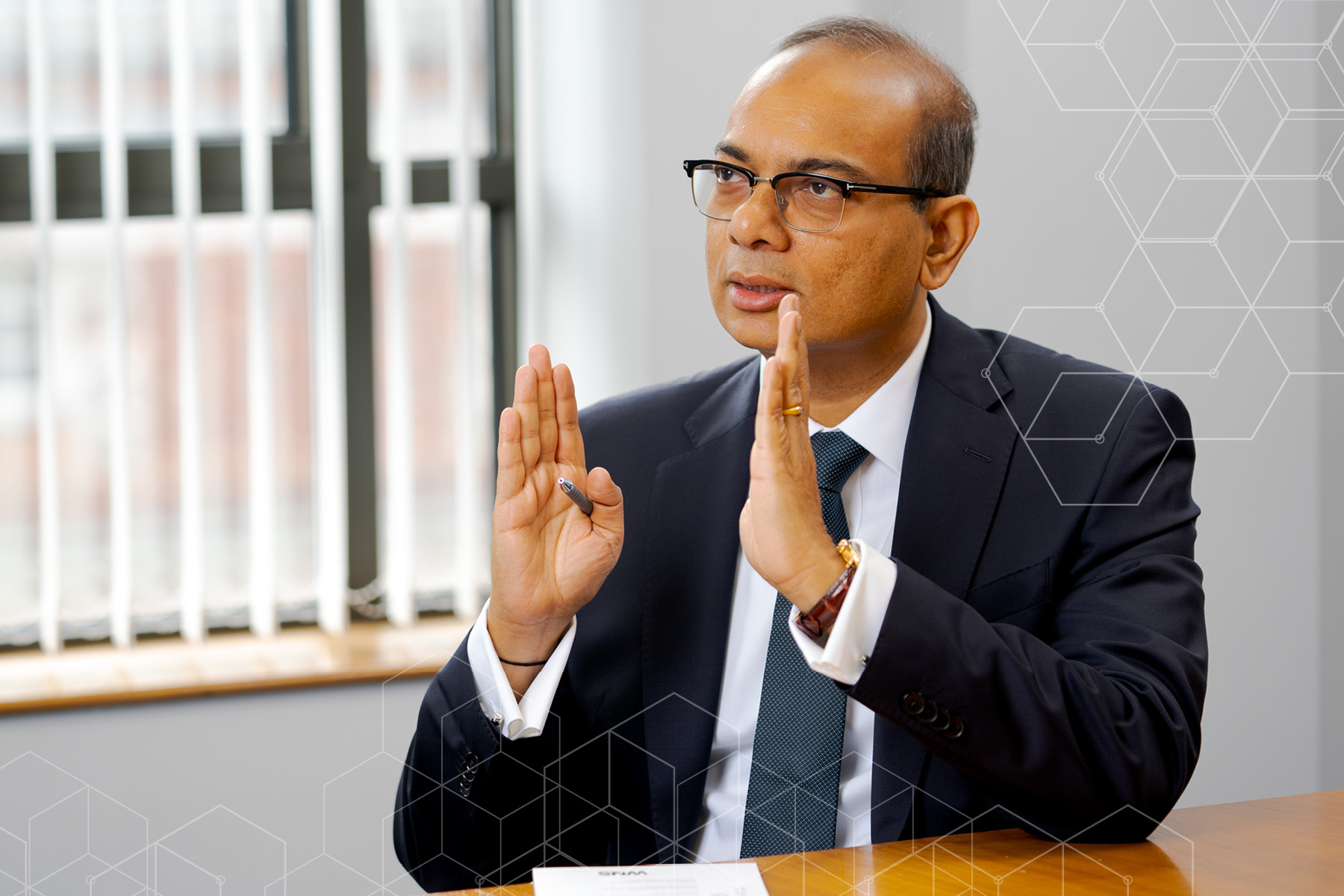 "I believe that WNS's differentiated strategy has enabled it to leapfrog competition."
These products include WNS EXPIRIUS, a customer experience solution that integrates AI and human emotions; WNS FINSIBLE, which combines advanced analytics and state-of-the-art technology tools and platforms to fast-track digital transformation for fintechs; WNS INVOG, an industry-first insurance-in-a-box offering that leverages dynamic digital platforms enveloped in an agile ecosystem to bring decisive gains to insurers; and WNS MALKOM, an AI and machine-learning digitization platform custom-built for the shipping and logistics industry to redefine shipment documentation.
"With its tech-enabled BPM services and solutions, WNS guarantees superior and committed outcomes to clients," Murugesh says of the innovative range. "I believe that WNS's differentiated strategy has enabled it to leapfrog competition."
The Power of Innovation
In fact, Murugesh's innovation-led growth strategy has catapulted WNS from the BPM 2.0 vision of vertical-specific offerings and BPM 3.0 vision of tech-enabled digital solutions to now a future-ready BPM 4.0 of hyperautomation, asset-light and scalable digital models. "WNS is ready for tomorrow's challenges with strong capabilities and a rich arsenal of solutions underpinned by innovative concepts such as our Co-creation Labs."
WNS's Co-creation Labs create 'eureka' experiences for clients, providing that elusive edge that swiftly transforms possibilities into real solutions through design thinking, in-depth explorations and immersive experiences. "It was this BPM 4.0 preparedness that kept us ahead of all possible COVID-19 scenarios and challenges," he says. 
One of the most fascinating implementations of technology during such chaos and uncertainty was WNS's AI-based HR chatbot Amelia. "She kept the conversation alive with every single employee," Murugesh says. "They could discuss their wellness with her, and she enabled them with information they needed from time to time as they worked remotely."
Beyond the walls of WNS, the company's clients also saw the benefits. "Clients were able to 'HyperSurge' and swiftly execute Pandemic Continuity Planning; technology solutions for remote working arrangements," he says. "We've created more than 200 infused solutions to achieve reliable and infallible business-as-usual for clients, which has earned exceptional commendations."
Murugesh's determined investment in growth vectors that blend industry-specific and cross-industry solutions has elevated WNS's technological capabilities through acquisitions, strategic partnerships and internal research and development efforts. He has also made sure to invest in the creative potential of WNS employees; in 2012, WNS launched WiNCUBATE, a CEO Entrepreneurship Challenge, which asked staff to present business ideas with a technology orientation.
"The winning entry receives US$250,000 in funding to develop the idea into a product, with employees released from their regular roles during development," he says. "Some of our most innovative and award-winning products – WNS Analytics Decision Engine (WADE) and social media analytics platform SocioSEER – have come from the program."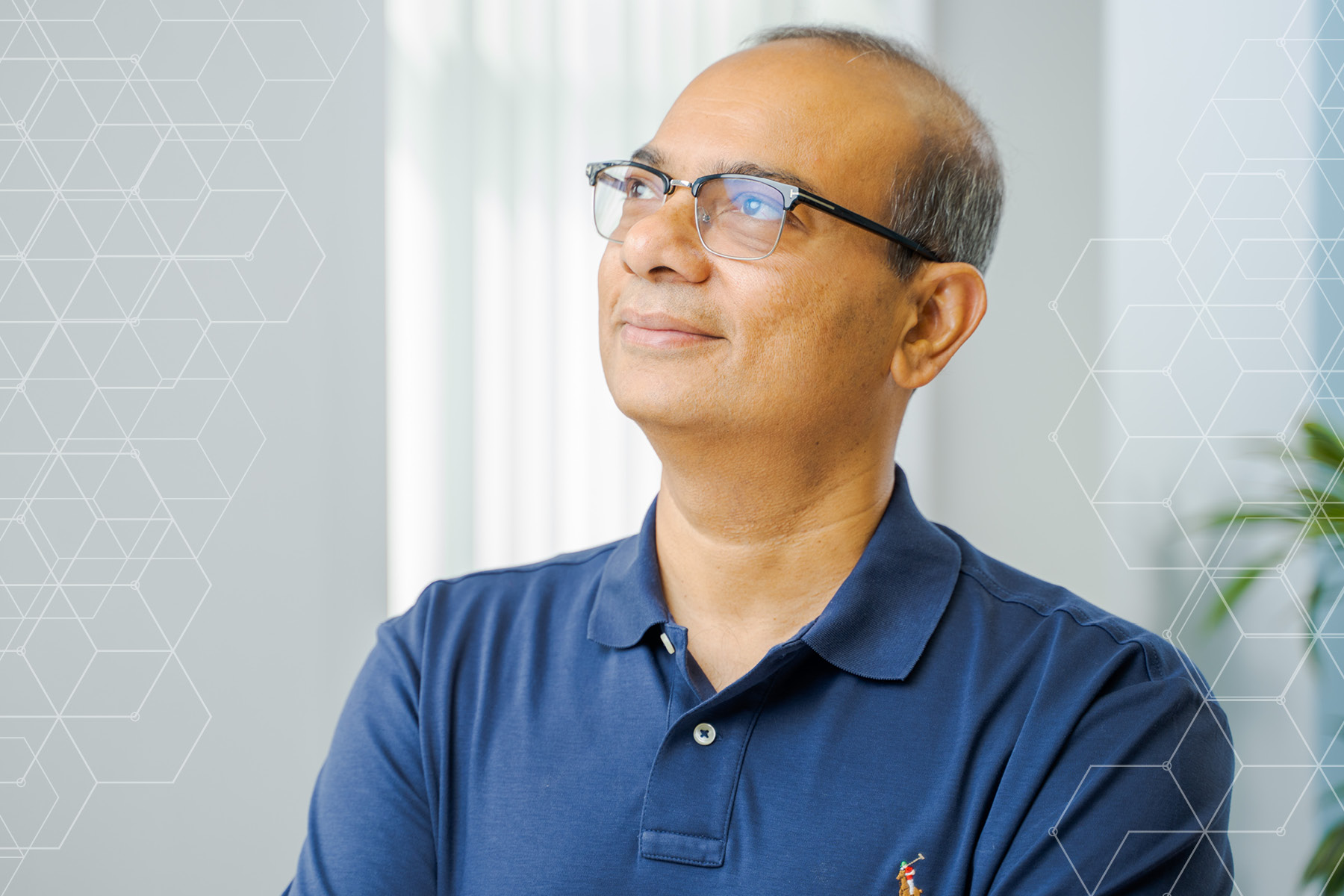 "The baton of this spirit continues to seamlessly pass on from leader to manager to all employees."
Following the same objective, Murugesh constituted the CEO Millennial Council, which enables 24 millennial employees to work closely with the CEO and other senior leaders on new methods of making WNS a better workplace. "Both WiNCUBATE and the CEO Millennial Council have kindled the innovative and entrepreneurial spirit in WNS employees," he says. "The baton of this spirit continues to seamlessly pass on from leader to manager to all employees."
The Top Job
Murugesh is recognized throughout the industry as a visionary and a champion of innovation, but when given the chance to define his approach to leadership, he's much more humble than his reputation would suggest. "The credo I've lived by my entire corporate career is, 'surround yourself with people smarter than you'," he says. "Put a great team together to do the job, have 200 per cent trust in them and you'll see great results."
And for someone who was reluctant to take on the job of resuscitating WNS, Murugesh now has no trouble defining what he loves most about his role. "First, this stint has given me the opportunity to build the WNS turnaround strategy, driven by the tenets of digital and technology leadership," he says. "It's also allowed me to contribute towards the larger industry goals through NASSCOM [India's IT industry trade association]."
Peer Review
WNS has been recognized as a 'Leader' by Gartner in its 2022 Magic Quadrant™ for Finance & Accounting (F&A) Business Process Outsourcing.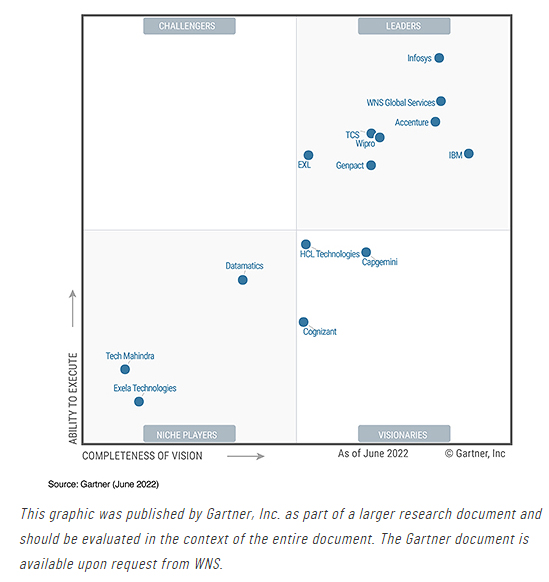 As a part of NASSCOM's executive committee, Murugesh has been able to advance the standing of India's IT-BPM sector to pole position globally. "Some of the impactful outcomes we've driven are in the areas of product creation, digital acceleration and transformation, skilling of digital talent, innovation and Industry 4.0," he says. "I'm very proud of that."
Also, as a board member of the WNS Cares Foundation, Murugesh has been able to deliver holistic education for marginalized children and youth. "We collaborate with clients and employees to touch over a million lives across the globe," he says.
The company has also made great strides in Environment, Sustainability and Governance (ESG). "We have taken decisive steps towards becoming a carbon-neutral business, and have improved our diversity, equity and inclusion metrics," Murugesh explains. "We scored above global thresholds established through the Bloomberg Gender-Equality Index, for the second consecutive year, and received the highest overall score in Cowen's 2021 Business Services ESG Assessment."
WNS also takes its commitment to Corporate Social Responsibility (CSR) seriously and drives its CSR program through the WNS Cares Foundation (WCF) with the mission to educate, empower and enrich marginalized communities globally. During the COVID-19 pandemic, WCF launched an online portal called CyberSmart, a free-for-all gamified ecosystem that is helping young minds navigate the online world more judiciously.
Then there's the matter of client satisfaction. The fortunes of a BPM firm are tied to the bottom lines of its clients, and Murugesh says that WNS's unique client-centric client-partner approach ensures mutual success. "Our skin-in-the-game approach creates a well-defined ecosystem that drives the internal business strategies of clients by managing end-to-end process cycles, customer interactions, financial operations, sales enablement and, in essence, multiple efficiencies and effectiveness levers," he says. "It ensures a significant impact on the top and bottom lines of our clients."
The New Frontier
The transformative work by Murugesh has left WNS with a number of strengths as it enters fiscal 2023. While the entire client base will benefit from WNS's continued innovations, US-based partners are a particular focus as the year unfolds. "We have a differentiated positioning in the BPM market, strong business momentum, a healthy new business pipeline and high visibility to solid top-line growth," he says. 
"We've focused sharply on helping our clients build digital business models with speed, and our digital and cloud-ready solutions have been designed to both overcome the current crisis and be future-proofed for changes ahead."
Those changes wear many faces, but to Murugesh, they're all much of a muchness. "I'm a bull," he says. "And I've always looked at the opportunity rather than the challenge. The question I always ask is this: what's the next big opportunity and how can we achieve it? Once the goal is set, the next step is to put together an ace team to achieve it."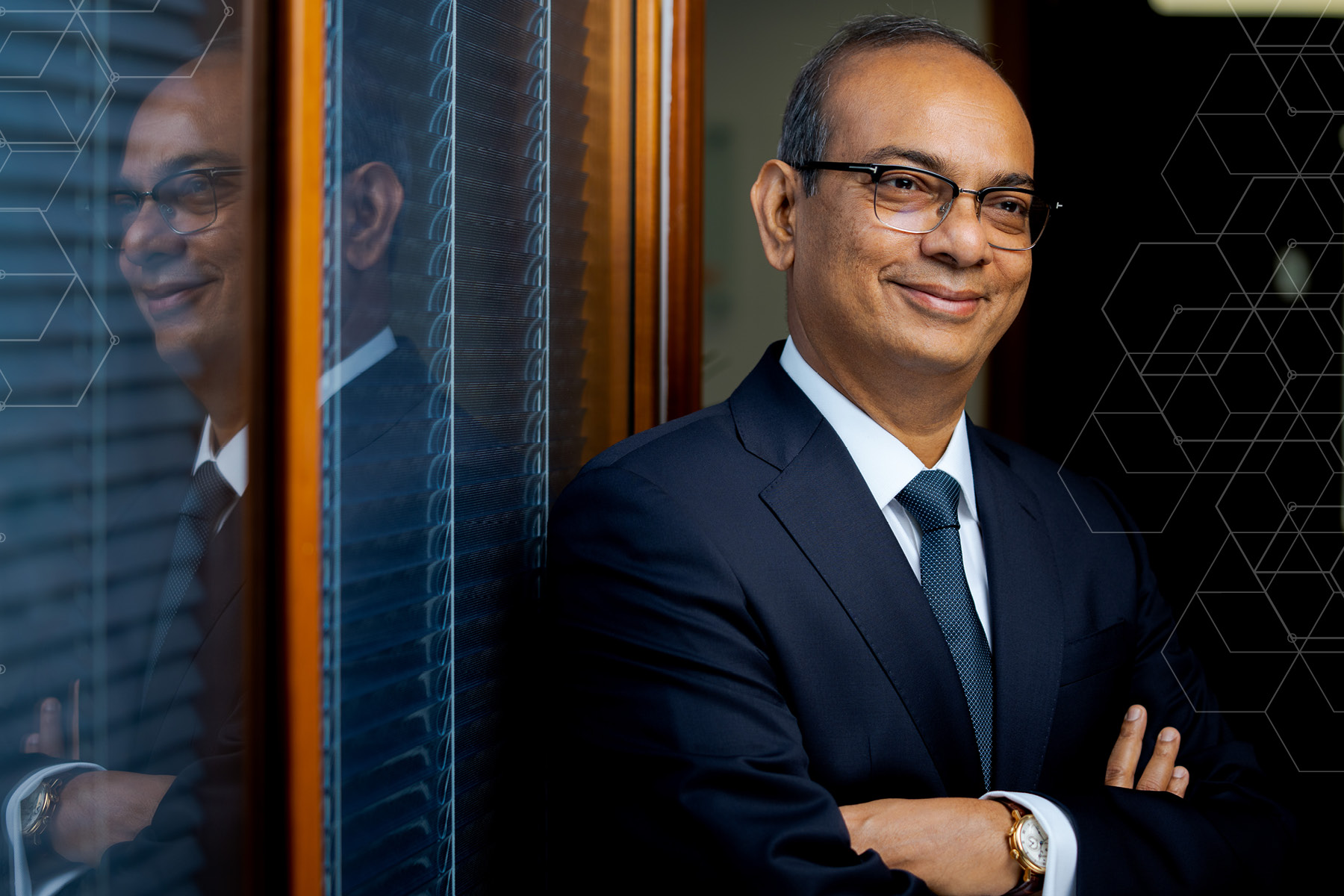 "I've always looked at the opportunity rather than the challenge. The question I always ask is this: what's the next big opportunity and how can we achieve it?"
And as the future approaches, opportunities abound. WNS recently rebranded – and strengthened – its research and analytics practice as WNS Triange. Driven by a team of over 4,000 data scientists, data engineers and domain experts, WNS Triange is built on the three core pillars of Triange Consult, Triange NxT and Triange CoE. WNS Triange powers transformation by enabling businesses to define the right data, analytics and AI strategy, and execute that strategy with cloud-based platforms and solutions resulting in improved outcomes.
Meanwhile, the scope for analytics and AI has widened in the healthcare sector.
"CMS coding for physicians has been a big talking point in the industry," he continues. "Analytics coupled with AI can automate coding and quality reporting, thus improving accuracy and reducing clinician burnout among those already challenged by the pandemic."
Insurance and financial services, also stretched by COVID-19 fallout, are now looking to harness the combined prowess of AI and analytics to enhance customer experience. "WNS is helping insurance clients move to contactless, touchless claims," Murugesh says. "This can dramatically reduce costs while expediting the claims process and increasing customer net promoter score."
Hyperautomation is providing a similar benefit to the mortgage and wealth management segments, where lack of customer loyalty has resulted in a shrinking market share. "AI can mine customer databases to proactively understand their needs and tailor a mortgage company's messaging, improving the effectiveness of cross-sell and upsell strategies in the process," he says. 
"With hyperautomation, WNS is adopting a consolidated approach towards using the combined power of technologies such as AI, ML, robotic process automation and blockchain. When a platform can pull all of these components together, it helps enterprises leverage them across multiple channels of customer interaction."
The Bottom Line
In 2011, two years into Murugesh's time as CEO, WNS had a presence of 21 offices in six countries. "I strongly believed that a key indicator of the maturity of a leading BPM player in the future would be its ability to deliver end-to-end services to clients combining the best of solutions available in each country," he says.
Each geography comes with its own niche skills, he adds, which bolsters a company's portfolio. "With global delivery capabilities, a BPM company can harness the unique skills of each region and offer its clients end-to-end service. Keeping these business demands in mind, I focused on expanding WNS's global footprint to provide clients with the right mix of offshore, nearshore and onshore delivery."
Today, WNS has 53 delivery centers worldwide, including China, Costa Rica, India, the Philippines, Poland, Romania, South Africa, Spain, Sri Lanka, Turkey, the UK and the US. To say the company has come of age is something of an understatement, but to Murugesh, the importance of the last decade's journey cannot be overstated.
"The turnaround of WNS has been the biggest in my journey so far," he says. "Since I took over as CEO, I've been at the helm of driving WNS's growth journey from a back-office services provider to a strategic digital transformation enabler for over 400 clients across industries."
In that way, an out-of-the-blue phone call, a two-hour lunch meeting and an unexpected alignment of flights may have changed the future of post-pandemic business. Things could have gone so differently, but Murugesh wouldn't change a thing.
"It's been wonderful to lead WNS, as it has been to actively contribute to the growth of the IT-BPM industry and India's digital surge," he says. "The positive impacts of these moves will be felt for years to come."
Murugesh's Leadership Highlights
The recruitment of "turnaround strategist" Keshav Murugesh transformed the fortunes of WNS. But it didn't happen overnight; Murugesh's step-by-step plan has taken years to take shape.
2010: Launched delivery center in Costa Rica
2011: Acquired shares from JV partner and assumed full control of the delivery center in the Philippines
2012: Launched first delivery center in North America; acquired Fusion Outsourcing Services in South Africa; launched delivery center in Poland
2013: Entered the World Economic Forum's list of Fastest-Growing 'Global Growth Companies'; launched new center in China
2014: Launched new center in Pennsylvania
2015: Launched pioneering MBA in Business Analytics in collaboration with NIIT University
2016: Acquired Value Edge Consulting
2017: Acquired Denali Sourcing Services; Acquired HealthHelp
2018: Expanded delivery footprint in Spain
2020: Expanded delivery footprint in Australia; announced industry-first, domain-led hyperautomation
2021: Included in 2021 Bloomberg Gender-Equality Index; top score in Cowen & Company's 2021 ESG Assessment
2022: WNS crossed US$1 billion in revenue
"WNS has evolved from heritage outsourcer to business operations partner by fostering value-based client partnerships. Today, clients are frequently citing WNS' willingness to create analytics solutions, help them explore robotic software transformation, and work with them in a co-creation model." – Phil Fersht, CEO, HFS Research
Gartner does not endorse any vendor, product or service depicted in its research publications, and does not advise technology users to select only those vendors with the highest ratings or other designation. Gartner research publications consist of the opinions of Gartner research organization and should not be construed as statements of fact. Gartner disclaims all warranties, express or implied, with respect to this research, including any warranties of merchantability or fitness for a particular purpose.